"Beyond the horse's physical attributes and his contributions to human well-being, I am astounded, above all else, by his inner self, his spirit and his sweet and generous nature…. It is his nature to accept 'what is' with nobility."—Joe Fargis, accepting the 2013 USEF Lifetime Achievement Award
As clearly as if it were yesterday, I remember a conversation I had last summer with my husband. It was a normal dinner on a normal weeknight. After the requisite recounting of our work days, he asked how my ride had been.
"Great, actually," I recall saying. "Aria is framing up way better than she did before her vet treatments. Like it's super easy, all I have to do is add leg and keep my hands steady, and she moves right up into the bridle."
As I said the words, I felt tears welling up in my eyes, and of course he noticed. "Are you OK?"
"Oh yeah, I've just had some allergies all day. My nose is itchy too." And I rubbed at my face a bit to drive the point home.
A little white lie, but I needed a minute to process my thoughts.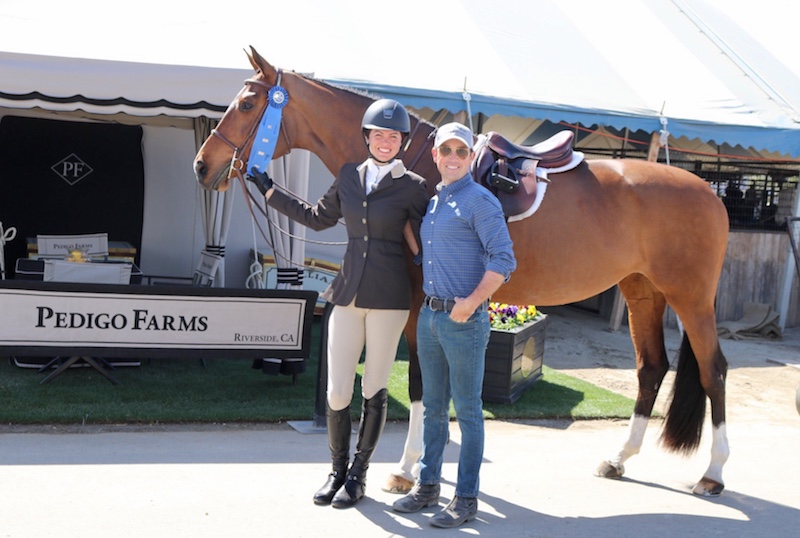 Flashback to our time at HITS Coachella (California) a few months prior. My mare Aria won her first hunter class of the year, surely a good omen. She came out a little stiff the next day, but we still had better rounds than ever before.
Things went south the second week of the show. We had trouble getting through a course without a break or an unauthorized lead swap. I remember swearing pretty loudly in one round and then sheepishly asking my trainer afterwards if he'd heard me. (He hadn't, so hopefully innocent bystanders were spared my bad sportsmanship as well.) I wasn't mad at Aria, just so frustrated. We'd been working so hard and had improved so much, and so much was going right. Why couldn't we get this last piece?
Aria has never really been lame, or even off. But from the get-go she occasionally skipped the back lead. We had to work really hard to develop a nice balanced canter with clean changes, and at various times over the years I consulted various veterinarians to find out if there was anything physically limiting us. The report always came back the same: nothing wrong with her; just needs strengthening. So, we worked on building muscle: hills, Pessoa ropes, counter-canter, extra conditioning sessions. And now I had a super-buff, beautiful, well-trained horse… who was still swapping her back lead, putting us out of the hunter ribbons.
Having exhausted all reasonable training options, my trainer suggested we send her to a specialist, one of the country's best lameness and orthopedic experts. It'll be expensive, he said, but worth it if we find something.
After a couple days of diagnostics, I got a call with a bona fide laundry list of the vet's concerns. From the full-body bone scan, the MRI, the ultrasounds and the radiographs, you'd expect to see a very lame horse, he said. The clinical signs (not visibly lame, doing her job relatively well) did not match up with the problems seen in pictures of the jaw, neck, SI, left front and right hind. I won't bore you with the details, but more than one of the findings indicated pretty significant trauma had occurred at some point, and they called for some pretty significant treatments, which I eagerly agreed to.
We followed the recovery instructions exactly, including stall rest and tack-walk only for what felt like forever. Eventually we eased into a trot then a canter. That first canter back, Aria exploded with excitement, shattering any illusions I'd ever had that any rider is ever truly in control of any horse. They only humor us, trust me.
After a few more rides, once we achieved a calmer walk-trot-canter, I gradually asked for a little rounder topline and a little more frame. That was the day my husband asked how it went, and I noted how incredibly easy it was, and I had to lie about my "eye allergies."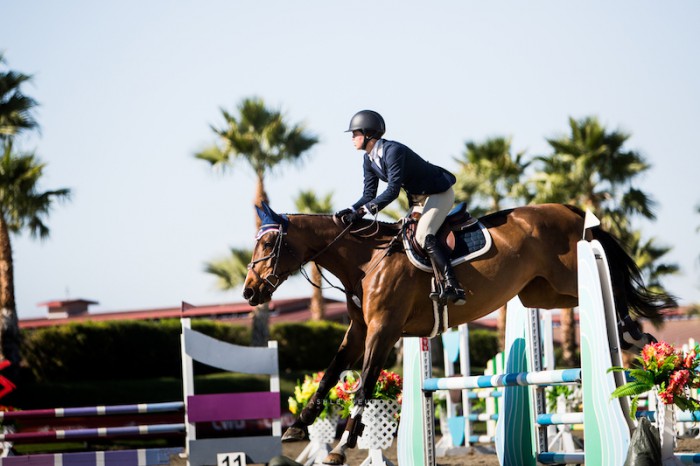 The main implication of this discovery, is that this animal, who owes me nothing, has given me everything she has, including trying her best despite being injured, sore, weak or otherwise physically limited in doing what I asked of her. She's listened to me curse out loud; she's been subjected to trainers (prior to my current one) who "got after" her, and while I strive to be a finessed rider, she's suffered more impatient spurs and rougher hands than she deserves. Yet every day when I arrive at her stall, she nickers enthusiastically, dives into her halter, and later eagerly gobbles up her bit, ready to head out with her person and do whatever I want to do.
"Without the horse, none of this would be possible. We owe them our lives. They give us so much and ask only for basic kindness in return," said McLain Ward as he accepted the 2018 USEF Equestrian of the Year Award.
It's enough to bring tears to any animal lover's eyes.
Let me tell you another story about the generosity of the horse. My other horse is Kingston, and I've had him for a little over three years now. He's not an easy horse. He was passed around a lot before I got him, and it's not too hard to see why. The seller I bought him from told me explicitly, "I think he's misunderstood, and I don't think he's ever really bonded with anyone." That should have been my amateur self's cue to run fast and far away, but of course I didn't.
Despite a rocky relationship, I haven't given up on him. I found a trainer who understands the delicate, sensitive psyche trapped in his enormous body, and who works with him instead of against him. He's the healthiest he's ever been; his coat blooms with dapples, and he gets professional massages, daily wraps, supplements and treats. While he was once head-shy, he now enjoys ear rubs. While he was once aloof, he now demands attention from his numerous human friends. I know, without a doubt, that he is a happy horse, and that I am responsible for that.
Last summer there were low level hunter classes offered on the grass field at our favorite show venue, so I signed him up just to get some grass experience. (Grass is often in short supply here in southern California.) Kingston got his shoes drilled and tapped; we warmed up as usual, and then we headed into the ring. He was in a relaxed mood, until we walked through that in-gate. It was like a switch had flipped. Every muscle in his body tightened. I asked for the canter, and he responded with the most terribly inverted and tense canter I've ever felt. There was snorting at imaginary monsters and shying away from literally everything. It was the worst minute and 30 seconds I'd had in a very long time.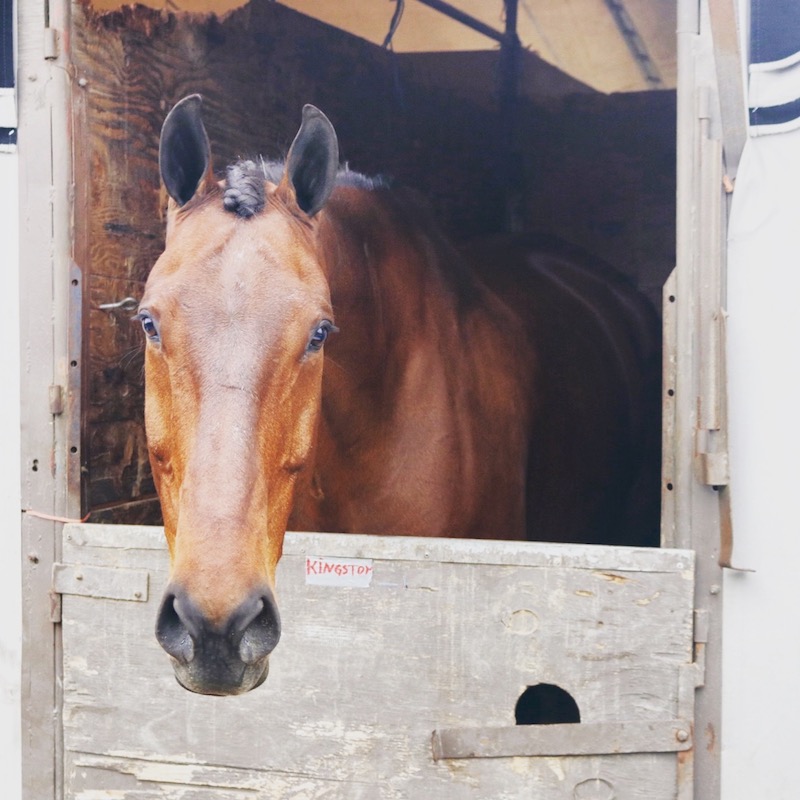 I walked out completely defeated. After all the mental, physical and emotional work I'd done with this horse, and making it from being nervous over crossrails to confidently jumping 3′ courses, now we had just made a mess of a 2'6″ hunter course. I was so angry, frustrated, and—if we're being honest—scared, because some of the moves he made in that round were all too similar to the ones he had previously employed on a regular basis that broke both my bones and my confidence. I have given this horse, who no one else has ever bonded with, a great life. So why couldn't he just do his job without drama, and without terrifying me?
Thankfully, my trainer was able to help put it in perspective for me. "It's not his fault," he said. "We don't know what's happened to him before."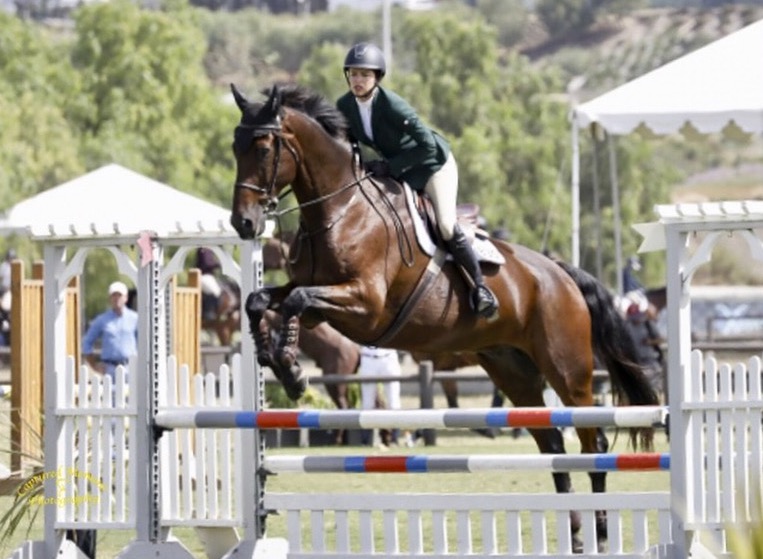 The more I thought about it, and the more I considered the possibilities of what was going on in his mind, the more my anger was replaced by compassion.
What if he actually did the best he could that day? What if he actually does appreciate me in his own horsey way, and wants to be my horse forever, and is trying as hard as he possibly can to do what I want? What if he was so scared of that ring, for whatever reason, that his instincts told him to throw me off and bolt to the next county? And instead, he kept it together for me and just balked and chipped his way around the course. What if it was everything he could do just to finish, and then I came out upset with him anyway?
Even now, I don't know why he was so out of sorts in that field that day. We went back to the sand arenas, and he was fine, and subsequently, we have had the chance to show on other grass fields without incident. I'll never know the answer—and there's always the chance that the cheeky beast was just having a bit of fun at my expense—but he deserves the benefit of the doubt.
All horses deserve the benefit of the doubt, and the effort to understand things from their point of view. The late, great Ray Hunt said that the horse does only one of two things, either what he thinks he's supposed to do, or what he thinks he must do to survive.
In light of everything my horses taught me in 2018, my 2019 New Year's resolution is a little different this year. It's not about ribbons or moving up or even about minimizing chips or keeping my hands even. Rather, it's about cultivating a true horseman's mindset, about learning to see things from the horse's point of view, regardless of how their actions affect my own personal fears or frustrations. It's about learning to appreciate their truly incredible generosity. I know I can count on my own perfectly imperfect steeds to continue to teach me, just as I can count on them to forgive me when I make the inevitable mistakes. It is, without a doubt, the most extraordinary part of the sport.
---
Lindsey Long lives in Southern California with her one tabby cat, a Great Dane, two hunter/jumpers, and a husband. She recently returned to riding after a 15-year hiatus and is desperately trying to make up for lost time while balancing a full-time job rife with deadlines. Her goals include winning pretty ribbons, finding appropriate distances with some degree of consistency, and not losing her breakfast at the mere thought of a hunter derby course. Read all of Lindsey's blogs.