After completing the final salute of his "century ride" dressage test and giving his mount a well-deserved pat, Marty Costello could have waved to his ringside supporters or flashed a smile to the professional show photographer. Instead, he looked up, pointed and smiled at the sky.
"[I was] telling Wendy, 'We did it,'" Costello said. 
Joining The Dressage Foundation's Century Club, a program that highlights horse-and-rider teams with a combined age of 100 or more, was originally his late wife Wendy Costello's dream, not his, Marty said. But after enduring an 18-month battle with cancer, she died in December 2020 before she could achieve her goal. In her honor, Marty, a 75-year-old graduate of the U.S. Naval Academy, became a member of the Century Club by earning a 75.93% at introductory level test B at the Potomac Valley Dressage Association Ride for Life benefit show, held June 25 in Upper Marlboro, Maryland.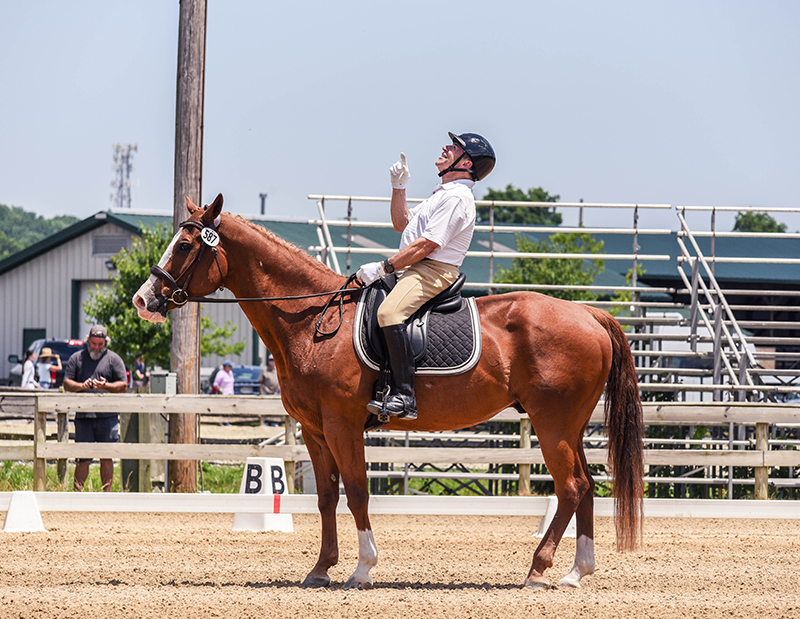 "We targeted [the PVDA Ride for Life] because it's a fundraiser for Johns Hopkins, and that's where Wendy got her excellent care and treatment for her cancer," he said. "So we were very close to Hopkins and Hopkins oncology even before all of this came about. It just made perfect sense that this would be the show to pick for the century ride."
Wendy, who grew up riding regularly with her father, got Marty and their daughter involved in horses. After their daughter went to horse camp as a teenager and started angling for a horse of her own, horses rapidly became a family affair for the Costellos. Before long, they bought their first farm near Milwaukee, Wisconsin, and began a breeding program.  
"I was a pasture-mower, fence-fixer, stall-mucker, foal-wrangler—those were my jobs around the farm," Marty said. "None of my jobs involved holding reins in my hand. Holding lead ropes, yes. Holding reins, no."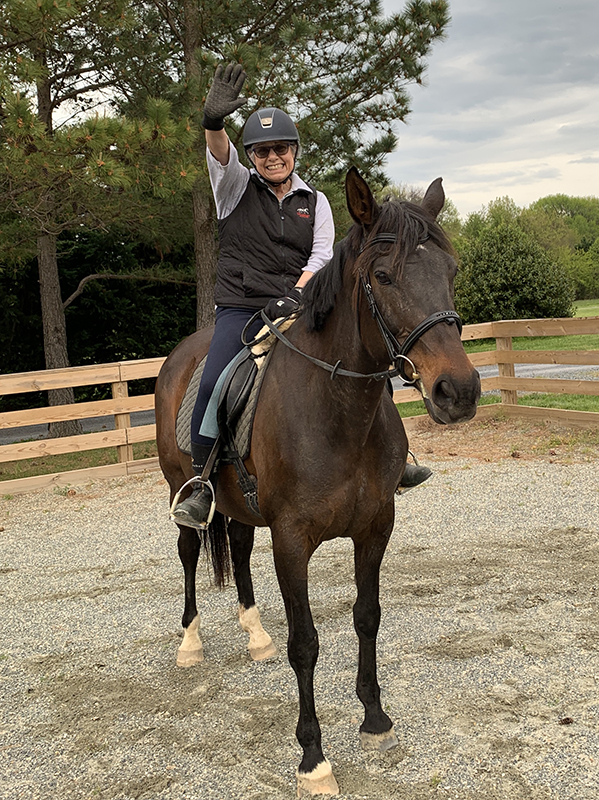 After Marty retired from a job with Milwaukee-based Miller Brewing Company in 2007, the couple decided to leave Wisconsin's frigid winters and move their breeding operation to Maryland. They bought a farm in Stevensville, near Annapolis, and started Kent Island Sporthorses. It was after their relocation that Wendy found an equine partner for Marty, a chestnut Quarter Horse gelding named All Zippbarred Up. 
"She bought 'Junior' for me when he was 14 or 15, and he is just the perfect 'husband horse'—which is what she called him, and I soon learned that this wasn't just my wife's term, it's a common term throughout the horse world. He is bombproof," Marty said of the "do-anything guy" who he hacked around their property in a western saddle.
"At the time I thought I was riding a horse," Marty said. "Well, now that I've been exposed to dressage enough to know better, I realize I was just a passenger on Junior. He took care of me."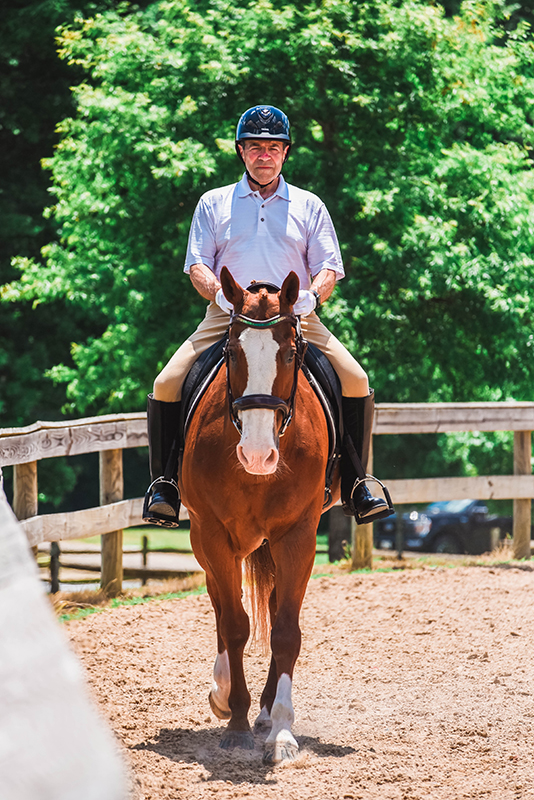 It wasn't until last year when, on the occasion of his 75th birthday, he realized he might just be getting old enough to qualify for a century ride and dove into the dressage world. He was familiar with the Century Club program because Wendy had talked about doing a ride with the couple's then-aged Grand Prix breeding stallion, Donavan, but ultimately decided that showing in his late 20s would be too much for the Hanoverian. Soon after, Wendy was diagnosed with cancer and, while she kept riding through her treatments, never had the opportunity to complete a century ride on a different horse.
Marty, in contemplating a mount for himself, immediately thought of Junior. The gelding had long ago been sold to a woman named Marie Dungey after the couple decided he deserved someone who would dote on him more frequently than Marty.
"I went to the old files, the archives, and I pulled Junior's folder. Sure enough, at that time he was 24 years old," he said. "So that's when the idea hit me, and I said, 'Well, let's see: If I start taking dressage lessons and I stay fit and I can get Junior's current owner to agree to let me borrow Junior for a century ride next spring, well I could make this happen.' Of course, Junior would have to remain fit, because you know anything can happen to a 24-, 25-year-old horse. There were a lot of 'ifs,' but the pieces came together."
Dungey was happy to loan Junior back to Marty for old time's sake, but location was an issue. With Junior in southern Maryland and Marty farther north in Stevensville, the two older athletes no longer lived within easy driving distance of each other. Dungey's trainer Elizabeth Schneider generously suggested he take one of her lesson horses home with him to learn on, so Marty brought Schneider's horse Noble to a farm belonging to his neighbor, dressage trainer Anne Thibo, and started taking lessons twice a week in her program last fall.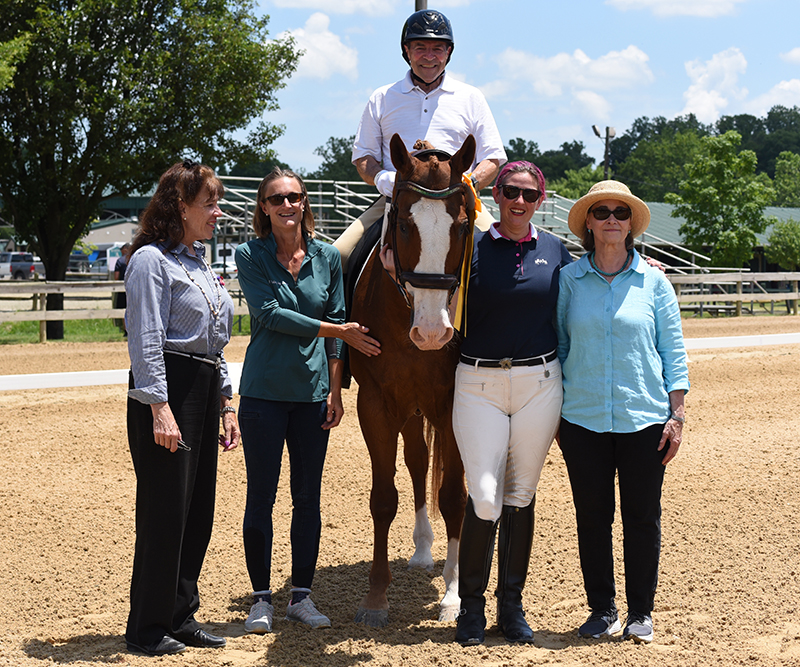 "I didn't have to learn anything about horse care. I had 30 years experience there. But the tack and riding and all that? We started right at ground zero with that," he said. 
Fortunately, his previous experience flying A-4 Skyhawks for the U.S. Marine Corps and his Naval Academy training instilled a sense of perseverance in Marty that was vital to success in his dressage endeavors. 
"It was a grind through the winter, just starting off with, 'Here's how you cinch a saddle,' " Marty said, before quickly correcting himself: "I shouldn't say 'cinch.' I should say, 'Here's how you tighten a girth on an English saddle.' Starting at that point and then taking lessons twice a week in sometimes pretty cold conditions meant that I needed perseverance, to just stick it out. I knew there was a goal out there, it was my goal and I was going to get to it one way or another." 
After completing the century ride in June, Junior went home to Dungey. Noble will soon return to Schneider's farm, and the last of the horses he owned with Wendy sold several weeks ago, with Schneider's help, meaning Marty soon will be horseless for the first time in approximately 30 years. But he's not sure if he's ready to put away his boots just yet. 
"I guess I'm still a little undecided," he said. "I kind of miss it. You might find me over at Anne's taking lessons on her lesson horses in the future."
For more information about the Century Club, visit The Dressage Foundation's website.