Upperville, Va.—June 9
Hunt Tosh and Flamingo-K came to the Upperville Horse Show as the pair to beat with a USHJA International Hunter Derby blue at Devon (Pennsylvania) freshly printed on their résumé.
In that derby, Tosh and "Red" came from behind, sneaking into the lead with a stellar handy round. But this time around, his victory in the $25,000 USHJA International Hunter Derby hinged on a strong classic round.
Dark clouds and rolling thunder descended upon Upperville, Virginia, halting the class after just four horses completed the handy course. Show officials considered  postponing the handy round until the following day but ultimately made the call to cancel the handy and award ribbons based on first rounds scores. While Tosh didn't think a schedule change would have fazed his mount, he was still happy with taking the blue for the second derby in a row.
"[Flamingo-K] is pretty reliable, and he's pretty much the same every day, so for me to come back and do that in the morning, that would be fine," said Tosh.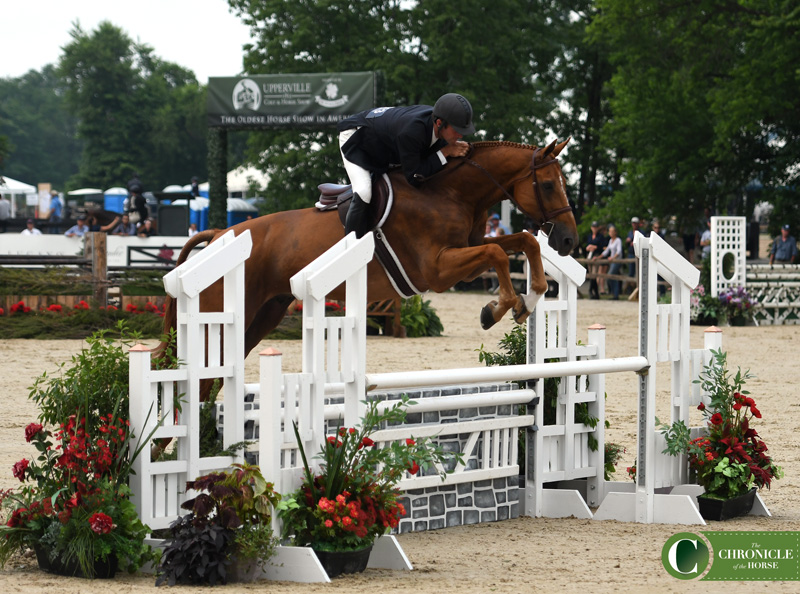 If the derby had played out as planned, Tosh's game plan was to watch how the other riders rode the course to decide his route.
"Obviously you don't want to take too big of a risk and make a mistake, but you kind of see what you have to do to try and stay in the lead," said Tosh, of Milton, Georgia.
And there was a good chance Tosh would have had to take some risk. The top three were tightly grouped, with last year's winner Samantha Schaefer riding In The Know to second place with a score of 190. Hot on her heels was Tori Colvin aboard Private Practice with a score of 189. Both Schaefer and Colvin are strong handy riders, but Tosh assured that it's all friendly by the in-gate.
"We all stand around at the in-gate and talk to each other and see what the plan needs to be," said Tosh. "I think it was going to be a fun class."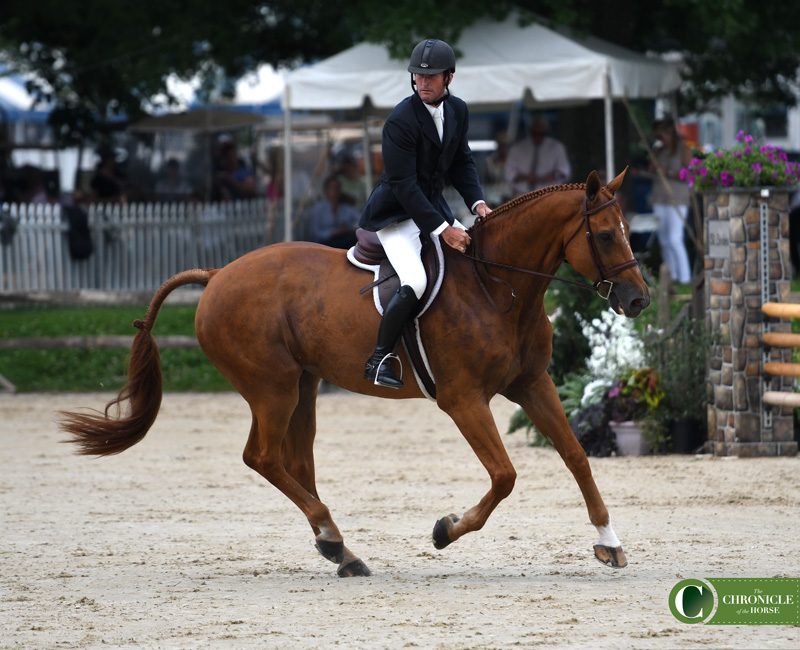 The derby wasn't the only spectacle tonight at Upperville. During the course change, the Belmont Stakes was projected onto the Jumbotron, and the crowd watched as Mike Smith galloped Justify to victory, becoming the second Triple Crown winners since 2015. An all around horseman at heart, Tosh can recognize a special horse when he sees one.
"That horse ran beautifully tonight," said Tosh. "And there are few horses that can run a mile and a half and stay up front, which is incredible!"