An enthusiastic crowd cheered on the 20 show jumpers competing in the $30,000 Markel Insurance 1.45-meter Grand Prix at the Rancho Mission Viejo Riding Park at San Juan Capistrano, California, on Aug. 18. With the only double-clean performance of the class, Hugh Mutch and the 12-year-old Holsteiner stallion Cristar (owned by 2 Mutch Show Jumping) topped the field to take the win.
Course designer Leopoldo Palacios' track on The Oaks International Grand Prix Field included a triple combination, many direct and bending lines, and an optional open water or oxer. The time allowed proved to be tight, with nine horse-and-rider combinations receiving time faults.
Mutch was the first to compete in the jump-off round. Riding a tidy and quick track, he stopped the clock in 45.49 seconds. The only other competitor to master Palacios' first round without fault, Kelsey Maloney and her own La Coco, followed. An unfortunate 4 faults put her into the second-place position.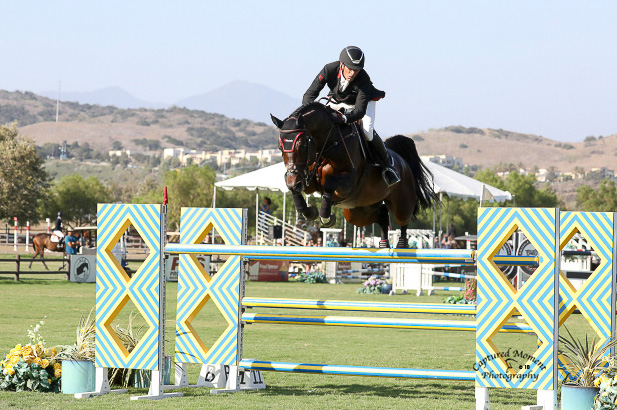 "I acquired Cristar in March of this year after HITS [Coachella]. He was second in the AIG $1 Million Grand Prix last year to Mandy Porter by three-one-hundredths of a second, and I got to watch him while I was there commentating the class. I had never seen him before because Tammy Phillips, who owned him, showed mostly in Canada," Mutch explained. "He is beautiful and super careful, so he caught my eye. My girlfriend and I became friends with Tammy, and she felt I was one of three riders who would be right for him. She let me try him, and I owned him two days later."
Mutch is no stranger to the winner's circle and appreciates what it takes to have a horse like Cristar. "He's one of those horses that makes me get up in the morning and do what I do. He's fun to ride, and I have a great relationship with him. He's sweet, kind, and loves everyone. It's a pleasure to own a horse like that," Mutch noted. "I thank Tammy for picking me. He'll be the last great horse I have a shot at riding. I'm 58 and can still play with the 20-year-olds; it's a lot of fun."
Three qualifiers remain in the Markel Insurance 1.45-meter Grand Prix Series, where the 25 riders with the most points for the season are invited to the Markel Insurance 1.45m Series Final at The Las Vegas National, CSI-W****.
Over the challenging Palacios track, Julia Nagler rode her own Killosery Kuidam to a 6-fault score, earning the win in the $2,500 Blenheim U25 Jumper Classic. With one more $2,500 class next week at the Showpark Summer Classic, the U25 division wraps up at the Blenheim Fall Tournament in September with the $20,000 Blenheim EquiSports U25 Championship Classic.