Luhmühlen, Germany—June 17  
Bettina Hoy of Germany proved she is at the very top of her game when retaining her lead after cross country at Luhmühlen CCI**** presented by DHL, the fifth leg of the FEI Classics™ series.
In a remarkable double, the in-form rider is also heading the CIC*** competition at Germany's most famous eventing venue, which is celebrating its 60th anniversary.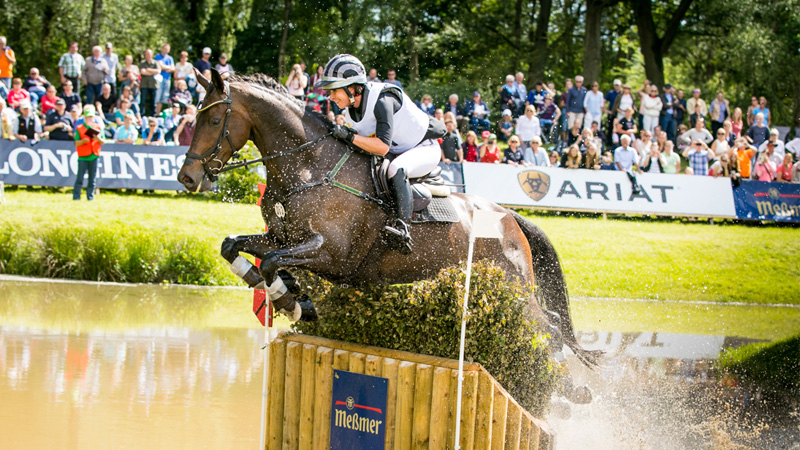 The U.S. riders had a fantastic day's outing with five clean jumping rounds over the CCI**** cross-country. Hannah Sue Burnett and Harbour Pilot are the highest placed pair. Jacqueline Mars' 14-year-old Irish Sport Horse gelding moved up from 10th to eighth place with the fastest round of the day.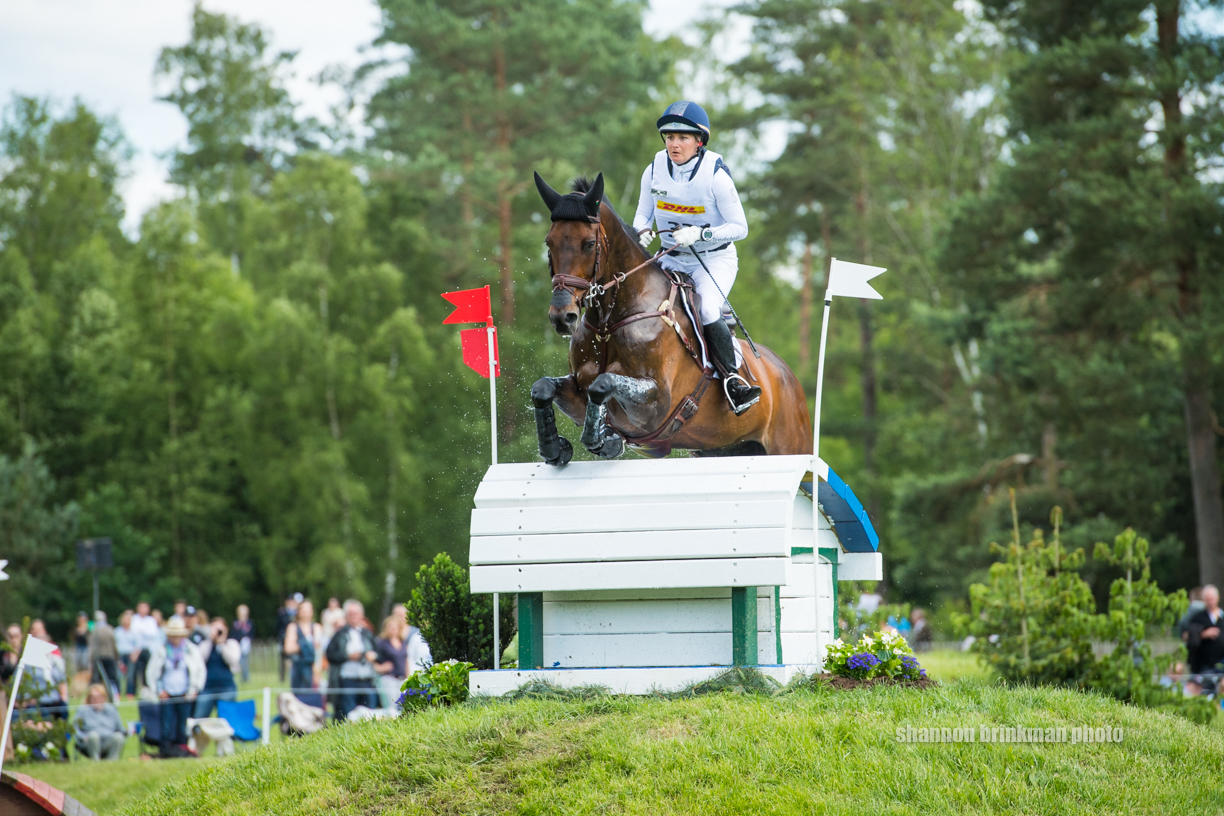 Third place after dressage, Marilyn Little dropped down below Burnett with 6.8 time penalties aboard Jacqueline Mars, Robyn Parsky, and Phoebe and Michael Manders' RF Scandalous. The 12-year-old Oldenburg mare (Carry Gold x Richardia) was originally awarded 50 penalties for allegedly jumping outside the flag at the skinny triple brush following the arena combinations, but the penalties were later removed.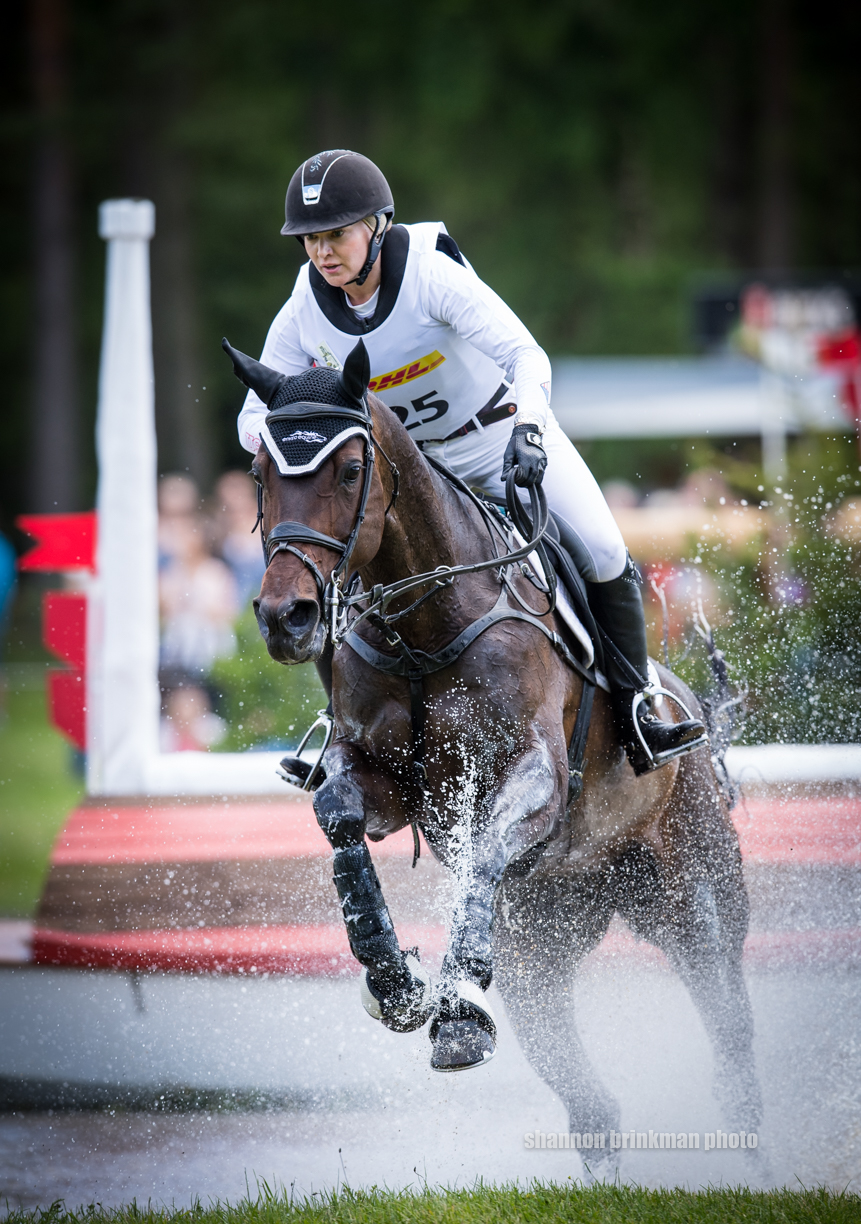 Will Coleman and the Four Star Eventing Group's 14-year-old Irish Sport Horse gelding, OBOS O'Reilly, (OBOS Quality x Omard Clover Queen) climbed up the leaderboard seven spots (from 19th to 12th) with a clear round and 1 second under the optimum time to add nothing to their overnight dressage score.
Adding just 2.8 time penalties to their score, Sharon White and Cooley On Show, the 10-year-old Irish Sport Horse gelding (Ricardo Z x Jogantina), are sitting in 21st position heading into tomorrow's show jumping.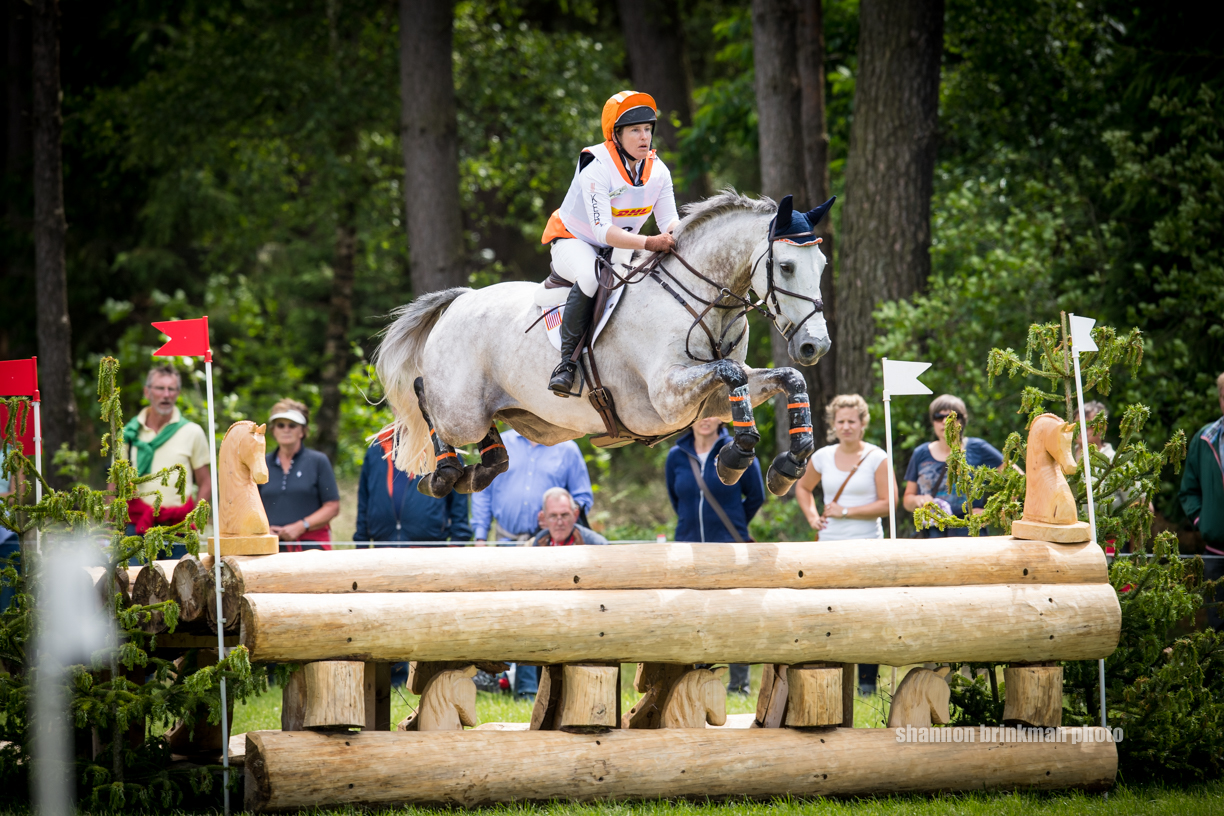 Katherine Coleman and KC Eventing's 15-year-old Irish Sport Horse gelding, Longwood (Limmerick x Cavale De Or) made a huge move up the leaderboard—from 40th to 27th—with just 2.4 penalties to add to their score.
In the CIC***, which Hoy is leading with Seigneur Medicott, Burnett turned in a clean round on RF Demeter but picked up 4.8 time penalties to drop from 18th after dressage to 25th.
Hoy, 54, has more than three decades' experience of Luhmühlen's wooded tracks and testing water complexes—she competed here in the 1982 World Championships—and she punched the air with delight as a perfectly timed round on Designer 10 kept her in pole position in the CCI****. However, she will need all her expertise in tomorrow's jumping phase as the price of one rail covers the top four riders.
She and Designer 10 had a couple of hairy moments, where they seemed a little undecided which stride to go for, but luckily Hoy remembered Chris Bartle's "oh-[%$#%]-position", which stopped her from going overboard. "Designer gave me a fantastic round. I guess I just forgot that I have to ride him differently to Mickey [Seigneur Medicott], who I rode this morning, but I soon remembered!
"My watch stopped working around the seven-minute mark, which left me a little unsure about the time, but I know he is a really fast horse, so I knew I would be able to just go for it!" said Hoy.
Julia Krajewski of Germany and Samourai Du Thot, third last year, thrilled a bumper home crowd enjoying brilliant sunshine and great sport with their superb performance. They are still in second place and clearly laid the ghost of an unhappy elimination at the Rio Olympic Games last year.
"I felt Sam was fitter and more mature this year so I pushed from the beginning and didn't have one bad moment. I'm very proud of him," said Krajewski.
"Sam gave me a brilliant feeling all the way round the course," said Krajewski. "He was fit and forward throughout. I could not be happier! It was our first four-star-event after Rio, so I really wanted things to go well. But I knew he was in top form, so I was optimistic it would. The course rode as I had hoped and only once Sam added an extra stride going up hill, which made it that little bit harder, because he is only small. But he was amazing and what ever happens tomorrow, I am very proud of his performance."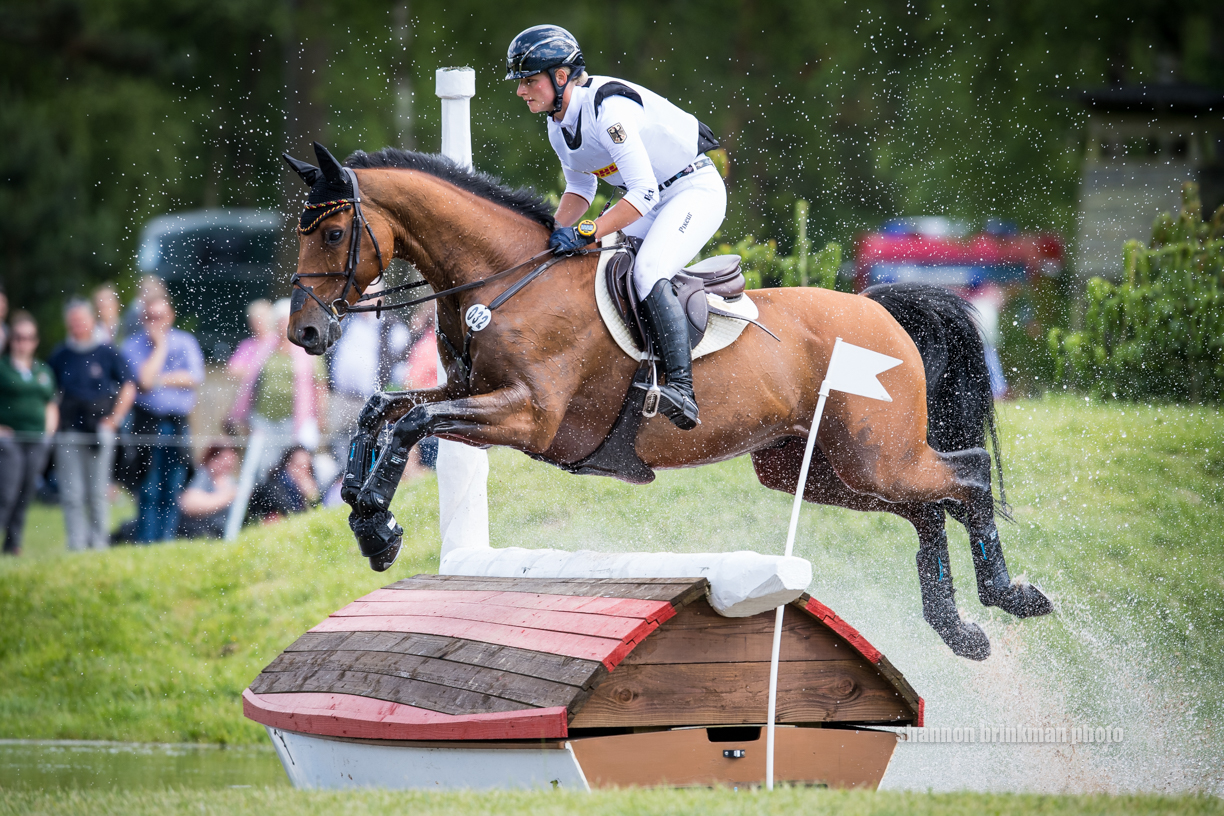 Nicola Wilson of Great Britain showed all her horsemanship to contain her bold mare, Bulana, and they moved up to third place after Little and RF Scandalous, third after dressage, picked up 6.8 time penalties and slipped to ninth. "The course was an absolute pleasure to ride and will have been good for horses competing at this level for the first time," Wilson said.
"I am delighted with this little mare," said Wilson. "She is feisty and strong in cross-country and I have spent many hours practicing during the winter to bring her nose a little more forward. It was her first four-star competition and I could not be happier. She is a super mare."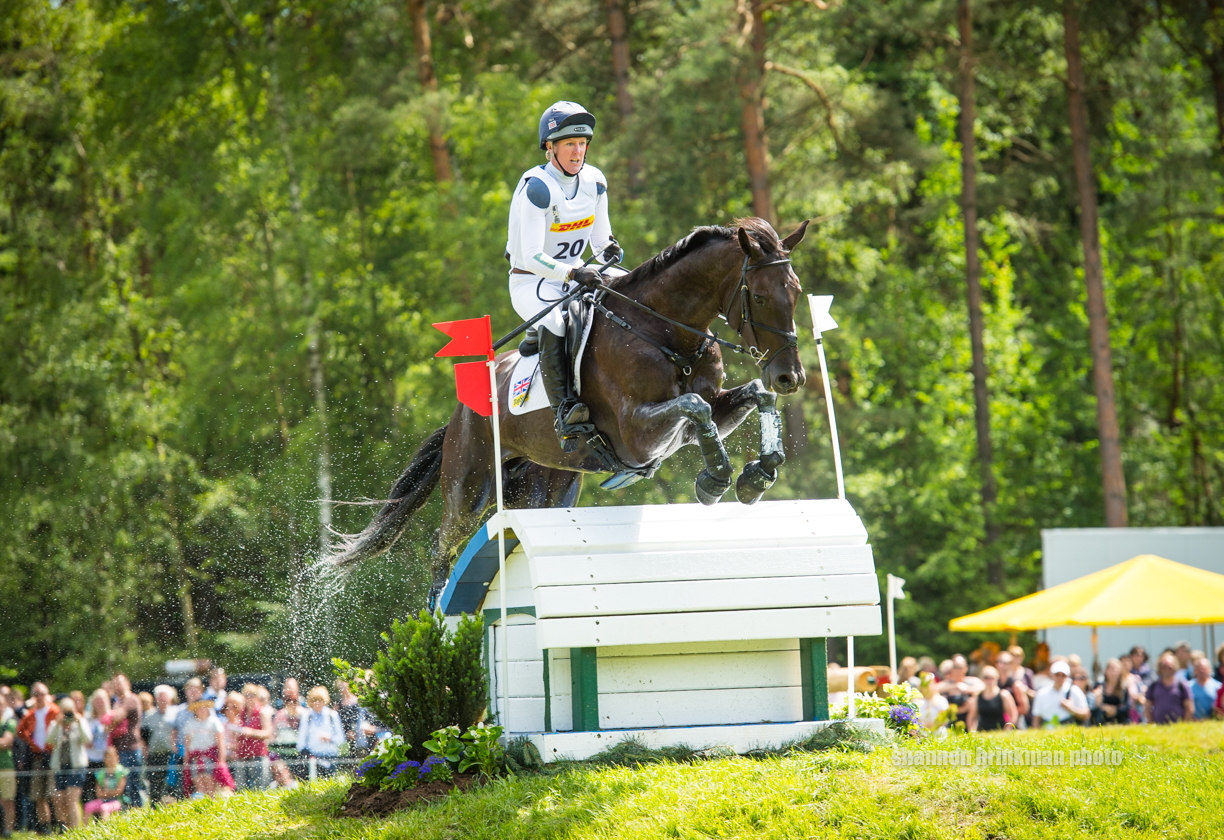 Mike Etherington-Smith was clearly happy with the way things turned out today. The course designer said, "It takes a couple of years to get to know a course and I already have some good ideas for next year. But I am really happy to have seen so many positive rounds, motivated and confident horses and smiling riders. The weather was perfect and the footing could not have been better. Though David Evans, Carl Fletcher and their team prepared the footing for anything. They have done an amazing job! The work they have put into building this course is fantastic."
Otherwise, the leaderboard is little changed at the top, apart from the departure of Astier Nicolas and Molokai, fifth after dressage, after the French Olympic gold medallist was unseated at the water complex at 19.
Britain's Sarah Bullimore (Lilli Corinne) has moved up two places to fourth and within a fence of the leader after a clear round 8 seconds inside the optimum time of 11 minutes 11 seconds.
Important links:
Live stream

(through FEI TV, which is a

subscription service

)
The final horse inspections begin at 8:15 a.m. Sunday (2:15 a.m. Eastern U.S. time); CIC*** show jumping starts at 10:15 a.m (4:15 a.m. Eastern U.S. time) and CCI**** show jumping starts at 1:30 p.m. (7:30 a.m. Eastern U.S time).
2017 Luhmühlen CCI**** Cross-Country
Molly Sorge / Jun 17, 2017 4:26 pm