In honor of Howard Simpson receiving the U.S. Equestrian Federation Lifetime Achievement Award, we are republishing this profile that first appeared in the Aug. 5, 2013, issue of the Chronicle of the Horse. This article is running in its original format, however some facts and names have changed in the eight years since it originally appeared. The North American Junior and Young Rider Championships he helped found now are called the North American Youth Championships and, most notably, Simpson's wife Martha Smith Simpson died in September 2020 at age 78.
Simpson and Kathy Kusner, fellow 2022 recipient of the USEF Lifetime Achievement Award, will be among those honored during the Pegasus Awards Dinner Celebration on Jan. 13 during the 2022 USEF Annual Meeting. The meeting is being held Jan. 13-15 in Naples, Florida.
---
He's not a professional rider, and he's not a coach or a trainer. If you try to give him recognition for the work he's done, he'll quickly divert it to someone else. But without Howard Simpson, the North American Junior and Young Rider Championships program that is known today as a thriving and well-organized institution likely wouldn't exist.
"Howard is the reason there is a young rider championship in this country," said David Distler, who's served as show jumping manager at nearly every North American Young Rider Championships since 1992. "If it weren't for him—and I'm not saying that lightly—there wouldn't be one."
Simpson helped host the championships at Tempel Farms in Wadsworth, Illinois, 14 times—giving the fledgling program a home at a time it desperately needed one—and he served as event director many of those years. Simpson's also been a tireless advocate for the sport as a whole, and he's still serving on the U.S. Equestrian Federation board of directors, Executive Committee and Blue Ribbon Panel.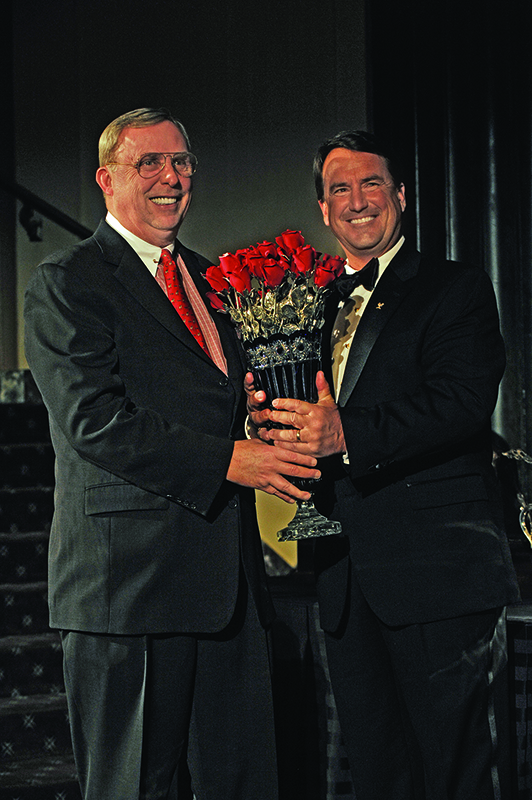 He's kept in touch with many of the young riders who came through the program at Tempel Farms, and he still supports their careers, along with continuing to volunteer at and sponsor the NAJYRC. The USEF now awards the Howard Simpson High Five Trophy every year to the volunteer who "best exemplifies Howard's spirit of volunteering." Simpson, now 65, received the trophy in 2004, its inaugural year.
"In my mind, Howard is one of the true great sportsmen in that he really understands and values the importance of sportsmanship in the growth of young people," said U.S. Dressage Federation President George Williams, who worked as director of the Tempel Farms Lipizzan program for 13 years. "That always struck me as his real motivation. He was really there for the young people, and that's what separates him from some of the others.
"If you try to give him credit, he'll always pass the credit onto someone else," Williams added. "Having worked alongside him and from knowing him for so many years, he really does deserve a lot of credit."
A Steep Learning Curve
Simpson's involvement with the young rider program started in the early 1980s, shortly after he married Martha Smith, now Marth Smith Simpson, in 1984. Martha owns Tempel Farms along with her sister, Linda Buonanno, and they'd been approached by Maj. Gen. Jonathan Burton, Col. Donald Thackeray and Capt. Jack Fritz about the importance of starting an official young rider championship in the United States.
"They talked about this program that had started off as an eventing challenge between the United States and Canada," said Howard, who also has a day job as a long-range financial manager. "They wanted to make it truly international and include all three [Olympic] disciplines. Martha and Linda are always interested in youth and children, and they helped put it together as a charity opportunity they could support because they have a horse farm."
The first Fédération Equestre Internationale-recognized championship for North American young riders in all three disciplines was held in Maple Ridge, British Columbia, in 1982. In 1985, Tempel Farm hosted its first FEI-recognized young rider championship with all three disciplines, though it was called the American Continental Young Riders Championships that year, and it didn't earn the full name North American Young Rider Championships until 1988.
Linda Dreher, who'd started the Mill Creek Horse Trials at Tempel, served as the organizer and director with Gordon Wallace the first year and for several years after. Dreher attended the 1982 championship in Canada with her daughter, Lisa Kysela, and Dreher and Wallace were inspired to bring the program to the United States as well. They helped develop a proposal for the first year, which was then approved by the Smith family.
"We already had a good start on elements for the cross-country course," said Dreher. "The family was very receptive and supportive of our efforts."
In 1985, Greg Best and Gem Twist won the individual young rider gold in show jumping, then went on to team and individual silver medals at the 1988 Olympic Games (South Korea).
"It was pretty scary, hosting all those disciplines," Dreher said. "We jumped on the grass that year. Can you imagine jumping Gem Twist on the grass? We didn't know any better then."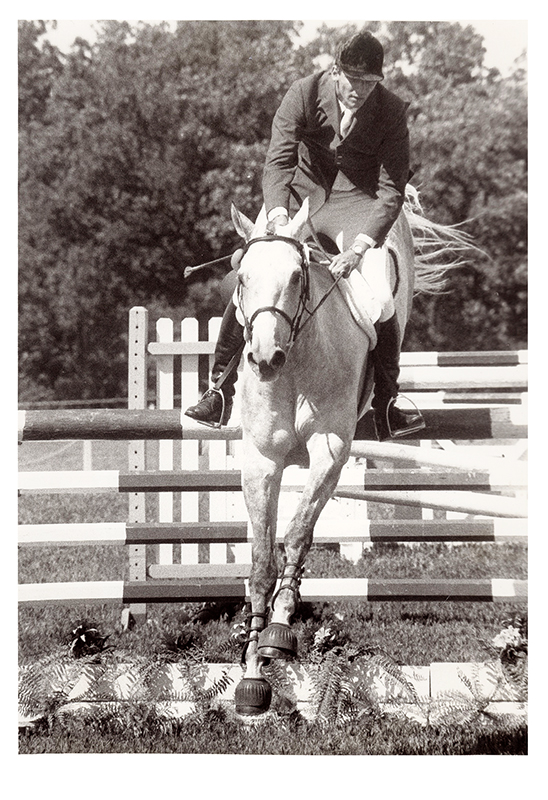 "I was much closer to eventing, and Martha was much closer to dressage, so for my first jumping ring, I just read the specifications, and then I got some white rope and stakes and put up some jumps," added Howard. "It didn't quite make the muster. I got David Distler to come help us shortly after that. Linda Allen and Larry Langer spent years helping us, and Linda designed an 80- by 100-meter all-weather arena that we built just for [NAYRC]. They donated all their time and effort. Back in the early days, the judges didn't even charge if we could get them there and feed them."
While Howard was involved with the championships the entire time, he stepped in even more around 1990. Martha and Howard were also interested in the program because of Martha's children, Linda Leffingwell, Jennifer Lueders and Larry Leffingwell. Lueders (then Jennifer Leffingwell) competed at the 1990 and 1991 NAYRC, earning dressage team gold both years with Region 2.
"We weren't show managers; we were people who owned a farm," said Howard, who grew up foxhunting and served as MFH for the Mill Creek Hunt (Illinois) when he was younger. "These were our invited guests, and we treated everyone that way. It was literally backyard, and it was a great, great community effort. We'd have 300 to 500 volunteers in the area who would come and spend a day, a week, a month."
In 1997, Howard took over as sole organizer when Dreher's other commitments grew too large for her to make the yearly trek to Illinois from Southern Pines, North Carolina.
"He loved eventing, but he didn't really know the other sports when he came into it, but he was a quick study," said Dreher. "He really learned the sports, and he became a very valuable member for both the [U.S. Eventing Association] and the USEF."
While the championships received some money from the federations and through sponsorships, Howard and the Smith family also provided financial support.
"There's no doubt it wouldn't have continued without Howard's financial and personal support," said Williams. "Certainly the farm put a lot into it, and it was also the Smith family's efforts. But Howard was really the catalyst."
High Fives For Everyone
But what most riders remember about Howard from the NAYRC at Tempel Farms is not his organizing prowess or financial support—it's his unceasingly supportive attitude.
"He watched me grow up riding," said Allison Springer, Upperville, Virginia. She grew up in Illinois and won team gold in eventing with Area IV at the 1994 championships at Tempel.
"I think because I'm local and all that, he's followed my career a bit. He's been a wonderful person in my life," she said. "Not that I get to see him regularly, but I look forward to seeing him every year at Rolex [Kentucky CCI****], and I always get the biggest hug from him. He's always watching; he's cheering everyone on. I remember him from [NAYRC] just as he is now—smiling, happy, enjoying the sport and really just supporting. He's a really encouraging person, and that's wonderful to be around."
Howard's original goal for the championships was developing a pipeline of future Olympic athletes, and for some of the participants, the NAYRC was their first exposure to the upper echelons of the sport.
"My estimation would be that it's 70 percent as a pinnacle destination, as far as those horse-and-rider combinations go, and then maybe 30 percent have the ability and timing to go further," Howard said. "Karen O'Connor came through the young rider program, and she's supported it since, as has David [O'Connor]. It's not just about a horse show that offers prize money—because it doesn't—and it's not just a big show; it's about getting the riders together with their heroes—trainers, coaches and selectors."
Howard, who graduated from Babson College (Massachusetts) with a degree in finance, recalled just how many of the riders' heroes were present at some of the championships at Tempel.
"One year, Jessica Ransehousen got up and sort of grabbed the microphone from Nigel Casserley," he said. "I'm kind of a control freak, and everything has to be written down and on the schedule, but she just popped up and said, 'Everyone who has represented your country at an Olympics or a World Equestrian Games, please come up.' Out of the officials, 28 people went up and got on that stage. It was unbelievable to me. Wadsworth, Illinois, doesn't have those kinds of luminaries, and for all those people to just show up and volunteer their time for the kids—it was a really poignant moment for me. And it surprised me that all those people who'd represented the country were there, but the young athletes already knew who all of them were."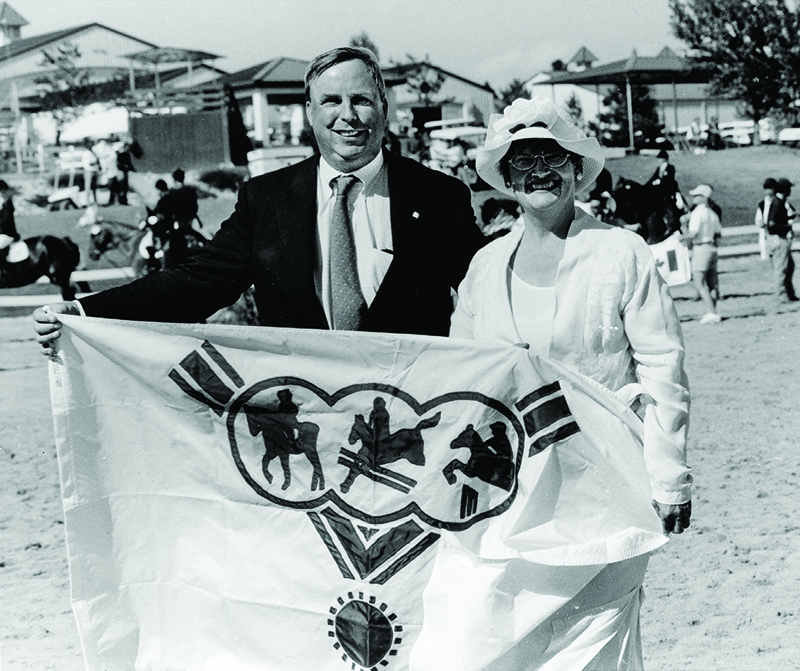 Better Athletes And Better Citizens
For Howard, it was imperative that all the disciplines supported each other, and he organized the Tempel facility and schedule so that would happen.
"The main dining area was a tent right next to the dressage ring, where you could also see the show jumping, and the start box for cross-country was probably 200 yards away," said Howard. "We timed it and scheduled it so that there wasn't any dressage or show jumping going on during the cross-country. Each discipline had its finals when nothing else was happening.
"To see young people start to recognize and respect other disciplines was so important, and it was so much a part of the young rider program," he continued. "We wanted to build respect between the disciplines and put a safety net under these talented people doing such difficult things. I've been at shows where young people have said, 'Mom, you didn't bring my boots,' and you never heard that at [NAYRC]. It was their responsibility to bring themselves and their equipment. The maturity level was much higher for their age group. They're held to a standard few young Americans are held to, and I think that makes a much better citizen."
But Howard also wanted riders to have fun at his championships, and he hosted infamous parties.
"In the later years, he got a very good DJ for the Saturday night party," said Williams, Middlefield, Ohio. "Howard is very mindful that the kids had competition the next day, so he didn't want things to get too out of hand. The year before, the kids had started to dance on the tables, and the tables just slowly disappeared, sinking into the ground. The next year he told all of us, 'No matter what happens, the kids can't dance on the tables again.' The party got going, and the kids started getting on the tables. We were like, 'Howard, should we tell them they can't do that?' He just shrugged and said, 'No, don't bother.' He really liked the kids, and for him that's what it was all about."
Katherine Poulin, 33, who won dressage team gold with Region 3 at NAYRC in 1999 and 2000, remembers getting thrown into the lake by Larry Leffingwell at Tempel Farms in 1999. But she also recalls how the program helped shape her career.
"It was during the golf cart competition, and we were all having a great time. Getting thrown in the lake was quite a moment," said Poulin, Chagrin Falls, Ohio. "Back then I didn't realize how important it was to ride there, but I do now as an adult. Unless you make a Pan American [Games] team or an Olympic [Games] team, that's going to be your only team experience as a professional. That's all you're going to get. It really should be cherished. A lot of my friends today are people I did young riders with. We still talk, and that's a lifelong friendship. It's really special."
People still approach Howard with memories about NAYRC at Tempel, and he's enjoyed seeing many of them rise through to the professional ranks—including top riders like Kent Farrington, David Marcus, Buck Davidson, Springer, Todd Flettrich, Will Coleman, Chris Hickey and McLain Ward.
"He didn't want anyone to leave without having gotten something out of it," said Distler, Norwalk, Connecticut. "You ask almost anyone who's been to several locations, and they'll tell you Howard's was the best.
"He's a really good guy," Distler added. "He didn't get anything out of it except self-satisfaction. It's not like he trains somebody or sells horses or something. He just gets satisfaction out of watching everyone do well. That's him."