Donna Sullivan normally worked the Thoroughbred sales in Timonium, Maryland, but in October of 2001, she was standing in the audience. She had some money saved up, and she was looking for a hunter prospect. When hip No. 50 entered the ring, she started bidding and won the plain bay gelding named Houston.
When the Fasig-Tipton Mid-Atlantic Fall Yearling Sale came to an end, Sullivan walked Houston back to the barn and found a message on his stall. "The note on the door said, 'To whomever bought No. 50: I arrived late at the sale'—and they knew what I paid for him; I paid $1,000 for him—'I'll give you $2,500 for him. Call our number.' So I folded the note and put it in my pocket," Sullivan said.
She didn't know what to do. There were some other horses that had caught her eye that day, and, with Houston's potential undiscovered, it was a tempting offer. "So I called the number, and it rang," Sullivan said. "It rang a second time. And it rang a third time, and I'm like, 'I don't want to sell the horse!' so I hung up really fast. End of story, I brought him home."
She has since turned down much larger sums of money from trainers in the hunter world. "I never want to sell this horse," she said. "He's part of our family."
Now 19, Houston is a veteran of the show ring and is still winning. Even with a light schedule, he captured the Maryland Horse Shows Association regional Thoroughbred hunter 2018 year-end championship, and he was reserve champion in the regional low hunters.
Over the course of his career, Houston has earned the local hunter championship at the Pennsylvania National Horse Show, been the Zone 3 adult amateur, 18-35, champion, and won multiple Chester County Horse Show Association and MHSA year-end awards.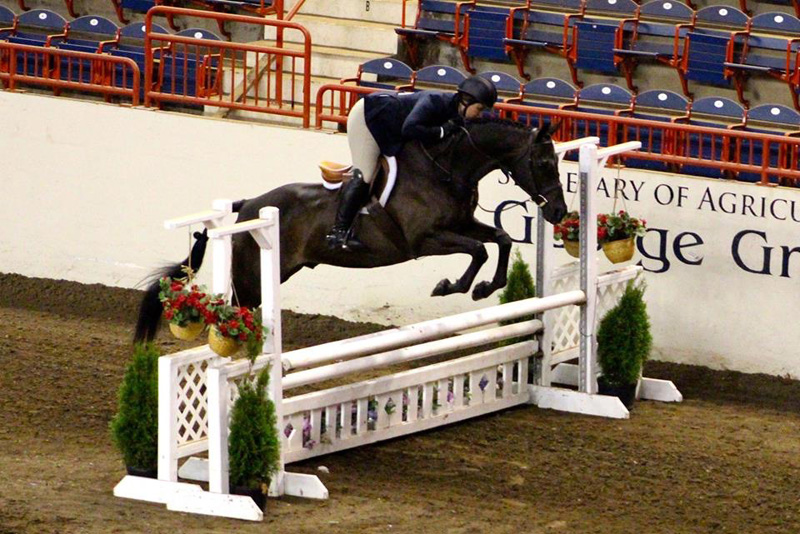 But what led Sullivan, of Jarrettsville, Maryland, to mine a Thoroughbred yearling sale for a hunter prospect in the first place?
Thoroughbreds have always been Sullivan's horse of choice. She spent her childhood around her father's race horses and built her own career in the industry. She worked for different bloodstock agents including Bill Reightler, Chanceland Farm, Ghost Ridge Farm, and Country Life Farm.
"I did mostly the foaling in the wintertime [for Ghost Ridge Farm and Country Life Farm] and whatever needed to be done on the farm, whether it was weaning, sales prepping, catching yearlings, mucking stalls, feeding," she said. "I foaled hundreds and hundreds—sometimes five to six mares in a night."
While Sullivan had always worked for race horse farms, the horses she foaled were not race horses; they were Thoroughbreds, and a Thoroughbred could be anything. "I don't look at the discipline of what the horse does," she said. "Whether it's racing, eventing, reining, dressage, cutting cows, trail riding—I look at the horse itself. I try not to be narrow-minded."
She competed in the hunters and jumpers as a child, and when she decided to buy a prospect as an adult, she never questioned that a Thoroughbred was the right horse for that job. She did her research and headed to the Timonium sale.
"A friend of mine, Heather Brown, was at the sale [in 2001]," said Sullivan. "She said, 'You should see that horse down there. Boy, does he move good.' They knew I was looking for a project. He was a very well balanced horse for a yearling."
Houston's breeding, by Rock Point out of Anita's Magic (Woodmagic—Fanita, Sergeant Cohen) also looked good for sport.
"There were a couple of horses that were by Rock Point that were just really good, basic, all-around horses," said Sullivan.
Today there are more than 75 horses sired by Rock Point that are registered with the U.S. Equestrian Federation. Rock Point Road, who was born the same year as Houston, competed to the advanced level of eventing, while many of Rock Point's offspring have gone on to be successful amateur hunters.
Houston was compact, straight-legged and correct in conformation—not "big and gangly," Sullivan said.
Sullivan and her daughter, Megan Miller, broke Houston themselves, and, though he has always been easygoing, he prefers a quiet ride. "He likes to be left alone," Miller said. "He kind of gets upset if you interfere with what his job entails, which he pretty much knows by now. There are only a few people who have gotten to show him because he's set in his ways."
Miller, now 33, was just a teenager when she started riding Houston, and for more than a decade the pair has been a fixture of the MHSA circuit. Last year the association voted him Regional Horse of the Year. "He may not be the fanciest or best jumper all the time," Miller said, "but you can always count on him to be pretty steady Eddie, which is how he has gotten to win so much."
But, for Sullivan, his titles at the Pimlico Totally Thoroughbred Horse Show (Maryland) were among the most significant. He beat out more than 700 entries in 2012, the inaugural year of the specialty Thoroughbred show to win the overall award, and he came back the following year to do the same.
"We really went to support Georganne Hale [the Maryland Jockey Club's longtime vice president of racing and racing secretary, who organized the event] because she's my neighbor down the road and a good friend," said Sullivan. "I had no thoughts [we were] going to win."
"He was given a trophy, and it's in the hall of fame at the Pimlico Race Track," Miller added.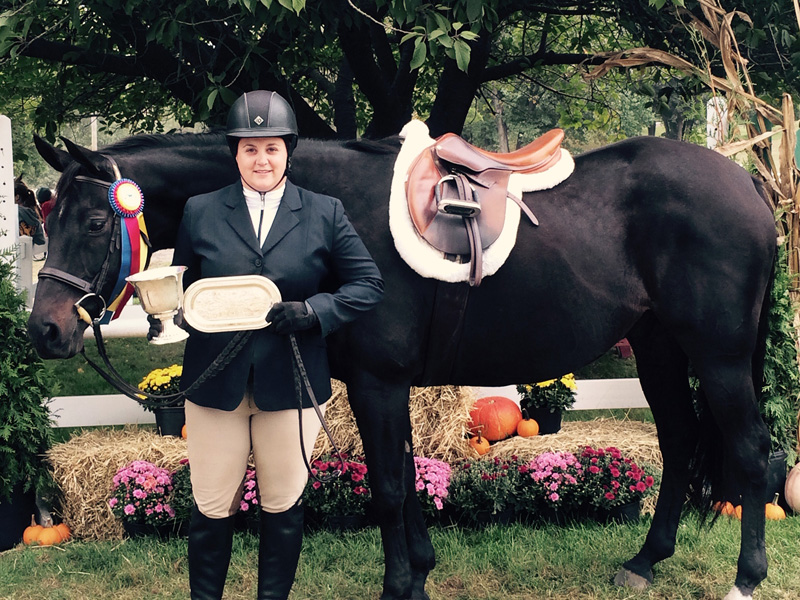 Sullivan, 64, has seen the evolution of the Thoroughbred's hunter ring appeal—its heyday, its decline, its more recent resurgence. And seeing Houston remain competitive through the years has meant a lot to her.
"That's where my heart is—in racing, in the Maryland Thoroughbred industry," she said. "I've worked in it for years. And [for Houston] to be recognized [in a discipline] where it is mostly warmbloods and warmblood-crosses—it is very special."
At this point, the Sullivan and Miller are selective about where and when they show Houston.
"He has nothing to prove, and he doesn't owe me anything," Miller said. "I'd rather him last longer than just a few [more] horse shows.
"I think at some point he'll tell us when he doesn't want to show anymore," she added.
And when that day comes, he'll stay right where he is at Sullivan's Fairfield Farm in Jarrettsville. "Someone made him a sign that said 'The Home of Houston,' and we mounted it above his stall," Miller said.
Do you know a Thoroughbred who is excelling in the sport horse world? Email Kimberly at kloushin@coth.com and tells us about it.