Thermal, Calif.' Nov. 7
Look out John French. Step aside Jenny Karazissis. You've got a new contender in today's $100,000 USHJA International Hunter Derby during the HITS National Sunshine Circuit II: Lauren Hough.
The Olympian and world No. 31 decided to give this evening's class a go on a whim aboard Reconnaissance.
"He's a classical horse, and he jumps in a really pretty style," said Hough. "He did the first two days here fine—he had one down the first day and two down the next. I thought, well, we could either jump yesterday for $100,000 or try a hunter derby for $100,000. My mom [renowned hunter trainer and judge Linda Hough] and his owner, Laura Mateo, who's a bit hunter enthusiast is here, and we thought what the heck, let's give it a try."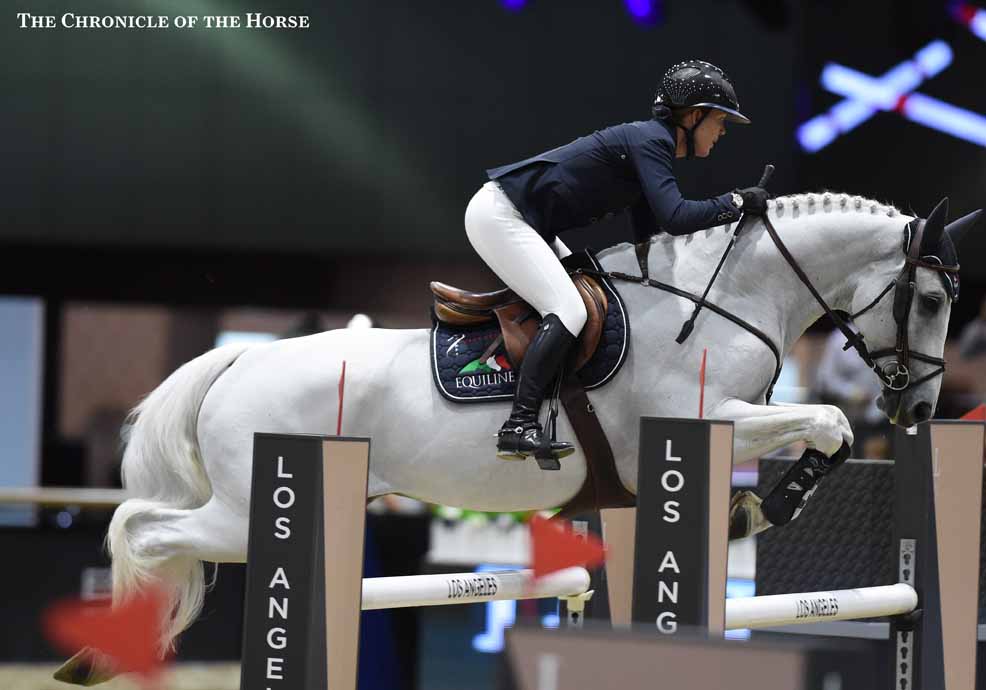 Reconnaissance and Lauren Hough have been regular ribbon winners at the CSI***** level, and they'll give the hunters a try today. Photo by Mollie Bailey.
Lauren has been riding Reconnaissance, a 10-year-old Swedish gelding (Camaro M—Irco's Diamond, Irco Mena) since 2013 and competes him through CSI***** level.
As a child Lauren starred in the pony hunter ring with top rides like Swan Song. She shifted her focus to the equitation and jumpers as a teenagers, occasionally catch riding hunters to great success like Megan Johnstone's Watership Down who earned the small junior hunter, 16-17, title at Devon (Pa.) in 1994.
Over the years Lauren, 38, has occasionally imported hunters from Europe, put a bit of training on them and sold them. But she hasn't been in the hunter show ring in about eight years, when she showed a pre-green hunter.
"I don't know the rules!" she laughed. "I did practice a trot jump yesterday, which went well. That bought me back to my equitation days. I've watched a few of these derbies and think they're really cool and fun, and hopefully I'll be respectable enough to make it back to the second round."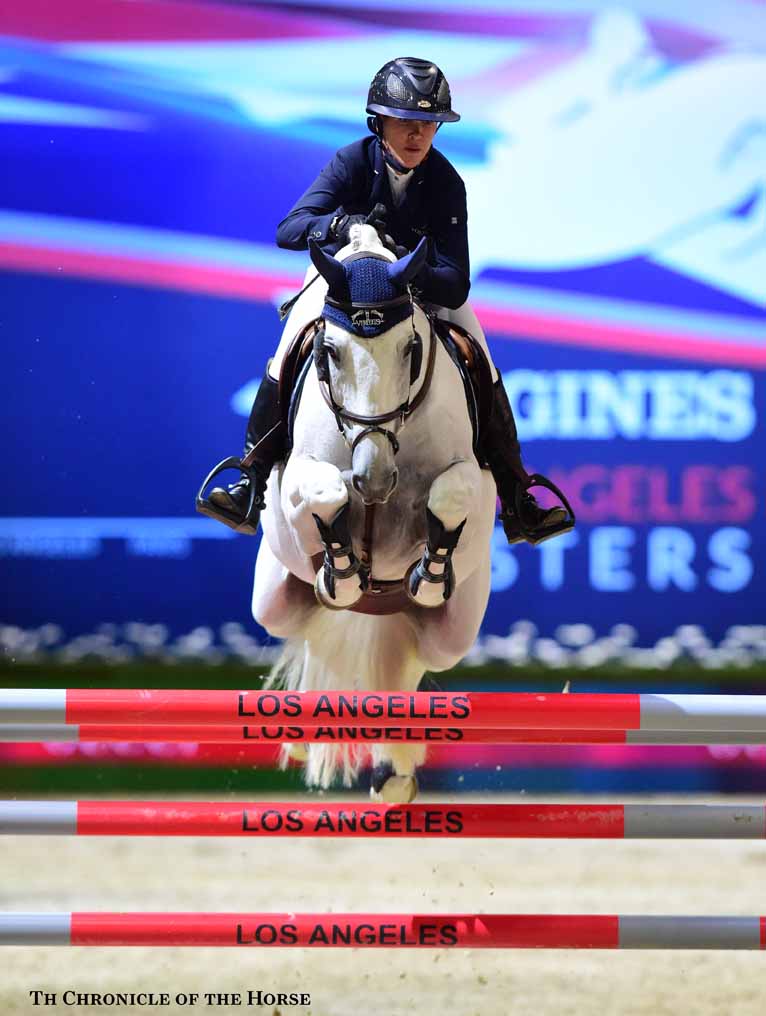 With form like this, it's no wonder Lauren Hough wants to try Reconnaissance out in the hunter ring. Photo by Mollie Bailey.
Thirty-eight horses have gathered here in Thermal, Calif., to contest first of four $100,000 hunter derbies put on by Tom Struzzieri's HITS Shows—the richest USHJA-sponsored classes in the regular series. The following three will take place in Ocala, Fla., Thermal, and Saugerties, N.Y. The promise of big money even prompted derby queen Kelley Farmer to fly out Point Being and Taken, So To Speak, Dalliance and Mindful from the East Coast for the competition.
Lauren has some help getting herself into hunter mode. Linda hunted down a braider and she may find her outfitted in a shadbelly—her pinque jacket, which a few team riders occasionally don for these classes is at her home in Glouchestershine, England. Otherwise she'll go the white pants, blue jacket route. She joked that she's just a student: She's following instructions from Archie Cox and her mom.
Lauren joins a long list of USET team veterans whose interest in the hunters has been piqued since the derby program started, and purses started skyrocketing. McLain Ward's former ride Phillipa competed in a few classes with Louise Serio; Rolex FEI World Cup Finals Veteran Carlos Boy won the first round of the USHJA International Hunter Derby Finals one year with Scott Stewart up. World Equestrian Games individual medalist Peter Wylde has been showing off his soft style in the derbies, and riders like John French, Peter Pletcher and Gary Young, who all represented this country in the show jumping realm, have all won hunter derbies. We'll also see team veterans Buddy Brown and Hugh Mutch competing in today's derby.
Other top international riders like Kent Farrington and McLain Ward have invested in derby horses as well.
Today's $100,000 USHJA International Hunter Derby kicks off at 5 p.m. PST.
Want more from the Sunshine Series? Catch up with Rothchild's big win in yesterday's $100,000 Coachella Valley Classic. Check out the Nov. 23 & 30 issue of the Chronicle for full analysis of the competition.
Find full results at ryegate.com.