After three days of sitting around in my hotel room, working from the bed and very much enjoying my 15-minute walks to get food as the stir-crazy became real, I finally got to escape to the venue Sunday night to see what I came to see: horses! (Though I can't say I was in complete isolation the entire time. I did have a cockroach friend join me at bedtime one evening.)
And, wow, what a venue it is. All the riders have gushed about it in press conferences and social media posts, and now having seen it I can understand why. The dressage ring is lined with Japanese-themed decorations, like fake cherry blossom and bonsai trees, and at night it's lit so well that there isn't a single spooky shadow in sight. Having the massive stadium empty is weird, yes, but the important part, the sport down in the ring, is as good as it's ever been.
Everyone talks about the heat and humidity, and it truly is miserable in the middle of the day; I really feel for athletes in other sports competing at those times. But by the time the horses go in the evening, there's usually a refreshing breeze, and most riders are saying it's not as bad as they expected.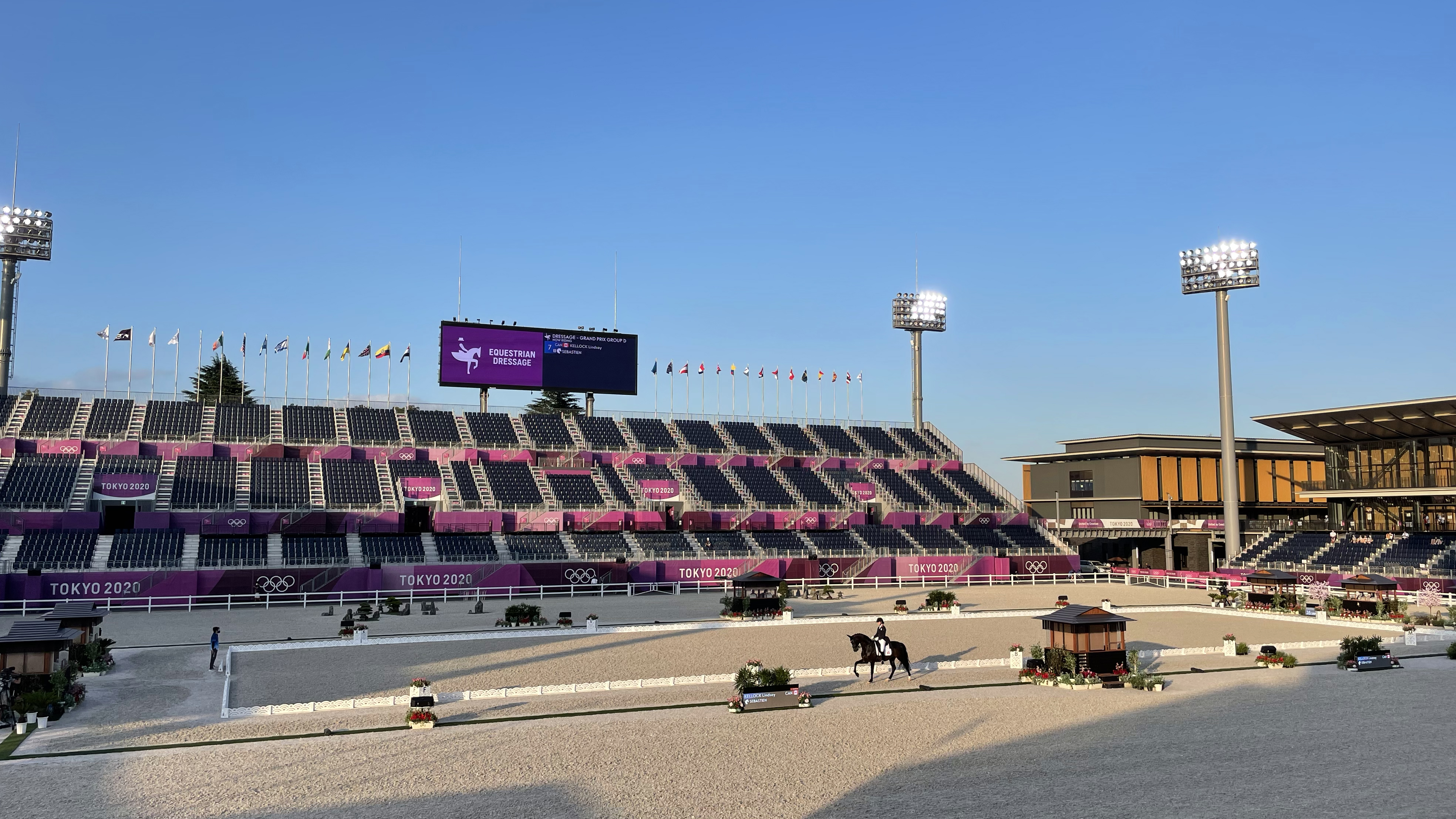 From my perspective, the venue's media center offers an excellent shaved ice dessert—plus extremely fast Wi-Fi—so I'll be happy there for the next two weeks. I've also discovered the wonder that is a Japanese 7-Eleven, which offers a variety of amazing food items in quickly grabbable, and very affordable, packages.
As a pescatarian, I've already eaten several meat items by mistake, not knowing the language, but that's to be expected. (And I re-discovered that bacon bits really do improve a salad.)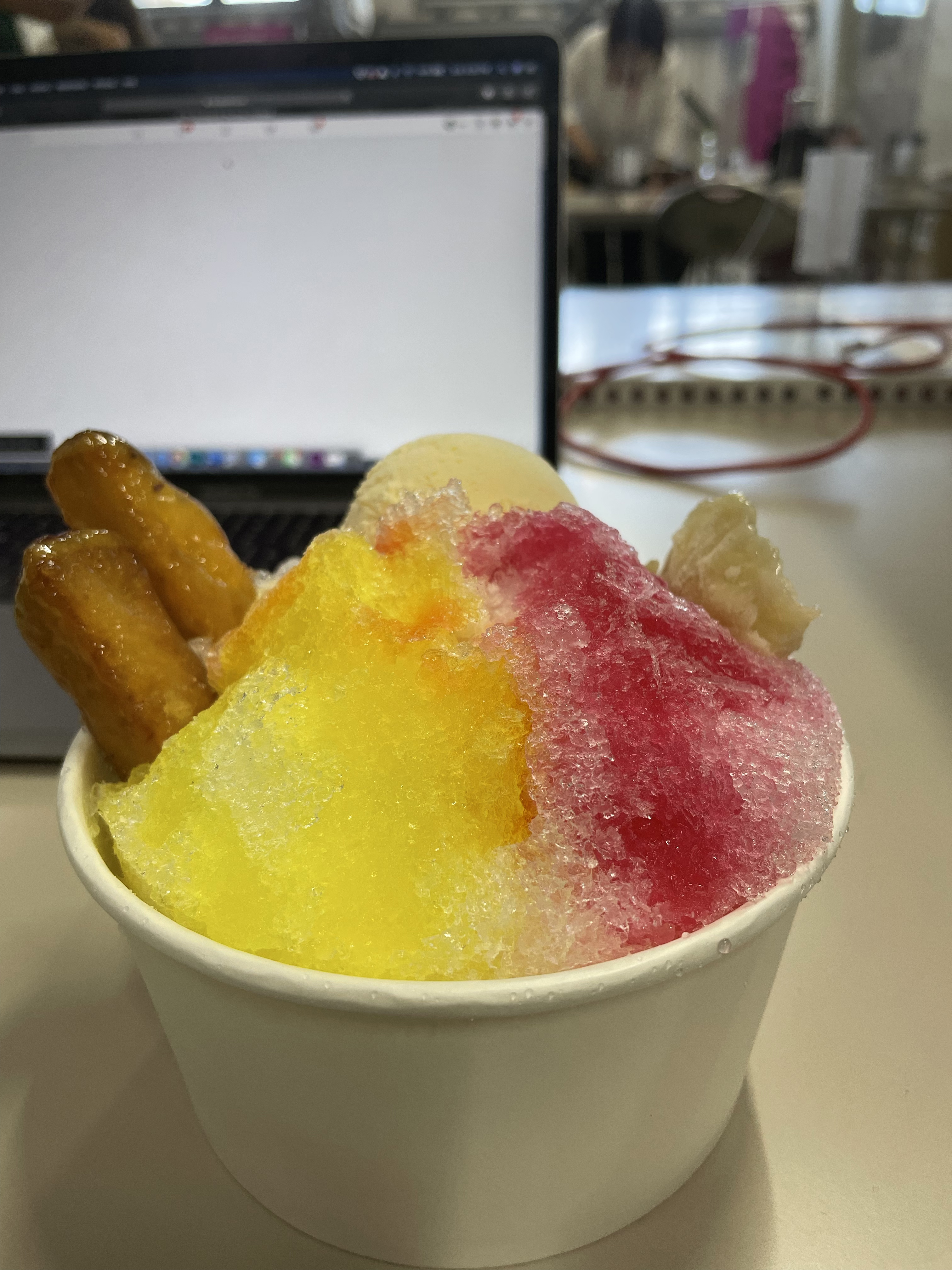 The omnipresent downside: From my experience of being here about five days,  the COVID-19 protocols could use a little work—or perhaps there's no way to make an Olympic Games during a pandemic safe.
Everyone—every volunteer and Olympic employee—really seems to be doing their best, and they couldn't be nicer or more helpful. There are plenty of protocols in place. For instance: Once a day, I log onto an app and post my health status, which includes my temperature, any symptoms I might have, such as cough, fatigue or sore throat, or the symptoms of my close contacts. (So far I've experienced, and thus reported, zero symptoms.) I'm now tested for COVID-19 every four days. But we're spending much of our time on crowded buses, filled with people practicing various levels of mask-wearing competency, and in crowded press centers. At our hotel, breakfast must be eaten in the little dining room, so we end up sitting near—though still social distancing from—journalists from all over the world.
Yes, the cafeterias and media centers have small plastic dividers between the tables and a requirement of social distancing as every other seat is left empty. But knowing what we know about how the virus transmits, those barriers seem designed more as a mental salve than an actual tactic that would prevent the spread of COVID-19. Olympic-related COVID cases are now up to 148.
Overall, I feel a confusing mix of gratitude to be here, excitement to cover this top sport and concern about whether I should be here at all, with the risks as they are, not just for myself but for the Japanese people who overwhelmingly didn't want these Games to take place.
Most people, myself included, remain under another type of 14-day quarantine after our arrival in Japan. We are able to go to the venues and media centers to do our jobs (hurray!) but still not allowed to use public transportation or leave the hotel for any reason besides work or quick errands. Once those 14 days are up, we'll be able to explore just a bit more by taking longer walks at least. Most of us are eager to do so, as Tokyo is obviously an amazing city. But for now, I'm happy with the glimpses I get from our buses and taxis and am already planning a return trip in a post-COVID world.