Nine years ago, Mia Rodier-Dawallo's life changed forever when she survived an assault.
She and her husband, Matt Woodman, were attacked by a family member, and while Woodman survived with minimal physical injuries, Rodier-Dawallo suffered permanent physical and mental trauma.
Long after the embedded glass was removed from her skin, and the chemical burns and broken bones had healed, Rodier-Dawallo was left with a traumatic brain injury and post-traumatic stress disorder. A year later, she and Woodman were hit by a drunk driver, and the accident broke her back, resulting in a permanent disability.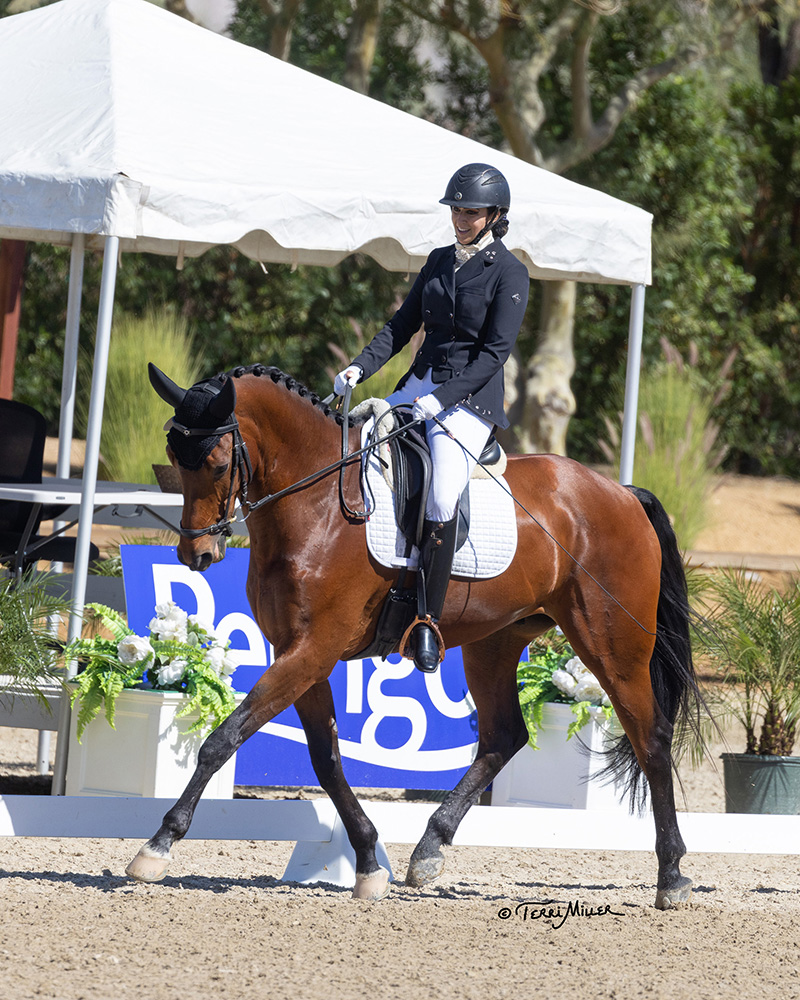 But Rodier-Dawallo has fought through the pain and trauma with the help of horses, and she's aiming to become one of the first people of color to compete on an international team for the United States as she works towards qualifying for the ECCO FEI World Para- Dressage Championships in Denmark in August.
She's off to a good start, earning qualifying scores at the Adequan Desert Dressage III CPEDI3*, held Feb. 18- 20 in Thermal, California.
She rode Lynn Scheck's pinto Vanner Muckey Maddox Van De Kendelhoeve to a second-placed finish in the Grade II Team test (64.19%) and won the class on Patty Mayer's Dutch Warmblood Cato (66.91%). She also won the Grade II Individual championship on Cato (66.56%) and finished second on "Maddox" (62.99%).
"I got back on the horse [after the assault and car accident] and thought, 'This is where I belong.' No matter what life throws at me, no matter what limbs I may lose or what happens, this is where I'm meant to be," she said. "The horses are the one thing in life you can count on. They don't have a weird ulterior motive. They're just honest and genuine."
The daughter of a Persian refugee, Rodier-Dawallo's first memories are of being on a horse in California. She competed in eventing and got serious about dressage as a junior. She also worked and volunteered at an equestrian center that offered adaptive riding, hippotherapy and therapeutic riding. Working with children and adults with cognitive and physical disabilities was an amazing experience for Rodier-Dawallo, but not one she'd ever imagined she'd be on the other side of.
After her assault, she did months of occupational, speech and physical therapy without making much progress. She had to relearn to read and write. "My hard drive was essentially wiped clean," she said.
When she hit a plateau with traditional therapy, she remembered her experience at the therapeutic riding center and thought horses seemed like the obvious answer.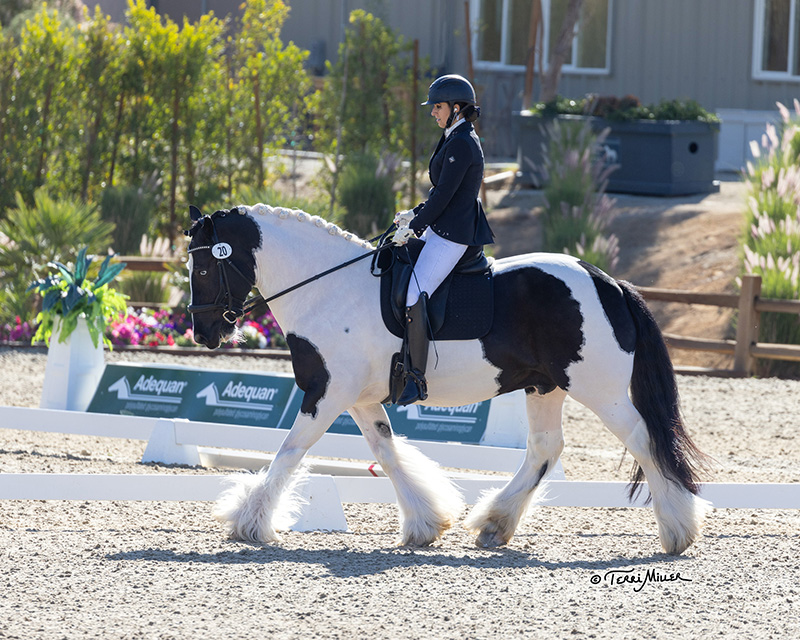 She had some trouble getting doctors to sign off because they thought it would be too dangerous, but she finally found one who thought it was worth a try, and she headed to Ride On Center Of Excellence in Newbury Park, California.
"Being on the other end of that was different," she said.  "I'd seen it work. Seen kids on the spectrum say their first words. It's amazing and magical. I was nervous it might not work for me. In one or two months in hippotherapy and adaptive riding, I made more progress than I had in six months or more of traditional clinical therapy."
She described the assault as something out of a horror movie, being thrown around, crawling over broken glass to escape, and being sprayed with bear mace while her husband, who'd been incapacitated by the bear mace, couldn't help her.
"It was a very calculated, horrifying incident," she said. "It was a lot of not being believed and trying to tell my story, and my husband being there and literally witnessing it, and them saying, 'Well, now that he's said it.' So many women go through this familial violence. When it's in your own home, it's so complicated to talk about and so hard to talk about."
With limited funds for an attorney, it took Rodier-Dawallo years to get a restraining order, only after the man came to her house and threatened her.
"I think it's really important to speak about these things," she said. "Not only was it so stigmatized—people meant for me to be ashamed to talk about it and to not talk about it—to be something that should be a secret or something I should be ashamed about. For instance, when I called the police, and I was screaming on the phone, 'Help me!' [as] I was choking. They arrived at the scene, and before taking me to the ambulance, they asked why this happened. They asked, 'What did you do to cause this?' It was adding insult to injury."
Rodier-Dawallo suffers from flashbacks, night terrors, sleep paralysis, panic attacks and debilitating anxiety, and she's developed autoimmune diseases triggered from her TBI.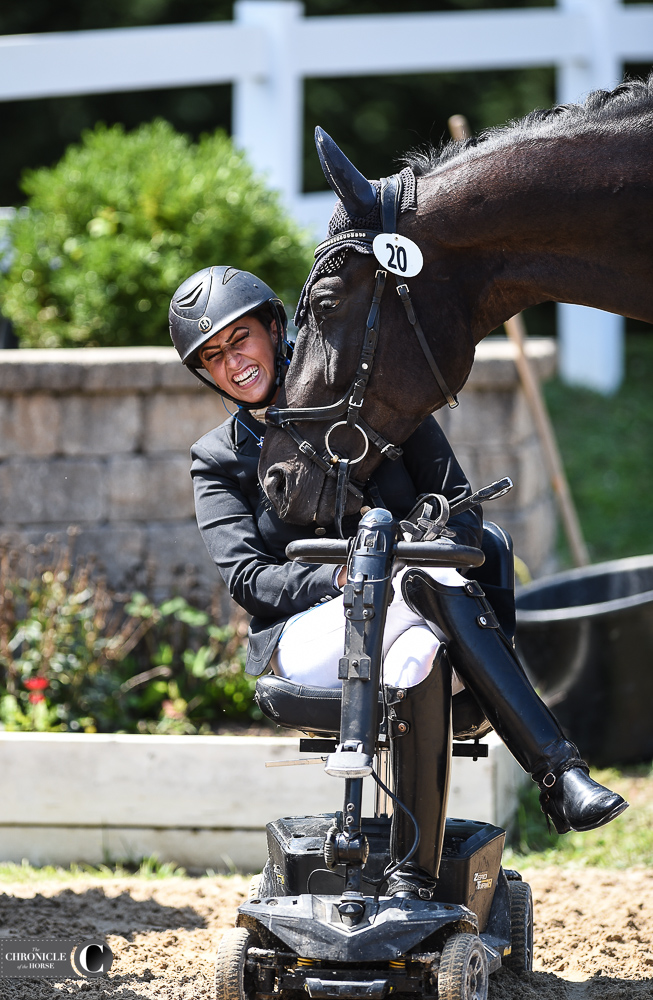 She says the PTSD is a daily struggle that she tries to combat with positivity and techniques like visualization. She also relies on the people around her who understand her struggles and are aware of her triggers.
"Sometimes I used to be a mess on the floor, not even able to function or work. Like, I just can't be a human today, thank you for understanding," she said. "People are so supportive. They're family to me. Other days I'm able to break through that or not think about it and have good days. With PTSD you never know what kind of day you're going to have when you get up in the morning. It could last a week that you're completely debilitated, or it could last an hour. There's no way to know, and you never know when [or why] you're triggered by something.
"When you have PTSD you sort of have to find these ways to laugh at the morbidity of it all and laugh at the insanity of the situation," she continued. "I have a couple of other techniques I've learned through therapy of how to snap yourself out of a trigger or out of a panic attack."
After more therapy following her car accident, Rodier- Dawallo was eager to return to therapeutic riding since she felt she'd only just started after her assault. In the accident she broke her T12 and T4 vertebrae. From the T12 down, she says she's minimally functional, and it's worse the lower you go.
"The feet are the worst, then it gets marginally better on the way up," she said. "It's intermittent feeling. Sometimes it's totally numb and totally paralyzed, and then other times it's on the other end of the spectrum where it's excruciatingly painful, pins and needles stabbing and heat and weird sensations. As far as movement, most of my cues are from my seat and my hips and my pelvis. Sometimes there's a little bit of movement, but there's no strength. I can't kick. My T4 injury, I do get a lot of numbness and tingling in my hands and fingers. I use a lot of adaptive equipment."
She uses a Seat Saver, safety stirrups, two whips and a lot of voice cues that she's trained her horses to respond to.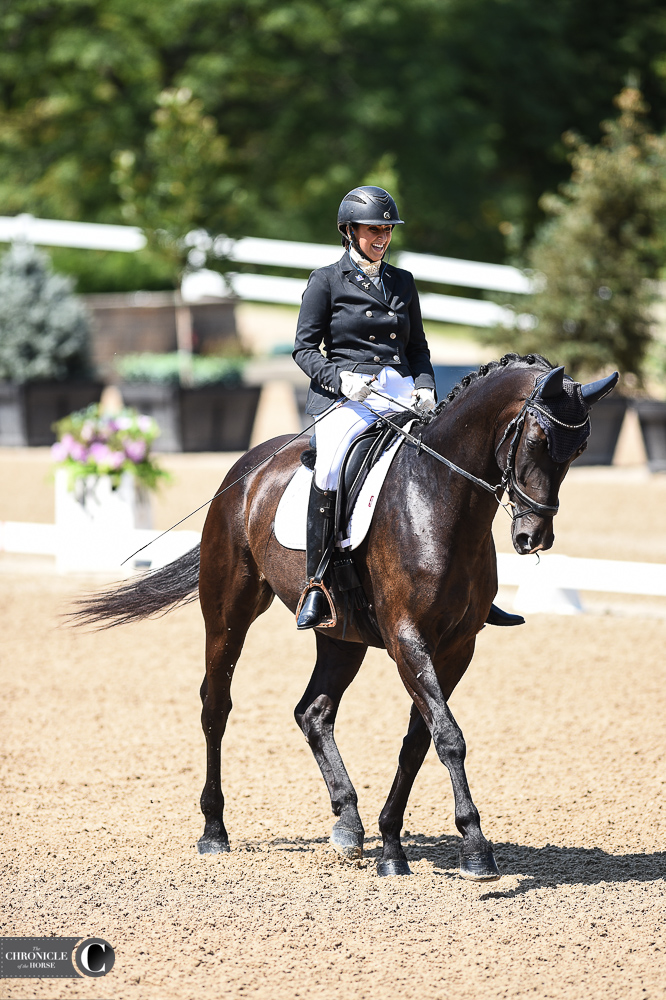 "It's magical," she said. "I've been involved with therapeutic and adaptive riding since I was a kid and have only been on the other side for a few years, but you actually see [the horses learning] in real time."
Finding Para-Dressage
In 2017, as she worked with horses in her therapy program for the second time, Rodier-Dawallo was introduced to para-dressage and went all in.
She met Mayer in 2020 through the Ride On schooling shows and now commutes five hours round trip from her home in Lompoc, California, to Mayer's farm in Camarillo five to six days a week. Woodman joins her, as he's taken up dressage since they met. Rodier-Dawallo teaches lessons and rides several horses at the barn, as well as competing Cato and Maddox.
Scheck met Rodier-Dawallo when she brought Maddox (O'Bryan—Missy Blue), now 16, to Mayer's.
"Mia just resonated with me," she said. "I think my empty nest kind of wanted to adopt Mia, so she took the place of my kids! She and Maddox just clicked. She rides him better than anybody. He and she have a connection somehow. He's not that easy of a horse. He's very large for his breed. He's 16.1, and 15.3 is the cutoff."
Scheck has enjoyed getting to know Rodier-Dawallo over the last year and loves to attend the shows and drive the trailer.
"People hide things, and she doesn't exude any type of handicap," she said. "She exudes positivity. There's nothing negative that comes out of her mouth. She's the most positive person I've ever met. She's beautiful and has a talent for riding."
Rodier-Dawallo says Maddox is big and friendly and stands out in a crowd.
"I call him an orchid amongst roses," she said. "The standard in dressage is that it has to be a bay warmblood. That's the No. 1 go-to. I have nothing against bay warmbloods, but [he] is a humongous black-and-white pinto Vanner. He has these gorgeous humongous bleach white feathers. Wherever we are, he definitely stands out in a crowd. He deserves to. He's one of a kind."
Cato (Johnson—Ulrike Utopia), now 15, has competed to Grand Prix with Mayer, who praised Rodier-Dawallo as a sympathetic rider.
"She rides a ton of horses here," said Mayer. "She's a solid horsewoman and a good teacher. Neither of these are easy horses to ride. Cato has a famous buck and spook, and Maddox has quite a bolt on him! And she doesn't care at all. She just rides and isn't scared of them and doesn't pull back on them and doesn't anticipate bad behavior. She just rides the horse in a soft, supple, sympathetic way."
"When I got on, this magical thing happened," said Rodier-Dawallo. "Cato found a new side of himself: a great protector. Even the most scary things would happen, and he would protect me in ways that are unimaginable to anyone outside of our partnership. I ride him anywhere and everywhere, and I could not feel more safe and taken care of. I will hand walk him and read to him and play my ukulele for him."
Rodier-Dawallo's goal for Desert Dressage, and all shows, is to have fun first, but she was happy to have earned her qualifying scores.
"I'm a very fun-loving kind of person, and that's 100 percent what we did this weekend," she said. "If you go in the ring and fall off or forget your test, as long as you're having fun and have a smile on your face, I think you're doing something right."
Mayer echoed Scheck's sentiments about her student.
"She is happy to be alive every day," she said. "She is happy to be with friends every day. She is not frustrated. She is not depressed by stuff. She is thankful every day to be alive. She's a remarkable woman to be around for that reason."
Rodier-Dawallo, 27, is excited to have the ride on a new horse, Jayden, an 8-year-old Dutch Warmblood gelding (Bordeaux—Ardente) she's hoping will be in contention for teams in the future.
"He gets me," she said of "Pudding." "The first time I rode him it was a magical experience. I got off the horse, and afterwards I was completely silent. I love to talk! We got in the car and were driving home, and Matt was like, 'Are you OK?' I started crying, and was like, 'I'm OK! He's so special. I've never met another horse like him.' The rest is history. An amazing group of people came together to buy him. Even anonymous people donated money. It was just kindness. I don't even know how to contextualize the amount of kindness I've experienced in the last few years having been on this insane journey."
She also has Livingston, a 9-year-old Paint (Living Large—Loves Art Breaker) owned by Danielle MacDonald Wolcott. They've shown nationally, and Rodier-Dawallo hopes to show him internationally soon.
Chasing Dreams
Rodier-Dawallo receives help from Southern California Equestrian Sports, which earmarks donations for a particular athlete. She's able to help pay for board and feed with the donations.
"I live life on the low end of the poverty line, and I work every single day to get by," she said. "I do my best to make ends meet, but this life is prohibitively expensive for so many, but it's apparently the life I decided I needed to have! Every little penny helps. That's how I've made it to where I am now."
She has a 10-year plan, starting with qualifying for this year's World Championships and the U.S. Dressage Festival of Champions (Illinois), which is adding para-dressage for the first time.
Growing up with a father who escaped a war in his home country, Rodier-Dawallo believes she has a unique perspective in the world, and especially the horse world. Her father, Kia Dawallo, would tell her stories about his life and the art of etiquette as a sign of respect.
"It's essentially, I pride myself on being well-dressed and well-kept and very polite and very overtly polite, which comes from this Persian concept of taarof [a Farsi word]. You sort of have to be different than what people assume that you're going to be," she said. "They expect you to be dirty and [wear] shoddy clothes and not be well-spoken, and they assume you fit into this very specific piece of society and a very specific class, and essentially it's your way to insulate yourself from ignorant people and from racist people and from Islamophobic people and xenophobic people—to have this way about you to make sure you're polite to everyone, that you let it roll off your back, that you are well-dressed and well-spoken. It's a multifaceted, complex way of trying to fit in while still being different than the rest."
She admits she's felt the need to act overly polite in the horse world to fit in and not cause trouble. "Yes, sometimes to my detriment!" she said. "I do a lot of code switching. People have said some really horrible, really ignorant things to me at horse shows. A lot of my friends who are people of color have had similar experiences to me, and it's kind of cathartic to share in these experiences and know we're not crazy. This is not a specific venue or person or place. It's the sort of concept of some people who might be microaggressive towards you, or some people who are straight up are racist. There's so many different levels.
"I've had people come up to me and say wildly inappropriate things," she said. "I was at a show, and somebody was like, 'Wow, I didn't know they let Mexicans do dressage.' There's so much to unpack there. I'm not Latinx, and people just assume all brown people must be the same race. It's exhausting dealing with the negative comments."
Rodier-Dawallo is hoping she can bring some attention to equestrians of color and para-equestrians with her success in the show ring, and she's not afraid to discuss difficult issues if it keeps the dialogue open. She's enjoyed participating in the Tom Bass Seminar on Diversity In Equestrian Sports.
"It's sort of one of those things where you're not supposed to talk about it and accept it and not start a fuss about it, but the truth is, there's not a lot of diversity," she said. "People just either genuinely don't know how to behave or genuinely don't know what is or isn't acceptable. I think the only reasonable answer is more inclusivity, more diversity, more everything."
---
This story originally appeared in the March 7 & 14, 2022, issue of The Chronicle of the Horse.
Subscribers may choose online access to a digital version or a print subscription or both, and they will also receive our lifestyle publication, Untacked. 
If you're just following COTH online, you're missing so much great unique content. Each print issue of the Chronicle is full of in-depth competition news, fascinating features, probing looks at issues within the sports of hunter/jumper, eventing and dressage, and stunning photography.