Katie Duerrhammer was named this week to The Dutta Corp. U.S. Dressage Team short list for the 2022 FEI Dressage World Championship to be held in August in Herning, Denmark, with her two Grand Prix mounts, Paxton and Quartett. Here, she shares how she got creative at home to bring out the best in Paxton.
---
Paxton has always been a horse with great physical ability, but getting his brain in the game was another matter entirely for rider Katie Duerrhammer (née Johnson). All that changed in the spring and summer of 2020.
When COVID-19 hit, Duerrhammer left her winter base of Wellington, Florida, and headed back to Greenwood, Colorado, with just a handful of horses. She found herself with plenty of time to train both in the saddle and out of it.
"I've always loved groundwork, and I've done a lot in the past," she said. "I just find it very useful and helpful for [my] relationship with the horse and understanding how their personal way of learning is. I think that's 9/10 of the solution, figuring out how that one horse learns things. I felt like he didn't know if he did something bad or something good. You could tell him, 'Good boy' a million times, and it never registered on his face. You could give him a sugar, and he was like, 'I don't know why you're shoving something in my mouth but OK.' So I said, 'I wonder if I could clicker train a horse.' "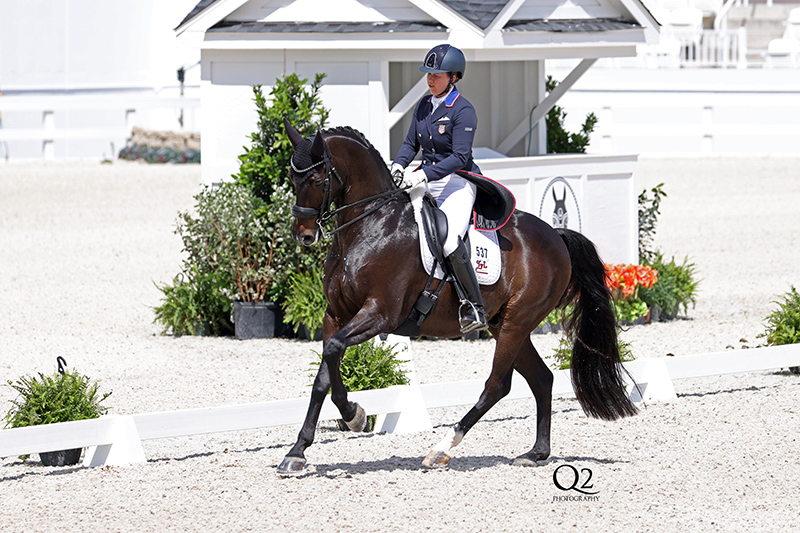 She saw similarities between Paxton and a dog she'd once clicker trained: Both lacked confidence, and Paxton was stubborn to boot. Early difficulties with groundwork immediately shed light on how Paxton's mind worked.
"I'd ask him to pick up his foot by tapping on his leg, and nothing happened," said Duerrhammer. "He would go from nothing happening to panicked and running away at the drop of a hat. He wouldn't even try something; he would just run away. And I was like, 'That makes so much sense about how you are to ride.' That got my brain working on how I could do some stuff outside the box to gain his confidence."
So Duerrhammer dug up her old clicker and got to work. Using the clicker she trained Paxton to perform a Spanish walk, pick up his legs, piaffe in hand, put his front feet on a platform, stand on a platform and bow.
"It really worked for him," said Duerrhammer, 33. "He learned to go over tarps, and I dragged tarps behind us. It was the best thing for us. We grew a ton that summer. I would always joke and call [trainer] Adrienne [Lyle] and say, 'I'm going down the rabbit hole again. I'll let you know if it pays off.'
"I love riding dressage and the sport of dressage, but the fun part is figuring out who they are and figuring out how I can teach you to do something or teach you to understand in a way that makes you want to figure it out," she added. "Now if I put his rope halter on, he knows we're going to do something fun. He just loves it."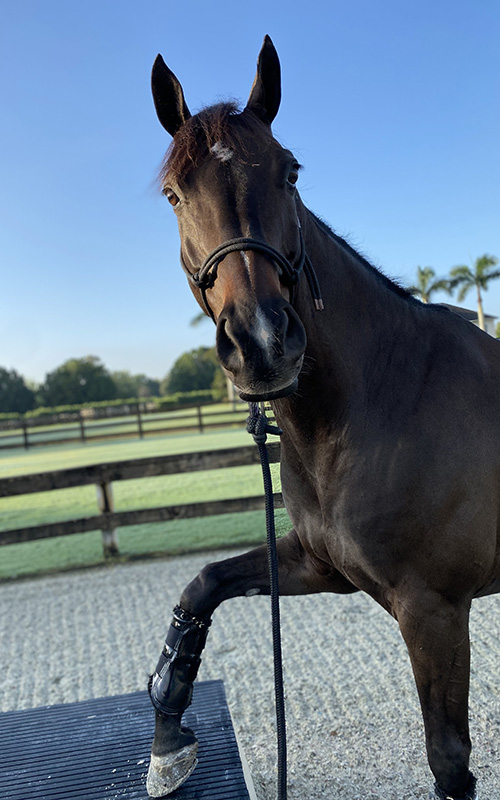 That relationship-building paid off during World Equestrian Center—Ocala Dressage III CDI3* held in Ocala, Florida, from April 14-17, when Duerrhammer piloted Paxton to the top of the Grand Prix (73.21%) and Grand Prix Special (73.63%). Both scores were personal bests for the pair.
Duerrhammer said Paxton responded well to the open stadium at WEC after having spent the season competing in the more closed ring at the Adequan Global Dressage Festival in Wellington, Florida. In the Grand Prix test she was especially pleased with the pirouettes and trot half- passes, as well as the one-tempi changes, even though they did 17 instead of the required 15.
"For me the highlight of the Special was the last centerline," she said. "He gets extremely hot and all season has been like, 'The floor is lava' on the last centerline. He gets really excited, and then he gets a little worried, because when he gets excited, he gets so high off the ground, and there's so much air time that it scares him. He doesn't always let me help him in that moment. He has to let me figure out a way to help him on that centerline feel more confident. I feel like in the Special he did that. He really let me ride him."
Paxton, an 11-year-old Westphalian (Dante Weltino— Desiree, Don Marco) owned by Kylee Lourie, spent last season competing at Developing Grand Prix, stepping into the open Grand Prix ring at the start of this season. Duerrhammer has been riding him since he was 7. He originally came to her farm for Lourie to ride, but he proved too hot and spooky, so Duerrhammer took over the ride temporarily to see if she could work him into a horse for Lourie.
"He turned out to be incredibly talented, way more talented than we ever anticipated, and still too hot for her," Duerrhammer recalled. "She said, 'I'd rather not sell him—I'd like to take him and see what we can do with him.' Adrienne has been his biggest fan from Day 1, and she said, 'This is going to be the most talented horse you have in your barn; mark my words.' I said, 'I don't know; he's pretty tough sometimes.' And she said, 'No, no, you have to find a way to make it work because he's going to be amazing.'
"That's why I'm so emotional, because he's had so many times when I've said, 'I don't know if I can do this with you,' " said Duerrhammer. "He's mentally so tough. Then to have him go out there and not trip across the greatness but feel like I could reproduce it—he did it because I asked him to, not because the dressage gods smiled down on us, which is normally how I feel when he goes really well."
Paxton will stay in Wellington with his barnmate Quartett, Duerrhammer's other Grand Prix mount, for a few weeks before returning to Colorado.
"I want to make sure we make smart decisions for him for the next couple years of his career," Duerrhammer said. "That's the most important thing to me is that he gets really good, positive mileage."
---
This article ran in The Chronicle of the Horse's May 9 & 16, 2022, issue. Subscribers may choose online access to a digital version or a print subscription or both, and they will also receive our lifestyle publication, Untacked. 
If you're just following COTH online, you're missing so much great unique content. Each print issue of the Chronicle is full of in-depth competition news, fascinating features, probing looks at issues within the sports of hunter/jumper, eventing and dressage, and stunning photography.