Our columnist has noticed some things that seem to be in vogue in the horse show world—and explains why she likes some and hates others.
The first of the hot topics I've noticed lately in the hunter/equitation world involves money won in the professional divisions.
Many are saying there aren't enough professional rated horses to fill the divisions such as the first year, second year, high performance and conformation divisions. I think there are some different factors that need to be figured into this concept.
First of all, I think there are too many horse shows all over the country. Many have talked about the mileage rule, that it must be done away with so new shows can grow. But now it's difficult at best to start a new show when people are showing closer to home or have set ideas as to the shows they want to attend each year.
I feel it's important for our shows to be more defined as to what constitutes an "A" or "AA" show. Why did we feel it necessary to get rid of so many "B" and local rated shows? Those shows are supposed to be our starting tools. We need to define shows by quality: by footing, stabling, jumps, money offered and most of all by quality of the show. Good show management and good judges are important.
It's so easy to knock money won, but I want to know one person out there who doesn't want to at least pay her entry fees and stall fees by having a show offer more money. We can't keep competing for the same money we have for the past 50 years. In this day and age of economic stress we need to offer a carrot for our owners.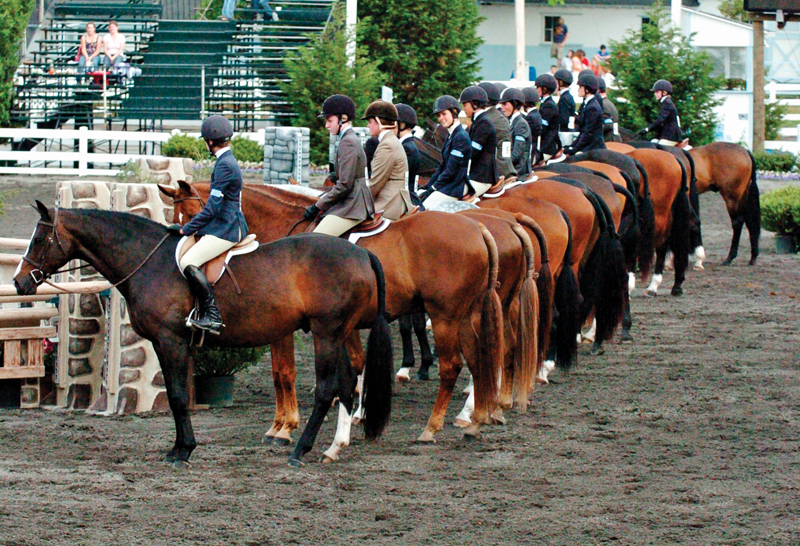 The derby series has offered owners the chance to have their horses go in more difficult classes and win some real money. And yes, they can maybe qualify for a qualifying show by doing less. But shouldn't we allow owners to show a little less with a top horse? Just as USEF Junior Hunter Finals and USEF Pony Hunter Finals reward the winners by awarding more points, these are specialized events with top horses and ponies. Why not do the same with specialized events such as the derbies?
New concepts and programs are always hard to wrap your head around, and, let's face it, horse people don't readily accept change. Give money won and derbies a chance. The trend is to knock new concepts instead of allowing them to work.
No More Regionals Please
Our qualifying shows need to keep up with the times and make changes as our sport and economy change. The National Horse Show has made a huge change, moving from Syracuse, N.Y., to Lexington, Ky., and this has had a huge response. Kentucky has embraced the show, and sponsors have flocked to the show.
The ASPCA Maclay regionals came into play when the National Horse Show at Madison Square Garden and the Meadowlands could not handle the numbers of riders. Now, with the show's move to Kentucky, it's time to let the regional trend go and return this class to one day of eliminations—same course, same judges and same venue. Let parents stop paying for that extra class and extra show with the regionals, saving on shipping costs and entry fees etc.
Let all the kids go just like at Pennsylvania National's Pessoa/USEF Medal Finals and USEF Pony Medal Final. Then take the top 75 to the main ring on Sunday. Let's get together and make it a special event, not eight different regionals that aren't related in any way! How exciting it would be to see the kids from all over the country compete head to head. It's a national finals, not a regional final. Let the kids do the Capital Challenge's North American Equitation Championships (Md.), the Pennsylvania National's Pessoa/USEF Medal Finals and the National's ASPCA Maclay. I think schools are more likely to let the kids go to Kentucky for the National Horse Show rather than just a regional. Let's break the trend of regionals.
Trends That Need To Go
Speaking of equitation trends, what is with this new release? Hands buried on the neck, elbows sticking straight out, stiffing the horse in the air?
I've never seen the top jumper riders use this release or the top hunter riders. Who invented it, who is teaching it, and better still who is not correcting it? It's a trend that's happening at all levels all over the country.
Also, many riders are walking the length of the ring on their entrance. It is a horse show! I'm not sure the reason behind that—is it to get the judges' atten-tion? Is it to make your round last longer? What's the training technique of spending five minutes walking into the ring?
Another new trend, mostly by professional riders, is to go last with four horses in a class of 50 double rounds! Some think they will get the judge's attention—wrong! It's rude to the in-gate staff, the judge and the rest of the exhibitors. Bring your manners to the ring. Rudeness is a trend we need to get rid of!
The next trend is by our hunter course designers. Who decided that all first jumps should be lower than the rest of the course?
As a judge—and I'm pretty sure the rest of the judges are the same—I judge all of the jumps. As trainers we school our horses to jump high and round and not to rub the jumps. Then our horses gallop to the first fence, and it's 6 inches lower than the rest of the course. I'm pretty sure that theory does not hold true in the jumper classes.
Do we not have enough low divisions if it's necessary for a horse to jump lower? Let's make all the jumps the same height, as I think we are judging and showing in a class where good jumping style is part of the test.
---
Susie Schoellkopf, of Buffalo, N.Y., is an active R-rated judge for hunters and equitation. She was a successful hunter rider and now owns and manages SBS Farms and serves as the executive director of the Buffalo Therapeutic Riding Center. She is a member of several U.S. Equestrian Federation committees and a founder of the Horsemen's Advisory Council. Susie's first Chronicle column was published in November 2002.