Tracy Lowrey Lenehan found not just a winner, but also a friend in a lanky, gray Thoroughbred.
In the fall of 1990, Tracy Lenehan (née Lowrey) went in search of a new horse. She was no stranger to the show ring, but she had a yearning to take her riding to a new level.
"I rode a lot as a junior, but I had only ever been allowed to have one horse. If he got hurt, then I didn't have anything to ride. After having a somewhat disappointing career as a junior, I took four years off from riding. When my father said I could go out and look for a good amateur horse, I was very excited," she said.
Her farrier, Butch Bibbo, insisted that he and Michael and Anthony D'Ambrosio owned a horse that she just had to go and try. Goodnight Moon had traveled from Oklahoma to New York as a sales prospect, and, as a 4-year-old, was showing in the pre-green division.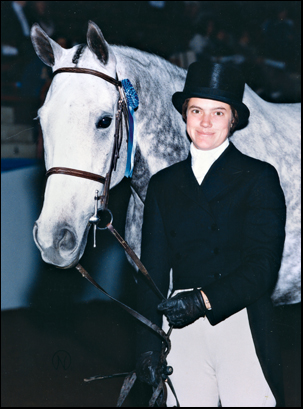 "We think he was a Thoroughbred based on his type, although he didn't have a tattoo," Lenehan said.
Lenehan and her farm manager, Michael Snyder, went to look at "Moon" and were so taken by his scope and forgiving personality they bought him on the spot. The D'Ambrosios had named him Goodnight Moon in honor of their son Cody's favorite bedtime story, and because of Moon's gentle and kind demeanor. Little did Lenehan know that the unassuming Moon would prove to be more than she imagined.
They started winning in the amateur-owner hunter, 18-35, division that first year showing, 1991, and over the next five years they'd add tricolors at all the biggest shows to their resume. And, on the journey, Moon would show his strength by surviving two colic surgeries.
"He was such a cool horse," said Missy Clark, who trained the pair. "He had a real presence to him, and they were one of those great partnerships that develop over time."
"We really just lucked into him. I don't think many trainers would have advised me to buy him, a pre-green horse, as a first amateur horse because of my relative inexperience," Lenehan said. "Had I gotten a different horse, with a different temperament, he probably would have been stopping from the get-go. So, I always felt really lucky and blessed that he came into my life."
Val Rogers took care of Moon for Lenehan for years, and he's still one of her favorites.
"I always seem to come up with the same line when describing Moon to people. He was a rare combination," she said.
"It always seems that horses are either sweet to be around and fun to work with but don't do much in the show ring or they win a lot but are miserable to work with. Moon was that unique combination of a wonderful, sweet personality, a treat to ride and, of course, a winner.
"As sweet as he was, he also had a competitive spirit. I swear to this day that he knew the difference between jogging in at the front of the line versus the back. I suppose that's also what made the pair so good—Tracy has that same combination. She's one of the nicest people I've met let alone ever worked for
and yet she has a great competitive spirit. Those two things don't always go hand in hand," said Rogers.
"It was really a dream come true," Lenehan reflected upon the years she spent with Moon. "All I wanted when I was a little girl was to go to the big shows. Moon was the first competitive horse I ever had. It was very exciting for me to start winning at the big shows I'd only read about when I was a child."
He Always Took Care Of Me
Lenehan and Moon started their partnership training with the Fairfield Hunt Club (Conn.) at the 1991 Winter Equestrian Festival (Fla.), stepping right up into the amateur-owner classes.
"The trainers at Fairfield really helped him start to learn how to carry his own pace and go forward off my leg," Lenehan said. "By the summertime, after we had done all of Florida and some spring shows, we really started getting it together. Our first success came when we were reserve at Lake Placid [N.Y.], and Moon and Brian Lenehan [now Tracy's husband] were champion in the first years."
Moon had the unfortunate luck to share his first year green year—1991—with the legendary Rox Dene, so he didn't set the world on fire in the professional divisions.
"He did well, but I think he was really most competitive in the amateurs because of his attitude. He maybe didn't always have a 10 jump, but he always clocked around and was consistent. When the other horses were nervous or spooky, he never was," said Tracy.
"I always had a lot of confidence in Moon. He always took care of me. Especially back when he would have had every right to stop at some of the distances I put him to. But he had so much scope that he always got out of the way, and he never held it against me. He just kept coming back until I finally got him
figured out."
Though he qualified, Moon had to sit out the 1991 indoor show circuit with a broken splint bone. In 1992, Tracy began training with Clark, and she and Moon really got on a roll. They took the amateur-owner hunter reserve championship at the Pennsylvania National.
In 1994, at Devon (Pa.), Moon earned the reserve championship, and on the way gave Tracy one of her most memorable moments—winning the stakes class.
"We scored a 92 from [judges] Rodney Jenkins and Ralph Caristo. It was the most exciting moment of my life because we had been fourth, third and second in the classes prior," Tracy recalled.
"The class we had been second in, I really thought we might win. I asked Missy what I could do differently, and she replied 'Don't change a thing. Sometimes second best is the best you can be.'
"I didn't want to accept that—I just wanted to win so much," Tracy continued. "I went into the stake really determined, and he went around so beautifully. We went at the very end of the class so when they announced our score I knew we had won. Devon gets such a great crowd. To hear so many people cheering for us brought tears to my eyes. It was such a perfect moment."

The Best Year
Tracy earned a master's degree from Columbia University (N.Y.) in 1994 and began work in Florida as a service coordinator for children with developmental delays, commuting back and forth to the summer and fall shows.
She decided to take 1995 off from work to concentrate on her riding, especially since she was now showing jumpers as well. The decision paid off with her best year with Moon, despite some setbacks along the way.
In fact, 1995 didn't start out well for Moon—in January he colicked, suffering a nephrosplenic entrapment.
"We came so close to losing him," said Rogers. "He had one surgery to unhook the intestine from the spleen. When it was apparent that there was still something wrong, they went back in about 18 hours later and found an additional twist.
"He was home three weeks later and, again, I did things with him I wouldn't have done with any other horse," she added. "I started walking him under tack at four weeks and started turning him out shortly after that. He was so sensible. I was able to do these things, which were key to his speedy recovery."
Because of the colic surgery, Moon didn't show in Florida, but he started the summer by earning tricolors at Fairfield (Conn.) and Ox Ridge (Conn.). But then, while out for a hack at Lake Placid in July, Moon tripped and fell, sending Tracy to the ground. She suffered a broken collar bone that forced her to sit out until September when they won the grand amateur-owner championship at the Hampton Classic (N.Y.), one of Moon's favorite shows.
In the six years that Tracy showed him there, he won the first class every time. They followed this win with the grand amateur-owner title at The Autumn Classic (N.Y.).
"He was always brave when it really counted, which was a great thing. In any ring where I would be nervous, or horses would be spooky, he always just kept his attention enough to make him easier to ride because he had a little spark to him," she said. "When he was really on, at the big shows where the jumps were a little more imposing, he could give you an incredible feeling over a jump. He had a ton of scope and a lot of power."
Moon finished 1995 with the championship at Capital Challenge (Md.) and the reserve at the Washington International (Md.). At Capital Challenge they also accepted the year-end amateur-owner hunter award for the World Championship Hunter Rider program.
The grand amateur-owner title at the National Horse Show (N.J.) capped a fairytale year for them.
"To me, the greatest thing about Moon is that he made all the dreams I had as a little girl come true," said Tracy. "I feel fortunate because you can go out and try to buy a true winner 100 times, and you'll be lucky if even once it turns out to be what you dreamed. But I got so lucky."

It Was Time
Tracy and Moon repeated their reserve championship at Devon in 1996, but that summer disaster struck again. Moon colicked while at the Lake Placid (N.Y.) horse show in June and had to undergo surgery again.
He recovered quickly and went on to compete at the indoor shows that fall and show lightly in early 1997, but Tracy knew he wasn't himself.
"The scar tissue and adhesions in his belly from the two surgeries impacted his ability to perform. He didn't have as big a stride as he used to, and he couldn't stretch out over the jumps," she said.
She made the difficult decision to retire Moon.
"It was sad, but he was telling us that he didn't want to do it anymore," she said.
Moon traveled to North Carolina and spent his years of retirement under the care of Tracy's brother-in-law, Kevin Lenehan. During the summer of 2000, Moon began to have difficulty breathing, and he went to N.C. State Veterinary Hospital for a diagnosis.
"Their X-ray machine was broken the weekend he was up there, so we had to wait a few days for a definitive diagnosis," Tracy said. "It was nice in a way that the machine wasbroken because I got to be there for the weekend and take care of him and really spend some time with him, which I hadn't done for a few years. But at the beginning of the week, when the X-ray machine got up and running, they X-rayed his lungs and determined he was suffering from an aggressive case of lung cancer. So, we put him down."
Tracy lost more than just a show-ring partner that day.
"Moon was one of those horses that you could really call your friend," she said. "I've had other horses, but I spent the most time with Moon and genuinely enjoyed his company. I loved taking him out on trail rides and seeing him when I walked into the barn. He was a people horse. My biggest sadness is that my daughters didn't get to know him because he would have been such a gentle, wonderful horse for them to play with."
Molly Sorge