Plenty of jumper riders are able to recognize an inflamed hock or stitch-worthy cut on their mount at a horse show, but could they treat it then and there?
Hope Batchelor, DVM, could because the intersection of her riding life and her work life extends beyond that of the average amateur-owner; she's also an FEI-certified veterinarian who treats some of the top hunter and jumper horses on the East Coast.
For most horse showgoers, "that's their time to just focus on their riding," said Batchelor, 37. "For me, I'm going to walk the course and people come up to me and say, 'Did you look at my x-rays from Europe? Could you come look at my horse? Did you talk to them about the bloodwork?' So then I think, 'OK, so I have to remember to do this and that…So what's my course?!' "
With customers scattered throughout Maryland, New York, New Jersey and Pennsylvania, "I feel like I'm always sort of unprepared to go to the horse shows," said Batchelor. "But I think I'm used to that and I just try to keep the horses as fit as I can. You just have to be OK with the fact that you're not going to be the most prepared person walking in the ring, and if you're OK with that, you can balance the two for sure."
She attributes her ability to do both to plenty of practice, having ridden as a youth and through the Intercollegiate Horse Show Association while studying at Lynchburg College (Va.).
Though she doesn't have many opportunities to jump between shows, and she feels lucky to squeeze in a lesson or two with longtime coach Joanne Copeland before making her yearly pilgrimage to the FTI Winter Equestrian Festival (Fla.), Batchelor keeps occupation and vocation in one location when she's at home in order to juggle both.
At her father Jay Batchelor's 14-stall barn in Chester Springs, Pa., she operates her own small rehabilitation business Pickering Equine between travel calls for John R. Steele & Associates, Inc., a top-class veterinary clinic in Vernon, N.Y. Despite the effort required to maintain a full-time job in addition to a competitive riding career, Batchelor is also starting to build her own 14-stall barn, complete with office space, treadmill and aqua treadmill, down the road from her father's property in Chester Springs.
Batchelor finds time to train several of her own hunters and one jumper, care for retirees and treat rehabbing sport horses at the family farm with the help of a two-woman support staff. Heather Cary is her traveling vet technician to assist with calls, and Noel Solomon, formerly a groom for Joe Fargis, manages Pickering Equine when she's not doubling as a groom-vet technician alongside Batchelor at shows.
Copeland helps Batchelor with her training program aboard Orlando, a 16-year-old Dutch Warmblood that she purchased two years ago from one of Copeland's students, Colleen Lewis.
With only a hunter background until that time, Batchelor thought Orlando was an unlikely match for her when Copeland suggested she try the successfully campaigned low junior jumper.
" 'I don't know if I can even ride the jumpers!' Batchelor recalled saying. "I was in my 30s for God's sake; I'd only ever done the hunters!
"So I tried the horse and said, 'I don't know, I think I can ride it. Joanne, what if I'm terrible at this?' So the first few times I walked a jumper course I [thought], 'OK, I'm pretty sure I don't remember what I walked the first line in,' and then I had to re-walk the thing. I'm walking like you'd walk a hunter course, all the way out by the rail, so it was definitely an adjustment to try to learn how to do the jumpers, because things just come up way faster. So I went 'Whoa' a lot of the time."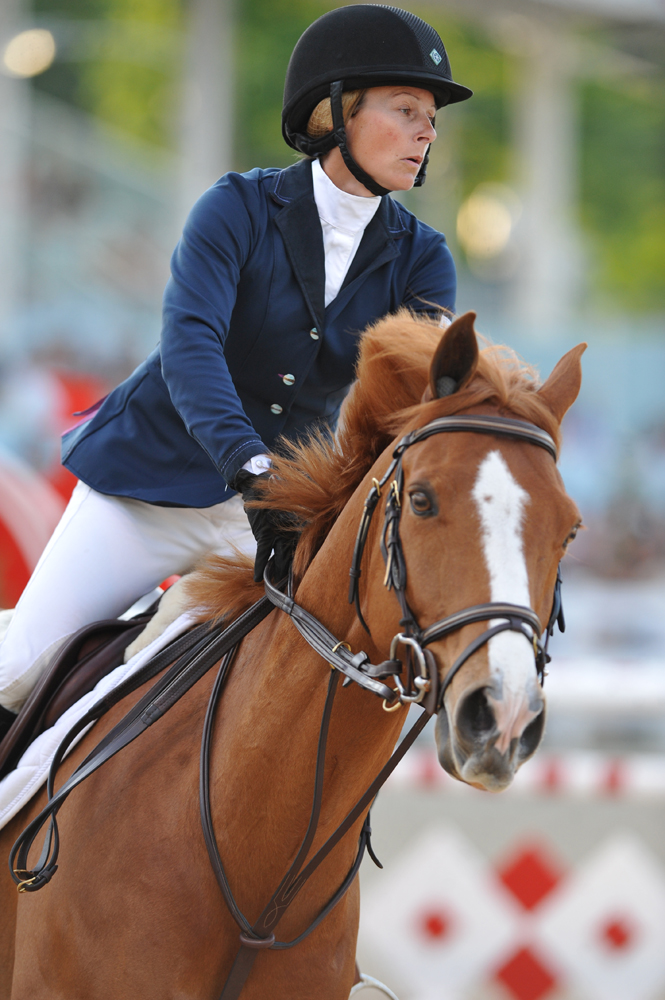 Hope Batchelor, DVM, just started showing in
the jumpers with Orlando.
Photo by Molly Sorge
But Orlando soon became her partner for a number of successes within the past year. In the fall, they took second in classes at both the Capital Challenge (Md.) and the Washington International in the adult amateur jumpers. This year at WEF, they topped the $10,000 high adult amateur, 36 and over classic in Week 7.
"He's quick and careful and his personality is sort of the same," said Batchelor. "He's easy and good to work around but he pays attention to everything all the time."
Though her riding career is taking off faster than it ever has in her life, "My vet career is absolutely my priority; the customers are always my first priority," she said. "It's always No. 1; No. 2 is my riding. If for some reason somebody has something that needs to be treated, a sick horse, whatever, it comes first. If I have to scratch my horse, if I don't ride that day, if I don't horse show—whatever, it just gets wiped off the schedule.
"I think that I'm lucky because my hobby happens to be also co-mingled with my job," she continued. "For example, I'm the horse show vet at a bunch of horse shows, which is really the only way I get to horse show my horses, because I'm already there."
Batchelor serves as an official vet and competitor at Pennsylvania competitions like St. Christopher's Horse Show, the Blue Rock Classic, the Devon Fall Classic, the Swan Lake Horse Show series and even a few hunter trials throughout the year.
"Since I have to be on the grounds all the time anyway, the horse show management has been nice enough to be OK with me showing my horses there also," said Batchelor, who's ready to dismount and run to an emergency at any moment.
"The biggest challenge of actually showing and juggling [a vet career] is being able to mentally focus on whichever thing you're doing at the time. So when I'm having to treat horses, I'm focused only on treating the horses—whatever that horse needs at the time. When I have to go to get on my horse, I have to put all that in a box, mentally focus on what I'm doing with my horse as far as the warm-up ring goes, as far as my course goes, and I need to shut everything [else] off.
"As soon as I get back off the horse, I have to go back to the other box and try to re-focus on the vet thing and wherever I dropped off before I rode. And I think that is a huge challenge; riding is such a mental game anyway, I think it's very challenging to try to shut one door and open the next with ease and with accuracy in both."
This is the first in "Amateurs Like Us," a series of articles about amateur riders juggling busy careers with show ring success. Are you one of those inspiring amateurs? Do you know one? Email us and tell us more and maybe you'll be next in the series!