For most amateurs, horses are a lifestyle that must be delicately perched between daily responsibilities and our dreams. Within this crowd are members of the U.S. Armed Forces, who face deployments and reassignments that keep them and their horse habit on the move.
In my eight years of active duty service, I have moved my horses across state lines six times. Military families are experts at the long-distance hauls and shipping requests, black belts at barn hunting from hundreds of miles away, experienced in finding trainers or lessors for their horses, and know how to make the most of their circumstances. For this post I interviewed several other members of this outstanding community, and I hope their insight and advice rings true for amateur riders out there looking for inspiration or new military members with their own riding goals.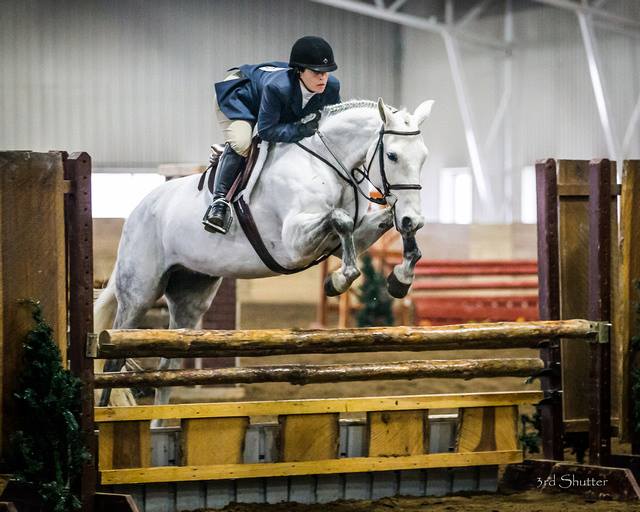 For 16 years Lt. Col. K. Barbour of the U.S. Air Force has juggled her military career with showing in the hunters. She's been stationed across the United States and overseas while earning state association championships and USEF Zone awards. During long deployments she has bred her mares and leased out horses so they do not sit idle. She's currently stationed nearly six hours away from her horses in Washington, District of Columbia, and commutes home every weekend to ride.
"You have to temper your expectations," she said. "There are going to be deployments or exercises, long nights and weekends. You have to adapt your goals accordingly, and in some cases, the goal might simply be 'not to lose too much,' let alone progress. Showing horses is an expensive hobby, and a military paycheck isn't going to fund qualifying for Devon [Pennsylvania] or indoors. That doesn't mean you can't stay a serious rider and have some training and show success but be realistic."
When Barbour was deployed, she relied heavily on friends to report on her herd and to provide updates on their own training goals so she could ride vicariously. Though it's not always easy, Barbour has found plenty of positives.
"Overall I consider myself extremely lucky despite the challenges of balancing a military career and a horse life," she said. "I've had some fantastic experiences and opportunities. My military career moved me to where I could meet my heart horse and most successful hunter, and another move is how I met my husband. Still another move got me to where we were able to buy the small horse farm that will be our forever home."
Military life offers plenty of opportunities, and Barbour suggests that even if it's not ideal for your chosen discipline, you should take advantage of the opportunity to expand your knowledge.
"No hunter/jumper barns around? Try polo lessons or learn to go cross-country with an eventing coach. Try western or saddle seat," she suggested. "Even if what you do there for a year isn't what you hoped, that experience will still make you more well-rounded and provide new tools for your toolbox when you finally return to your chosen discipline."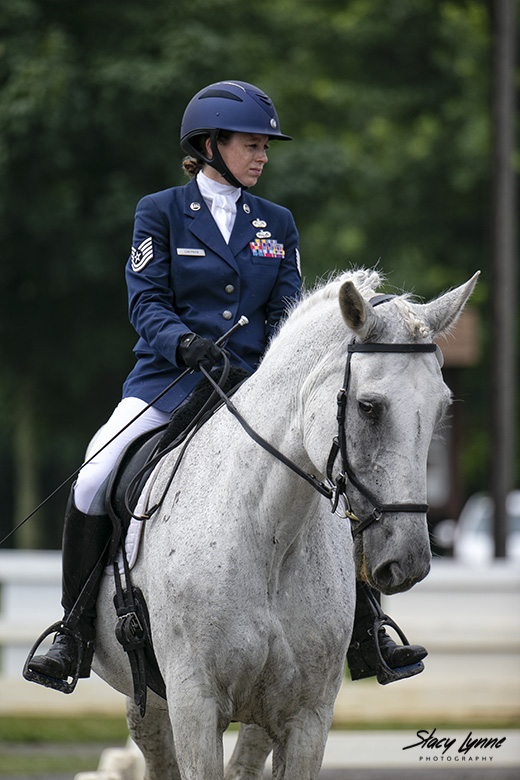 Air Force Tech. Sgt. Stacey Chepren has been a prominent member of the military equestrian community, journaling her adventures on her blog, The Jumping Percheron. In addition to eventing, she and her full Percheron mare, Klein, won three USDF All Breeds Championships for the Percheron Horse Association of America at first level in 2018. In more than 12 years of active duty service, Chepren and her husband, who is also active duty Air Force, have become masters at managing their herd with their careers. They've moved horses across the country multiple times and are currently living in Las Vegas.
Active duty military members face reassignment, known as a Permanent Change of Station or PCS, sometimes as often as every two years. Chepren is a master at this, and as soon as she gets orders, she starts researching boarding situations, veterinarians, farriers and shipping options.
"Preparation is the key to success when it comes to PCSing with horses. You have to be incredibly resourceful and proactive," she said.
Though not everywhere is ripe with competition venues, Chepren's found joy in galloping bareback on the beach and swimming with her mare in the ocean while based in Hawaii. Being stationed at the Holloman Air Force Base in New Mexico meant she got to ride in White Sands National Monument frequently. Deployments have derailed some competition and training plans, but Chepren likes the potential for adventure that comes with new places.
"At the end of the day the fact that I have taken my horses to every duty station, to include Hawaii, makes my competition plans seem insignificant," she said. "As long as I have my horses with me I'm happy! Whenever that happens, it just gives you something to look forward to when you get home. It is something positive and motivating to focus on as far as your show schedule upon your return and the re-conditioning of your horse. The bottom line is that these trips are part of my career that helps pay for all of my horse adventures."
And Chepren recognizes that horses give her something invaluable in return for the work she puts into keeping them in her life. "Not only is my career field incredibly stressful, [but] it deals with extremely negative circumstances on a daily basis," she said. "Horses have helped me escape from that and forget about work for a while. It gives me a mental break far from all the negativity and depressing things I deal with at work."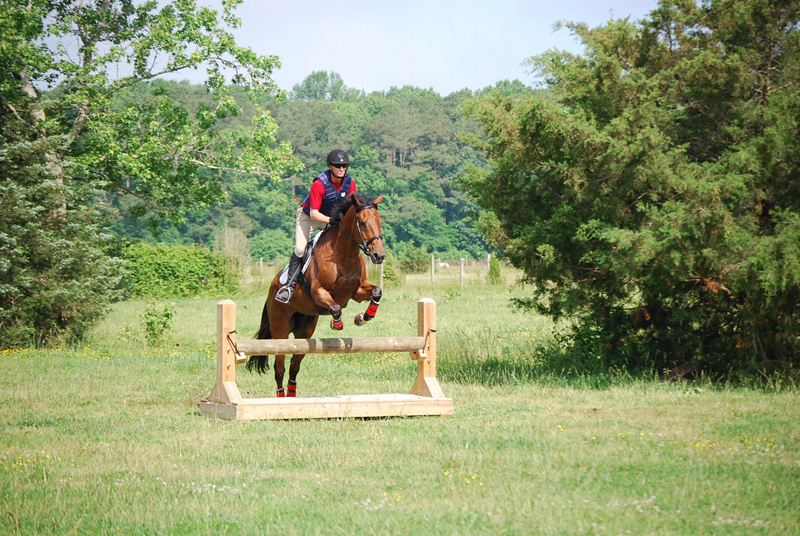 Lt. Cmdr. Alex Rodeck, a pilot with the U.S. Navy, has seen his share of triumphs and tragedies with horses during his 15 years of active service. Rodeck shares his love of horses with his wife, and while they sold their horses when Rodeck was selected for commissioning and pilot training in 2006, they returned to horses three years later. Rodeck currently balances the demands of his job with eventing his horse RJ, but he admits progress can be slow.
"The biggest struggle is trying to find consistency with my horses and their training, as well as my riding," he said. "I've been stuck at the training level barrier for the last four years due to the inability to train/ride at that next level required to get a horse, and myself, at the correct level of fitness, skill and competitiveness to advance. I have always dreamed of finding the right situation where I can show into the [upper levels] levels and one day show at a [five-star] event. It's a huge dream, I know that, but I won't give up on it just because 40 is sneaking up on me [next year]."
Rodeck recognizes the need to be realistic with his goals and stay flexible.
"I've had to settle with smaller short- and long-term goals. Not knowing where I will be 30 months from now, and knowing at least a year of the next three will be spent away from home, means I can only plan for the next show season," Rodeck said. "With my newest horse, that means setting a realistic goal of competing at a couple of recognized events at the novice level in the 2019 season and trying to do well enough to justify entering him at Rebecca Farm [Montana] in July."
But the assignments have opened many doors for training that Rodeck would not have experienced otherwise, and he explained how each trainer brought a different element to his riding. "I get to meet more trainers, more riders and more different horses through moving around the country, than someone who spends their entire life in one state would," he said.
Military spouses also share the burden of balancing a love of horses with the demands of the military. A career eventer and USDF bronze medalist, Miriam Terry is an Army spouse of 13 years and is currently stationed with her husband in Vicenza, Italy.
"I'm blessed that as a spouse I hadn't had to take too long of a break away from horses before," she said. "There were times during PCS season where I missed shows or riding time, but for the most part I've been able to ride fairly consistently. This tour is the first time I've been without a horse since I was 16, and I've had a very hard time adjusting. Riding, doing chores and just being around horses is such a big part of who I am that it's been a difficult transition to a basically horse-free life for now. I'm trying not to be too discouraged, and I'm using the time abroad to save money for the next horse."
Terry is leasing her horse out while they're overseas, and she hopes to find a local barn to keep her saddle ready in the interim. Having barn time is important because horses are vital to her mental well-being.
"The ability to ride really helped keep me sane while dealing with the stresses of a deployment and time away from my husband," Terry said. "We just started our first [overseas] tour in the summer of 2018, and I had to leave my horse Stateside. I was blessed enough to find a wonderful lessor for him, who is keeping him in shape and enjoying him while I have to be overseas."
Terry offered some advice to other military spouses hoping to pursue their riding goals. "As a spouse, the biggest challenge is trying to relate to other non-horsey spouses," she said. "They're never going to understand why I'd rather be at the barn than at a coffee, or why I'm wearing breeches at my kid's gymnastics class, or why I really can't make that social because I've got a colicky horse. It's important to be able to switch hats from horse person to Army wife. Each has its own jargon and responsibilities, but they don't often overlap very well, in my experience. On the other hand, the independence and strong character that you develop in the horse world allow you to be a leader and a help to other wives who may be struggling with the challenges of Army life."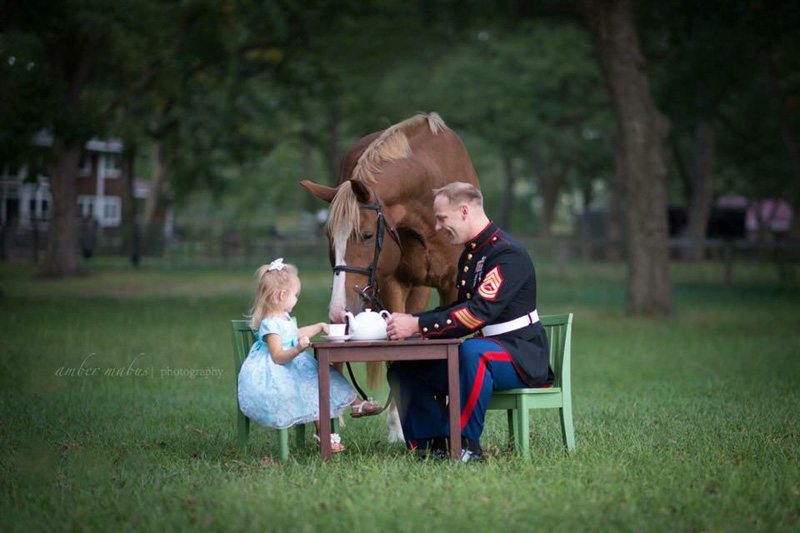 Being a military spouse means sometimes putting your own goals on the backburner, a fact that Kerry Lammerding, a U.S. Marine Corps spouse currently stationed at Camp Lejeune, in Jacksonville, North Carolina, understands well. A former professional dressage rider, she gave up her riding career and became an administrative assistant to better balance the demands of being a military spouse and caring for her young family.
"Western riding is popular in this area, and dressage shows are few and far between," Lammerding said. "This has changed how I compete and is also the main reason I moved away from the professional side of riding. I ran a riding school and training business when we lived in the Southern Pines [North Carolina] area; I sadly had to give that up when we moved, as I didn't think I would have the success with my riding career here as I did previously."
Lammerding is extremely encouraging of other spouses and urges them to do whatever it takes to keep riding. "Never give up on your dreams; it's hard!" she said. "I actually moved from South Africa here eight years ago and gave up horses, but that doesn't truly happen. It's tough, moving every three years, or even having your spouse's duty station be overseas. There is always someone around you who has a horse that needs some grooming, love or riding. Find them if you can't take your horses with you. But never give up on them!"
---
Lindsey Colburn is an active duty Air Force officer and grew up riding in the hunter and equitation divisions in the Northeast during her junior years. After college, she rode and trained foxhunters professionally in Middleburg, Virginia, prior to joining the military.  Lindsey bought the Thoroughbred gelding Soon off the track in 2013 and competed him in the jumper ring.  Lindsey is currently stationed in Okinawa, Japan, and will compete her young horse, Sibelius MB, in the jumper divisions upon her return to the United States this summer.  Read all of Lindsey's COTH blogs.