For the first time, the horse capital of the world hosted the Retired Racehorse Training Project's Thoroughbred Makeover and National Symposium, on Oct. 23-25 at the Kentucky Horse Park in Lexington, Ky. And it seems only fitting that local riders took the stage amongst a backdrop of Thoroughbred farms.
With 2015 marking the Makeover's third year, nearly 200 horses from 44 states, the United Kingdom and two Canadian provinces descended upon the Horse Park to compete in 10 events: Competitive Trail, Eventing, Polo, Barrel Racing, Working Ranch, Dressage, Freestyle, Show Jumping, Show Hunters and Field Hunters.
The top three competitors in each discipline are invited back to compete in the Makeover finale with an overall winner chosen for the title America's Most Wanted Thoroughbred.
In order to qualify to compete in the event, horses must have a Jockey Club tattoo, raced or at least been in race training after January 1, 2013 and must not have had any significant training in any other discipline before January 15, 2015.
True Second Chances
With an avid background in both racing and sport horse disciplines, the Makeover's highest scoring amateur dressage rider, Carleigh Fedorka of Paris, Ky., is no stranger to the value of a second chance. Competing in both eventing and dressage on her whip-smart but challenging prospect, Fedorka has been thrilled with the learning experience the Makeover has provided. Despite a few refusals during their cross-country outing, Fedorka hasn't been able to wipe the smile off her face the entire weekend.

Carleigh Fedorka and Called to Serve back at the barn after their high score in the dressage section. Photo by Rachel Sowinski
"I've gotten a bit of a reputation for enjoying tough horses," she said. So when well-known jockey Gary Stevens approached her about a horse that was sound but had every trainer and jockey (including himself) saying that the horse was unmanageable, Fedorka was smitten. "I went to see him and I have this obsession with big bays that have minimal white. He was perfect," she said of the 6-year-old gelding Called to Serve that goes by "Nixon" in the barn (Afleet Alex—Andover Lady).
But the love story had a rocky beginning. "I brought him home and he took off with me! I started telling my boyfriend that I think I needed to send him back. But then a light bulb went off and he's become unreal." Finishing second overall in dressage, Fedorka is now automatically qualified to compete in the Finale. Like many of the horses competing, Nixon is for sale. Fedorka is able to compete her personal Thoroughbred, through the funds she gets from selling a few prospects every year.
Always Learning
Since its infancy, one of the primary goals of the RRP is to continually educate about the breed. To that end, plenty of presentations and discussions could be found about the different facets of the breed—from training to soundness to aftercare organizations with panels of experts weighing in and offering tips that ranged the entire spectrum of bringing an OTTB home for a second career.
During one educational seminar, the Trainers' Forum, a big theme across all the disciplines was not to over-complicate or rush the re-training process. Although the Makeover competitors only having several months of training on their mounts, the competition is designed to showcase potential and encourage the learning process instead of seeking out the perfect score. True to form, several horses showed their greenness—leaves blowing into the arena caused more than a few spooks and horses with a developed topline suddenly went giraffe-style. But, effort was praised just as much as composure.
As the only United Kingdom competitor, Louise Robson of Thoroughbred Dressage, was also one of the keynote speakers at the Forum. After losing her confidence riding an ex-racehorse when she was a teenager, Robson made a complete turnaround when several other OTTBs happened into her life and convinced her to overcome her fear.
Now a sought-after dressage rider with a soft spot for the breed, Robson has had the privilege of training several of Queen Elizabeth II's retired racehorses. Honing her skills to help set up ex-racehorses for successful dressage careers, Robson said she likes to "take the speed from the track and flip it on its head."
For horses that are used to going flat and long, pushing and rocking back is the complete opposite. But because of the breed's willingness to please and athleticism, Robson finds it to be an enjoyable process.
Also part of the Forum, USEA Certified Instructor Eric Dierks of Tryon N.C., spoke of the benefits of working on the buckle so that the horse learns his own natural balance especially for Thoroughbreds who try to take the bit in an effort to get longer and flatter. "You can challenge the forward momentum and once they figure out where their body needs to be and then challenge them laterally," Dierks said.
They've Got "Ups"
The resurgence of the Thoroughbred breed is still slow to catch on at the A-circuit shows for the hunters and show jumping, but all it takes is one good horse at a time. And for several local riders, they are determined to give the breed the very best shot.
Abby Converse, a professional rider now based in Lexington, rode in the show hunter and show jumping divisions aboard Caught Me Looking, an 8-year-old gelding (Afleet Alex—Catch the Moment, Unbridled). The calm demeanored horse also has the claim to fame of being half brother to Smooth Roller, entered to run in the Breeders Cup Classic.
Owned and bred by Dr. John and Bridget Cummins, Lexington, Ky., "Alex" had 11 starts and two wins to his name on the track before retiring sound.  With only a few months to prepare for the Makeover, Converse went into "bootcamp mode" to gear up for the event.
"When Bridget found out about the Makeover and that Alex was eligible she thought it would be a fun thing to do and would help ensure that Alex always remained valuable to someone," Converse said. With a natural cadence and soft way of going, the hunters seemed like a great fit for his second career but they aren't ruling out a jumper career either since he has shown quite a bit of scope.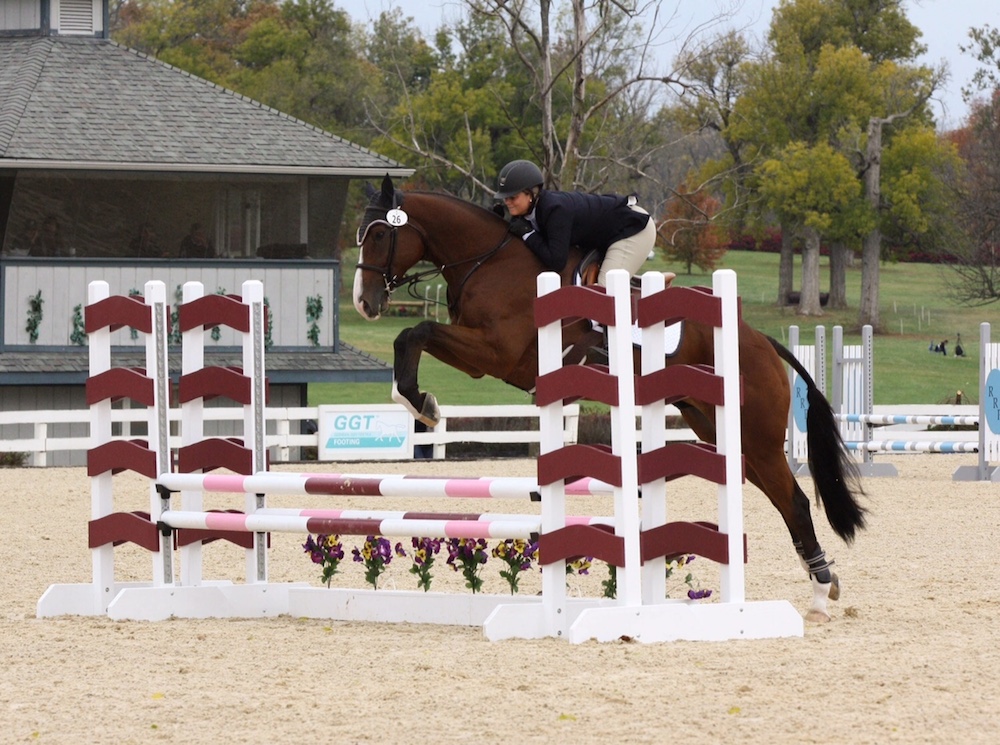 Abby Converse on Caught Me Looking, who are showing in both the hunter and jumper sections of the Thoroughbred Makeover. Photo by Rachel Sowinski
Currently, Converse and Alex stand second overall in both the hunter and show jumping divisions and will make the return to the Finale slated for Oct. 25.
Another local rider competing in both the hunters and jumpers is Isabella de Sousa, a 14-year-old junior rider who comes by the Thoroughbred breed honestly. With a family in the Thoroughbred sales, spotting talent is just part of the job. But it just so happened that Dewey Square—a 2010 gelding, (Bernardini—Somethinaboutbetty, Forestry)—lived right across the road from her at Siena Farm.
After winning his first two starts, "Dewey" made a splash in the racing world and was put on the Kentucky Derby watch list. But, his racing career was short lived. Instead of dropping into the claiming ranks and risk losing him, Siena Farm brought the charismatic gelding home.
Although de Sousa had her eyes on him for a few months it wasn't until after the weather turned warm in May that she was able to ride him since she rides in the grass fields on her farm. Riding since "she was really little," the young rider has already been to Pony Finals several years running and most recently won at the Split Rock Jumping Tour in the Kingsland 1.10-meter Jumper Finals.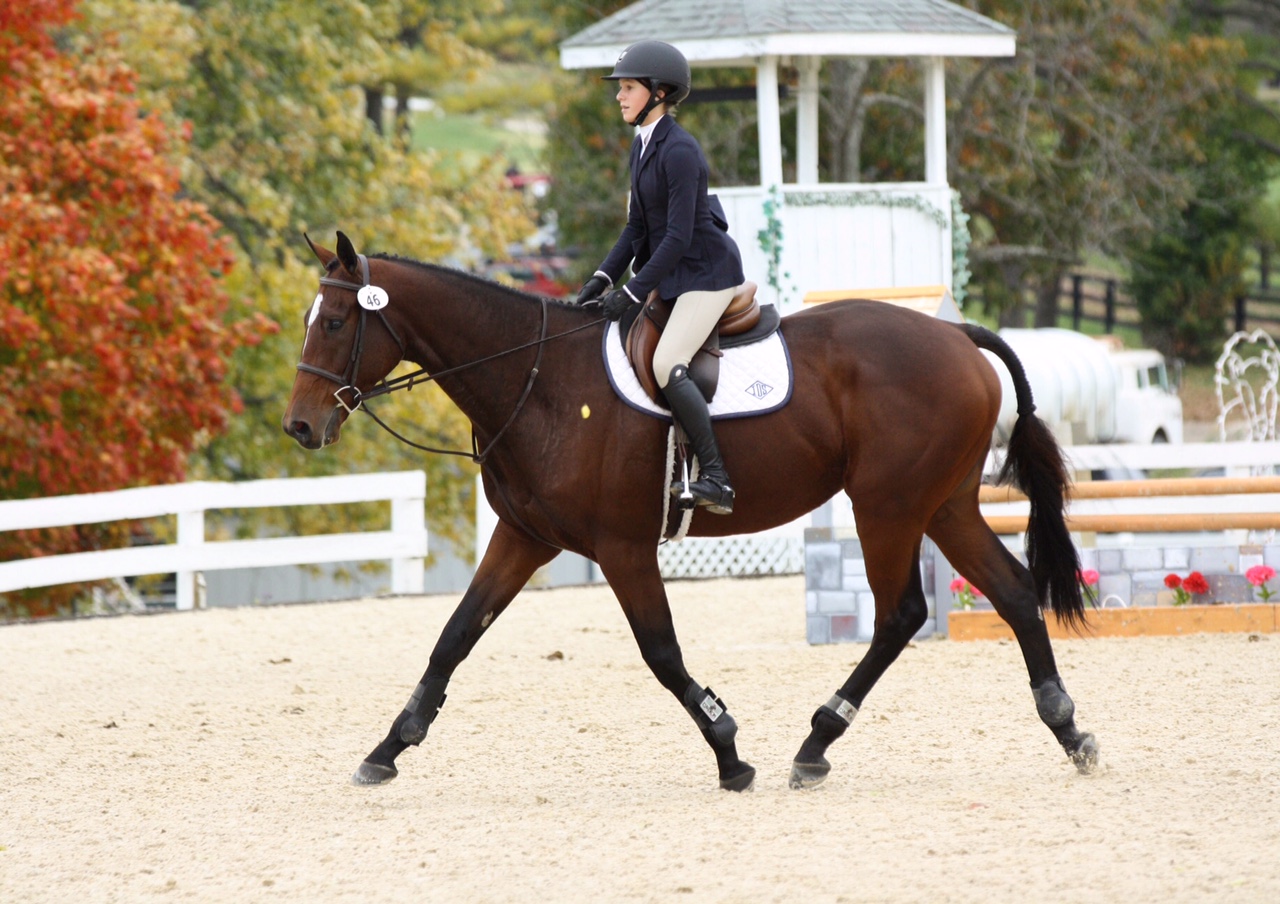 Isabella de Sousa showed Dewey Square in the hunter and jumper sections of the Thoroughbred Makeover. Photo by Rachel Sowinski
But for her, it's all about the partnership. Although bittersweet since this will be the last show de Sousa competes Dewey in (he'll be going back to his owners to compete in eventing), she is making the most of every moment—and that includes a spot in the Finale since she took home third place overall in both the hunters and show jumping.
"The Makeover is such a good thing to promote the breed. It shows that if you take even just a little bit of time with them they can be really nice in other careers," de Sousa said.
For more information about the Retired Racehorse Project, see their website. You can find full results of the Makeover here.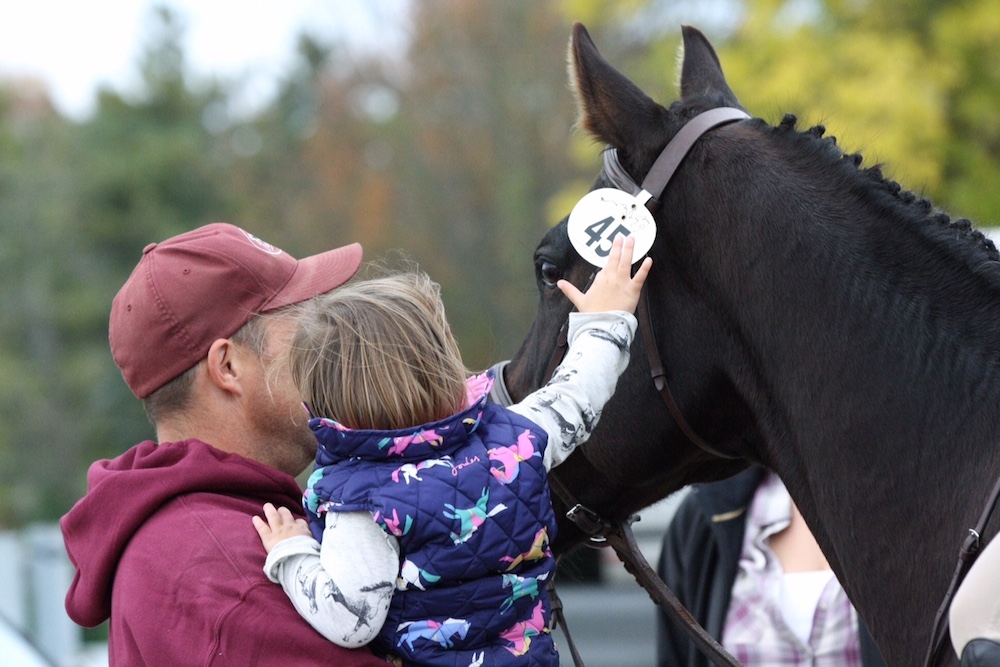 Thoroughbreds did a little bit of public relations with young fans, too. Photo by Rachel Sowinski