Wellington, Fla.—April 2
The last time Ashley Holzer competed in a CDI with her London Olympic Gamess mount Breaking Dawn it was three years ago. But she picked up right where she left off with a second place finish in the Grand Prix yesterday and a win the Grand Prix freestyle with choreography she hadn't ridden before.
"Oh it's a privilege to ride such a great horse, and I was told by [owner P.J. Rizvi] again to remind all of you that she prepared him very well for me and it was actually her music that was made for her freestyle," Holzer said with a laugh.
Rizvi took the reins over on the 15-year-old Dutch Warmblood after the Olympics, but when she took some time to go on a ski trip, she handed them back to Holzer.
"I'm a very lucky person," said Holzer. "She's a great dear friend of mine, and I just think that it's a great—we have such a great community when riders say to other riders, 'Hey listen I'm going away can you ride my horse?'
"I said to her, 'OK is it OK if I ride to your new music because it would be great to see how the music works and stuff like that? She's like, 'Of course, I would expect nothing else.' So I just think that that's a nice feeling to go in with such great support and a little pressure because she said she was second the last time she went in," she continued.
Holzer and Breaking Dawn danced to a compilation that included "American Pie"—fitting because Holzer just became an American citizen, though is currently still riding for Canada. The pair earned a 75.60 percent for the win.
Right behind her with a 74.82 percent was American Shelley Francis with Danillo.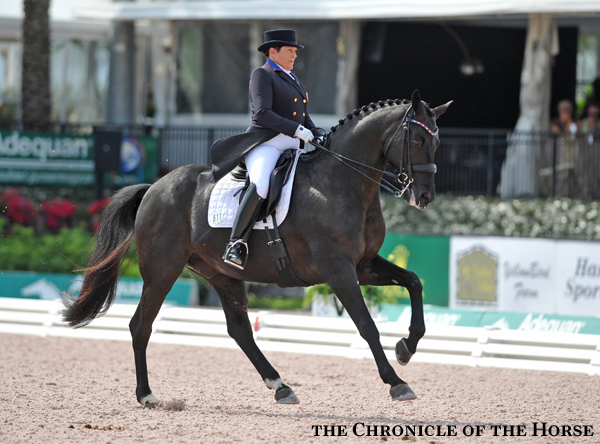 Shelley Francis is starting to put the pieces together with Danillo and the pair took second in the Grand Prix freestyle. Photo by Kimberly Loushin.
"I think it was the first time that I rode with the music pretty good. I actually made a mistake in it but nobody could tell because I was supposed to do my zigzag in the trot down the middle, and I did it kind of over there and I was like I forgot where I was going again. It's becoming a habit," she joked, referencing when she got lost in the Grand Prix Special during the Nations Cup.
Now that the gelding is becoming more confident in the ring and has settled to his freestyle music, Francis intends to work on tweaking it before they head to Europe.
Another American rounded out the third position with Katherine Bateson Chandler turning in a 72.05 percent with her own Alcazar. Chandler had ridden the freestyle more than she originally planned this season, but she felt that the extra practice gave him the confidence to turn in such a fantastic test.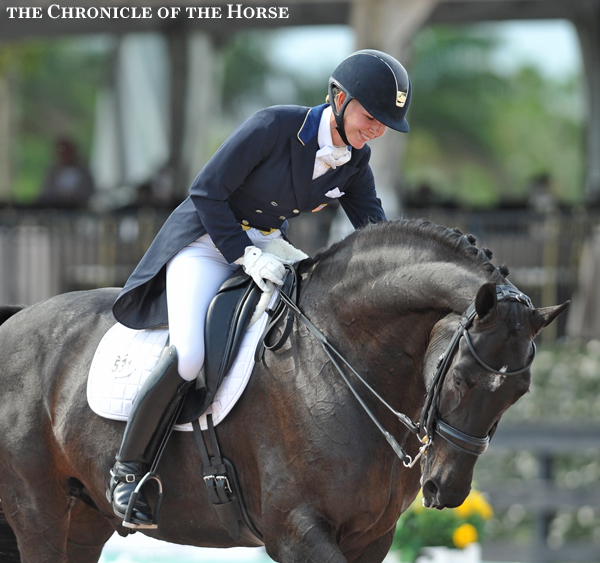 Katherine Bateson Chandler is reaping the rewards of consistent showing with Alcazar for third in the Grand Prix freestyle. Photo by Kimberly Loushin.
"The first freestyle I ever did with him he was in a complete hysterical panic and that was yeah, I was like, 'Oh I'll never get him through a freestyle.' Now we know we can get through a freestyle through it well. It gives me a little bit of confidence in his temperament now. We had our best Grand Prix yet after coming off our worst Grand Prix two weeks before that."
"This sport's tough," she continued. "It can really knock your confidence and you have highs and lows and I have to say the biggest thing this season is that I feel amazing camaraderie with everybody. It really feels like they're generally feeling for you when it goes badly because they've been there and then genuinely happy for you when it goes well and season I've felt that more than ever before and we've all been here quite a long time. That's a pretty special thing."
Finishing Strong
Ali Brock rode her hot streak with Rosevelt to her second win of the week, this time in the Grand Prix Special with a 74.33 percent. Because her freestyle needs to be reworked, Brock chose to do the Special.
"He was very good today," said Brock. "I was really careful in the warm-up to not over-do. I wanted to touch on a few things to make sure he was reacting well and not to burn him out. I actually felt like I took more horse in today in a way. He's producing a very consistent, clean test. He is solid. I think that counts for a lot more that he goes in and hits it no matter what."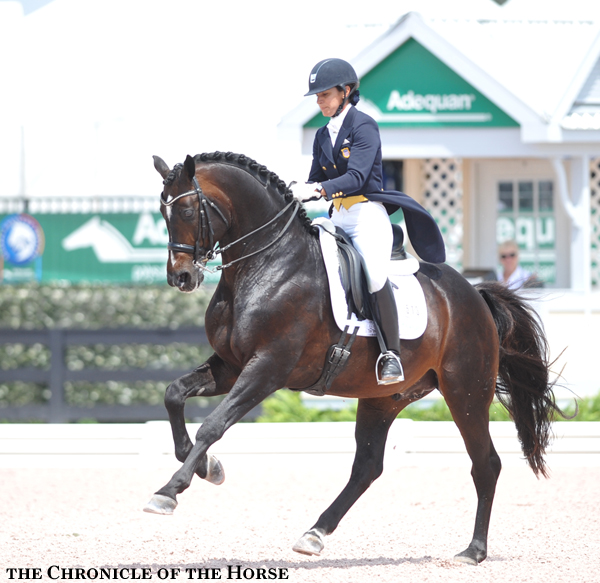 A 74.33 percent put Ali Brock and Rosevelt on top in the Grand Prix Special. Photo by Kimberly Loushin.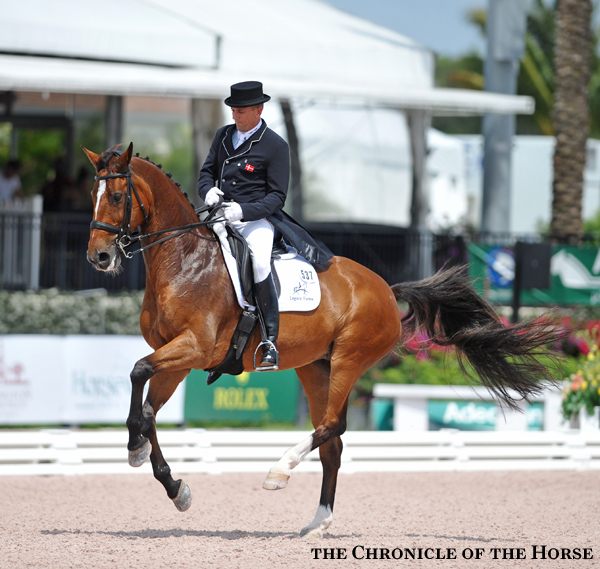 Lars Petersen chose to do the Grand Prix Special because he hadn't done the test since the 2014 Alltech FEI World Equestrian Games (France), and he and Mariett pulled out second place. Photo by Kimberly Loushin.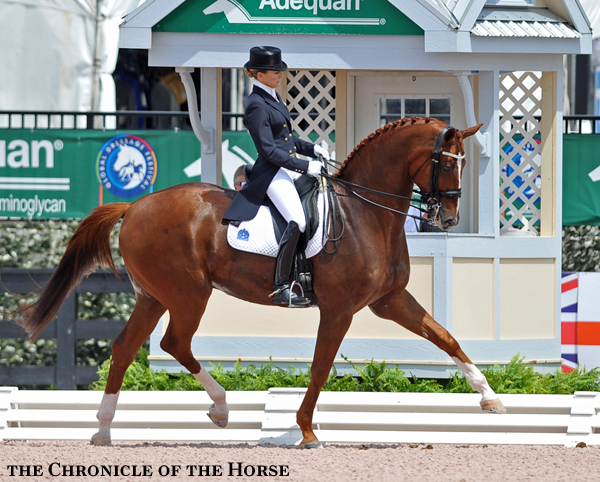 Lisa Wilcox was thrilled with the confidence Galant has been showing in the Grand Prix Special to finish third on a 70.45 percent. Photo by Kimberly Loushin.

Results from the Adequan Global Dressage Festival can be found here.

If you're looking for more coverage of the Nations Cup, read about day 1 and day 2 of the team competition. Or read about Laura Graves' historic win the CDIO*** Grand Prix Freestyle.

For an in-depth look at how the winners made it to the top of the podium, be sure to pick up the April 25 issue of the Chronicle.