With two wins and top scores, she qualifies for the Canadian Olympic team as U.S. riders earn spots for the World Cup Final.

Much was decided at this year's Palm Beach Dressage Derby CDI-W/Y in Loxahatchee, Fla., Feb. 28- March 2. Canadian riders Ashley Holzer and Jacqueline Brooks earned the qualifying scores they needed for the Canadian Olympic Dressage Team. And, U.S. riders Jane Hannigan and Courtney King-Dye earned the scores they needed to send them to the FEI Dressage World Cup Final.
Holzer and Brooks both needed a Grand Prix score of 67 percent or better to qualify for Canada's Olympic team, and by the second day of competition, they had it. Brooks scored a 67.95 percent, placing third in the Grand Prix with Gran Gesto. Holzer and Pop Art scored 73.08 percent, which also earned them the first place in the class of more than 30 competitors.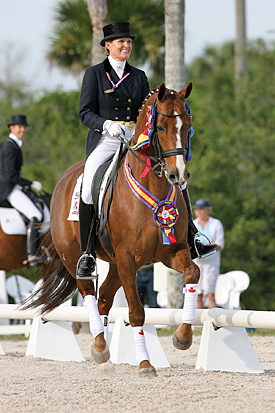 But that wasn't their best score of the show. The 11-year-old, Dutch Warmblood gelding by Amsterdam also won the CDI Grand Prix freestyle with 77.45 percent, which was Holzer's highest score of her career.
"I'm so extremely proud of my horse. And, I thank my coach Evi Pracht, who just walked me through this today. I personally don't love the freestyles, and she was so great about it and really got me in the right spot mentally," Holzer said. "It was unbelievable."
Holzer knew during her ride that she was heading for a high score because Pop Art "felt more on today and much more relaxed. I came to the first piaffe and thought, 'Oh my God, I've never felt his hocks go this high.' He just relaxed and took me through the freestyle."
She might be focusing on the Olympics now, but earlier this season, Holzer had taken herself out of the running for the Olympic team because Canada had been requiring its Olympic riders to travel first to Europe to compete before heading to Hong Kong. Holzer had said a trip to Europe before Hong Kong would be too much for her horse. Canada then reversed course and dropped that requirement, and now Holzer is clearly set on competing in Hong Kong.
"I am so excited to be going to the Olympics," Holzer said. She was particularly pleased that Pop Art did so well at the Derby because the environment there has always been a bit of a challenge for him.
"For whatever reason, this ring at the Derby has always been a problem for him, even when he was a Prix St. Georges horse," Holzer said. "And, he was a little nervous at the beginning of the ride. It shows how much he's matured that I can say, 'Hey, you've got to do this' and he can settle right down into his work and can come back to me and finish stronger than he started. He's becoming that really big Grand Prix horse."
On The Cusp
Because Holzer has earned scores well above the required 67 percent, she's pretty much a sure bet for the Canadian team. Brooks is also planning to travel to Hong Kong, but it won't be known until the qualifying season ends June 1 if she'll be a regular team member or an alternate.
"Our team is picked on a descending order of averages," said Brooks. "Ashley's average is very, very high so her spot is guaranteed. Mine is a mid- to high-67, and we have two more riders in Europe who are averaging 66, 67 as well. So now I'll have to work a little harder to guarantee my spot in the top three. It's looking very, very good because these are the only two horses qualified for the Olympics so far."
This would be Brooks' first trip to the Olympics. "I'm so excited. This has long been a goal of mine. It's been 32 years in the making. I started dreaming of this when I was 8," she said.
It would still be possible, although unlikely, that another Canadian pair could emerge to knock Brooks out completely. But she and Gran Gesto, a 13-year-old, Oldenburg gelding by Grannox, are on a roll and followed up their Saturday qualifying score with a win in Sunday's CDI Grand Prix Special (69.12%). It was the first time that Brooks had ever won a Derby class.
Battle Of The Maine-iacs
Young riders Julie McKean and Laura Noyes are originally from Maine, leading show announcer Brian O'Connor to refer to their competition as the "battle of the Maine-iacs."
McKean now lives in Florida where she attends college, and Noyes is in college
in Ohio.
McKean, 20, and Stravinsky, a 10-year-old, Danish Trakhener sired by Haslegard's Camerlergo, won the Young Rider Team test (66.00%) and Young Rider Prix St. Georges (64.25%). McKean trains with Cesar Parra.
"I'm really proud of my horse," McKean said. "The one movement we were really stuck on last year was the pirouette, but we've made great progress."
On the final day, Noyes and Syncro took the win in the Young Rider freestyle (69.35%). Syncro is a 14-year-old, Trakhener gelding by Enrico Caruso that Noyes, who trains with George Williams, has had for five years. He was injured last year so she missed the whole season.
"I was really happy that it all came together," said Noyes, 20, of her freestyle ride, her first with Syncro in more than a year.
Both young riders are aiming to qualify for the North American Junior and Young Rider Championships scheduled to be held in Colorado this summer.
"This is the first big tour class I've won in Florida. I'm so thrilled. The competition here is so great. You have to develop a horse for so long just to be competitive in Florida. I mean, needing a 69 just to win is unbelievable," Brooks said. "The best part of today was the amount of power he showed. This test has lots of transitions, and every time I asked him if he wanted to go, he said yes. He just took me along, totally content to do all the work."
On To The Netherlands
The two other big winners at the Dressage Derby were King-Dye and Hannigan, who earned the right to represent the United States at the World Cup Final in the Netherlands, March 27-30.
King-Dye has been to the World Cup before, but this will be Hannigan's first trip. She and Maksymilian scored a 72.85 percent in Sunday's Grand Prix freestyle, putting them second behind Holzer and Pop Art and sealing their trip to the World Cup.
"I'm so happy. The horse felt great today," said Hannigan, whose freestyle score was the highest she's ever had with Maksymilian in a CDI. She is working on a new freestyle but opted to stick with the old one for this show.
"I decided that I would ride in what I refer to as my old shoes for the qualifiers because I'm really comfortable with it. I know the old freestyle so well that if I get lost, like I did today, I can catch myself," Hannigan said.
Terry Ciotti Gallo is helping with the new freestyle, which Hannigan is hoping to have ready for the
World Cup.
Joining her at the World Cup will be King-Dye and Idocus. King-Dye has been aiming the 18-year-old, Dutch Warmblood stallion for the Olympic team, and that is still her goal. She'll take Idocus to the Netherlands for the World Cup and then to California in June for the Olympic selection trials. If they make the team, King-Dye and Idocus will then travel back to Europe to compete before leaving for Hong Kong.
King-Dye said she has no reservations about the impact of the back-and-forth travel on Idocus, saying that the stallion "is an extremely good traveler, loves adventure and doesn't stress at all." She also noted that he'll have two months of recovery time between the World Cup and the Olympic selection trials.
King-Dye and Idocus scored a 72.00 percent in the Grand Prix to place second behind Holzer and Pop Art. Hannigan finished third in that class (68.45%). In the CDI Grand Prix freestyle, King-Dye and Hannigan switched places with Hannigan finishing second (72.85%) and King-Dye third (72.55%). Despite missing out on a Grand Prix win, King-Dye was still pleased with Idocus.
She was particularly happy with her second-placed ride on Saturday. "Idocus was really energetic and fit," she said. "At the CDI a month ago, he was not so honest in the ring. The third piaffe today, I took my legs off, and he was just really, really honest. We had a little bobble in the twos. Sometimes you have a little miscommunication."
Battling It Out In The Small Tour
In Prix St. Georges and Intermediaire competition, Sue Jaccoma and Shawna Harding dominated once again. Both are aiming for invitations to the USEF National Dressage Championships scheduled for California in June.
Harding and Come On III, a 9-year-old, Danish Warmblood gelding sired by Come Back II, won Friday's Prix St. Georges with 68.05 percent. Jaccoma and Wadamur, an 8-year-old, Hanoverian sired by Weltmeyer, came in second with 67.60 percent. Harding took the win despite a few freely admitted errors.
"We did have a few mistakes, just from tension and from being a bit nervy and having a lot of sneezing that needed to come out," Harding said. "He is maturing. He's going to be 9 next month so he's getting more confident."
On Saturday, Jaccoma turned the tables and took first place in the CDI Intermediaire I (69.66%). Michelle Gibson and Don Angelo finished second (67.75%), and Harding and Come On III finished third (67.50%).
With Donatella, Jaccoma also took the wins in BLM/GAIG/USDF Intermediaire I (71.50%) and Intermediaire II (64.14%).
The Derby atmosphere is often difficult for horses, and this year was no exception as the winds were often blowing heavy and steady. Jaccoma was rather surprised at how well Wadamur handled the Derby.
Following her winning ride on Saturday, Jaccoma said, "It was a scary day for my horse. But he
stayed with me the whole time, and, basically, I had a mistake-free test. So, I was really happy."
On Sunday, in the CDI Intermediaire freestyle, Harding won again with 73.75 percent, and Jaccoma was second (68.91%).
Harding rides a freestyle to the music of Black Eyed Peas, AC/DC, ZZ Top, Body Rockers, The Scorpions, Queen and Joe Cocker. She did the choreography herself and got musical help from John Davis, a professional producer and musician.
Marlene Whitaker "helped put on the finishing touches," Harding said. Although she loves her freestyle music and believes spectators do as well, the verdict isn't quite in from the judges.
"The judges, sometimes, are hinting around that it's too much rock. I don't know if they're just not ready to hear something that's a bit more progressive or they just don't like the music. But, I didn't get any negative comments about it at the Derby," Harding said.
Lynndee Kemmet