Big wins in the West Palm Beach CDI-W put them on the path to the Olympics.

Canadian Ashley Holzer isn't one to settle for "good" when sheknows that "great" is within her grasp. So it
was no surprise when she and her Grand Prix mount Pop Art broke their own records at the Gold Coast Opener CDI-W, Jan. 25-27.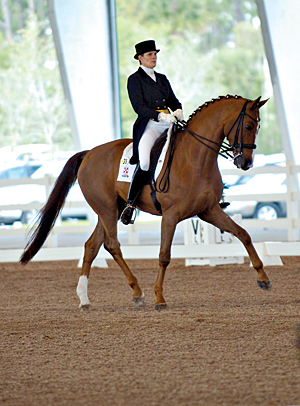 Holzer and her 11-year-old Dutch Warmblood gelding "Poppy" have traditionally dominated at the West Palm Beach, Fla., competition. In 2006, they won all three small tour classes with scores in the low 70s, and they topped the Grand Prix and Grand Prix freestyle last year with equally impressive marks. But this year they bested their previous scores by several points, topping the 28-horse Grand Prix field with a 72.04
percent and winning the Grand Prix Special with 73.60 percent.
"It was quite emotional because my daughter had flown in to watch me ride," Holzer, New York, N,Y., said of her 10-year-old, Emma. "It was a huge Grand Prix. The fact that they are pulling in that many horses in Florida is amazing."
And among that large field of contenders, Holzer and Pop Art (Amsterdam—Jody Prinses) had the largest fan club. Cheers and chants of "Ashley!" and "Poppy!" grew so riotous that several canine spectators in the covered arena at Jim Brandon Equestrian Center began barking their admiration.
"Even the dogs liked it," acknowledged show announcer Brian O'Connor after the pair's Special test.
"I think the fans are really cheering for my horse and not for me," Holzer said proudly. "My husband used to tease me and call him 'the small brown package' when I first got him. He's just this kind of plain chestnut horse that has such a trying heart. I'm very fortunate to ride a lot of horses, but he's an absolutely special horse."
Holzer and Poppy have had plenty of success in the past, but the rider attributes their most recent performance to better preparation. After winning the Grand Prix freestyle qualifier at Dressage At Devon (Pa.) in September, Holzer gave the horse a short break before ramping up again prior to Christmas for the Florida circuit. It was then that she began a special nutrition program with her sponsor, Purina Mills, to improve Poppy's fitness for the upcoming Olympic year.
"They put him on a really great program where they came and weighed him and analyzed his blood and put him on this special feed that was actually made just for him," Holzer explained. "They told me he had to lose 200 pounds to get down to his optimal fighting weight, so he went through a really vigorous fall after Devon trying to get fit. Now their nutritionist visits him every month, and I really feel that he's fitter and stronger. I have to say that I'm thrilled.
"I used to kind of prefer my horses to be 'a happy fat,' but I always sort of felt that, like a typical young horse, he was a bit tired at the end of the test," Holzer continued. "But now I can honestly say at the end of the Special he was absolutely full of it. I've seen a big improvement in my horse's performance overall. I'm reaping the benefits of that improved fitness."
Holzer also noted that the horses who make the trip to Hong Kong for the Olympics this summer certainly wouldn't benefit from extra body fat in the heat and humidity. And although she had previously decided against making an Olympic bid, she's now throwing her hat into the ring.
"I hope my horse is safe and healthy, and I certainly hope I make it," she said. "I'm declaring, and I'm thrilled."
King-Dye Gets Her Day In The Sun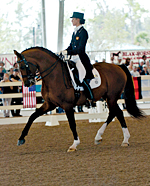 Courtney King-Dye and Idocus narrowly missed a win in the Dressage At Devon (Pa.) Grand Prix freestyle last September, where Lars Petersen and Succes topped the standings. But the New Milford, Conn., rider got her friendly revenge at the Gold Coast CDI in West Palm Beach, Fla., this time beating Petersen and his talented mount by more than 1 point.
Riding Christine McCarthy's 18-year-old, Dutch Warmblood stallion (Equador—Eretha), King-Dye scored a whopping 76.30 percent with her Wizard Of Oz and Fiddler On The Roof compilation.
"I was not happy at all with my freestyle at Devon," King-Dye said. "I felt like we had a couple mistakes, and he was kind of clammed up. He changed as soon as the music came on, but this time he didn't do that. I usually don't practice my freestyle at all, which is bad. But this time I made myself practice it a few times before the show. It definitely paid off and increased the score.
"I really like the music, and I think it's the maximum I can get from Idocus," she continued, adding that she's aiming the stallion for the FEI World Cup Final in 's-Hertogenbosch, the Netherlands, in March. "It has a high level of difficulty and I need that, even though there's a high risk of making mistakes."
With three horses in the CDI Grand Prix, King-Dye had a busy weekend, which was only hindered by a bout of the flu. She still managed to earn second-, third- and ninth-placed finishes in the Grand Prix with Harmony's Mythilus, Idocus and Rendezvous 3, respectively. The latter horse also placed sixth in Saturday's Special.
"I'm not going to say that I would have done better if I had been well," she said. "But I was really sick. I literally did nothing but get on those horses at the last possible moment!"
Holzer said Equine Canada had previously planned to require their team horses to compete in two CDIs in Europe in late June before entering quarantine and flying on to Hong Kong—likely the Rotterdam (the Netherlands) and Aachen (Germany) competitions. Because of the compacted time frame and travel demands, Holzer initially decided she didn't want to over-stress her young horse. However, the Canadian Federation reassessed its requirements in late January, making the Olympics a viable goal for Holzer once again.
In addition to her wins with Poppy over the weekend at Gold Coast, Holzer also topped an open Prix St. Georges class with her greener mount, Rubicon, owned by Diane Fellows.
A Clean Sweep
Shawna Harding, Aiken, S.C., was the small tour star of the weekend, sweeping all three CDI classes with her young partner, Come On III.
Harding found the 8-year-old Danish Warmblood (Come Back II—Canna) in Denmark four years ago as she was concluding her seven-year training stint in Germany. Since their return to the States, the pair has found plenty of success, winning the reserve championship at the USEF National Developing Horse Finals in Lexington, Ky., in September.
Coming off a sweep of wins at the Wellington Dressage Classic I and a tough training session with Jan Brink in the previous two weeks, Harding and Come On took top honors in the Gold Coast CDI Prix St. Georges with a 69.05 percent and the Intermediaire I with a 70.10 percent.
"He was really good this weekend," Harding acknowledged, citing the gelding's canter tours as a highlight. "He's definitely improving in every test we ride, but we still have some stuff we're trying to iron out with our pirouettes."
Harding said her "handful" of a horse is also typically so keen to perform his tests that he has problems standing still for his opening halts. "That cost us quite a few points over the weekend," she admitted.
On Sunday, the pair had their CDI freestyle debut, set to the contemporary music of AC/DC, The Black Eyed Peas, Queen, Joe Cocker and ZZ Top. Harding said she chose her hard rock selections because they reflect her horse's personality, including their walk music, a song by the band Bodyrockers.
"I heard it on a Coca Cola Light commercial, and I thought, 'Oh my gosh, that is really rockin'!' " she said.
"Two of the judges didn't like my music, but three did," Harding added. "And the crowd loved it. Everybody I talked to really thought it was a lot of fun. I wanted to go out and have people turn their heads."
The pair scored 75.30 percent on the freestyle, besting the second-placed pair, Susan Jaccoma and Wadamur, by a margin of nearly 5 points.
"He's a showman," Harding said of her mount. "He loves to be in a crowd and loves to have people there watching him. He soaks that up. In one of my half passes I could really feel him getting into the music, and you could just see him lift up and start swinging. He felt really relaxed, which is unusual for him."
In addition to her CDI sweep, Harding also added two more blues to her ribbon collection with wins in the second level national classes with Tonya Rowe's Rigo.
Whinnying For A Win
Jaccoma and Wadamur were close on Harding's heels in all of the small tour classes, and their score of 70.10 percent in the Intermediaire I tied for the win.
"I was happy to tie with Shawna because she's so consistent and such a beautiful rider," said Jaccoma, of Arundale, Maine. Although the tie was broken on collective marks in favor of Harding, Jaccoma and her 8-year-old, Hanoverian gelding still got to wear a blue sash and share the lead in the honor round. "To be tied on that score was a thrill in itself."
Jaccoma found the gelding (Sarina—Weltmeyer) in Madrid, Spain, as a 4-year-old.
"He had been ridden 10 times when I got him," she said. "He was really hot, and he barely went off the farm the first year because he was so wild."
Undaunted, however, Jaccoma eased the horse into competition and has been logging scores in the 70s over the past year. Besides their tie for the win in the Gold Coast Intermediaire I and their second-placed finish in the freestyle, they also earned the red ribbon in the Prix St. Georges on Friday with 67.05 percent.
Jaccoma attributed the slightly lower score to her warming the horse up too much. Though he's schooling Grand Prix movements confidently, the rider said he's not quite confirmed enough to move up.
"I want him to have a good time doing it," she said. "All the work is really easy for him. He's such a high achiever that if he makes a mistake or doesn't feel confident, he lets you know."
Wadamur has no trouble with communication skills, having developed a reputation for being a very vocal competitor; he frequently emits a high-pitched whinny mid-test. Jaccoma said she's learned to accept this trademark, however, since it's more of a jubilant announcement than a nervous cry.
"He usually does it when he's really proud," she said, laughing. "Last year he'd whinny after a really great extended trot. You're sitting there, and you just know it's coming. I can feel his ribs popping out into my legs, but he never misses a beat. Nobody penalizes it because it never affects his gait. Basically he can whinny in a line of two-tempis and never miss one—go figure."
Jaccoma said her horse's mental maturity at Gold Coast was the most impressive part of her weekend.
"On Friday I basically over-warmed him up and asked too many questions like a baby horse. But Saturday I warmed him up a lot more to the point, and I had a much fresher horse for the I-1. I have to trust that he's going to go in there and do his job. He's getting much more consistent and mature, and with the increased strength he's much more expressive in his work," she added.
Jaccoma also took responsibility for the 5-point margin of Harding's victory in the freestyle. When Wadamur missed a line of three-tempis, she tried to compensate by trying for them again later in the test where she usually performs an extended canter, which put the pair significantly behind the music and forced them to "race around the corner to get down the centerline in time at the end."
But Jaccoma was far from being upset about the mistake, and she looks forward to performing the test again soon.
"The music I ride to is beautiful, and it makes me feel beautiful," she said of the classical mix. "It's very dramatic and flowing and light, which is what my horse is. He and I are very harmonious together."
Kat Netzler