Wellington, Fla.—Feb. 23-24  
On Diane Fellows' rising superstar mare Havanna 145, Ashley Holzer recorded back-to-back wins in Week 7 of the Adequan® Global Dressage Festival at Palm Beach International Equestrian Center.
They won the Grand Prix freestyle CDI-W under the lights with an impressive 78.20 percent, with two judges—the British judge Stephen Clarke and the judge from Luxembourg, Christoph Umbach—awarding the pair over 79 percent. Holzer's student, Canada's Brittany Fraser, finished second on All In, with local rider Shelly Francis and Doktor slotting into third. The class was dogged by increasingly heavy rain, with last-drawn Holzer bearing the brunt of the weather.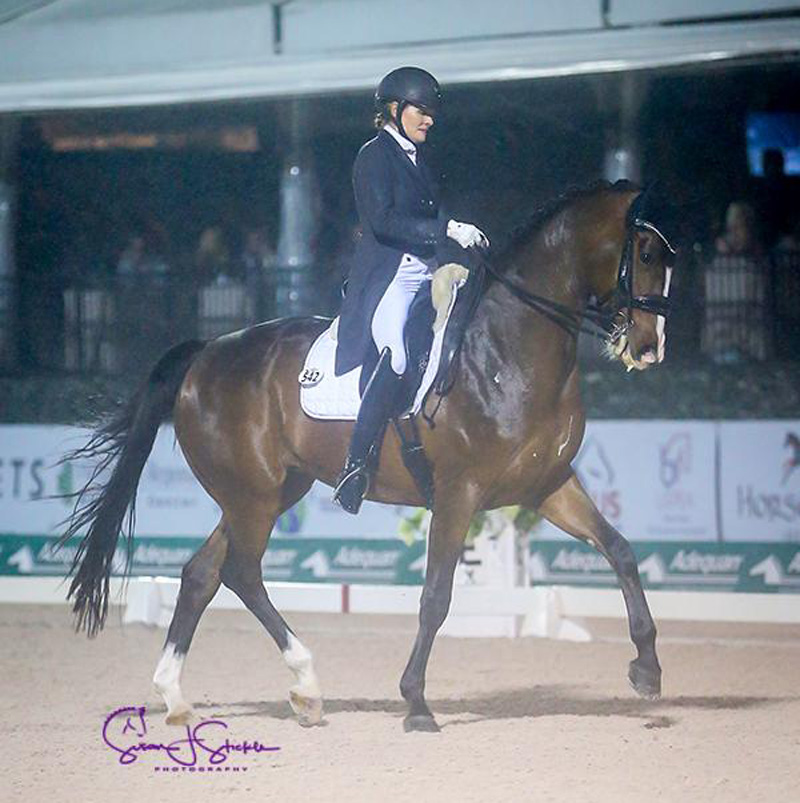 Although Havanna, by Hochadel, is only 11, Holzer kept some elements of the freestyle floorplan fairly simple, but still produced 19 one-time changes on a straight line, a half pirouette into extended canter, and finished with a flourishing passage zig-zag.
"We're so lucky to have horses who work so hard for us even when the weather conditions are bad," said Holzer, 54. "Luckily the footing here is so good, you can still give it gas, no matter how wet it is."
Holzer, who found her music by Googling "emotional uplifting music," which Tamara Williamson then crafted to fit the floorplan, continued: "The best thing about tonight was that Havanna came out after a strong performance last night and she again tried her hardest. Thomas [Baur, AGDF director of sport] saw her a year ago and told me she'd do it—and he was right. She's a good egg and she tries her hardest; every time I ask her to try harder, she says, 'OK'. It's testament to her incredible upbringing and character.
"I've been in this game long enough to be so grateful every time I win," she added. "We all know you can win one day, and then maybe not the next day. I'm just so excited to be on this mare in such great company."
Fraser rode her own and Marc-Andre Beaulieu's 13-year-old All In to 75.85 percent— their highest ever score at the level. Fraser has had the Tango gelding since he was 5, climbing the ranks together, and they have been competing at Grand Prix for three years.
"He's a sensitive horse, so you'd think the rain would bother him, but he does not care," said Fraser, 29, who was riding to music by Joost Peters. "I had a little mistake in the twos, but each time I ride the freestyle, I get a higher score so I'm really happy about that. He's finally saying, 'OK, I know my job and I know what to do.' He's trying harder and harder."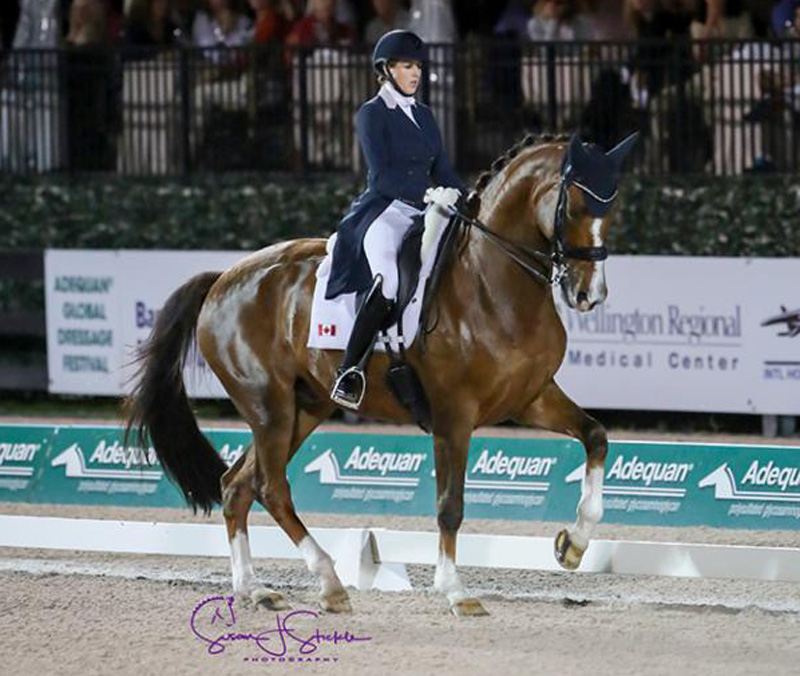 Holzer was quick to praise her pupil's riding, saying: "That horse has huge gaits and it's taken a few years to be able to control them. The fact that she can make the collected movements so closed and then go huge in the extensions is really testament to her great riding."
Francis, who was riding to a Marlene Whitaker soundtrack and floorplan, said: "Doktor felt like he warmed up well and started off good but he doesn't like the rain; he's wimpy about that. He's a fireball and we had a little accident of miscommunication in the twos, but he was really trying. He's a good little horse and we've had a long road together."
Both American riders are hoping to be on the eight-strong squad making the trip over to Europe to pit themselves against the world's best riders ahead of selection for the FEI World Equestrian Games in Tryon, North Carolina, in September of this year.
Another rider on the WEG team hunt emerged on top of the Grand Prix Special in the CDI***. Olivia LaGoy-Weltz put clear water between herself and her fellow competitors when winning the Special with a score of 73.31 percent aboard her own Lonoir, a 14-year-old Danish Warmblood gelding by De Noir.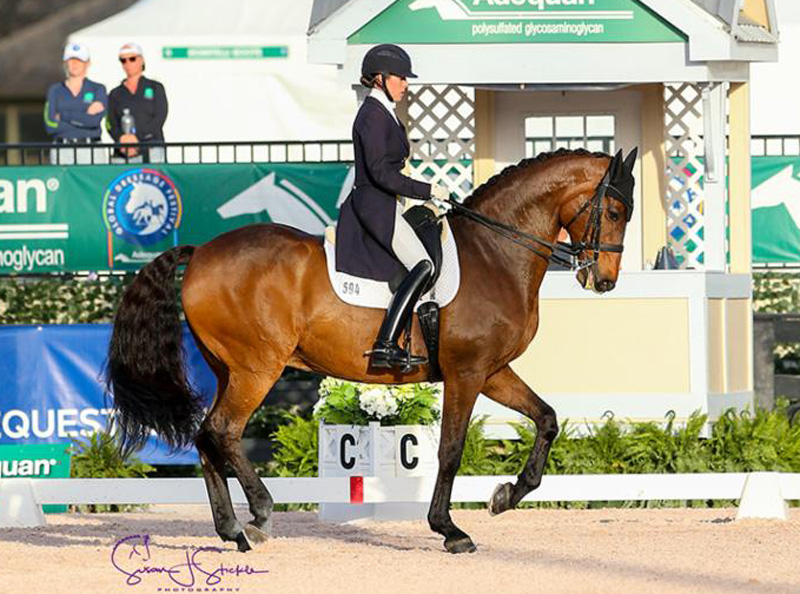 The closest chaser was fellow American Arlene "Tuny" Page, who rode Woodstock to 70.29 percent despite the discomfort of a fractured heel. The Dominican Republic's Yvonne Losos de Muñiz filled third on Aquamarijn, a 13-year-old mare by United.
"I was happy, though it still wasn't perfectly clean," said Lagoy-Weltz, referring to a mistake at the beginning of the two-tempis, which resulted in 4s and 5s from the seven judges. "It's awesome that we're still climbing up the scores despite that. It's all in there; it's a question of me learning how to put it together and us finding the right recipe of power and containment. We're at a point where I need to show; I can get the changes at home, but I need to keep riding it better in tests and he needs to understand the difference between the two tests and find his relaxation and stay on the aids."
LaGoy-Weltz found Lonoir when he was a 7-year-old at Danish Olympian Andreas Helgstrand's barn in Denmark when predominantly looking for sales horses with her former boss, Kathy Priest.
"We were also looking for something for me to bring on and I didn't have a big budget," continued LaGoy-Weltz, who now trains with Debbie McDonald and is based in Wellington for the season. "Kathy helped me buy him as he was more than I could afford. We got him home and he's always been a kind horse, but he's very sensitive to pressure and can get claustrophobic. He need to chill and Andreas and I have exchanged emails laughing about not and about how far 'Lono' has come when nobody really expected that; it's wonderful."
Want to get to know Lonoir more? Go Behind The Stall Door with him!
The rider from Virginia praised the AGDF circuit, adding: "It's fabulous. In Europe they have the indoor circuit, and things keep going year-round. For us, this is our circuit and gives us the opportunity to keep going in week after week. And it can be a challenging arena—like Aachen or Rotterdam—it's not just a quiet arena that we go to week after week and think we're really going great and then go to these huge venues and get a shock. There are so many shows here and it's a fantastic opportunity for us."
See all the CDI results from the Adequan Global Dressage Festival Week 7.