Recently Ashley Holzer's been building back her string, and the patience has been paying off. One new start Havanna 145 won the Grand Prix Freestyle last week, and this week it was Sir Caramello's turn to shine. Holzer recorded Sir Caramello's first ever international Grand Prix win in just his fourth CDI test, topping the Grand Prix Special CDI*** with 70.149 percent.
They were the only combination to break through the 70 percent barrier in the class of 13 finishers in week eight of the 2018 Adequan Global Dressage Festival at Palm Beach International Equestrian Center in Wellington, Florida.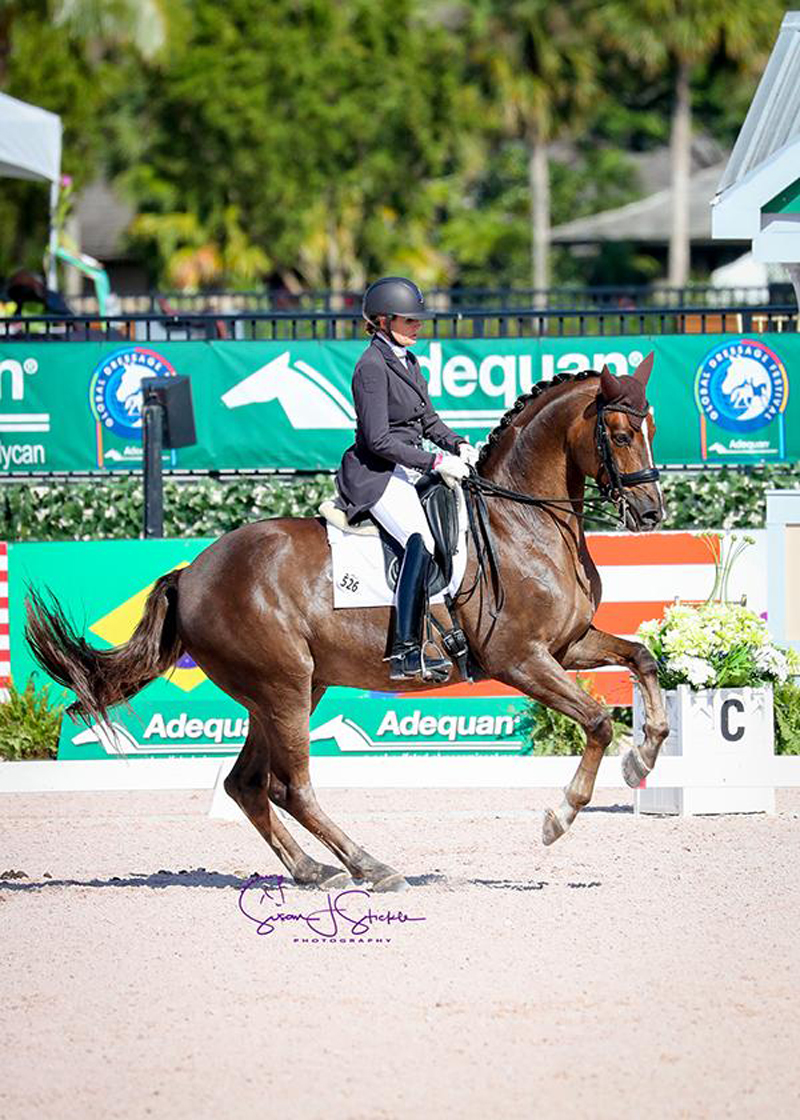 "I'm speechless," said Holzer. "This horse has been on the most incredible journey. Never in a million years did I think he'd win — I thought we might do a 65 percent test. But I've just watched the video back and some of the things he did in that test were unbelievable. And he whinnied at me for this first time in his life this week; I'm feeling very emotional about it."
The liver chestnut gelding's extravagant movement and uphill frame command attention in the ring. At only 11 years old, the horse still has plenty of time to gain confidence, and Holzer blamed the only big blip — a miscommunication in the passage to canter transition at X — firmly on herself.
"I timed the canter aid completely wrong," she said. "He is such a power machine, and he's been challenging to bring on. Andreas Helgstrand once described him as the most talented but most difficult horse he'd ever seen. He was sold at the PSI auction in 2011 as a 4-year-old then ended up with Patrik Kittel, who called [owner P.J Rizvi] and I about him.
"It's been hard for him to balance his huge gaits and then close up again for the collected work; that's taken a long time to develop," she added. "I also got some last-minute advice from Robert Dover and Carl Hester yesterday — about taking my time in the corners, and not worrying about him being too 'up' in the frame."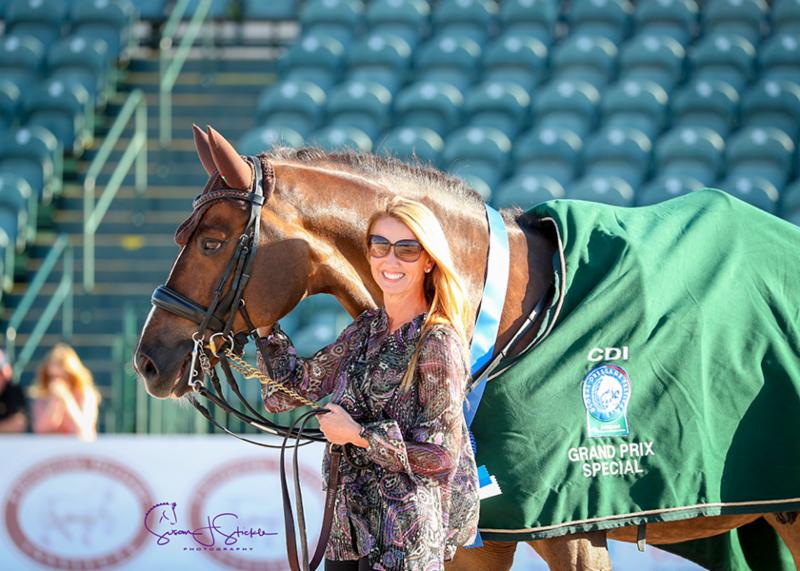 Holzer credits Rizvi's patience and understanding as an owner for allowing her the time she needed to turn the horse around.
"PJ's been behind him 100 percent of the time and, believe me, we've had some major lows with convincing him that everything would be OK," said Holzer. "This win is testament to the importance of having a supportive owner who understands these things — so it was fitting she was the sponsor of the class."
Holzer plans to show Sir Caramello (Sir Donnerhall—Katharina, Feiner Stern) in one more CDI at AGDF before heading to Europe for the summer.
Another American who's looking to set herself up for a strong European showing is Laura Graves, and so far this year she and Verdades have been on an incredible trajectory. They proved their prowess beyond doubt with an astonishing performance in the Grand Prix Freestyle CDIW with a score of 84.975 percent. It is the highest score ever achieved at AGDF. (Watch their winning test here.)
Graves has now performed an extraordinary triple double on the 16-year-old by Florett As, having won both the Grand Prix and freestyle classes in all three weeks they have competed at AGDF this season. It came close to Graves' best ever score of 85.307 percent, achieved to stand reserve champion at the FEI World Cup Final in April 2017 in Omaha, Nebraska.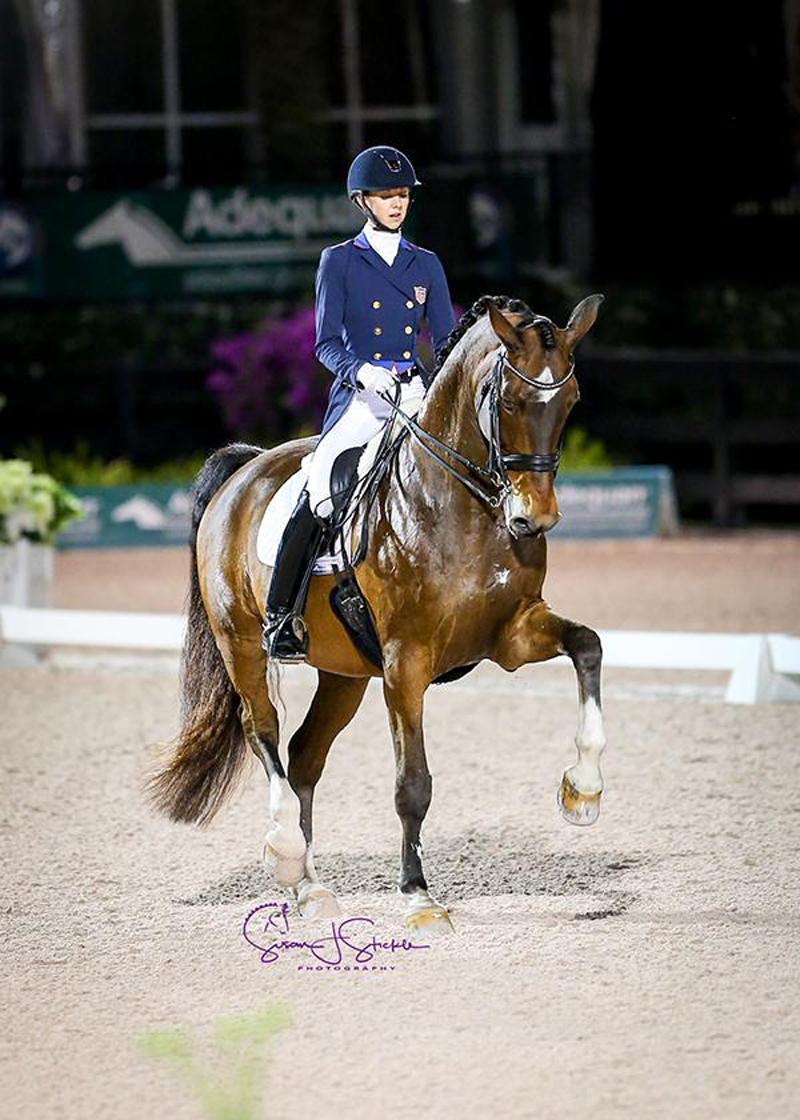 "It was fun to come out every ride and have some new things to talk about with my coach Debbie McDonald," said Graves. "I had some brilliant lightbulb moments for myself with my own riding tonight, which is super exciting. We don't go in there just to tack on miles; there's always a purpose, and tonight was no different.
"I'm still learning to ride this horse when he's as hot as he is," said Graves. "He's super duper hot in this atmosphere and it's a bigger atmosphere than some of the indoor shows. And when we do three shows here under the lights, the structure and repetitiveness really gets him fired up. It gives me a lot to work with, but I always embrace difficult experiences because it puts me a little ahead of the game for next time, hopefully."
Second-placed Adrienne Lyle rode Betsy Juliano's Salvino to another record: the highest score in her long international career, 78.275 percent. She rode to music made for her former top ride, Wizard. Lyle was returning to the AGDF's "Friday Night Stars" for the first time in four years — the last time she rode Wizard on the circuit.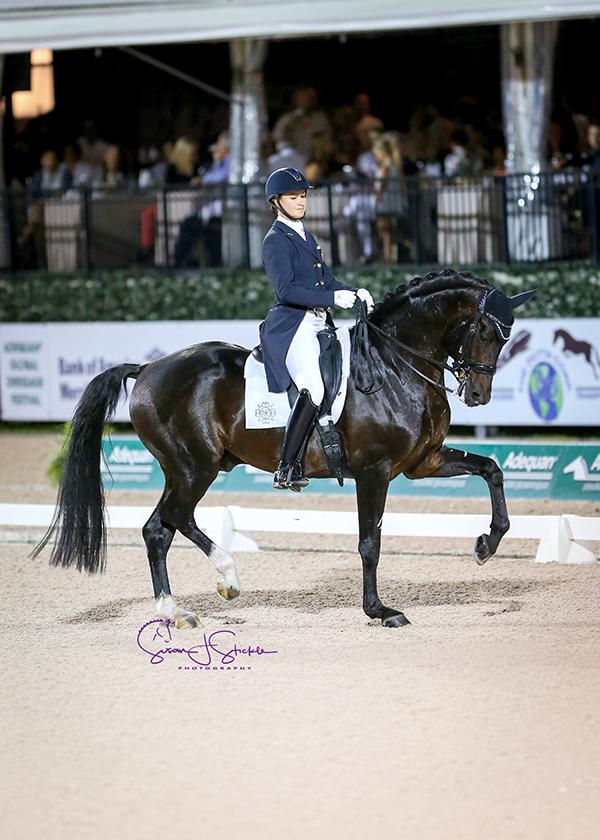 "I was dying to get back out there," she said. "It was Salvino's first time under the lights doing a freestyle, so that's a big unknown, but I was completely thrilled with how he handled everything — he was probably even more relaxed and easy going than in the [Grand Prix] test. I wanted to give him a good experience, give him confidence and make it something he'd enjoy in the future. I think we accomplished that."
The iconic Palm Beach Dressage Derby exhibition class culminated during the break in the freestyle. The defending champion, Germany's Christoph Koschel, retained his title. The senior team championships medalist has achieved the remarkable feat of not only successfully defending his Palm Beach Dressage Derby trophy, to his list of Derby wins that include the Hamburg (Germany) and Munich (Germany) classes too.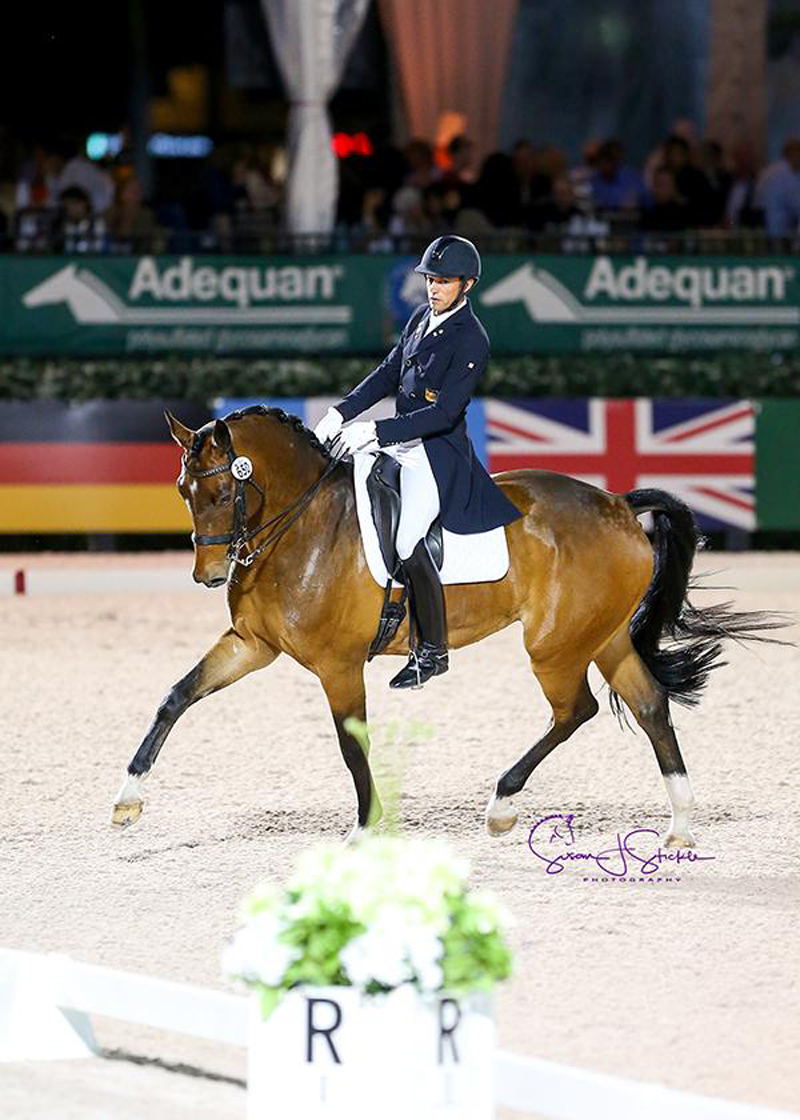 "It was challenging and a lot of fun," he said of his ride in the final on Fausto, a 10-year-old bay gelding by Fidertanz normally ridden by Karen Pavicic. Both Koschel and Brittany Fraser made it through to the final in the afternoon's head-to-head knockout-style contest, beating Juan Matute Guimon and Olivia LaGoy-Weltz in the process. In all rounds, riders have just five minutes to familiarize themselves with an unknown horse before they perform a Prix St. Georges test.
"This is what horse sport is about," added Koschel. "It's a very short period of time to build a partnership, but it's great for the audience to watch. We need more classes like this to help make the sport exciting and accessible. I really liked the horse even though he was spooky to start with. And if I rode him again, I'd definitely choose smaller spurs as he was more sensitive than I was expecting!"