A tack change put Holder and Courageous Comet on track for Rolex Kentucky.
Becky Holder knew she needed to make some changes to get Courageous Comet back on track in his eventing career. Show jumping rails have plagued their performances, and a hard fall at the Fair Hill CCI*** (Md.) last October left both horse and rider feeling a little shaken.
But a win in the advanced, test C, division at the Southern Pines Horse Trials II, Raeford, N.C., March 21-23, was just the proof she needed that her plan is working.
The most radical change Holder, 39, made over the winter was switching "Comet" to a hackamore for show
jumping.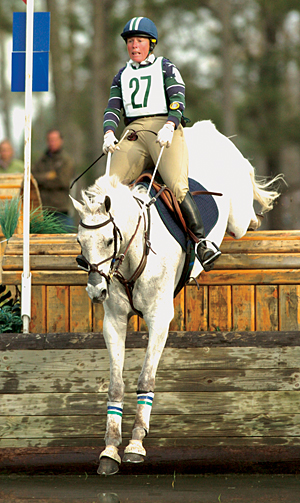 "He's always been a careful horse, almost to the point of paranoia. When he would hit something, it would rattle him," said Holder. "I switched him to a hackamore this winter, and he loves it. He really concentrates on the fences and isn't worried about the bit or my hand. Now he's figured out in his body how to get out of the way with the hackamore."
Holder stumbled on the bitting change on her own as she played with different approaches to quell Comet's anxiety.
"People have had success in hackamores on horses that fight the bit," said Holder. "He's very obedient. He never fought it, but I always got the feeling that he felt restricted or worried, so I tried to give him his neck back."
The 12-year-old, Thoroughbred gelding (Comet Shine—Rosenelli) did have one rail at Southern Pines, but he didn't get flustered and continued to jump around with ease, winning the division over Will Faudree and Antigua.
"It's a completely different style to the jumps," said Holder. "With the bit you very much place him. In the hackamore, I loop the reins and canter down in a rhythm. He's got a lot of freedom. I just have to loop the reins, believe in him and sit as quiet as I can. I took the spurs off, took the bit out of his mouth, and I rode him around like a big working hunter. He loves it."
Holder also noticed that their cross-country has improved, even though she doesn't ride that phase in a hackamore.
"With all the freedom in the show jumping, he's been backing himself up more on cross-country," she said. "It's easier. I'm riding tighter lines, and he's setting himself up. He's that much faster now than before. I don't rely as much on his gallop as I used to."
Holder spent the winter at her Wadesboro, N.C., farm working on Comet's confidence as well as his jumping technique. She said she started back carefully with Comet after their Fair Hill fall, which happened at a corner in late afternoon sunlight—Comet simply had a hard time reading the question.
They almost had a repeat of the incident in the February Pine Top Spring Advanced Horse Trials (Ga.). "I had a glance off at 4A and B," said Holder. "That was both the horse and I. We came through the turn a little too fast, went to set up for a skinny, and I lost it in the sun behind it, very similar to Fair Hill. I just had a bit of a freak moment. He is so tuned in to me that he propped, and we had a cheap run out. We rallied, and then he felt on from there on."
But other than that minor blip, their preparation for the Rolex Kentucky CCI**** has been faultless, and Holder said she's on track for her best performance to date. She plans to head to The Fork horse trials next in Norwood, N.C., but she said she'll probably only enter the advanced horse trials, not the CIC***-W.
"I feel like he's really on and doesn't need another hard run before Kentucky," she explained.
He's Right On Course
Holder chose Southern Pines because she wanted a challenging course with big fences and enough galloping for a fitness workout. "The footwork here is always good with the two waters and the sunken road. They're always good exercises," she said. "I think John [Williams'] courses are getting better and better at bringing horses along. It's a good mix of technical and big galloping fences. It had a really nice flow to it. I thought so at Pine Top as well."
Williams noted, "One of my biggest personal criteria always has been creating that balance between the individual piece of land, the flow of the track and the shape of the jumps and combinations that sit on the track in an effort to help ensure horses meet those jumps in a good balance, sometimes despite the rider, and to also try to help prevent the foolish horse and the foolish rider from scaring anybody who happens to be watching."
"Some might say I'm doing too much to ensure the right balance and speed," he continued. "But the riders generally are happy. I don't need to try to make the scoreboard have penalties. Somebody is still going to fall off, or run by a skinny or a corner or have a silly stop. I don't need to make that happen. My job
is to prevent that from happening. But I also do my best to make sure that whatever level of course I'm creating is up to the standard."
Clearly, Williams' courses suited Holder's horses, since she won open intermediate, division 2, as well aboard Rejuvenate. His owner, Ann Bower, bred the 10-year-old, Oldenburg-Thoroughbred gelding, by Renaissance.
Holder competed Rejuvenate to a U.S. Eventing Association Gold Cup win at the intermediate level in 2006, and she may be well on her way to more Gold Cup glory, since Southern Pines offered Gold Cup points this year in the intermediate and advanced divisions.
Bower took Rejuvenate back in 2007 to compete herself, and she completed her first intermediate with him before returning him to Holder for 2008.
"He's going to do his first advanced at The Fork. I hope to gently move him up to advanced," said Holder. "He'll probably go back and forth because I need to keep his confidence up. Rejuvenate will probably do a three-day in the fall. We'll just concentrate on mileage and horse trial level and go from there."

Another Comeback Kid
Holder wasn't the only rider who earned a much-needed victory at Southern Pines. Wendy Bebie won her first two advanced events in 2005 aboard Phoenix VIII, but it's been a bit of a rocky road at advanced since then.
"I won Southern Pines three years ago, and then I got on the learning curve," said Bebie with a smile.
An adult amateur from Round Hill, Va., Bebie topped the advanced, test A, division with Phoenix and couldn't stifle her joy.
"I feel very lucky that Phoenix is sound and ready to go again," she said. "I'm psyched that he feels so enthusiastic about his job."
It was the first advanced outing of the year for the pair, and Bebie has the 16-year-old, Selle Français gelding (Shafoun—Nazareth II) aimed at the Jersey Fresh CCI*** (N.J.) in May.
Bebie, 53, works with Kim Keppick, who found Phoenix for her, and Jim Wofford.
She was especially excited about Phoenix's positive attitude throughout the event. "He's so happy to be out, but it makes him hard to ride," she said with a laugh. "Cross-country was fantastic. There were lots of questions, and it was hard, but not the hardest."
As an amateur, Bebie has found it difficult to gain the amount of saddle time she needs to be competitive at advanced.
"The advanced courses keep getting harder," she said. "It's very up and down and completely unforgiving. If I make a mistake, Phoenix is smart enough not to kill us. I'm very lucky to have him."
She explained that Phoenix needs plenty of time off because of the high stress of going advanced as well as his age, but that doesn't allow her the practice time she'd like.
"He got sick in August, and I had one intermediate horse trials before I did the three-star at Fair Hill last year," she said. "Phoenix was great, but my reactions weren't fast enough. I haven't jumped a show jumping course as big as today since Fair Hill."
Although Phoenix was in the ribbon hunt from the beginning, their dressage test wasn't his finest according to Bebie. "He was way over-excited," she said. "But if he's good in the dressage, then he wouldn't have that extra pep for the rest."
The pair moved up from third place after cross-country with two rails when second-placed Ashley Adams took three down and first-placed Nate Chambers went off course. The same unfortunate accident happened to Will Coleman, who had been leading the division after dressage but missed a fence on cross-country with Twizzel.
Out For A Gallop
Although the advanced divisions held plenty of action, open intermediate, division 1, contained some of the best horses in the country as riders brought out their four-star mounts for a confidence- and condition-building run.
Among the who's who competing in the intermediate division were Phillip Dutton aboard The Foreman, Boyd Martin on Ying Yang Yo, and the eventual winner, Bonnie Mosser and Merloch, whose last outing was their Jersey Fresh CCI*** win last spring.
"He came back in this spring ready to rock and roll. He's healthy and sound, so, touch wood, we're heading toward Rolex," said Mosser. "I changed some equipment, and this weekend was a test to see where we're at. We're in a good place."
Mosser, Unionville, Pa., chose to run the 11-year-old, New Zealand-bred gelding for time over the intermediate track in an effort to improve his fitness. "I need to be quick with Merloch. If I'm going to Rolex, I can't wait until Rolex to run him quickly. I need to know if he's going to be OK," she said.
She explained that she'd chosen Southern Pines and his next outing, the advanced horse trials at The Fork, because the open galloping tracks are similar to Rolex Kentucky.
"I think The Fork will be a good test for him," said Mosser. "He's got such a great heart. I want to improve all three phases. This weekend was a good question and answer session. I've got little things to tweak, and I need to keep his fitness up, keep the wheels on."
Michelle Mueller was another rider testing her various gears as she rode her first intermediate of the year with Amistad. The 8-year-old Thoroughbred-Belgian Draft cross (Ascot Knight—Sleigh Bells) jumped clean to win intermediate, division 3.
Mueller comes from Port Perry, Ont., so the warm southern weather provided her with some welcome relief.
"We've been down here since March 1," she said. "I'm at Full Gallop Farm in Aiken, S.C. We come off the winter, from our last event in September, doing nothing. Once the snow hits, that's it for us. I condition him in the deep snow, which gets him quite fit, so I wasn't worried about the fitness part, but it was just getting over those cross-country fences."
Mueller, 44, started her professional riding career as a dressage rider but switched to eventing 12 years ago on her 10-year-old dressage mount. "I always wanted to event and never seemed to have a horse with enough heart," she said. "My last horse took me to two-star, and this guy hopefully beyond."
Mueller trains with Ian Roberts and got the ride on Amistad after his owner, Julie Pring, went to college.
"He's brave enough to do it all. He's very brave and honest on cross-country," said Mueller. "Hopefully we can go advanced this year."
Mueller said she has an advantage in the dressage because of her background, and Amistad is nearly always in the top five after dressage.
"My weakness was the stadium, and now it's getting better," she said. "I'm finding my lines and my paces because he's allowing me to ride him more instead of fighting or sucking back. I think it's a maturity thing. He's gone from being a bit of a goofball to a horse that's really trying to do his job."
On a sad note, J.C. Chester's Task Force, whom Jan Byyny rode as an individual at the 2006 World Equestrian Games, had to be euthanized in the warm-up for intermediate cross-country. He sustained a catastrophic hind leg injury in a fall over a small coop.
Sara Lieser