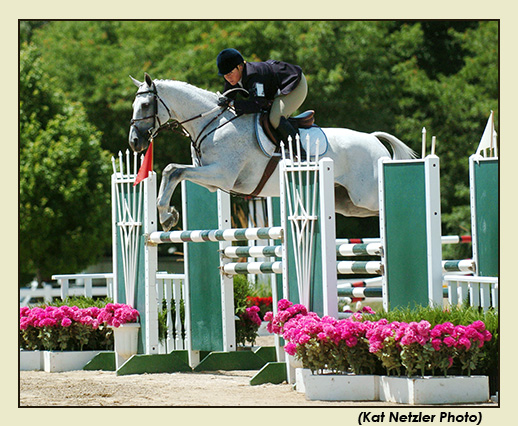 No one could have been more happy than Becky Holder to come out on top in the CIC*** at Maui Jim Horse Trials, July 12-15. After a series of disappointments at major spring events, the Minnesota-based rider and her distinctive, gray partner Courageous Comet were back in sync at the top of their game at Lamplight Equestrian Center in Wayne, Ill.
"I was thrilled with it," Holder said of the win with the 11-year-old, Thoroughbred gelding she co-owns with her husband, Tom. "Though he's kind of notorious for being a little naughty after awards ceremonies."
A little excitement on Comet's part was acceptable, though, as it had been awhile since the pair had participated in a victory gallop. At the Rolex Kentucky CCI**** in April, the pair was one of the favorites to win.
"[But] I knew from fence 3 that he wasn't himself," said Holder of her cross-country ride. After hitting a corner at The Fork (N.C.) earlier that month, Comet was slightly shaken, and when he didn't hold his line to the second element of the first combination at Rolex, his rider knew he wasn't feeling confident. A few fences later, he bumped his stifle going into the first water complex, prompting another stop, after which Holder chose to retire.
"After that I knew that we were very much a long shot for the Pan Ams [in Brazil]," Holder said of her performance at Rolex. "He normally gallops like he did at Wayne this weekend—ears up, really, really into it. I think he was just protecting himself, even though he was really sound."
So Holder decided to enter the Pan Am selection trial advanced division in early June at Jersey Fresh (N.J.), where Comet had a perfect, confidence-inspiring go across country. But Holder suffered another setback in the show jumping, where she fell into a fence and was eliminated.
"I made a mistake, and I placed him incorrectly. He really tried to jump me out of trouble, and he just couldn't do it," she said. "I was very lucky that the horse wasn't hurt, and we could come home and say, 'On to Wayne!' "
So onward they went—and upward too. In second place after the dressage at Maui Jim with a 43.7, Holder said she was thrilled with Comet's performance. "I've been trying to strike a balance between having enough warm-up to get him obedient without taking away his expressiveness," she said. "I think I could have used about 5 more minutes. He was a little perky in there, and I'm trying to learn to handle that energy."
The next morning on cross-country, Holder certainly handled the energy without fault. "He was completely on," she said. "This was the perfect course for him to do. I thought the track was just wonderful and as good as you can expect anywhere in July, and the first water complex [that caused the elimination or retirement of three of the 14 pairs in the division, and which Comet flew through without a hitch] was a good, challenging question and probably the toughest on the course."
With 1.2 time penalties on cross-country, the pair moved into first place, and their eight-fault show jumping round clinched the win by a margin of more than 6 points, despite Holder's assertion that the phase is always their biggest challenge. Comet cleared the obstacles with ease, with toes pointed gracefully forward as he rocketed over the fences in his trademark style so befitting of his name. But Holder said she felt she hadn't given the horse the proper set-up approaching the triple combination, which is why he lowered two rails. After that, the rider knew the remainder of the course could be in jeopardy.
"Past history has shown that once he hits something, he gets a little rattled and will then have a couple more rails," said Holder. "So I was really, really pleased that he could jump those last three clean. He tends to jump a little better off a slower pace with tighter turns, but he's really improving his technique and getting so much better."
The pair has been honing their show jumping skills at A-rated jumper shows in the level 4, 5 and 6 jumpers, and Holder said she'll continue to do so throughout the fall in lieu of going abroad to compete at a four-star. She plans to do a mini prix in Minnesota and will aim for the stateside events like the American Eventing Championships (Ill.) and the Fair Hill CCI*** (Md.) in the fall to regroup for the 2008 season.
A Win At Home
The local crowd had something to cheer about as Cassidy Lundmark, Barrington, Ill., claimed the CIC** aboard her own What's Shakin. The 16-year-old rider topped the field of 26 competitors in her first two-star completion.
Lundmark's family bought the horse for her when she was 12, "as a training packer." The 16.3-hand bay Thoroughbred cross had competed at preliminary level with his former owner but with marginal success.
"I was always asking clinicians if they thought my horse could do prelim," Lundmark recalled. When the pair won four preliminary events and placed second in one in 2005, it became quite apparent that he could.
Lundmark's dressage score of 50.4 at Maui Jim placed her second going into Saturday, where the young rider knew she would have a challenge on her hands. Prepping for the CCI* at the North American Junior and Young Riders Championships (Va.) in early August, she wanted to have a positive go aboard her 14-year-old gelding.
"We actually weren't able to qualify for the NAJYRC two-star," explained Lundmark, who represented Area IV at last year's championships, where she was a member of the CCI* gold-medal team. "We tried to qualify at Fair Hill (Md.) this spring, but those were some really big fences, and he wasn't feeling himself, so I ended up retiring halfway through the course."
What's Shakin's other cross-country runs throughout the spring also exhibited an unfortunate lack of boldness, especially after he lost a shoe during one course and struggled with footing. Though he remained sound, Lundmark said his self-assurance was affected, so the rider realized she'd have to pick up the slack at Maui Jim.
"I knew if I gave him a really confident ride, he would come through for me," she said.
Although the Maui Jim water complex's bending lines and bank-to-log bounce within the first half of the course were particularly intimidating to Lundmark, the pair negotiated it without a hitch. "After that, I just knew we had it," she said.
Their double-clear round moved the pair into first place, and after runners-up Heather Morris and Genial withdrew from the competition on Sunday morning, Lundmark entered the final phase with a rail's margin in her pocket. While they did lower one pole, the rider kept her composure.
"He totally saved me," Lundmark exclaimed to the well-wishers who surrounded the pair as they exited the arena. A near miss at the first fence had set the crowd on edge, but Lundmark gave all the credit for the winning round to her mount. "We have such an amazing partnership," she said.
Sadly, another CIC** partnership came to an end at Maui Jim on Friday morning. Forrest el-Effendi's 14-year-old, Thoroughbred gelding, Paradigm, collapsed and died during their dressage performance as a result of an apparent aneurysm. El-Effendi, 16, of Dallas, Texas, was preparing to move up to the advanced level as soon as she was old enough to compete.
The el-Effendis purchased "Kiwi" four years ago from his previous owner in New Zealand, who had initially bought the horse for $70 to save him from the abattoir truck.
"He was a great horse," said el-Effendi. "We kind of had a hard time starting out because I was a little young to have a horse like him. We started at novice when I was 12, ended up moving to Mike Huber's barn when I was 14 to start out at preliminary. I did my first three-day with him, and he took me to Young Riders [Championships] and to my first two-star. We all loved him, and I learned a lot from him. I was just lucky that I got to have him for as long as I did."
According to el-Effendi, a necropsy was scheduled per Fédération Equestre Internationale protocol, although "all the professionals that were there [at the event] confirmed that it was an aneurysm, because he had been perfectly fine before."
"We think it was an aneurysm, as the horse was hemorrhaging out of his nose and mouth," said FEI veterinarian Nancy Roth, who was immediately dispatched from another dressage arena to the scene. "It was an unpreventable tragedy. He died instantly and didn't feel anything."

Steering Clear
Kristen Bond had a winning weekend at Wayne with two of her own horses, as she scored the blue in an open preliminary division with Pandora II and topped the advanced with Three Wishes II.
A lovely performance on Friday put Bond, who currently trains with boyfriend Buck Davidson in Medford, N.J., in second place in the advanced dressage with her 17.2-hand, chestnut Irish Sport Horse, behind Stuart Black and Fleeceworks Mystere du Val.
Bond's dressage test was almost too enjoyable, as she narrowly avoided going off course halfway through the ride whilst admiring her horse's obedience at the walk. "I was thinking, 'Wow this is so great! This is already going so much better than Blackout's test,' [her CIC*** mount Fleeceworks Blackout had scored a
disappointing 69.1], then I realized I didn't know where I was going," Bond said, laughing. "I probably made the biggest 20-meter half circle they'd ever seen."
Bond, 27, credited "Larry's" dressage excellence to his former owner, Emily Beshear, from whom she bought the horse last spring. "Emily is fantastic on the flat," she said. "This is the kind of horse that you knew if you got him all together, he was going to be unstoppable."
While Larry did live up to that description at Maui Jim, Bond admitted the road getting there was trying at times. The pair won the open intermediate at the same event last year, but, since moving up to advanced, Bond has struggled with accuracy on the gelding. After the pair had run-outs at two different combinations on the CCI*** course at Jersey Fresh in early June, she intensified her training sessions and experimented with a bevy of new bits.
Somewhere in the midst of the Maui Jim course, the pair struck the right chord. Bond and Larry were the only advanced team to pull off a double-clear round, moving into first place by more than 6 points.
"He wasn't fit enough at Jersey, and he was tired by the end of the course," said Bond. But with a month's more conditioning under his belt, the horse was on top form in Illinois. "It was definitely the best ride I've had with him so far."
Though they dropped the one rail they had in hand on Sunday morning, the pair finished within the time to defeat Black, who had put on the pressure with a double-clear just beforehand, by 2.7 points. With her newfound steering skills, Bond plans to keep building momentum and mileage this summer, aiming for events like the CIC*** at Richland Park (Mich.) and the World Cup qualifier at Wits End (Ont.), among others.
"Buck deserves credit, because he has done so much work with him, and Bruce [Davidson] has been so great, letting me come and train at his place," she acknowledged. "Now we've figured out that we can steer, so we just have to make sure we can keep steering."

Kat Netzler