Days after she and her 21-year-old Farley 4 swept the small tour at the World Equestrian Center Dressage V CDI-W in Ocala, Florida, Chloe Fullar said she still is pinching herself to be sure she's not dreaming. The victory was an emotional one for Fullar, 37, who sold a pair of earrings she had inherited from her grandmother to pay the entry fee and travelled over 1,000 miles from her home in Berrien Springs, Michigan, to compete in her first CDI.
"We had a really good show season, but I didn't think it would lead to this," Fullar said with a laugh. "I was fortunate and grateful and blessed to get to regionals and then was successful enough to make the U.S. [Dressage] Finals. After U.S. Finals I was like, should I push myself to do my first CDI that's only three weeks away? And I decided, let's do it."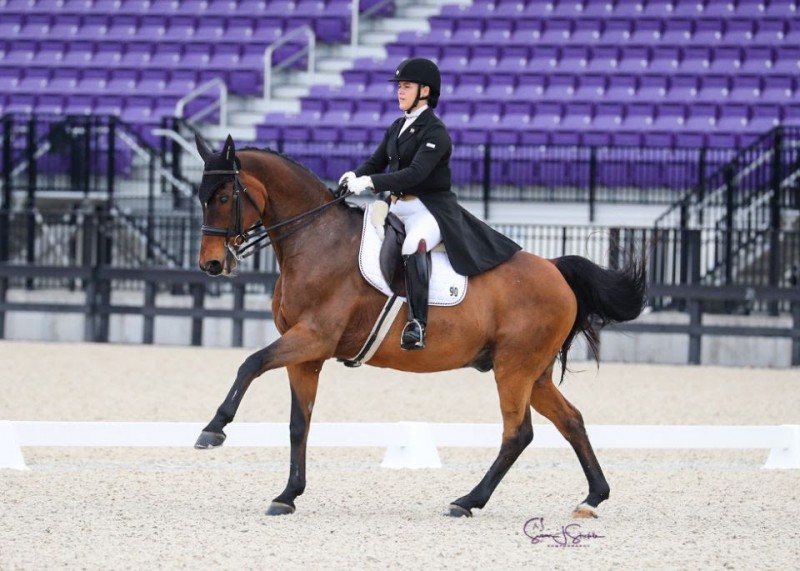 Despite Farley being legal drinking age, Fullar said the Hanoverian gelding (Fabriano—Wonja Z, Woodstock) has low miles, as he has only been shown lightly since he was imported from Germany in 2016 by one of Fullar's clients. After competing in the 2017 FEI North American Junior/Young Rider Championships held in Saugerties, New York, Farley was sold to another of Fullar's clients, an adult amateur who was just beginning her journey in dressage.
"I never rode him while we had him," said Fullar, who is a U.S. Dressage Federation gold medalist. "I just taught on him and knew he was classically trained. He was a super good egg, and I really liked him."
In 2019, Fullar moved her business to a new facility, and she no longer saw Farley on a regular basis. But in July 2021, Fullar received a group text message from her former client—due to her declining health, she was looking to sell Farley. Fullar hadn't seen the gelding in several years, but she reached out to his owner immediately.
"I sent her a text back and said, 'I'm going through some reconstruction as far as how I am running my business and my life, and I've always loved this horse', " Fullar said. "I'm really not in a position to do a lot, but I can offer him a forever home. She called me right back and said, 'I want you to have him.' "
When Farley arrived at her friend Erica Furkis' farm, Fullar didn't know what to expect. He hadn't competed in nearly five years, and Fullar didn't know if he would even want to work at his previous level. Fullar got her answer after Furkis encouraged her to enter the Sorensen Park Dressage Show (Wisconsin) in early August, where the pair received scores into the 70s at Prix St. Georges and Intermediaire I.
"It was such an incredible feeling," Fullar said. "I've had a lot of project horses personally and professionally over the last handful of years, and he just went into the ring and was like—let's do this. He's just an incredible horse. At his age, he has needed very little support and still has this burning fire to want to show."
In the past five years, Fullar has particularly enjoyed working with juniors and young riders—"I see the raw potential and enjoy seeing them push through and persevere," she said—but recently she's spent a lot of time "soul searching" to figure out how to put more time and attention into achieving her own dreams and aspirations within the sport. When Farley came back into her life, it seemed like the perfect opportunity to put herself first.
"I always put so much into the horses," she said. "I'm not married, I have no kids. I have poured all my energy into the horses, heart and soul. I personally groom the horses and take care of them myself. I love the horses, period. Being able to be successful at what I've worked really hard at and made a lot of sacrifice for is unbelievable."
After the U.S. Dressage Finals, where the pair finished third in the Intermediaire freestyle championship, Fullar worked Farley lightly to keep him fresh for the long trip to the  World Equestrian Center—Ocala for the big show, held December 9-12.
"On a daily basis I don't drill; I don't run through the test," Fullar said. "I just do little bits and pieces and do a lot of transitions and short sets. My goal for the CDI was to have a positive first outing. You obviously would love to win, but I didn't know what to expect, except to come and be a sponge and learn."
Fullar shipped Farley to Florida herself, breaking the trip into three, eight-hour legs with overnight stops. Furkis and her 6-year-old daughter, Charleston, joined her and offered moral support and a cheering section throughout the weekend.
"Erica has been such a support and advocate of mine that 'incredible friend' doesn't even start to put it into words," Fullar said. "And her daughter is my biggest little fan!"
Farley recovered well, and everything was on track until the evening before the pair's CDI debut, when Fullar began to feel anxious as she was putting away her tack.
"Since I've had him back, I had only been riding and showing in the snaffle bridle," she said. "We had read the FEI rules through the three-star for bridle requirements, but my gut said to double check. I looked at Erica and said, 'I am having a bit of nerves. Are you 100% sure I'm OK to show in the snaffle?' We sent a message to a friend who stewards and rechecked the rulebook."
When Fullar learned that a full bridle was required, she tore through the tack room of her trailer after night check, searching for equipment.
"Fortunately, I had a double bridle in my trailer, and, thank goodness, I had a very similar bridoon to the snaffle I've been riding in," she said. "I got on really early Friday morning for 10 to 15 minutes and put him in the double. That was the first time I'd ridden him in it. That, to me, was like a massive no-no. But he was just awesome."
Though Fullar has taken regular clinics with top dressage professionals such as Lendon Gray, Anne Gribbons and Dolly Hannon in the past, she admits that her area of Michigan lacks top caliber mentors in the sport. She credits a 20-year relationship with Catherine Haddad Staller (Fullar groomed for her at Aachen, Germany, in 2007) for exposing her to top-class riding and training, as well as giving her the confidence to "trust her butt and her gut and good basics."
"I have been blessed to have people who must have believed in me in some aspect to give me opportunities. I don't come from a lot—just parents who said, 'chase your dreams,' " she said. "It's always about the right horse and the right timing. I have a lot of dreams and aspirations, and I'm hoping this is a step toward something else. But you never know, and if this is it, I'm eternally grateful."
Farley will now enjoy some downtime with light work and hacking while Fullar tries to strike a balance between dreaming about the future and enjoying one day at a time.
"Right now, we are going to groom him, give him lots of treats and tell him how awesome he is," she said. "I'm not going to push him to go any higher—I don't think at this point it's fair. For next year, it's kind of a goal to aim for the Festival of Champions for the small tour. But obviously it's whatever he wants to do. I'm just going to see one day at a time and one month at a time. … Whatever Sir Farley decides is what we'll do."