Woodside, Calif.—May 27
It was a thrilling final day of competition for riders at the $15,000 Woodside Preliminary Challenge held at the Spring Event at Woodside in Woodside, Calif.
After completing dressage on Friday, forty-seven pairs ran cross-country Saturday morning, and the day concluded with an exciting show jumping finale in front of a sold-out crowd as both the open and rider divisions battled it out for their piece of the purse.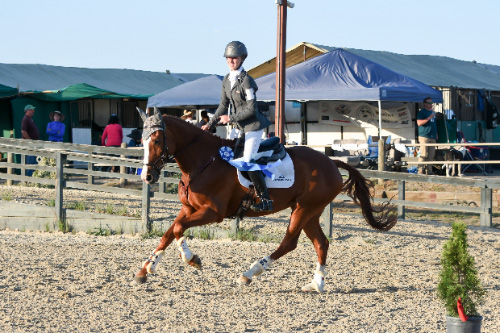 Ultimately it was Mallory Hogan and Rebecca Braitling who came out on top. Hogan rode her own Clarissa Purisima to victory in the rider division. Sitting in second after earning a 31.4 in dressage, Hogan and the 9-year-old Holsteiner mare (Limmerick I—Briza) eagerly navigated Ian Stark's cross-country course, picking up only 3.4 time penalties.
"She was really bold. I went out there knowing the time was going to be a little harder to make, so I rode everything in a forward rhythm and let her do her job. She loves cross-country, that's one of our strongest phases, so I just let her do her thing out there," Hogan said.
Taking the lead after cross-country meant the pressure was on for Hogan and "Clarissa," but the 17-year-old showed experience beyond her years when she delivered a double clear show jumping round.
"After cross country when I saw that I moved up I knew the atmosphere was going to be a lot, and I didn't know how she was going to handle it, but she went in there today, and she was really mature and grown up about it," Hogan beamed. "I can't believe it. It feels like everything has come together. We have been working really hard on her dressage and her show jumping too this season. Getting that double clear round felt like it finally came together in the right time and the right place."
Claire Poch earned second place with her own Kirschblüte 3, an 8-year-old Trakehner mare (Hirtentaz—Kantate X). Adding just 0.4 time penalties moved the pair from ninth to second after cross-country, and a final score of 36.9 after two pesky show jumping time penalties was enough to end in second.
Katelyn Grubich and her own Kaptain Jak added 3.6 cross country time penalties to their dressage score (33.5), and a double clear show jumping round sealed the deal on third. The 15-year-old Thoroughbred (B. Hoedown—Keyeaster) also won the Preliminary Challenge OTTB High Point Award, sponsored by CANTER and CARMA, as the highest-placed off-track Thoroughbred.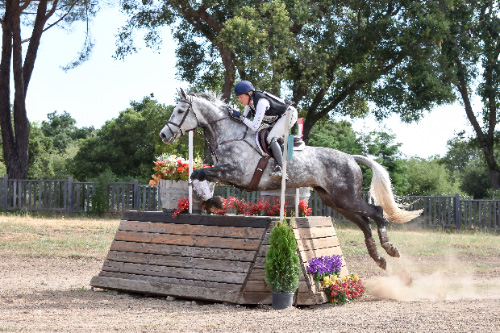 The horse division produced a nail-biting finale as cross-country leaders Erin Kellerhouse and Woodford Reserve picked up a single show jumping time penalty which ultimately gave the win to Rebecca Braitling and Santana II.
"It was kind of surprising actually because Erin and James [Alliston, who was second going into show jumping] are usually not very easy to beat, so I was happy to go in and just have a clear round," said Braitling who is competing Lauren Burnell's Santana II for the very first time this weekend.
The 7-year-old Oldenburg set out confidently on cross-country, adding 1.6 time penalties, and a faultless show jump round sealed the deal on a finishing result of 27. "We had a few green moments early on cross-country, so I had to tone it down a little and not worry about the time as much and find a rhythm, but then she show jumped really, really well this afternoon," Braitling said.
Braitling will continue to compete the mare while Burnell is pregnant this summer, and their FEI debut is quickly approaching. "We're going to head to the one-star in Montana [at Rebecca Farm.] I'm excited because Mallory [Hogan, winner of the Preliminary Championship rider division] is headed there hopefully for the Area VI Young Riders. I'm actually coaching the Area VI Young Riders this year, so it's fun having one of the girls here with me too."
Despite a costly time penalty, Erin Kellerhouse and Woodford Reserve still finished the weekend reserve champions. The 6-year-old Irish Sport Horse was the first horse to complete this morning's cross-country course, adding 1.6 time penalties. The final show jumping penalty put them on a three-phase score of 27.
David Adamo wrapped up the top three of this year's horse division with Christiana Rosenblatt's Junit. The 8-year-old Belgian Warmblood (Toulon—Wokina) was fourth after dressage on a mark of 27.8, and following the trend in this top three, picked up 1.6 time penalties on cross-country. A final clear show jumping round secured their top three finish.
Click here for final scores.