The Plains, Va.—July 7
Great Britain is turning into one of the teams to beat at this year's FEI World Equestrian Games (North Carolina) in September, and if the quality of their young team at the Brook Ledge Great Meadow International CICO*** this weekend is any indication, they have a strong pipeline coming up for the future.
The team is leading the FEI Nations Cup over the United States by nearly 24 points after show jumping tonight. Led by Ben Hobday's strong dressage performance this morning and clear jumping round on Shadow Man, they'll have plenty of wiggle room heading into tomorrow's cross-country.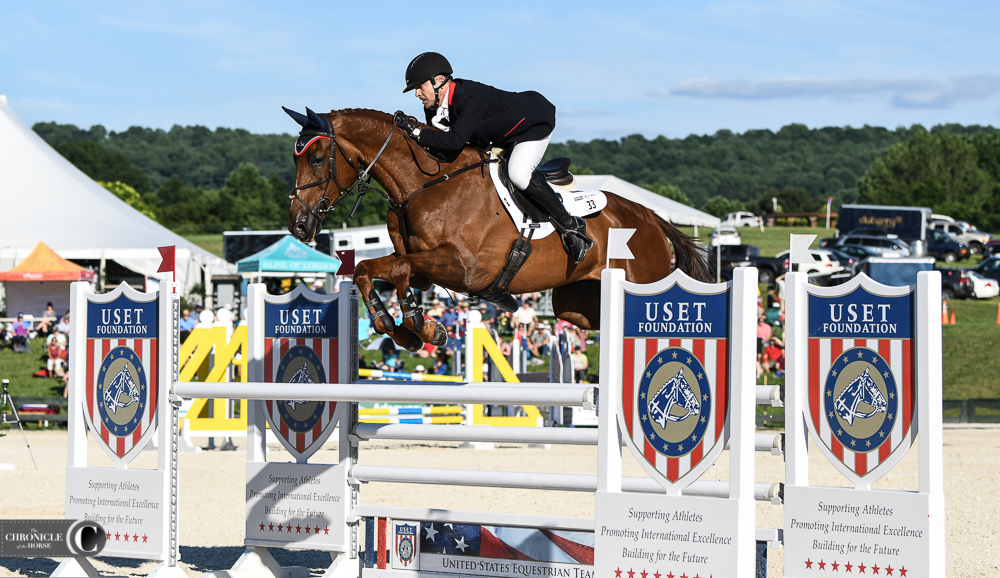 The team also includes Georgie Spence (Halltown Harley), Sophie Brown (Wil) and veteran team rider and Olympic gold medalist Leslie Law (Voltaire De Tré).
Law, who's based in Ocala, Florida, hasn't been on a British team since 2005, and he's having fun this weekend with the team and Chef d'Equipe Philip Surl.
"I'm even older than the chef!" he joked.
"We're all about promoting our young riders," Surl added with a smile.
Law and the gelding, a 9-year-old Selle Français (Gentleman IV—Jasmina Du Fresne, Socrate De Chivre) owned by Tre Brook, just moved up to advanced this year.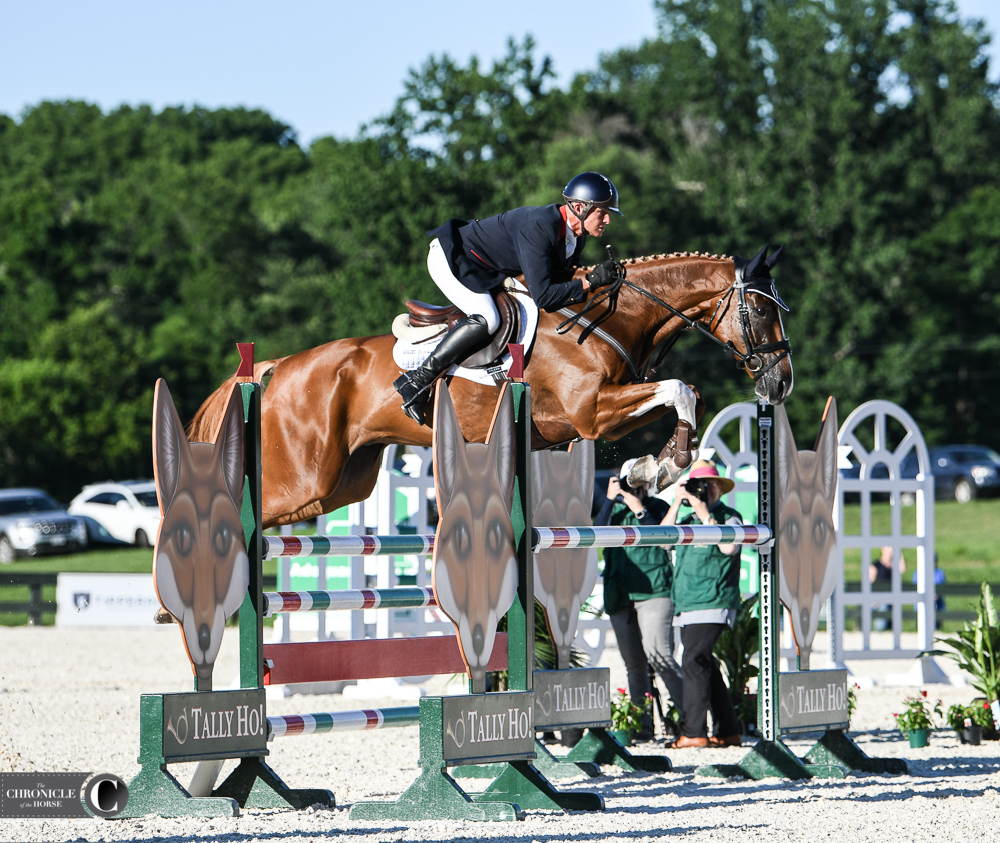 "He's turning into a really nice horse," he said. "Philip contacted me back in the winter and asked if I had anything, and I said I might have. In January it wasn't really on the cards. It's wonderful to be here, and these three are fantastic. Hopefully they'll get the job done tomorrow before I even go out on cross-country!"
Hobday was meant to compete at the Nations Cup at Great Meadow last year on his four-star horse Mulrys Error but had to withdraw due to insufficient preparation.
He just moved Shadow Man, an 8-year-old Belgian Warmblood gelding (Fidjy Of Colors—Favorite Van De Keezerswinning, Winningmood Van De Arenberg), up to advanced this season, and the gelding is stepping up every time out.
They're currently leading the individual standings after dressage and show jumping leader Kim Severson withdrew Cooley Cross Border this evening because of ground that was firmer than she wanted in her preparation for the Aachen CICO*** (Germany).
"He's a very good jumper," Hobday said. "I was a little but concerned about the heat with him. He was quite calm and relaxed in the warm-up, so we didn't do too much. The bigger the atmosphere the bigger he jumps. I just have to point him in the right direction, and he does the rest. I'm fortunate that I have such a lovely horse."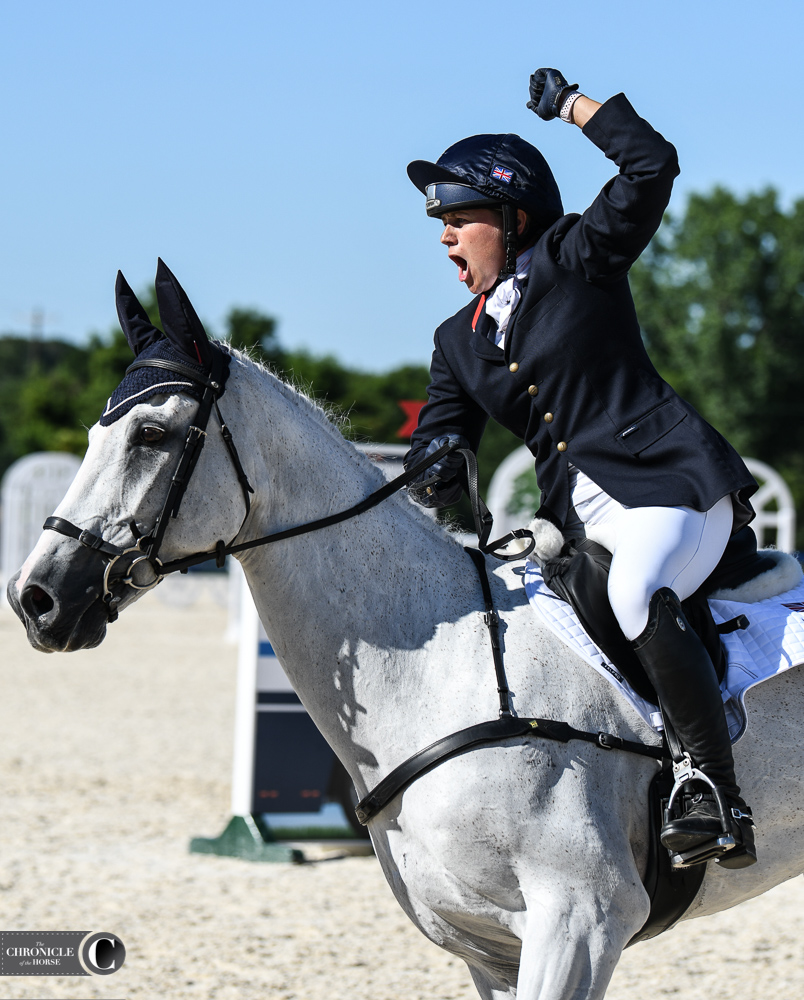 Hobday's had "Fidjy" since he was 2.
"If he was a human he'd be one of those good-looking, arrogant models who don't listen to no one," he said. "As long as he does the job I'll let him be whatever he wants to be.
"We run a company called Shadow Sport Horses in England," he said. "We sell horses in England, and he was one of them. He almost came to the States as a 4-year-old, but thank God the people that tried him took too long. [Co-owner] Jane [Chambers] watched him as a young horse and stepped in and said she wanted to join our journey with him, and she's been extremely supportive of him. We've just gone at our own pace, and luckily that pace has been going up. He does the job and usually brings back the rosettes."
Hobday says he'll go quick tomorrow in hopes of clinching the Nations Cup win for his team.
"It looks really nice," he said of the course. "Mike [Etherington-Smith's] done a great job. It's obvious what we've got to go and do—doing it's another thing, but the ground's good. There's a few tricky questions, but hopefully our horses will answer the questions. Philip's done a great job keeping us positive and keeping us focused on doing well individually because if we do that as a team we can end up on top hopefully."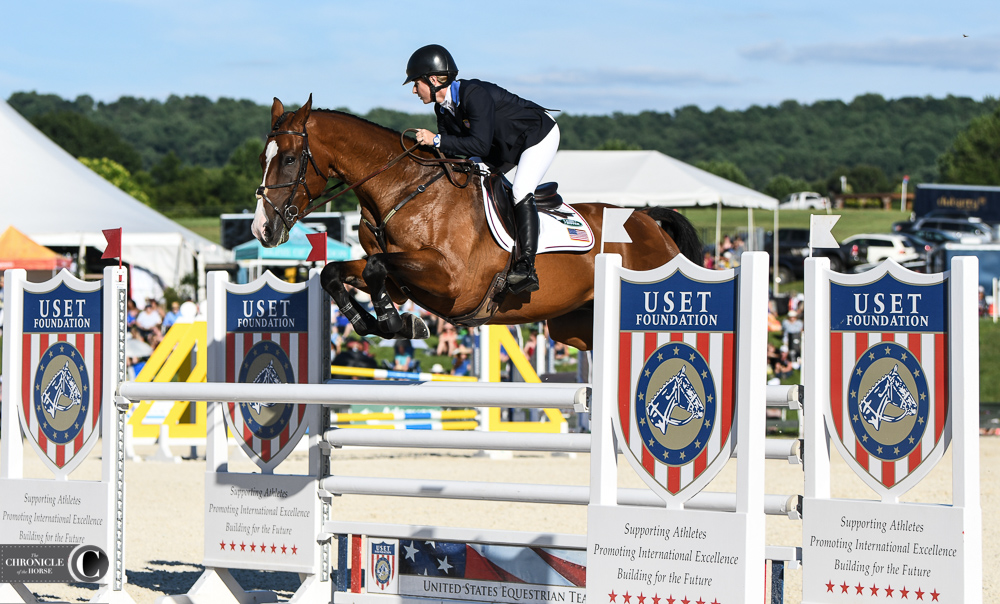 The U.S. team had mixed fortunes in the show jumping today. Caroline Martin and Spring Easy are the highest-placed pair in 20th. They added 2 time penalties over Marc Donovan's course, as did Phillip Dutton and Sportsfield Candy.
First-time team member Sydney Conley Elliott and Cisko A added 12  jumping faults and one time fault to their score, but she jumped a lovely clear on her other horse QC Diamantaire.
Buck Davidson had a disappointing round on Park Trader to add 16 faults.
USEF Network will be live streaming the event.
For all of the Chronicle's coverage, click here.
For scores, click here.
For a course walk, click here.
For a schedule, click here.