After an exciting final day of jumping at the Mitsubishi Motors Australian International Three-Day Event, New South Wales-based rider Hazel Shannon on her horse Willingapark Clifford have been crowned the 2018 winner of the Adelaide CCI****.
Hazel and Clifford have also made history by winning the CCI**** class for the second time as a combination since its inception in 1999. They first won the event in 2016.
The competition came down to the final two top places going into the jumping, with Amanda Pottinger from New Zealand holding first place after cross-country battling it out with Shannon in second place.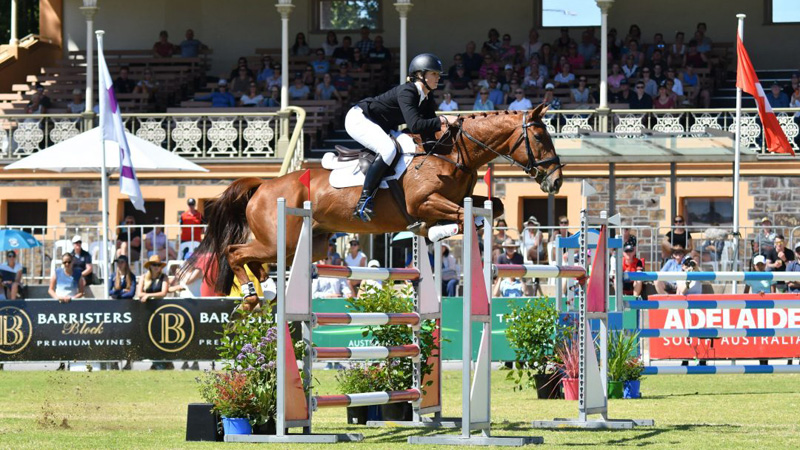 Shannon and Clifford jumped first and had two rails to finish on a score of 59.5 penalties.
The pressure was then on Amanda riding her 12-year-old Thoroughbred gelding Just Kidding, who unfortunately took down four rails adding 16 penalties to her score, taking her to a final of 63.2 penalties and dropping down to second place.
This is the second year that we've seen a New Zealand competitor in the top two after  Clarke Johnstone took the title in 2017.
Willungapark Clifford also took home the off-the-track Thoroughbred award and is owned by ACT entrepreneur Terry Snow. Terry purchased the horse allowing Hazel to retain the ride after winning in 2016.
Third place went to Western Australian rider Sonja Johnson riding Misty Isle Valentino finishing on 78.8 penalties.
This is the first time that there has been an all-female top ten in a CCI**** event across the world.
"It feels great, as good as the first time; I'm still in disbelief," said Shannon. "Willingapark Clifford performs best when he's fresh, and he loves Adelaide.
"I'm not sure about next year, figuring out what is best for him; it's important to keep him happy, sound and healthy," she continued.