Round 2 of the equestrian team competitions at the Youth Olympic Games Buenos Aires 2018 had everyone on the edge of their seats, as Team North America and Team Europe battled for the gold medal in a nail-biting jump off, while Team Africa settled for the bronze.
Victory was no easy feat, with both teams fighting and producing the three clear rounds, which would count towards their final score of 0. It was all down to the speed with which the five riders from each team tackled the jump-off course. Both teams showed tremendous calm under pressure, but at the end of the day Team North America made the difference with some very speedy and precise performances, relegating Team Europe into a very respectable second place.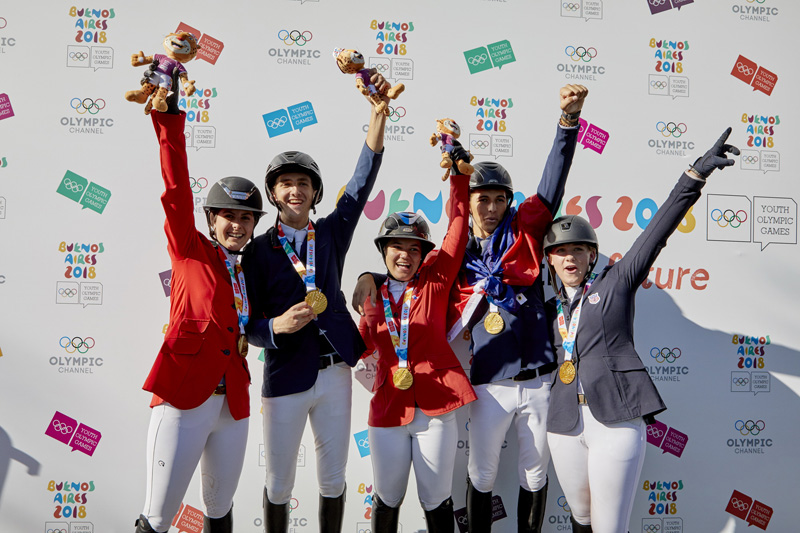 "I am so excited!" said U.S. Chef d'Equipe DiAnn Langer, who coached Team North America. "All the trainers that were part of this team were out there riding every jump with us. The [riders] rose to the occasion, and they got along fabulously; the team of trainers got along fantastically and worked together. These riders got here through a selection process, so [each country] brought their best rider [to compete] under these circumstances: borrowed horses, being able to work with different nationalities, and all of this went into the selection process. This was a great group, and I really enjoyed working with all of them."
The Youth Olympic Games jumping format allowed all five team riders to jump with two discard scores. Following the first day of competition, the North American Team found themselves in a three-way tie for gold. Australasia, Europe, and North America entered Tuesday's final round on zero faults. However, they held a narrow lead over Africa with one time fault and Asia and Australasia each with four faults.
The North American team brought the same level of intensity to the second round. They remained in a three-way tie with Europe and Australasia through four rotations, and their medal fate came down to anchor riders. Although Europe could afford faults from their anchor rider, Australasia moved out of contention as their anchor rider Mohammed Alqashouti picked up 28 faults following two four-fault rounds during their second and fourth rotations. With two four-fault rounds already, Hatcher (Little Rock, Ark.) and Santa Rosa Valery delivered under pressure to ensure the jump-off with Europe, where North America executed the cumulative fastest time to solidify the gold medal.
The five nations making up the North American team – Haiti, Honduras, Mexico, Panama and USA – were clearly over the moon. On the one hand, they had won gold, and on the other, this was the first time North America claimed the team gold following consecutive wins from Team Europe in 2010 and 2014. For Haiti and Honduras, this was their very first gold medal ever won at Olympic and Youth Olympic level across all sports since the reinstatement of the modern Olympic Games in 1896!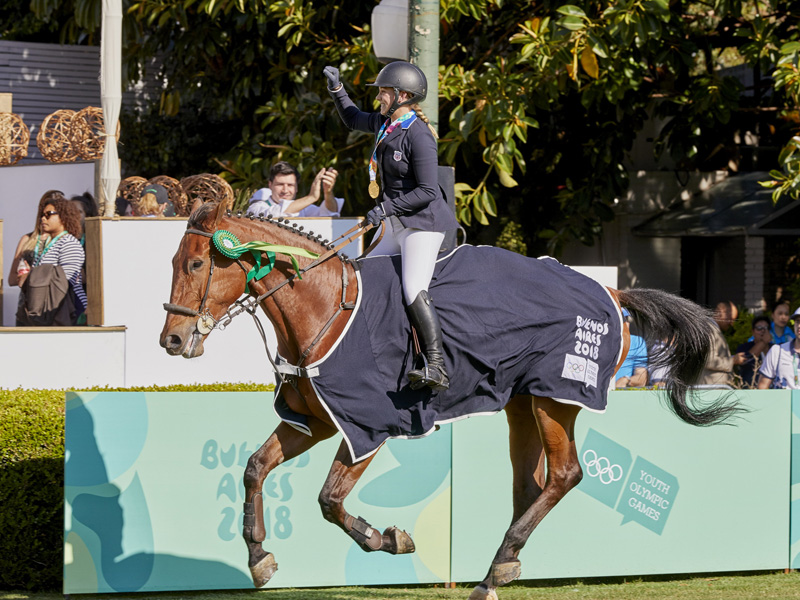 For U.S. rider Mattie Hatcher, the YOG experience so far is second to none with her horse Santa Rosa Valery delivering everything and more:
"[Winning Youth Olympic gold] is the best feeling ever over my whole career," said an excited Hatcher. "We only had four days [to get to know our horse], but it went really well. She was easy to click with and so willing [to work]. The [USA Jumping] development program has helped me learn more about the sport and what we need to do to reach our goals. DiAnn does an amazing job of informing us what we need to do, and it's a blessing to have [that guidance]."
In silver medal position, and literally seconds behind Team North America, the all-male Team Europe put on a great performance. For Great Britain's Jack Whitaker, who was also celebrating his 17th birthday, this silver medal came 34 years after his father Michael Whitaker won team silver at the 1984 Los Angeles Olympic Games alongside his uncle John Whitaker. A family affair which clearly keeps on giving.
The bronze medalists, Team Africa were delighted with their bronze medal on 1 penalty point. Chance would have it that Zimbabwe's Youth Olympic Games Young Change Maker Yara Hansen was nominated to hand out the gifts to the bronze medal winning team. Yara had been in their very shoes eight years prior, when Team Africa had won the equestrian bronze team medal at the Youth Olympic Games Singapore 2010.
Full results can be found here.