Christopher Hickey will be vacationing in Italy while his mount, Regent, will be wintering in Europe following their wins in the Great American/USDF Region 1 Grand Prix championship. They scored 66.87 percent during the Garden State Classic at the Horse Park of New Jersey in Allentown, Oct. 10-12.
"Having him win the regional [title] means a lot to us. It was a goal of ours," said Hickey, who has been working with the Dutch-bred, now 10, since he and owner Brenna Kucinski, of Amherst, Mass., imported him from the Netherlands as a 4-year-old.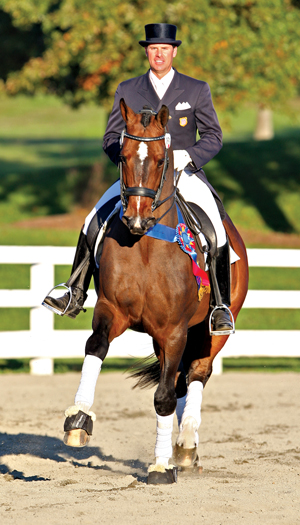 "After he came to this country, Brenna rode him for two years but when it looked like he was going to be a really special horse, she asked me to start riding him," said Hickey, head trainer at Hilltop Farm in Colora, Md.

Hickey and Kucinski are convinced the gelding, who was Hickey's ride for the team and individual gold medals at the 2007 Pan American Games, has the ability to be an Olympic or World Championship horse. So they are sending Regent (by Flemmingh) to German World Cup winner and Olympian Ulla Salzgeber, who has trained Hickey, for further work.
"It's a great time to push Regent on to the next level. He needs to get a little more secure in his piaffe and passage work," said Hickey.
Hickey took home the open Prix St. Georges title (72.62%) with Bugatti Hilltop, who was also the reserve cham-pion in the Intermediaire I freestyle (68.12%).
The 16.3-hand stallion (Bergamon—Raffinesse) was sidelined by a freak incident at Dressage At Devon (Pa.) two weeks earlier. He picked up footing from the ring, which lodged under his shoe and led to an abscess. He had a week off and then just four days of light work before the regionals.
"That really shows you his temperament and rideability," said Hickey, who has trained the 10-year-old Hanoverian stallion since Hilltop Farm owner Jan MacElree bought him in Germany as a young horse.
The youngest of the Hilltop horses at the show, Cabana Boy (Contucci—Britania) swept the open third level class (73.37%).
"He is probably one of our best," Hickey said of the 16.2-hand, bay Hanoverian. He currently ranks No. 1 on the U.S. Dressage Federation list of 6-year-olds for Horse of the Year honors.
Mason Adds Up The Wins
Right on Hickey's heels in the open Grand Prix (63.54%), Heather Mason probably holds the record in number of championships from the regionals, her main goal of the year.
She topped off the weekend with her Respekt, a bay Dutch Warmblood (by Inspekteur). "He is a little green at the Grand Prix since it is his first season. He has so much flamboyancy he doesn't know what to do with it yet," she said.
Tidbits
• Melanie Montagano, of Sewell, N.J., and her GaDeva wrapped up their weekend with the championship (66.19%) in the junior/young rider, second level finals. The high school senior and her black warmblood daughter of Gambol are headed toward the juniors and, she hopes, the young riders next year.

• Jackie Stillwell, of Marlton, N.J., found her perfect partner in her junior/young rider first level champion (65.39%), Ordained. "This is my third year at the regionals, but this win is by far the best," she said.
She bought the black gelding, now 10, as a stallion to be a resale horse. "But as soon as I got him home, I decided to keep him for myself," she said.
She admitted that, at 17.1 hands, he is hard to ride but has a great temperament. "He is very elastic and springy. He had a lot of animation," said Mason, who won the Intermediaire II (66.09%) with him a day earlier.

That tricolor was one of the dozen tricolors the Lebanon, N.J., native took back to her Flying Change Farm.
Another of her horses, Warsteiner, a chestnut Dutch Warmblood and 5-year-old son of Riverman, was runner-up at first level (68.02%) and won both of his freestyles, getting 77.91 percent for the first level ride and 71.97 percent for
second level.
She and June Brody's Allegiance (Akatschl—EM Dalliance) came in second (70.41%) in the first level freestyle.
"He's been late to mature, but he is a super quality horse," she said of the bay, 16-hand Hanoverian, 6. "He has a great engine on him."
Kevin Whitney's Glen Emeril (Aidato—Ganley Lady) had been a one-star event horse before the Irish Warmblood was switched to dressage. Now the chestnut is leading the USDF rankings at third and fourth levels. The 16.2-hand gelding, 9, and Mason were champions (72.18%) of the third level freestyle and runners up in the third level final (69.18%)
Mason rode A Knight To Remember RAH (A Royal Blend—Amaris) to the second level championship (66.54%) for owner Margaret Krug and claimed the reserve championship (70.20%) in second level freestyle. The 15-hand, chestnut Haflinger, known to his friends as "Otter" is a loveable character who "has a ton of personality and squeals when he goes into a canter."
A Big Heart
Baronessa and her owner, Shari Glickman, faced daunting odds getting back on their feet and into the show ring. Glickman, who runs Goodness Ridge Farm in Mt. Airy, Md., where trainer Jessica Jo Tate is based, has come back from two serious back surgeries. Her black Oldenburg mare (Day Dream—Baronesse), 10, has overcome her own health issues to win the fourth level title (66.58%) with Tate.
When Tate began riding "Ness" 18 months ago, she was a struggling third level horse. She also had had EPM, Lyme disease and a broken splint bone.
"She is resilient. She is 'the little engine that could,' " said Tate, who also rode the mare to sixth at Prix St. Georges. "This was her first big championship. Any horse that has such a big heart deserves the big blue ribbon."
Tate also paired up with Wendy Costello's Rosall (Rosario—Liberty), who was the reserve champion (72.40%) in the open training level. "I saw him on a video and thought he was beautiful. I think this horse is going to be a real special horse for the future. He has a fantastic temperament and has really beautiful movements. He also has the confidence," she said of the 5-year-old stallion.
Financial advisor Susan Springsteen, of Uwchland, Pa., spent the two weeks prior to the show calming her clients who were upset as stocks tumbled. Putting in long hours, she had been on her Fanale (Wuemmestern—Willow) only three times since she last competed the American-bred Hanoverian.
"It's hard to concentrate when the market is down 500 points," said Springsteen. Then the mare lost a hind shoe 30 minutes before her class, cutting their warm-up time down to 9 minutes.
"She pulled through it," Springsteen said after their 68.62 percent victory in the adult amateur Intermediaire I. "This is definitely one of her best tests."
Fanale, a chestnut bred in South Carolina, is tied for the top spot in USDF's Intermediaire I, adult amateur, category and is third in the Prix St. Georges adult amateur category.
Springsteen made her weekend twice as memorable with her ride on her Oskar (by Odin). "He is hot and, temperament wise, the direct opposite of Fanale. But that's what I wanted, to learn to ride a different horse," she said.
The 8-year-old, bay Danish Warmblood got the reserve championship in the third (66.04%) and fourth (65.24%) levels adult amateur finals.
Nancy Degutis