Calgary, Alberta—July 4
When a rider who earned two gold medals and victory in some of the top grand prix classes in the world aboard the great Sapphire states, "I do not think I have sat on a horse like this," it's really saying something.
McLain Ward knew HH Azur was something special from the beginning, when she arrived in the United States in the spring. The mare just won her first grand prix a few months ago, and even then Ward said of her, "the horse absolutely does not have one weakness and I've never seen that before."
And now Azur has gone from strength to strength, partnering with Ward to take the top check in the $400,000 ATCO Power Queen Elizabeth II Cup at Spruce Meadows.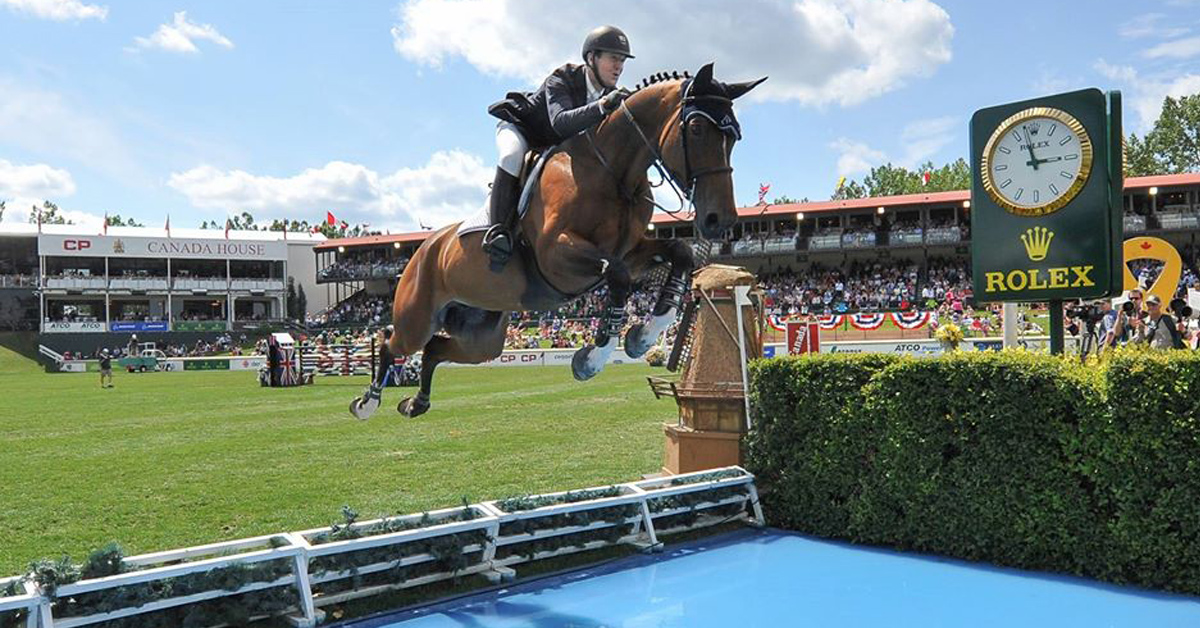 McLain Ward and HH Azur on the way to victory in the $400,000 ATCO Power Queen Elizabeth II Cup.
There are not many major competitions left in the world that Ward has not won, but before this year this was one of them. Now, he will now have his name etched in history in one of the sport's most prestigious events aboard a rising young star.

For the momentous win, Ward topped a U.S. showdown over Olympic teammate Beezie Madden and her top mount, Cortes 'C'. Todd Minikus and Babalou 41 completed a U.S. trifecta in the top three as the nation celebrated its Independence Day.

Spanish course designer Santiago Varela set a difficult track for the competitors in a class that took place over two rounds with a jump-off if necessary. The first round was a speed round against the clock, which saw 49 entries in total. The top 12 competitors from the first round then returned for Round 2 in reverse order of penalties. In the end, Madden and Ward were the only competitors able to jump clear in both rounds, necessitating a competitive jump-off to break their tie.
It was a storybook ending for Ward, who earned his first win in the prestigious competition with three perfect rounds to take home the winner's share of $132,000. Madden and Cortes 'C' had trouble in the jump-off and ended up retiring, but still took home a substantial $80,000 check for their second-place finish.

"It means a lot," Ward said of his victory. "It is a competition that I have always really coveted and always wanted to win. I think I have come here with a lot of very good entries, including Sapphire, over the years and taken a good shot. I am very excited about this horse in my life, so to see her step up in her first major grand prix is great. It is an incredible horse."

It was a hard fought battle through three rounds of competition for Ward and HH Azur, and the 9-year-old Belgian Sport Horse mare (Thunder van de Zuuthoeve x Sir Lui) was the only horse to complete all three rounds and clear every obstacle.

"I knew she could do it well, but there were so many things that she had not seen—the bicycle jump, the Chinese wall, the double liverpools," Ward said. "There were so many questions, and that is what makes her so unique; you put it in front of her and she answers the question every time. Every time we have stepped her up or set a benchmark, that is how she has responded."
HH Azur is a horse that is owned in partnership by Hunter Harrison's Double H Farm and Belgian horse dealer Francois Mathy. As Ward explained, a lot of things had to happen for him to get to where he is with the horse today.

"You wonder in life if certain things are meant to be, because I probably did everything not to get this horse for a while and still ended up with her," he noted. "I had a great partnership with Hunter years ago and we reunited a couple years ago. He is an incredible man, and sort of a father figure in my life, and Francois Mathy even more so. He was my dad's partner for 30 years and I have worked with him since I was 17. He was a great rider, an Olympic medalist, a great horse dealer and horseman, and a real inspiration for me. He basically told us about this horse, and said he was 70 years old and he wanted to own a great horse in the sport and would sell us half. They own it together 50/50 and it is a pretty exciting situation."

Want to know more about HH Azur and why Ward thinks she's so special? Read the Chronicle's Ringside Chat with Ward from May.
Speaking about each round with HH Azur, Ward detailed, "I was actually really nervous for the competition because I think so highly of the horse. I did not want to let the horse down; I wanted it to go well. She felt like she cantered around the first round really easy.
"The second round was big," Ward continued. "The double liverpools are always a difficult test and I thought it was particularly short today with two verticals, but she handled it beautifully. Then I figured in the jump-off with just Beezie and I, I would take a shot. The worst I could be was second."
Madden has won the Queen Elizabeth II Cup on three separate occasions in 2005, 2006, and 2012, but she was still not going to let Ward have it without a fight. She went second in the jump-off, but retired on course after Cortes slipped and stopped in the combination.

"I think I kind of matched McLain on Fences 1, 2 and 3, and then I ended up going around the island. I did not get inside, so I got a little worried and then I went fast. I think I made up time from the wall to the oxer and could have slowed down a little bit, but honestly Cortes was a little into the game by then," Madden explained. "He kind of landed and turned, and then I saw the distance and I went to go for it and he slipped a little. In hindsight, obviously I should have taken a little more time there, but he was a little into the game and I was a little into the game. I thought it best just to go with it, but it did not work out. He still jumped amazing."


Beezie Madden and Cortes 'C'
Despite trouble in the jump-off, Cortes 'C' jumped two fantastic rounds to make it that far and Madden was happy with her start to the day.

"He felt amazing. I think every jump was just airy and confident. It might possibly be the best he has ever gone, and that is saying a lot," she remarked. "He has had some super results already, but I would say not one jump felt risky today."

Just 1 time fault in the second round kept Todd Minikus and Two Swans Farm's Babalou 41 out of the jump-off, but Minikus was thrilled with his horse's performance as well.

"I have been riding her since she came to the states as an extremely green 5/6-year-old in the schooling jumpers and on, so it is very rewarding for me to get to this stage with her," Minikus acknowledged. "She is extremely green for this level of competition. The first week here we struggled a bit. The second week she was actually second to McLain in the grand prix. I am very proud of her and very thankful for Two Swans Farm for their support."

"I would also like to thank Spruce Meadows," Minikus added. "This is always such a special event, and everybody at Spruce Meadows does such a fantastic job that it is really a pleasure to compete here."
Final Results: $400,000 ATCO Power Queen Elizabeth II Cup 1.60m
1. HH AZUR Belgian Sport Horse / M / 9 Thunder Van de Zwohoeve x Sir Lui, 
MCLAIN WARD (USA) BREWSTER, NY Double H Farm & Francois Mathy: 0/81.69 0/76.89 0/39.52 $132,000
2. CORTES C Belgian Warmblood / G / 13 Randel Z x Darco,
BEEZIE MADDEN (USA) CAZENOVIA, NY Abigail Wexner: 0/79.40 0/76.03 Retired $80,000
3. BABALOU 41 Oldenburg / M / 10 Balou de Rouet x Silvio, I
TODD MINIKUS (USA) LOXAHATCHEE, FL Two Swans Farm: 0/81.01 1/80.63 $60,000
4. JONKHEER Z Zangersheide / S / 13 Jetset D x Skippy II,
ERIC NAVET (FRA) ENCINITAS, CA Signe Ostby: 0/81.79 2/85.57 $40,000
5. QUINTOL Oldenburg / G / 10 Quintender x Cento,
EDUARDO MENEZES (BRA) CARLSBAD, CA Eduardo Menezes: 0/82.02 4/77.83 $20,000
6. CALVIN KLEIN Swedish Warmblood / G / 11 Cardento x Feliciano,
JONATHON MILLAR (CAN) PERTH, ON Millar Brooke Farm: 1/85.21 5/79.90 $15,000
7. H&M FOREVER D ARCO Belgian Warmblood / S / 10 Darco x Tenor Manciais,
NICOLA PHILIPPAERTS (BEL) GRUITRODE Ludo Philippaerts & Frans Lens: 0/80.38 8/77.17 $10,000
8. DIXSON Belgian Warmblood / G / 12 Vigo D Arsouilles x Olisco,
IAN MILLAR (CAN) PERTH, ON Susan & Ariel Grange: 0/83.09 8/76.47 $8,000
9. COCO BONGO Rheinlander / S / 10 PRH Caretino x Calido,
ERIC LAMAZE (CAN) SCHOMBERG, ON Artisan Farms, LLC: 4/79.38 5/78.82 $7,000
10. CALENO 3 Warmblood / G / 11 Calido Assx Lancer II,
GEORGINA BLOOMBERG (USA) NEW YORK, NY Gotham Enterprizes, LLC: 4/80.60 8/76.19 $6,000
11. CORAL REEF FOLLOW ME II Westphalian / S / 10 For Pleasure x Sandro,
VINTON KARRASCH (USA) RANCHO SANTA MARGARITA, CA Coral Reef Ranch: 4/80.52 9/79.13 $5,000
12. HARDROCK Z Zangersheide / S / 12 Heartbreaker x Carthago Z,
EMANUEL ANDRADE (VEN) WELLINGTON, FL Emanuel Andrade: 1/86.96 14/98.29 $4,000