Wellington, Fla.—Feb. 19
Every year when showing at the Winter Equestrian Festival, a young Geoffrey Hesslink had a standing commitment on Saturday night of Week 6. Dubbed hunter week, the show sends the international jumpers across the street to the Adequan Global Dressage Festival and lets the hunters take center stage. The featured class is the $100,000 WCHR Peter Wetherill Palm Beach Hunter Spectacular, and Hesslink always found himself ringside to watch some of the best in the sport compete head-to-head.
"I want to say Louise Serio won on Castle Rock [in 2011]; that was my first time watching it and saying, 'Wow, I really want to be like her,' " he said.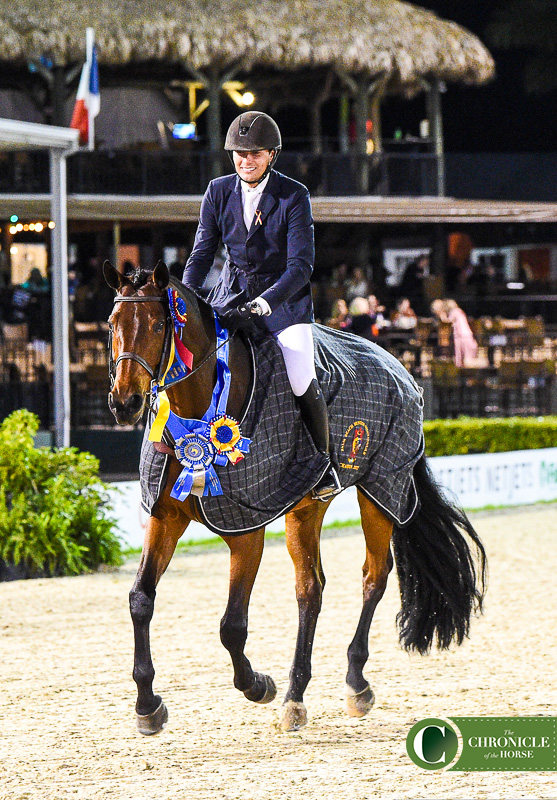 Professionals, juniors and amateurs all compete on equal footing for the two-round class. Riders qualify by either earning champion or reserve in divisions set 3'6" or higher during the week or from earning a "bye" from their performances at other World Championship Hunter Rider events from the previous year. Hesslink qualified two mounts this year, Mon Tresor and Newport.
He went sixth in the order with Mon Tresor, scoring a 90.66 to take the lead in the first round, and while eventual third-placed finishers Amanda Steege and Lafitte De Muze came close with a 90, they couldn't be touched. The top 12 after the first round returned for the second round, which was judged as a handy round.
As the leader after Round 1, Hesslink was the last to return and had to watch as things unraveled for a couple of his competitors.
"I had a plan from the moment I walked it," he said. "I don't know my horse that well, but he does give me a lot of confidence, so I just wanted to stick to the plan and obviously stay calm and not mess it up."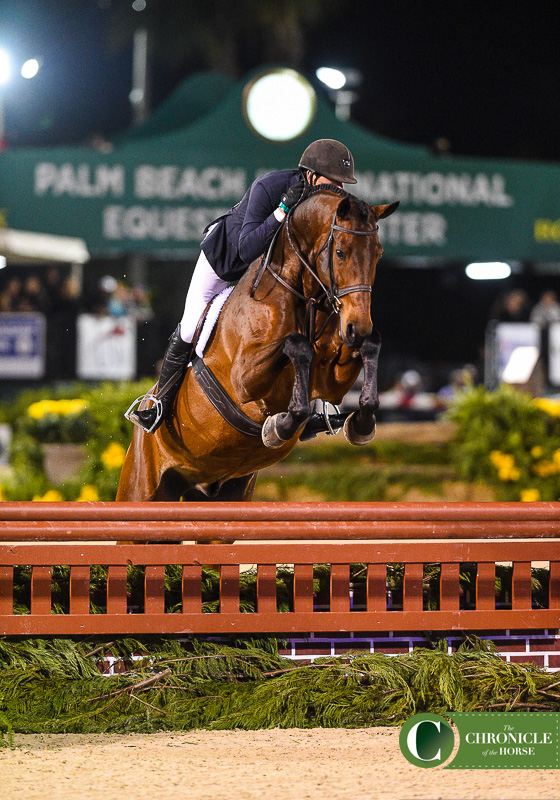 The judges rewarded his efforts in the second round with a 90.5 for a two-round total of 181.16, to take the win over junior rider Mimi Gochman and Catch Me (179.16). Last year's winners, Steege and Lafitte De Muze, finished third (177.66).
This was Hesslink's third time competing in the class. His first was in 2020, when he finished eighth, and last year he moved up to third.
"It's an incredible feeling; I literally can't describe it," he said after his win.
Mon Tresor, a 10-year-old Holsteiner (Nekton—Odessa XIV), is new to Hesslink's barn. He and partner Brendan Williams found the gelding from California-based hunter rider Peter Lombardo in November for Lauren Little to ride in the junior hunters. Mon Tresor comes from an eventing background, which Hesslink said gave him a lot of confidence.
"He is extremely brave and has never spooked at a jump, but is quite sharp and athletic and covers a lot of ground," he said. "I think that helped in a course like this. I didn't have to worry about him spooking at any of the jumps. At the slanted in-and-out [in the handy round], he sighted in on it very well and didn't bat an eye. I thought he was confident in doing all of those obstacles today."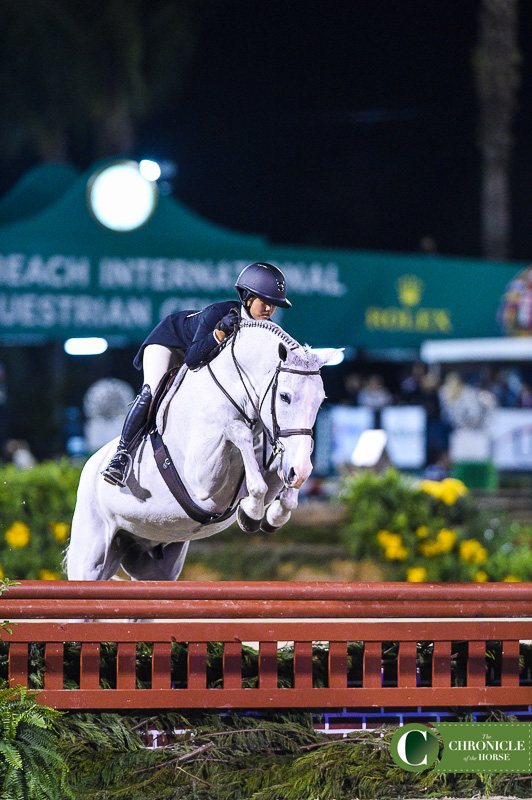 This was Gochman's second time competing in the Spectacular, but it's old hat for her partner Catch Me. He won back-to-back titles in 2016 and 2017 with Gochman's trainer Scott Stewart and has won championships in the professional divisons with Stewart, in the amateur-owner ring with Mimi's mother Becky Gochman, and now in the juniors with Mimi.
"My mom started to let me ride him last year, and I was super, super excited," said the 17-year-old. "I mean, he's Catch Me, so I was thrilled to start riding him. I try to keep it just one jump at a time and not feel too much pressure. He's super lovable and sweet, and he knows what he is doing, and he loves to show. I let him do what he wants, and he's quite good at what he does. We've grown as friends."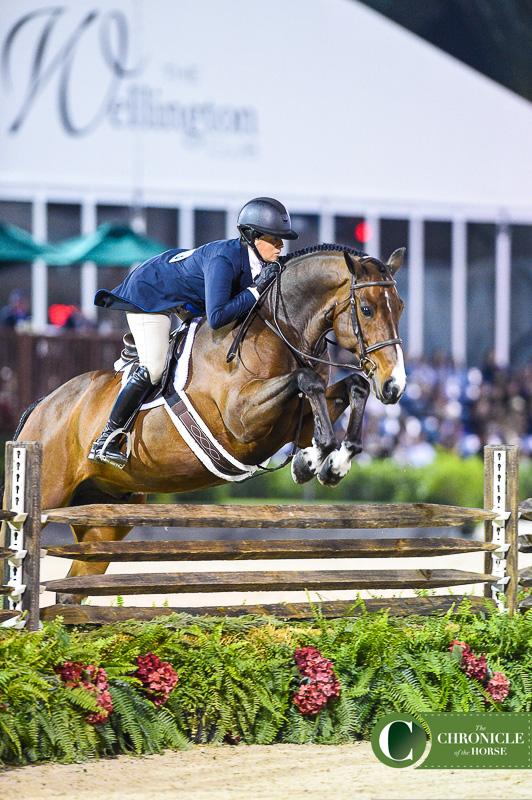 Steege has competed "Lafitte" in the Spectacular for the last four years, and the pair traveled down from Ocala, Florida, where they show in the winter, in order to compete in this class. They jumped in one class on Thursday to prepare and went straight into the ring today.
"Riding that horse every day never gets old, and certainly showing him and being competitive with such a competitive group of horses never gets old," she said.