Harrisburg, Pa.–Oct. 16
If anyone can relate to the cast of "La La Land" during the 2017 airing of the Academy Awards, it would be Sandy Ferrell in the 3'6″ green hunter under saddle at the Pennsylvania National Horse Show. Ferrell knew it was close—she'd been doing the math in her head all day. And while, yes, she had 11 other competitors in the ring for the under saddle, it was really just a duel between her with her mount Hemingway and Hunt Tosh with Bastogne.
The two horses had been flip flopping between the blue and red ribbons in the division's over fences classes, and although Ferrell was ahead going into the flat, nothing was set in stone.
The nerves briefly dissipated when the announcer read off her number first—but only for a moment.
"They called me out as the winner, and I was so excited," said Ferrell. "And then they were like, 'Oh no, that was a mistake. Sorry.' And I was like, 'What?! That really hurts!' "
Tosh donned the blue ribbon for Bastogne's fancy footwork, while Ferrell came in second. But luckily for Ferrell—and unluckily for Tosh—her red ribbon in the flat still gave her not only the division's tricolor but also the grand green hunter championship.
"Now we're all laughing about it, and it worked out fine either way," said Ferrell with a smile as Tosh poked fun at her.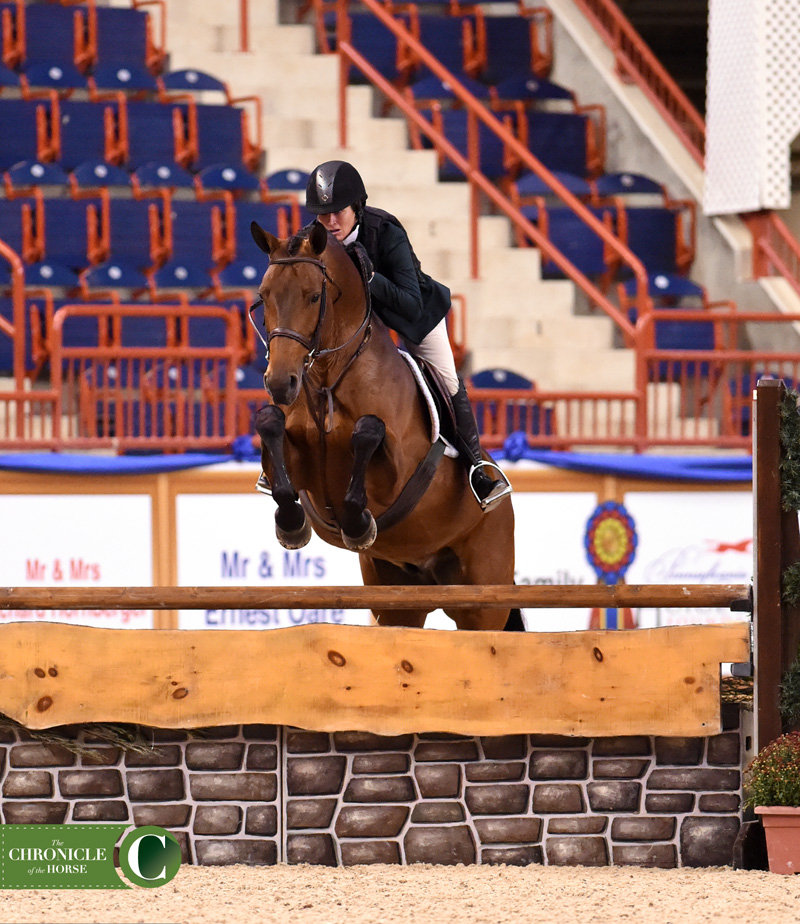 But even if she'd had to settle for reserve champion, nothing could take away her pride for the 8-year-old Hanoverian gelding called "Ernie" in the barn.
"I was telling Karen Caristo the other day, I said, 'Of all our horses he's really truly spent his entire show career with us,' " said Ferrell. "It's like you take them through kindergarten, then we've gone through grade school; we've gone through middle school. Now we're graduating high school. And now we're also off to college together, so it's very much an emotional journey for all of us."
Between Ferrell, Caristo and owner Stephanie Bulger, they've seen it all. From his pre-green years to winning the inaugural USHJA 3'6″/3'9″ Green Hunter Incentive Championship (Kentucky) this summer to this, Ernie remained constant and showed them he had what it takes to make his mark next to the greats in their lives.
"He's a rare horse," said Ferrell. "I often think about that because we're often asked about who our favorite horses are. But I think for me, as far as the journey is having started him from the very beginning versus having bought him at some point in time in his life. Just all of us being a part of his growing up—he never ceases to amaze us, which is super exciting, and now he's ready to jump bigger jumps next year, and whenever Stephanie is ready to try him in the amateurs he'll be ready for her."
With Harrisburg closing out Ernie's season, Ferrell swelled with pride as she reflected on what she believes is the hardest year on a young horse.
"I'm thinking, 'Oh my God our first year green year is over!'—which I think for a lot of us riders that's the most important year of their life. It's kind of like their coming out, and they're going to make it or break it. It's always the toughest division at the horse shows and the best horses," said Ferrell. "It's been very emotional because we've watched our little kid grow up. Now he's turned into a man."
The Forever-Cool-Under-Pressure Colvin
Tori Colvin probably couldn't have asked for two more different relationships between mounts. She'd campaigned her 3'9″ green hunter contender, Private Practice, all this year in the professional hunters and the derbies—defending her title at the USHJA International Hunter Derby Championships (Kentucky) this summer.
But Ziggy Stardust, her mount this week in the high performance hunter division, was something different.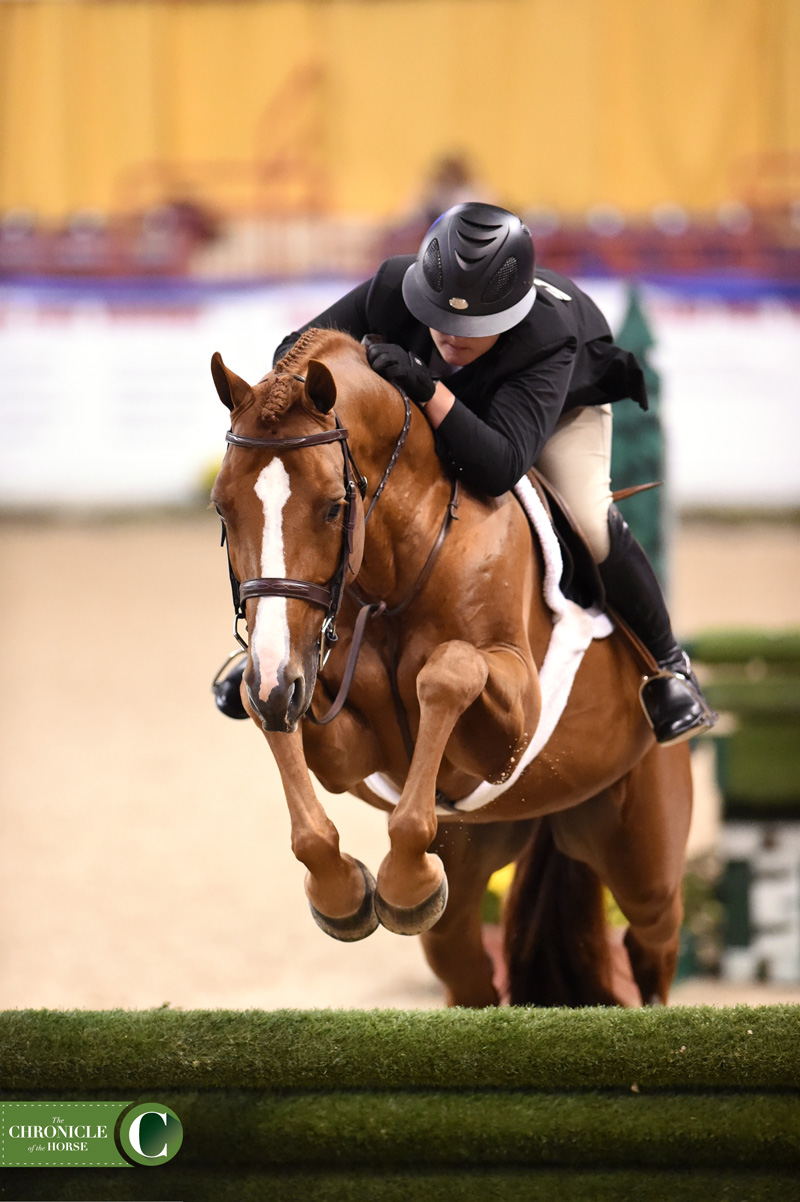 "I've never seen him show. I've never seen him go. I've never seen him under tack. I've never seen anything," said Colvin. "I rode him on Sunday night once in the ring. Rode him a couple times at home but never really jumped a course. I had no idea."
But regardless of her history—or lack thereof—with the two geldings, the outcome was the same: A blue, red and yellow tricolor.
"I just like to go in and have fun and hope the owner's happy," said Colvin. "I know [Private Practice] well; obviously we've been together for a bit. [But] I kind of enjoy not knowing a horse and going because then it's fun. I trotted in, and [Ziggy Stardust] got a little looky, and I'm like, 'Mmm should I trot another circle?' I was like, 'No we're just going to go for it.' And then he just marched around like a champion, but I had no idea really what he was going to do because I've never seen him. So that kind of makes it a little exciting."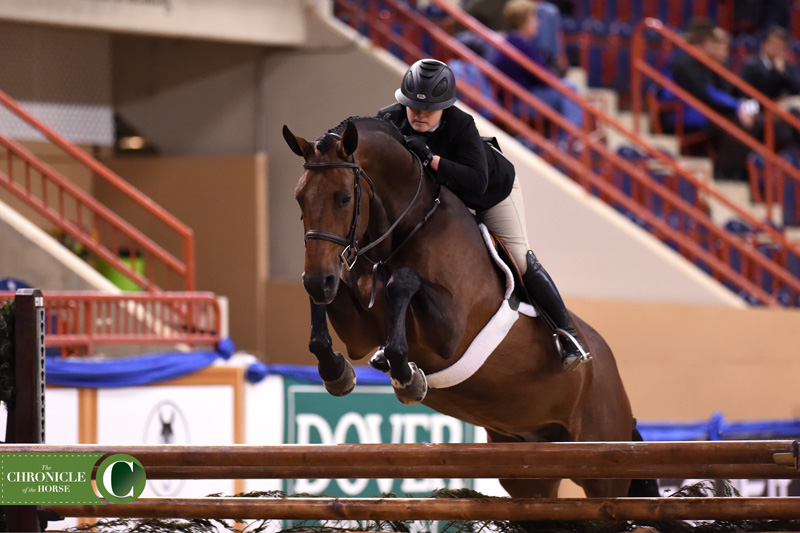 While no stranger to the catch riding scene—she bulked up an impressive resume doing that as a junior—transitioning into the professional realm of catch riding does add a special element to Colvin. In a way, it's the sign that she's solidified her position as a professional rider.
"The first year pro it was a little slow," said Colvin. "And then at the Ingrams I had their [horses], but it was kind of like I did them as a warm-up for the amateurs. Which was fine, but you didn't really have ones in these professional divisions that were really good to do well in that. That was quite exciting."
The Chronicle will be on-site at the Pennsylvania National bringing you beautiful photos, interviews and more, so check back throughout the competition. Don't forget to follow the Chronicle on Facebook, Twitter and Instagram @Chronofhorse. We will have full analysis of the competition in the Nov. 5 issue of the magazine.