People will remember the 2014 Alltech FEI World Equestrian Games in Normandy, France, for all kinds of reasons, but one thing that won't show up in the records is that it was the first major international games to feature serious helmet use in the dressage.
Just a few years ago a helmeted-head in an international Grand Prix arena was a rarity, something you hardly ever saw. But Courtney King-Dye suffered a life-altering head injury in 2010 while schooling at the walk, reminding people that it could happen to anyone. Then Charlotte Dujardin proudly displayed her Charles Owen at the Olympic Games, proving with her double-gold medals that it wouldn't negatively affect the judging at all. New research on concussions hit the mainstream media, and now the choice to wear a helmet in dressage is no longer a controversial decision. Around 28 percent of the riders elected to wear helmets in competition.
We asked some of the World Games riders why they chose to forgo a top hat, and here's what they had to say:
Laura Graves – USA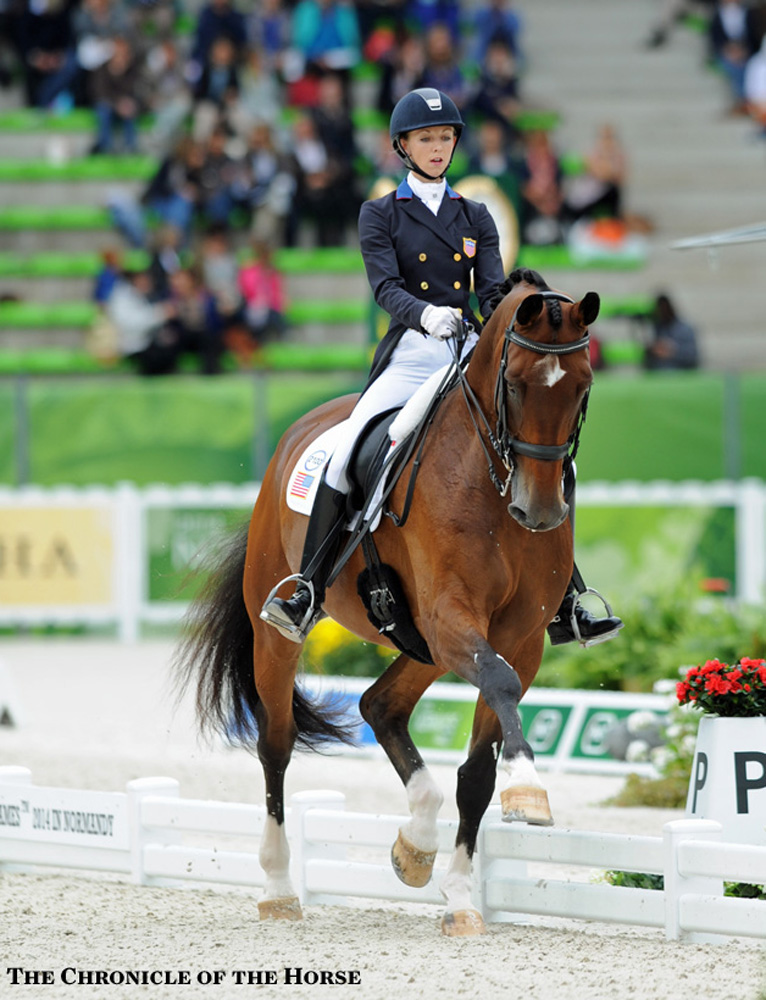 "I'm a really small person, and it's been suggested [that I wear a top hat], but what good does looking good do if you can't think straight? To me it's not even a choice. I'm sponsored by Samshield; they provide me with these great helmets. So whether I'm here in competition or at home, you can guarantee that I have a helmet on with every single horse, whether I'm hacking or doing the whole Grand Prix."
Michael Eilberg – Great Britain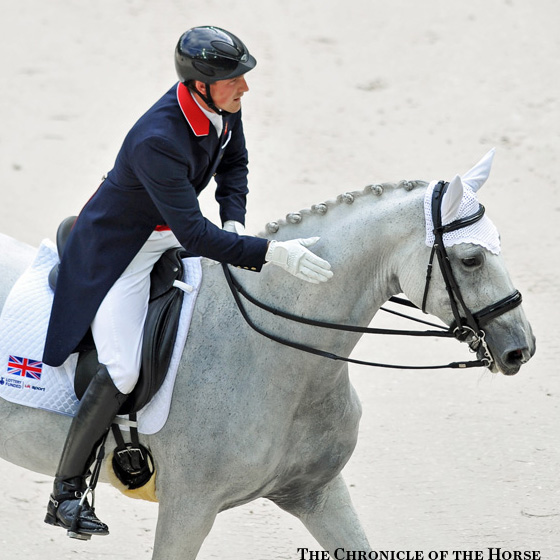 "I think it's personal. I wear my crash hat because I find it more comfortable. I've got into the habit now, and that's why I wear it."
Diederik van Silfhout – The Netherlands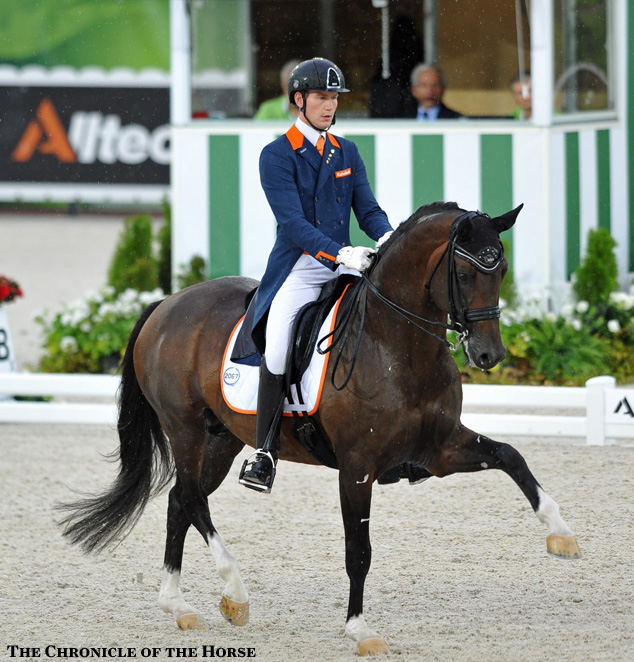 "I always wear a helmet, at home also, every horse, it doesn't matter what I think. If you're riding in a car and you're not wearing a seatbelt, it feels the same to me now if I'm not wearing a helmet. I wear it for protection, and I think it's more sporty."
Gareth Hughes – Great Britain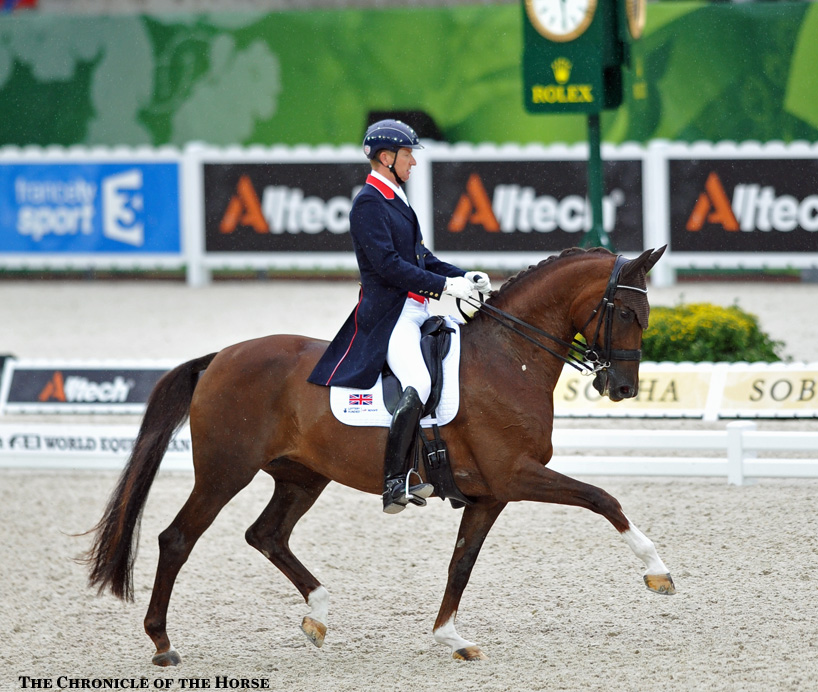 "It's habit now. I have a 6-year-old daughter who rides. One day she said to me, 'Daddy you don't wear a hat. You better put a hat on.' So I thought that was a good enough reason. I think it looks normal. A couple of years ago it might've looked a little different. Three years ago if you saw a crash hat you thought their horse was naughty. Right now it's more the norm. More people are seeing it with the Internet; it sort of goes around the world. And these hats are really comfortable. You don't know you're wearing them. I think they're a lot more accepted."
Karen Pavicic – Canada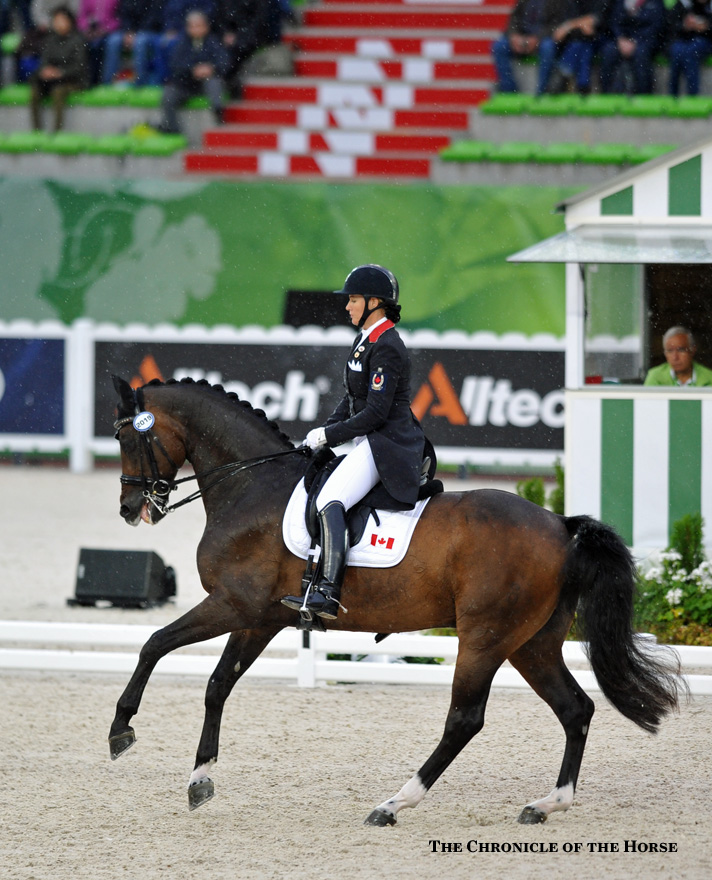 I've been riding in a helmet for about a year now. It's just part of my attire. I have a good friend who suffered a brain injury two years ago, and she's still suffering the consequences from that, and she's been a proponent for the use of helmets.
Adrienne Lyle – USA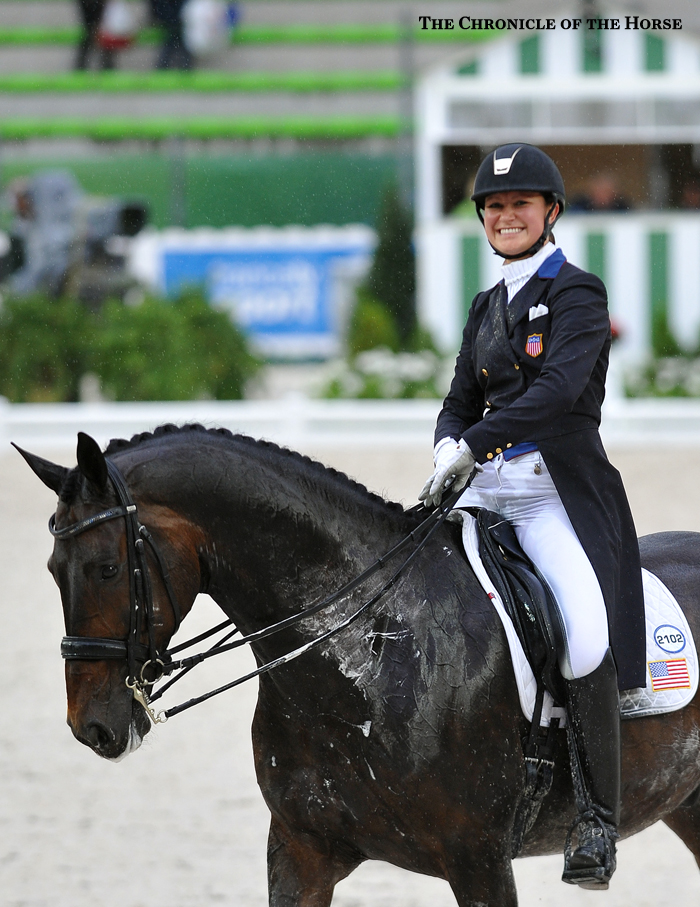 "I grew up in Pony Club, so we obviously always had to wear helmets. When I started showing the upper levels of dressage I did wear a top hat for a while, but after Courtney got hurt, I started thinking about it. Why not? So I do every ride at home as well. Better safe than sorry. And it is a sport. Most sports wear helmets, not top hats."
Follow along with The Chronicle as we bring you all the news and stories from the Alltech FEI World Equestrian Games. Just interested in dressage? Catch up on all the action here.