Upper Marlboro, Md.—Sept. 29-30   
After three testing phases and a challenging work-off, Maverick Helmer rose to the top of the field in the inaugural USHJA 3'3″ Jumping Seat Medal Finals—East at the Capital Challenge Horse Show.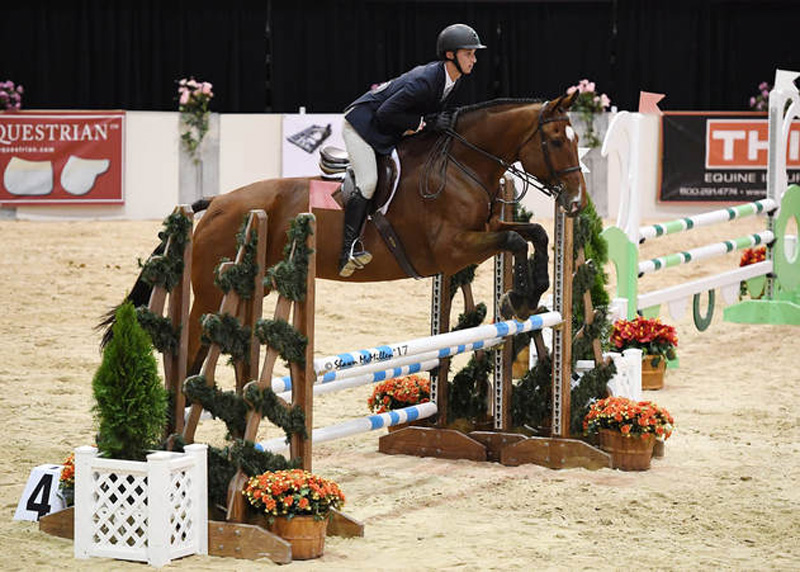 ​
Judges Linda Andrisani and Chance Arakelian presided over the class, which attracted 39 entries over two days of competition. Following the flat, gymnastics, and jumping phases, Helmer and Rachael Davis were fewer than 5 points apart. Therefore, they were required to work off over a second, shortened course with a tight time allowed, designed by Kenny Krome.
Davis went first and accrued 5 time faults, scoring a 79, and providing Helmer with the opportunity to consider his strategy. In the end, Helmer's tighter turns and quick pace scored an 80 and clinched the title without time faults.
"The work-off was really fun," Helmer said. "It tested your ability to ride at a quick pace but still required you to think and execute really well. I thought my work-off was decent. I wasn't overly pleased, but I went for it and tried to make it work as best I could. I did realize the time allowed was tight, and I saw Rachael go in and go a few seconds over the time, so I really wanted to make an impression that being under the time was really important."
Helmer, 16, credited his horse Canterbury and trainer Stacia Madden and the team at Beacon Hill for helping him to achieve success this year. He finished with a score of 477 points, with Davis as reserve champion with 474.5.
"As an inaugural class, I think it's absolutely awesome that I'm the first to win," said Helmer, a high school junior who attends Stanford University's online high school. "It's something special to keep, and of course, it's my first major championship win, so that will always be close to my heart."
Alexandra Worthington, who placed third overall, won the jumping phase with a base score of 92, which was the tie-breaking score that helped her place third overall. Contelido, ridden to sixth place overall by Sophie Gochman, received the Best Equitation Horse Award.