Hi there! My name is Krista Dietrich and I live in Tampa, Fla. I've been a horse lover for going on 24 years now and I'm also a full-time working amateur hunter rider getting ready to show at my first Devon since my junior years.
When I say working, I mean behind a desk in marketing at a financial services company. Not the grooming, riding and showing working I daydream about while staring at a computer all day! Balancing riding with the rest of my life can get hectic at times but I cannot imagine my life without the sport I came to love at a young age.
I'm currently a one-horse amateur who shows as often as my schedule and wallet allows from Michigan in the summer to Ocala in the winter. I get to compete against some amateurs who ride like professionals and some whose horses get professional rides at every show. It sure makes things competitive! Thanks to my very special mare, In Your Dreams, horse showing is fun and I can keep up.
Speaking of challenges, re-connecting with my writing skills for this blog is going to be one in which I hope to take great pleasure!
My day job doesn't lend itself to the creative writing I have always enjoyed. Having the opportunity to blog for a publication that is so well respected in the industry (and that we found my first pony in) is exciting. Putting my stories and voice out there to my fellow Chronicle blog readers is a little nerve wracking… sort of like those fast paced fox hunts I used to do on small ponies! I hope you all enjoy what I blog about as much as I enjoy writing it.
Every rider likes to tell their back-story so for my first blog, here it goes:
I grew up outside of the Philadelphia area and started riding via lead line on a chubby pony named Piggy. I wasn't truly hooked until my years riding at Gwyn Meadows Farm with Rich Scarlett. Summers were spent riding as many ponies as a camp day would allow, tack and horse cleaning contests, barn horse shows and long, wild trail rides.
I know I'm not the only kid who grew up riding with Rich who can attribute some of my fondest memories to those hallowed halls. It's an experience that I hope my own children can have one day. It makes true horsemen out of the most spoiled rotten children. I can still hear our theme song, "We are Gwyn Meadows…we are the best…"
After some local success with my first pony, Just Joshin', I set a high goal for myself; doing the junior hunters at Devon. With the help of Diane Daly at Windy Willow Farm, I made the swift leap from ponies to horses and doing the 3'6″.
We showed in Ocala, Gulfport, New York (when HITS used to be in the Catskills) and a lot of places in between. High school weekends were horse show weekends spent at Holiday Inns. My big chestnut mare, Diva and I qualified for Devon somewhere in the bottom of the pack.
By the time Junior Weekend rolled around, I was sick with fear. Quite literally, actually—I came down with a fever that entire week and couldn't school before the show. Looking back, the experience was great but I think I was just happy to have survived. We even squeaked out a jog! After that, I needed a break from showing and riding.
Eventually, I felt the urge to ride again. After making fast friends with fellow rider Maggie Lang during my time at Eckerd College in St. Petersburg, Fla., I bought my first adult horse Wyeth and started riding at Keilyn, Inc., under trainers Lynda and Keith Powell.
Wyeth was an old hunter who would often be recognized at shows by his numerous previous owners who would immediately share their Wyeth success stories. "Hampton Classic flat winner… He was such a gem…" We had some great times together and he helped me get my confidence back as a rider.
Soon after, another special boy entered my life. By boy, I mean another gelding of course. Thor was for sale in the barn and was in need of a special mom. He came home to Pennsylvania with me for the summer and after a surgery to repair a big knee and after some downtime, he was back on track and I was getting great ribbons with both boys.
After doing my time in the three-foot that I sort of skipped in my teenage years, I felt like I was ready for the amateurs. I had been out of college and working for a few years. I sort of thought, "Well, it's now or never!"
Wyeth and Thor had recently been retired to my parent's farm in Pennsylvania and I was juggling between showing my Mom's horse in the adults and babysitting my sister's mare while she was pregnant with her first child. I knew my time of doing the amateurs with her fancy mare was short-lived so we started to look for an amateur horse of my own.
Keith was in Canada looking at horses when he shot me a text about a chestnut mare that was very special. I literally laughed out loud at the thought of another chestnut mare. Before I knew it, I was on a flight to Toronto to sit on a few horses.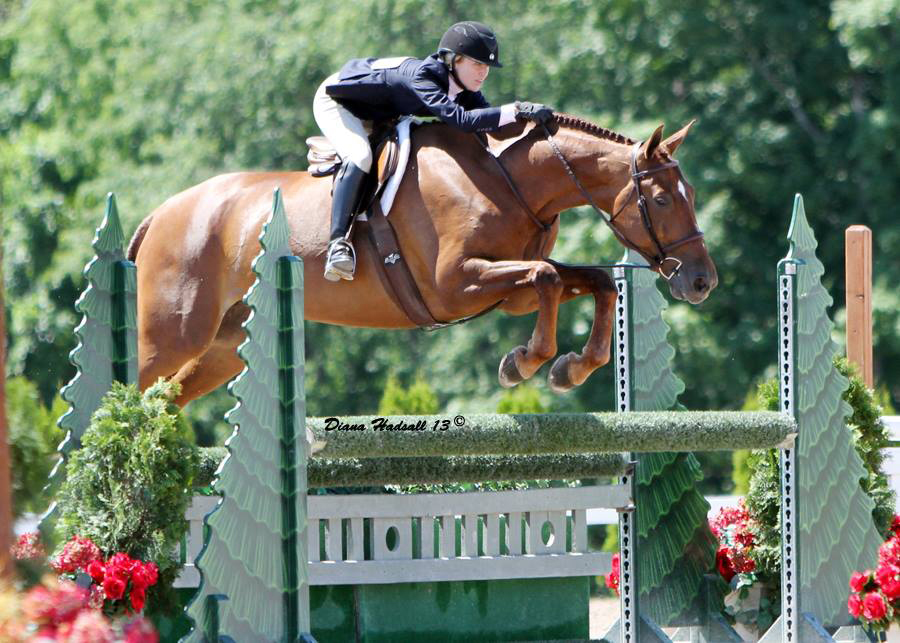 Showing In Your Dreams, or, "Mama."
Photo by Diana Hadsall
Dream was the first one I tried and from that moment, I knew she was perfect for me. In a couple of weeks she was in Florida with us and within our first year together we stacked up a number of champions and reserves. She took me to Harrisburg and Washington this past year and was simply amazing. What a good mare!
I have to admit that part of enjoying riding as an amateur with a limited amount of time to spare is having the right ride. After over 20 years of riding, my style isn't going to be easily (or happily) changed. I ride for fun now and having a trainer who embraces that and reminds me to enjoy myself makes it that much better.
After a great winter show season, Dream (aka Mama) and I are headed to Devon. I'll keep you posted on how it goes and my experiences before and after as a working amateur. I'm at the age where if I'm not showing on the weekend, I'm at a friend's wedding, bachelorette or a baby shower. It's a special time in my life that has been enhanced by continuing to do what I love at a competitive level.
Thanks to a flexible work schedule, an understanding fiancé and a deep love for the sport, somehow it works! Wish me luck and stay tuned…