But she makes time to fit the Chronicle's new social network, www.chronicleofmyhorse.com, into her day.
Young riders don't come much more well rounded than Hayley Hanson.
The 14-year-old not only events at the training level, but also serves as a whipper-in for the Juan Tomas Hounds (N.M.), is a bronze-medal holder in vaulting and plans to hit the jumper ring this year.
Hanson, Albuquerque, N.M., keeps her horses at her grandmother Merry Cole's property, which is just 5 miles away from her house. "She comes over every day after school and helps take care of all the horses and rides. She does stalls, waters and grooms—she's very conscientious," Cole said.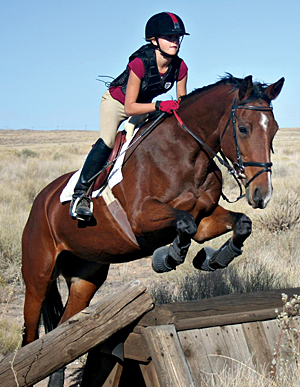 Somewhere along the way, Hanson finds time to play on a softball team as well.
Hanson didn't wait long to stick her feet in the stirrups. Her mother, Merry Hanson, is an accomplished rider and eventer, so Hayley was on a horse pretty much before she could walk.
"She has a lot of natural feel," said Cole of her granddaughter. "Her mother was in Pony Club, and she did everything there was to do and competed a lot. Hayley just started following in her footsteps. She started with a pony, like most little girls, and kept going.
"I remember when she was about 7, she told her brother: 'Go away, Derek, I have to practice my half-halts.' I thought, 'I guess she's going to be a rider.' "
Now, Hayley has gotten the ride on Myrriah, an 11-year-old, Thoroughbred-Holsteiner cross that her mother used to event. Hayley and Myrriah placed in two novice-level events in Arizona and Colorado in 2007 and moved up to training level in November at the Las Cruces Horse Trials (N.M.). They had one stop then, but then went clean on cross-country at the unrecognized Las Cruces Horse Trials in February.
"I like how she takes care of me—she really builds my confidence. She's a neat horse," Hayley said of Myrriah. "What's really challenging to me is that I'm not confident in myself. And I need a better lower leg."
Long days in the hunting field have helped Hayley develop her riding skills, as well. She has her colors with and whips-in for the Juan Tomas Hounds.
"Hunting has really helped me with my lower leg and keeping strong, since you have to be in two-point a lot," she said. "I've learned how to help keep the hounds all in one pack and that you can't let one hound go off by itself. You have to listen to the tones of their voices to see what they've found—some tones are rabbit tones and some are coyote tones."
Myrriah doesn't have quite the temperament for hunting, so Hayley has been hunting aboard Beau, a 6-year-old Percheron-Thoroughbred cross. The gelding was intended for use in Cole's vaulting program as she coaches the Albuquerque Vaulters club. Beau is currently in training to be a vaulting horse, but he'll continue to carry Hayley out hunting too.
Hayley is a bronze-medal vaulter, having competed at the 2007 USEF/American Vaulting Association National Vaulting Championships (Colo.). "I just like they way you learn to be one with the horse, and you learn to do really cool tricks," she said.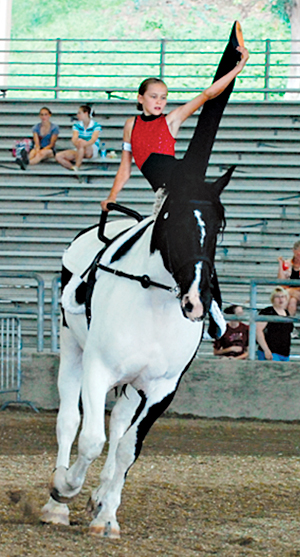 Hayley plans to attend a vaulting camp in Nebraska this summer and start teaching the younger vaulters in her club. "I think the vaulting has helped her riding and her riding has helped her vaulting," Cole said. "I think that her balance and her lack of fear of falling comes from vaulting."
Hayley is taking all the skills she's accumulated and moving on to the jumper ring. "I want to try and show in the four-foot jumpers. We go to watch some grand prix classes. I want to show in the juniors sometime," she said. "We used to event a lot more, but now, with the price of gas, we'll only do local shows. That's why we're getting into the hunter/jumper shows, because there are a lot of local shows here."
Her mother, Merry, teaches Hayley along with trainers Robin Kelly and Bobby and Michael Ernst. "She's very athletic and well-liked. She sees what has to be done and does it without much fuss," Cole said.
In the midst of all her activities, Hayley still finds time to have fun. "I like hanging out with my friends. I have a friend who rides too, and we ride in the bosque. The Rio Grande River runs along the ditch banks and the bosque is the trees and there are logs to jump. We go in the river and play in the water," she said.
Joining Chronicle Of My Horse (www.chronicleofmyhorse.com) has helped her make more connections. A friend invited her to join. "I've met people who live here that I'd met one time at a show. Now I've gotten to talk to them more. And I've met a lot of upper-level eventers, and I've gotten some good pointers from them," she said.
Hayley is in the eighth grade and looks forward to attending high school. She eventually hopes to attend an equine studies program at a college or university.
Molly Sorge