Harrisburg, Pa.—Oct. 18
When Nick Haness and Technicolor went center ring to collect the tricolor ribbon and cooler for the first year green championship at the Pennsylvania National Horse Show, it was a first in more ways than one.
"This was definitely a dream of mine. I've never been champion here before, never even won a class here before," said Haness, 28. "I credit that to my horse, to Technicolor."
This was the 6-year-old gelding Technicolor's very first time competing at the indoor finals, and he's only just begun his career in the hunter ring—Haness found the gelding in Germany competing in the 5-year-old jumpers last year.
"He actually wasn't great the day I tried him; he was pretty bad the first day," Haness recalled with a laugh. "But there was something about him. I kind of liked that about him, that he had an edge, but he jumped amazing."
Haness said when he first saw Technicolor, he was being ridden in the typical German jumper style, very collected and on the bit, but Haness thought the hunter style would suit the gelding.
"I could tell the horse wanted to go the way he goes, which is a long, loose rein and let him jump," Haness said. "When I rode him, I let go a little bit, and I just felt this amazing feeling, that this horse could really be a famous horse."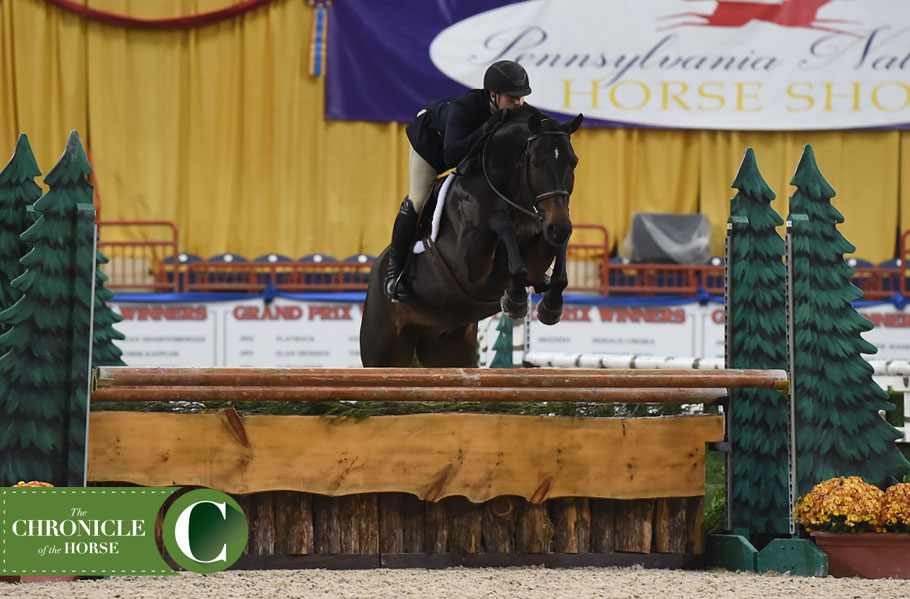 Nick Haness and Technicolor scored the first year green working hunter championship. Photo by Ann Glavan
After a few shows at the pre-green level, Haness bumped the gelding up to the bigger fences in the first year green division in early 2016. The pair won the first year green championship at the Devon Horse Show (Pa.) in May.
"He loved the bigger jumps, and it's been a blast and a great ride ever since," Haness said.
Technicolor is also already showing in the amateur-owner hunters with owner Lindsay Maxwell, and will compete in the division at the Pennsylvania National with her later in the week.
"He's fantastic. He's so brave and nothing really fazes him," Maxwell, 27, said. "He's cool; he's a really fun horse."
When Technicolor isn't winning championships or jumping around the amateur-owners, he's ingratiating himself to everyone he meets. The gelding made a valiant effort to gobble up his winning flower bouquet numerous times, he finally succeeded in getting a chunk of it when Haness tried to take a selfie with him, and he even got himself in front of a camera crew.
"He did a TV interview the other morning. He just happened to be the in the ring, and he saw the lights and TV cameras and just beelined it straight for them," Maxwell said with a laugh. Haness was warming the gelding up in the main show ring while a local TV crew was filming at the rail. "He was all over the anchor lady! He was in her lap!"
Winning at the Pennsylvania National Horse Show is particularly meaningful to Maxwell, whose charitable fund is the presenting sponsor of the event.
"I love the show and love being a part of it and everything it represents, so to be able to bring a horse like him and win was really special," Maxwell said. "The charities that this show supports are a lot of therapeutic riding charities, and that really spoke to me. That's something I'm really interested in, and that I support a lot."
Scott Stewart and Catch Me captured the second year green championship and the grand green championship with a sort of mixed bag of performances. After a strong first day in the division, scoring a 88 and a 92 in the opening rounds, Stewart and Catch Me had a rail in the second of Tuesday's rounds.

Scott Stewart and Catch Me earned the second year green working hunter championship and the grand green title. Photo by Ann Glavan
"He was going great, one of his best rounds, and I came around the turn, and someone in the stands had like a coughing attack," Stewart said with a laugh. "He just went, 'Huh?' And then there was the jump, and he jumped flat.
"But he was so good, and he's always fun to ride, even when he's not perfect he's fun to ride," Stewart continued. "And he's so sweet, the sweetest horse. I'm thrilled to ride him."
Stewart plans on passing the reins on Catch Me to his owners, Sophie and Mimi Gochman, to compete in the junior hunters once the gelding has matured a bit more.
"He's very careful. He's brave but he's careful, and he can be quite spooky," Stewart said. "I actually [to warm him up] do jump a little green tarp over a really little jump, and I have to go back and forth over it. When he doesn't look at that anymore, he's good to go."
Stewart plans to campaign Catch Me at in the second year hunters for the rest of the season before stepping him up to the high performance this winter.
John Bragg and Early August took the top call in the high performance division—the pair were also reserve champions in the first year division.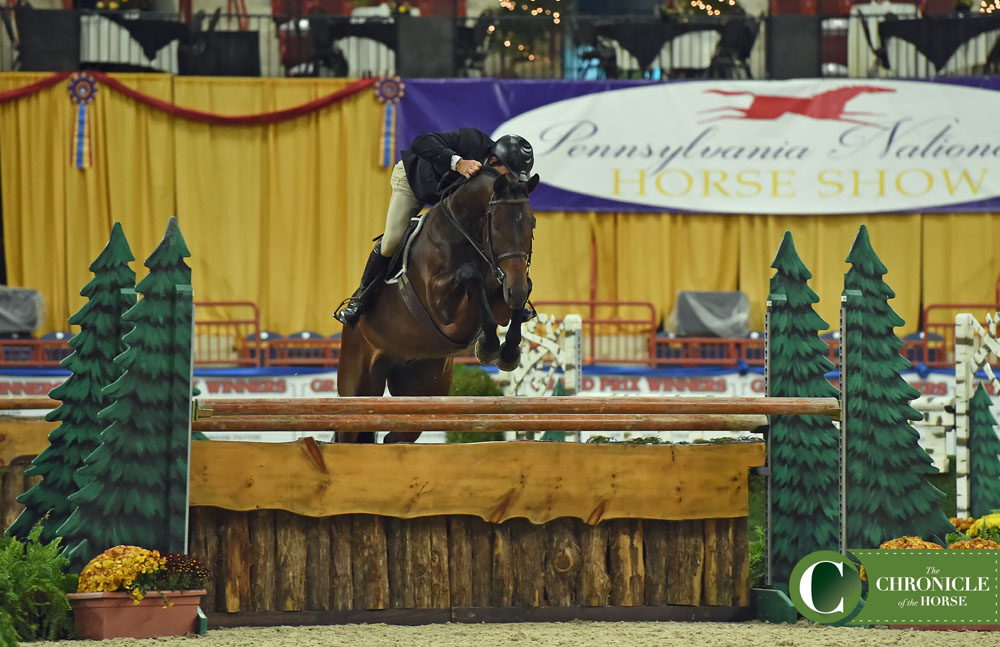 John Bragg rode Early August to both the championship title in the high performance division and the reserve title in the first year green working hunter division. Photo by Ann Glavan.
"Augie" was purchased by owner Ann Thornton a little over a year ago.
"John found him for me in Europe. We saw a video, and I actually wasn't super thrilled about him," Thornton said with a laugh. "But I trusted John, and he came over and just got better and better and better."
Thornton came up with the gelding's show name herself, and it holds special significance to her family.
"I named him after my first born son who was born in early August," Thornton explained. "And my lucky number is 8, and we tend to get 88s quite often, which we did at this show as well!"
Bragg will continue to campaign Augie in open divisions, and Thornton plans to eventually compete the gelding herself in the adult amateur hunters.
See all of the Chronicle's Pennsylvania National coverage. Click here for full results from the Pennsylvania National Horse Show, and don't forget to check out the Nov. 7 issue of The Chronicle of the Horse for more in-depth coverage from the show!