The Australian import can't wait to join the party in Las Vegas.
Haven't you ever dreamed of just picking up and moving? Six years ago, Harley Brown did just that—he packed up his bags and his horse and moved halfway around the world.
The bold move is paying off in spades, as the charismatic Australian is poised to make his FEI World Cup Final debut. With stellar performances in the U.S. West Coast league aboard Cassiato, Brown is packing his bags again—this time for the Rolex FEI World Cup Final in Las Vegas, Nev., on April 15-19.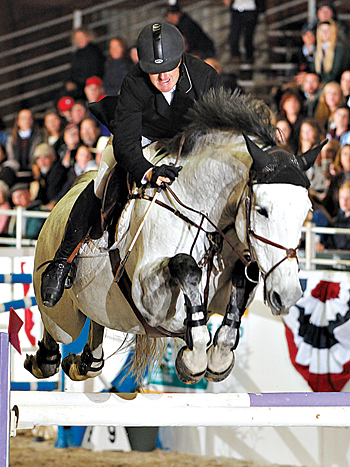 "I'm very excited to get to the World Cup Final. I'd love to show Cassiato off internationally. If we finished in the top 20, I'd be ecstatic," said Brown, 45. "I've been to Vegas for the Final before to watch. I'd sit in the stands and just want to be there, riding. I loved watching the wonderful horses, like Shutterfly and Baloubet du Rouet—they're amazing."
Brown, a Melbourne native, grew up on the Australian show jumping circuit and had established himself as a professional there. In 2003, his current sponsorship deal was coming to an end, and he decided to look for a new start.
"I ended up with a really good horse as part of my severance package, and I thought, 'You know what, I'm going to take this horse to America,'" Brown said.
That horse was Blue Diamond, an Irish Sport Horse stallion. Brown spent six months in Wellington, Fla., working for Margie Engle, then struck out for the West Coast. He settled in San Luis Obispo, Calif., and began making a name for himself as a rider and trainer. "I was here for three months and liked it so much, and Blue Diamond did so well, that I never even thought about going home," he said.
He and Blue Diamond did well enough at the grand prix level to just miss qualifying for the 2006 World Cup Final in Kuala Lumpur, Malaysia. And then Blue Diamond's career ended in the spring of 2007.
"It's a heartbreaking story—he broke right when he was at his best. He sheared bone chips from his back fetlock joint," Brown said. Blue Diamond now stands at stud in California.
An Unexpected Source
Luckily, he had a successor in the wings. Kenneth Vinther, who works for one of Brown's sponsors, CWD Saddlery, had told Brown in 2005 that he should consider Cassiato. At the time, the big gray was a dressage horse with Vinther's wife. Brown decided to take a chance on the then-7-year-old horse with extremely limited jumping experience, putting together a syndicate to buy him.
And four years later, they're headed to Vegas. Cassiato (Concerto II—Calinka S) won the $75,000 Anderson Family Grand Prix CSI-W (Calif.) and was third in the $50,000 Purina Mills Grand Prix CSI-W, the $50,000 L.A. International Grand Prix CSI-W (Calif.) and the $50,000 L.A. National Grand Prix CSI-W.
Their rollercoaster ride up the ranks hit a snag in early 2008, when Cassiato developed a nagging injury. It was the type of thing that was hard to diagnose and took months to pin down. At first they thought it was a stifle injury but then discovered the problem had its root in Cassiato's back. With careful attention and care, the problem has resolved. They missed the first World Cup qualifier of the season in August, but Cassiato was back on track by September.
Harley Brown Tidbits
• Brown gets help from Judy Martin at shows. "She's like my grandmother. My grandmother never let me ride a horse without her watching me and giving me advice, and Judy's the same way. She's helped me tremendously," he said.
• Brown's beer of choice is a distinctly American one—Coors Light.
• According to Brown, the biggest culture shock on arriving in the United States was "the size of the meals—they were so huge!" he said.
"I did expect a very big season from Cassiato. It's only his second year jumping in the 1.60-meter classes, but I don't raise my eyes in amazement at what he's been doing because I think he's incredible," Brown said.
"He's solid now. He knows his job. Before, I had to give him a lot of help, but now nothing's an issue. He came up the grades very quickly, but now he's been doing it a year and I'd say he's established and comfortable at the level. He's got so much scope and he's very careful."
Although Cassiato looks like a classic warmblood type, Brown said he's surprisingly hot. "There must be a lot of blood in there somewhere because he's a real fighter, and he's got a lot of energy," he said. "He's like a Thoroughbred in a warmblood body. And I grew up riding Thoroughbreds, so it's nothing new to me!"

Like An American Now
Brown runs Harley Brown Equestrian Inc. with his partner, Olivia Dawson-Grove, and they have a 4-year-old daughter. Dawson-Grove—who also emigrated here from Australia—handles the majority of the hunters and equitation training, while Brown sticks to the jumpers. They have a stable of about 35 horses.
"I love America. I love the people, the trainers and riders," Brown said. "I feel so blessed to be here, running a business and doing well. I've got a 4-year-old daughter who the whole barn adores and the whole circuit adores. I'm very lucky."
It's not just the people that Brown fits in with so well. "Coming from Australia, Harley rode mostly small Thoroughbreds, and he's six feet tall," Dawson-Grove said. "Since coming to the U.S., he's been able to ride horses that are big enough for him. And the caliber of competition and course design is so much better here."
At 18 hands, Cassiato certainly fits the bill. "He's a funny horse," said Dawson-Grove. "He's big, but he's not at all dopey. He's actually quite firey and quirky. Catching him in turn-out is a daily chore! But once he gets to know you, he's wonderful."
Dawson-Grove and Brown's home barn is sited on 300 acres, and Cassiato spent most of the winter traversing the many trails around the property as a break from ring work.
Brown has high hopes for the future with Cassiato, with his eye on the 2010 Alltech FEI World Equestrian Games (Ky.) But he doesn't forget what first set him on this path—Blue Diamond.
"He was the reason I came here. I built my business on him and we went from there. He's why I have a wonderful business and Cassiato now—it's all thanks to him," Brown said. When asked if he's always looking for another Blue Diamond, he laughed. "I got it in Cassiato. But he's an even bigger and better model!"