Lexington, Ky.—Aug. 12
Zacko Hardin had several things working against him going into the final round of the USEF Pony Jumper Championships. For one, it was the 12-year-old's very first time competing at Pony Finals—the field was packed with veterans of the finals, some of them medalists from 2017. It was also his pony The Girl Next Door's first time at the finals, and 2018 was the mare's first year doing the pony jumpers.
But Hardin also had some really important things going in his favor—his 14-hand full Thoroughbred pony (the mare was a twin—you can read all about her history here) was a phenomenal jumper, and she had yet to touch a rail over the three-day championship.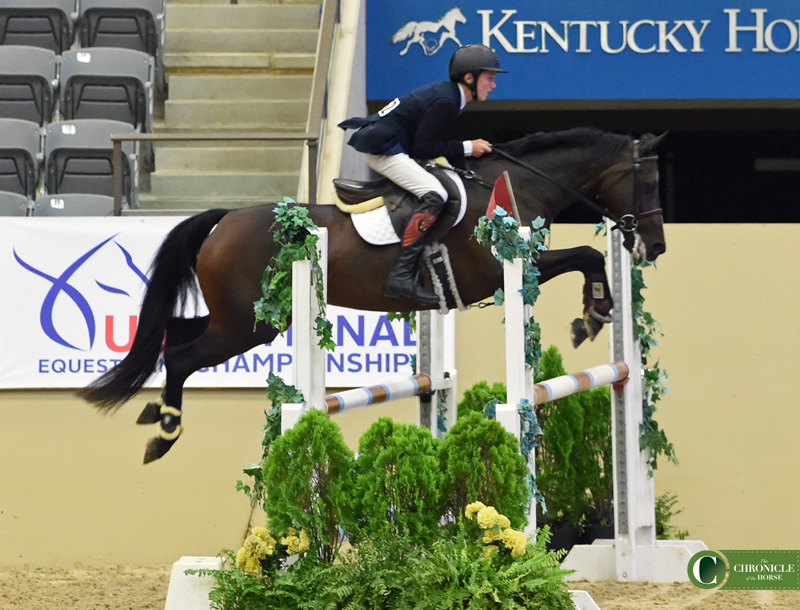 "I was feeling the pressure because all of the other riders are all really good and most of them have come back from previous years," Hardin said. "And I was the new kid going in with a pony that I've been riding since February. But we went in, and we had our first clean round the first day, and all of the pressure went away; I knew she would do really well here."
Twelve clear fences later and Hardin found himself galloping through the timers to the delight of a rather large cheering section—he had about 10 friends in the stands decked out in "I'm With Zacko" shirts.
"I'm so overwhelmed and excited; I honestly thought I was going to cry," Hardin said. "Everything just felt great; I didn't have a doubt about a distance to any jump, anything at all. I felt like it was the best round I've ever had on her."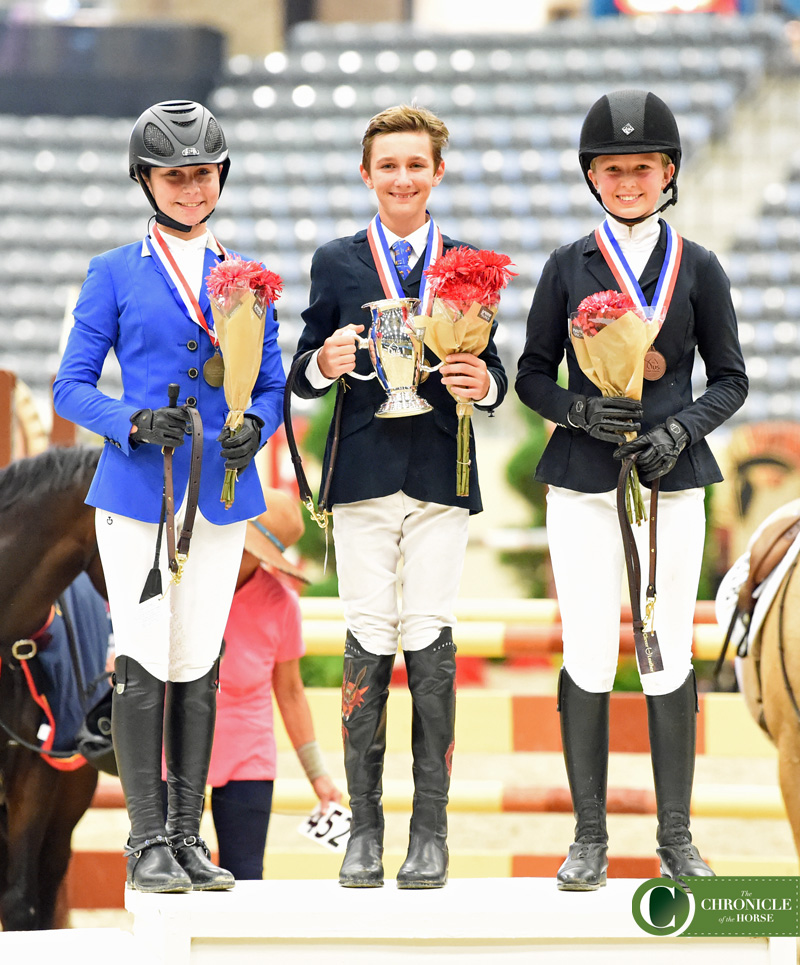 Missing a jump-off for gold by just two time faults was Sydney Flashman aboard Focalize Dew Drop. There was no disappointment on Flashman's part for that finish, though.
"It feels amazing and unreal to win the silver. I've come here for the jumpers for two years, and the first year I stopped out in two of the four rounds," Flashman said. "Last year and I came hoping to get over the triple, knowing that I wouldn't. So this year it's an amazing experience to have gone around and to have a pony that is so wonderful. I'm so lucky and overwhelmed right now."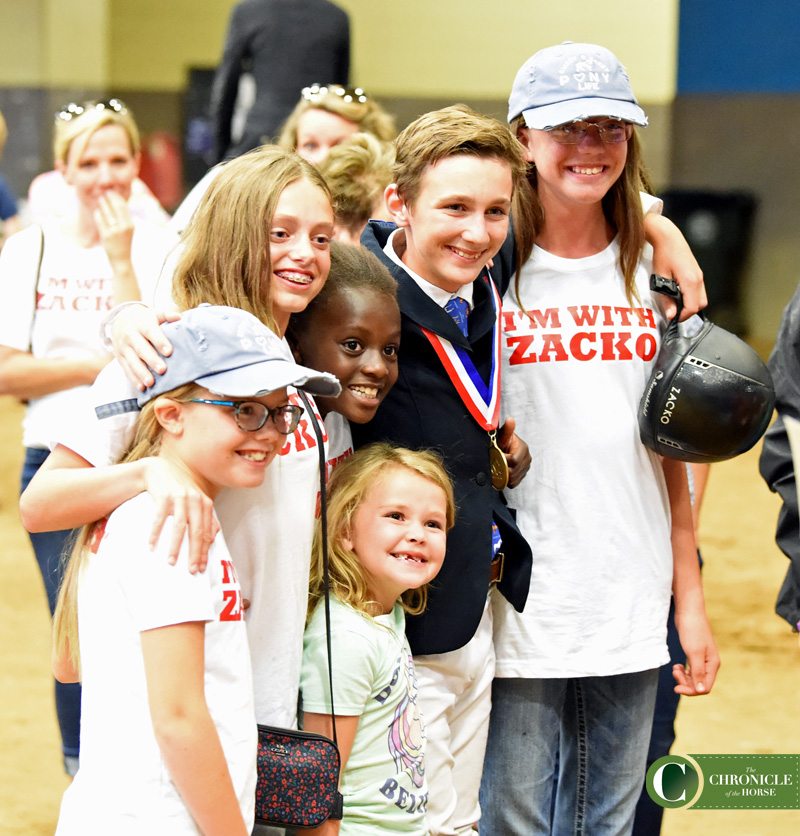 Taking the bronze was Taylor Brinsfield and Sprite. Both Flashman and Brinsfield are a testament to the perseverance this sport demands of riders.
"I am feeling amazing. Last year I didn't get around during any of my rounds with my other pony," Brinsfield said. "I retired; I fell, and I was eliminated. So after last year I found out about this other pony to lease, so I came here with her.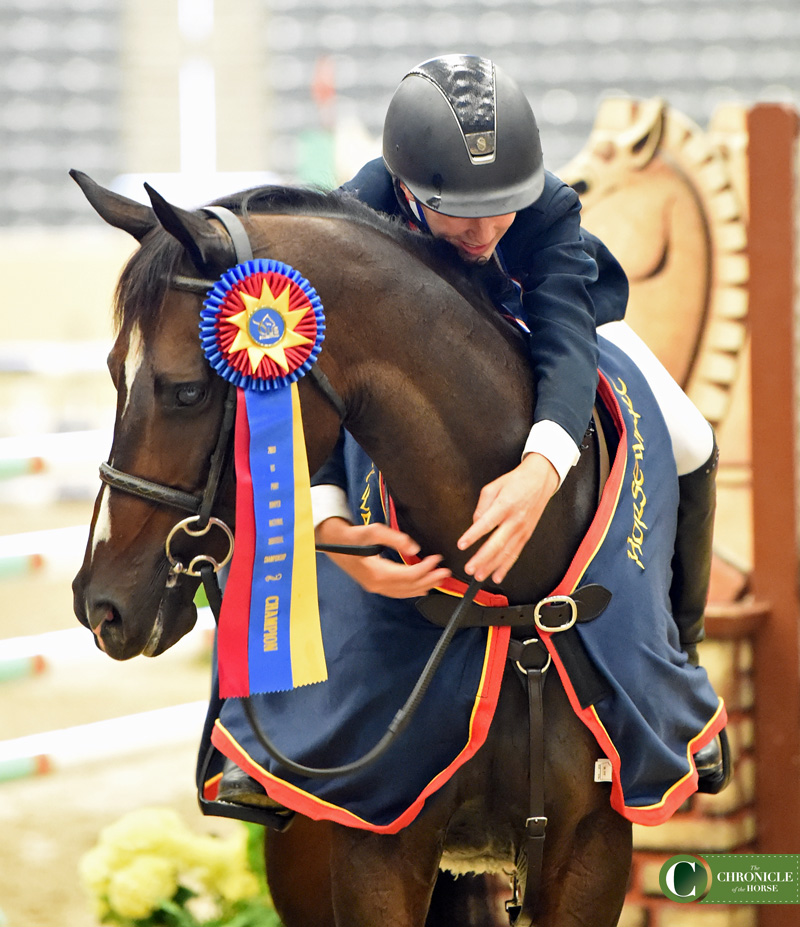 Full results can be found here.
Don't miss any of the Chronicle's Pony Finals online coverage, with behind-the-scenes stories, lovely photos and more! Be sure you're following along on social media as well, @chronofhorse on Facebook, Twitter and Instagram.