Upper Marlboro, Md.—Oct. 7
Nick Haness traveled from his California base to show on the East Coast this summer, and it's been worth every mile of the cross-country trip. He won the Grand Hunter Championship at the Devon Horse Show (Pennsylvania) in May with Carleton Brooks' Only Always, and at the Capital Challenge Horse Show on Friday night, he entered his first WCHR Pro Final and rode away with another big win.
Scott Stewart, last year's winner, made his 22nd start in the class and finished second, while John French, who earned a wild-card entry into the class after winning Wednesday night's WCHR Professional Challenge, was third, and 2020 winner Michael Britt-Leon was fourth.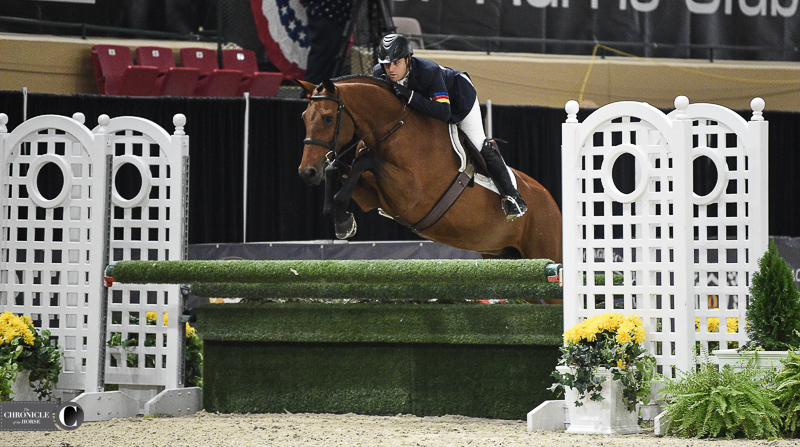 "This is an absolutely incredible feeling. It's a dream come true," Haness said. "I feel very honored to be here amongst this group of guys and in this type of a finals. My expectations tonight were low. I really wanted to do the class, and I was excited to make the top four after the stressful handy round tonight and combined with Wednesday night's performances. I hadn't thought this could be my outcome, but I'm very excited."
Seven riders—the top six from the WCHR national standings, Haness, Stewart, Britt-Leon, Liza Boyd, Amanda Steege and Geoffrey Hesslink, plus French as the wild card—completed a handy round on a horse of their choosing to kick off the night. Haness opted to ride his regular hunter derby partner Jenkins, owned by Glade Run Farms LLC. Each rider's score was combined with their score from Wednesday night's Professional Challenge class, with the top four combined scores then moving on to compete in the "Final Four."
For the Final Four, those top riders went head-to-head on unfamiliar horses, taking turns on each of the new horses over four rounds. Riders hopped on and cantered right into the ring, adding to the pressure.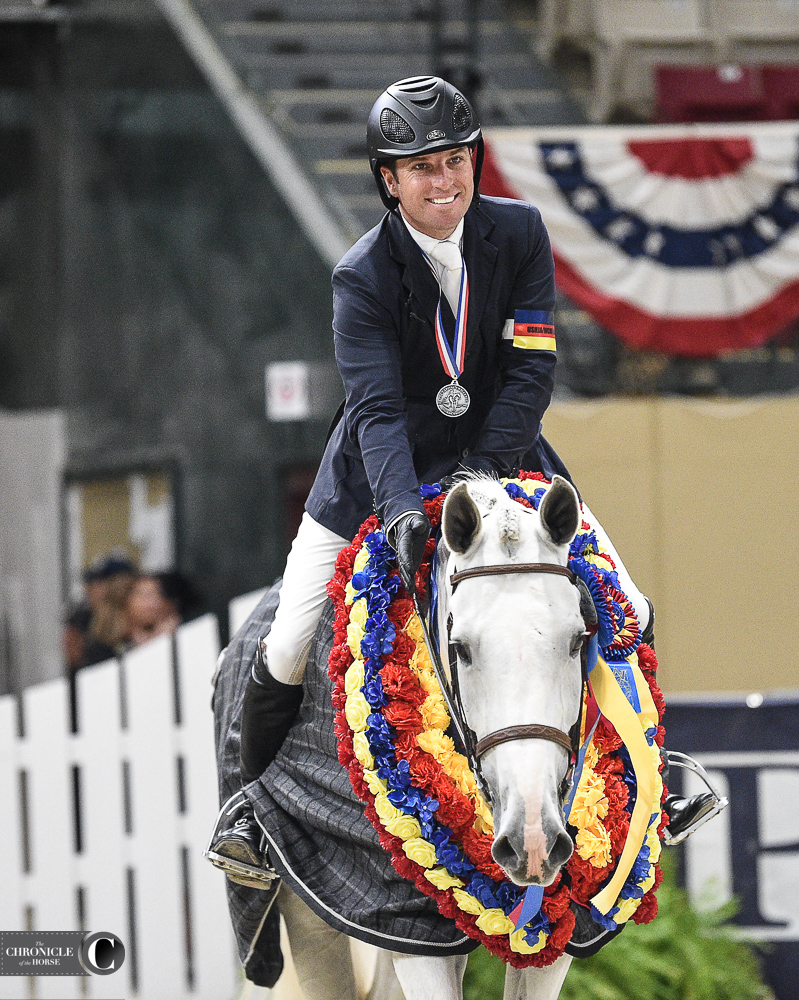 The horses donated for the Final Four were 7-year-old Hanoverian gelding Singani, owned by Daniel Bedoya; 12-year-old warmblood gelding Kynaz, owned by Laura Shatzko; 8-year-old Rheinlander mare Etiquette and 9-year-old Zangersheide gelding Nabisco, both owned by Elise Iafrate.
"I thought they were actually some of the best horses, really," said Stewart. "They were really all quite good. All different, but I thought they were all probably some of the best ones. And thanks to all of the owners for letting us use them. They were super."
Britt-Leon, whose 2020 win came before unfamiliar horses were part of the class, said he enjoyed the catch-riding challenge.
"I came to this horse show really hoping to make the final four, because getting on at the gate and walking into the ring and the first trot step you take on the horse is in front of everybody and in front of the judges," he said. "It definitely tests us and can prove to be a little bit difficult.
"What I loved about tonight is the group of gentlemen that I'm sitting with, everyone helps each other," he continued. "We are communicating with each other on what we felt out there and what horse you're going on next and watching them. It's what we do for a living, so you know we're used to riding a lot of different horses and doing catch rides. We normally get a lot more time with them. It was pretty exciting."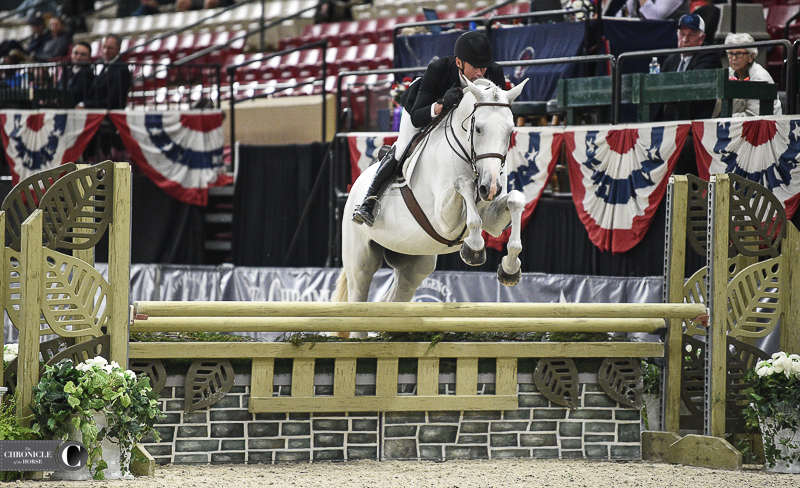 Haness agreed, adding that he's watched the class for many years on the livestream at home and was eager for the challenge. He went into the competition as the year's leading WCHR rider, and wore an armband all week designating him as such.
"I had this armband on all week long, and someone once said to me it's bad luck to wear it all week, and you're going to drop, so I just wanted to maintain that throughout the week," he said. "I was very fortunate to have a great group of horses to show this week, which helped secure my position."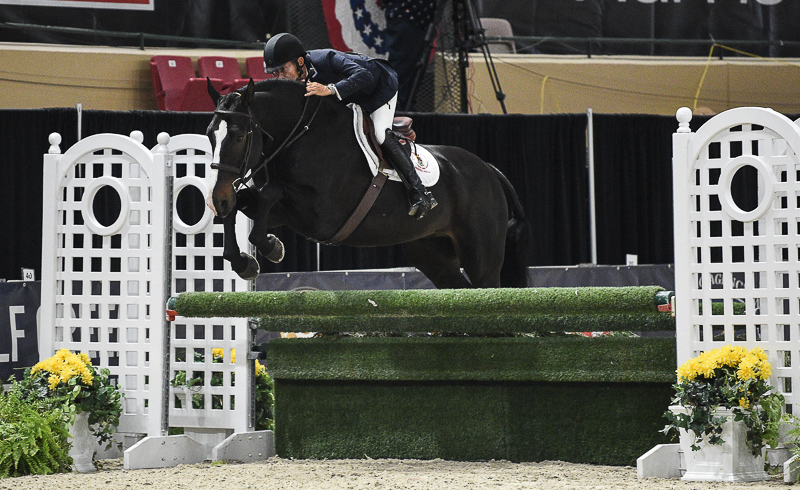 Haness said Iafrate's mare Etiquette was the horse most suited to him.
"She's a real cute type, real huntery, kind of could softly go around the ring on a looser rein and had a really good natural jump that you didn't really have to produce," he said. "She was a lot of fun. I was most nervous going last on the grey horse [Kynaz] just being that it was the final round, and the end of that round was very important to secure the win, so I just really wanted to make sure that I was there for that horse the whole way around.
"Each one of them was super fun, and they were all really nice horses," he added. "I think every horse went really well for every rider for the most part, and I think we were all pretty grateful to have a nice time.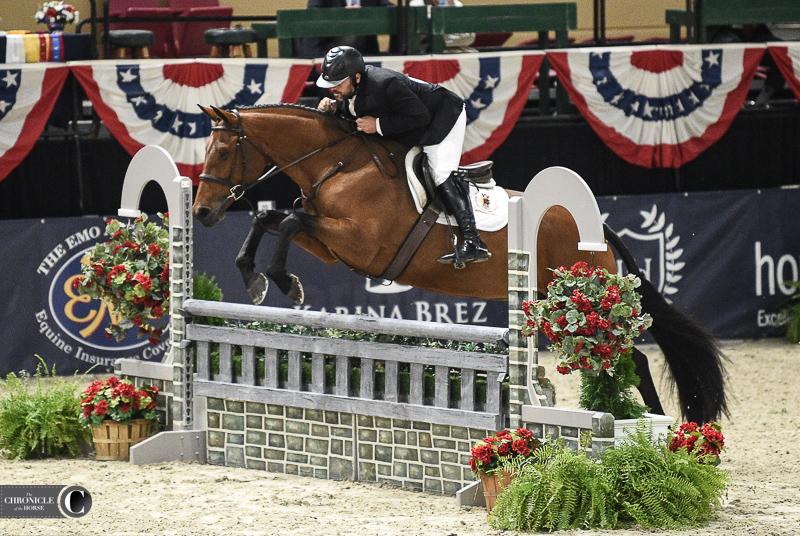 Haness had the biggest cheering section in the crowd, and he appreciated their enthusiasm. "I've actually been here with signs before for John or for Scott in years past, to clap for and support them," he said. "Being that this year is my first year and a lot of my clients rallied this year—the whole summer we left California, which is my home base, and spent some time on the East Coast. They have been troopers back here with me, and we have been in and out of Airbnbs and hotels and traveling around a lot this summer, and I really appreciate their support. This has been an extraordinary year for my career."
For full results, click here.