It's Halloween! The internet is alive with pumpkins as far as the eye can see, fall leaves, and totally adorable horses in Halloween costumes!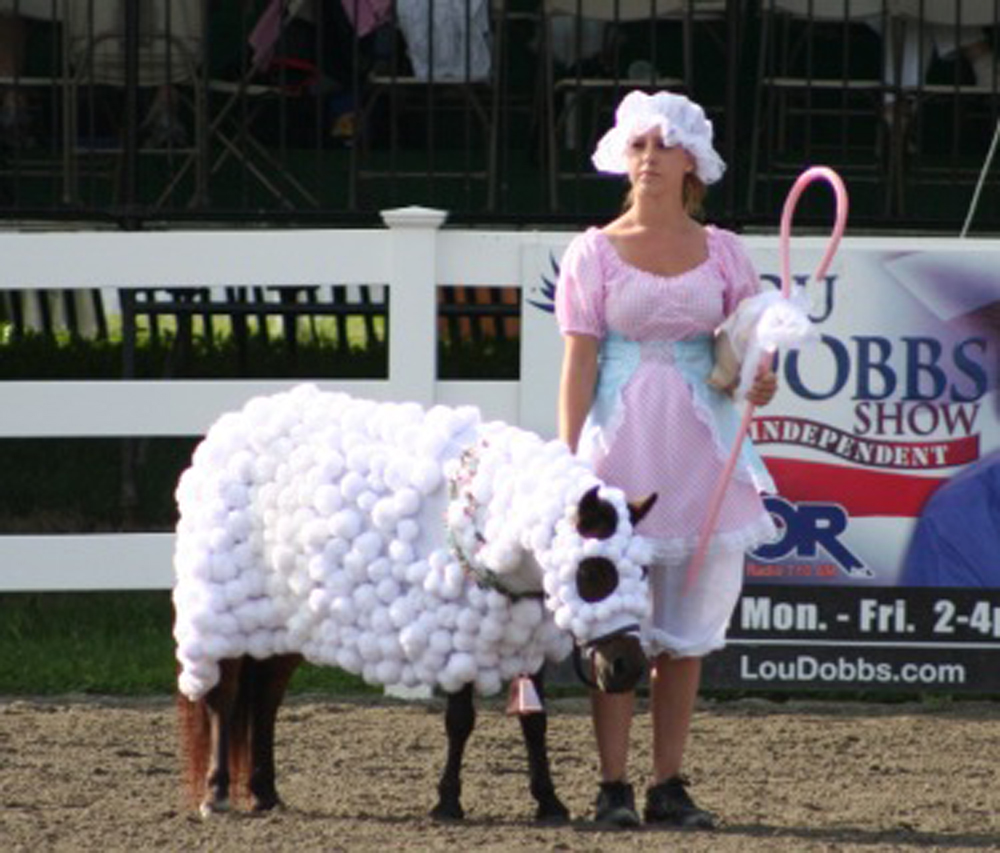 Brittany Russo tended to her flock of one, Mystic Springs Bewitching Belle.
This time of year is ideal dressing up your horse as a superhero, a scary bug, a giraffe, you name it. But, not all horses can deal with a wacky costume, and not all horses can deal with seeing another horse in a wacky costume. Just imagine what happens to the horse that's afraid of a plastic bag when he sees his BFF horse with a giant hat, a crazy flapping cape or some imaginative artwork painted on his sides.
If you're in the mood to transform your horse into a cartoon character, Liv Gude of Professional Equine Grooms has some ideas on how to make horse Halloween costumes fun, without starting a stampede in the rest of the barn!
• Utilize what you already have—and you know your horse is comfortable in! Blankets, sheets, coolers, and even nylon horse undies make great starting places for horse costumes. Start with spiffy colors and add emblems, patches, stitching, or fabric paint to create a great costume.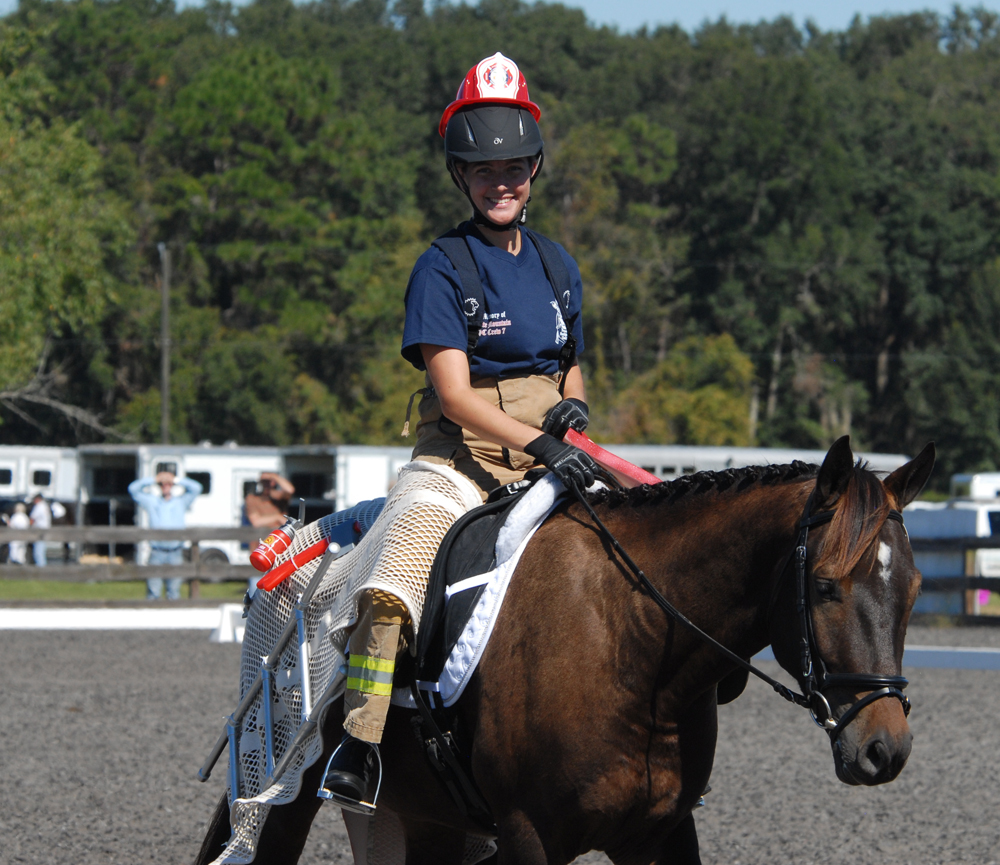 Colleen Cohill used a cooler to help transform Hotshot into a firetruck to match her firefighter costume!
• Avoid things that can get stuck in doorways, on your horse's legs, or that could interfere with his movement. It may seem like a good idea at the time, but dressing your horse in a refrigerator box painted like a taxi may end up like a five-car pileup on the highway. Long fringe, things that flap, and other loose costume parts are waiting to get tangled.
• Know your horse. If he's sensitive and reactive around his ears, Halloween isn't the time to turn him into a witch with a big pointy hat!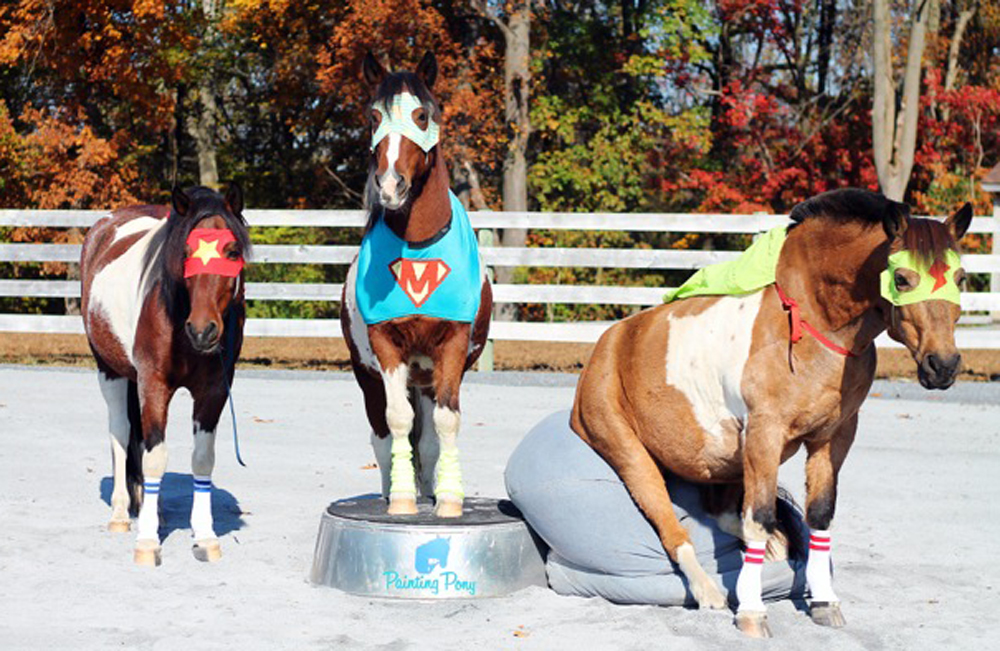 Kyley DiLuigi's Chincoteague Ponies Blitz, Minnow and Boomerang are cool with their capes and masks!
• Livestock markers are a great way to draw on your horse! Normally they are used for tagging a horse with a phone number during an emergency situation or evacuation, but for Halloween you can channel your inner Picasso and paint your own masterpiece on your horse. Or scribble, your choice.
• Try out pieces and parts of your costume ideas before Halloween. Then you can fine tune, figure out what works, and make any adjustments if your horse suddenly decides to be a fire-breathing dragon. Or if he inspires his barn mates to be fire breathing dragons!
• Don't forget to dress up like along with your horse and have boatloads of fun!
Just remember chocolate is toxic to horses just like it is to dogs, so no sharing your bucket of treats with your four-legged partner in costume.
Enjoy the crisp fall seasons and Halloween with your horse!

Devin Russo as Princess Peach and Mystic Springs
Winning Colors as Super Mario.

AM Stars In Your Eyes and Whitney Pacil
get ready for swimming lessons.

Mary Wilson Little and Rebekah Sims
were Thing 1 and Thing 2 aboard
Privileged as the Cat In The Hat.

Elise Durbin, as a firefighter, had her trusty
"Dalmation" Kid as a mount.