Lexington, Ky.—April 28
Liz Halliday-Sharp brought three very different types of horses to the Lexington CCI4*-S at the Land Rover Kentucky Three-Day Event, but they all have one thing in common: She's produced each through most of their eventing careers.
After Thursday's first day of dressage, she's leading the division with the most experienced of the three, Cooley Quicksilver, on 25.7 penalties, and sits in second with Cooley Moonshine (26.8). Both are owned by The Monster Partnership. Tomorrow she'll ride Cooley Be Cool, who's newest to the level.
"They couldn't be more different," she said of her two rides today. "Cooley Quicksilver, he's a really wiggly, flexible, kind of goofy horse. I really changed my training techniques with him this year. After Pau [CCI5*-L (France)] last year, I sort of tried some new things, and I think we're really heading the right way now. I was really proud of him. There's still a few little moments that could have been better, but to be first out today and early in the morning, and to get that kind of score for him? I'm absolutely thrilled."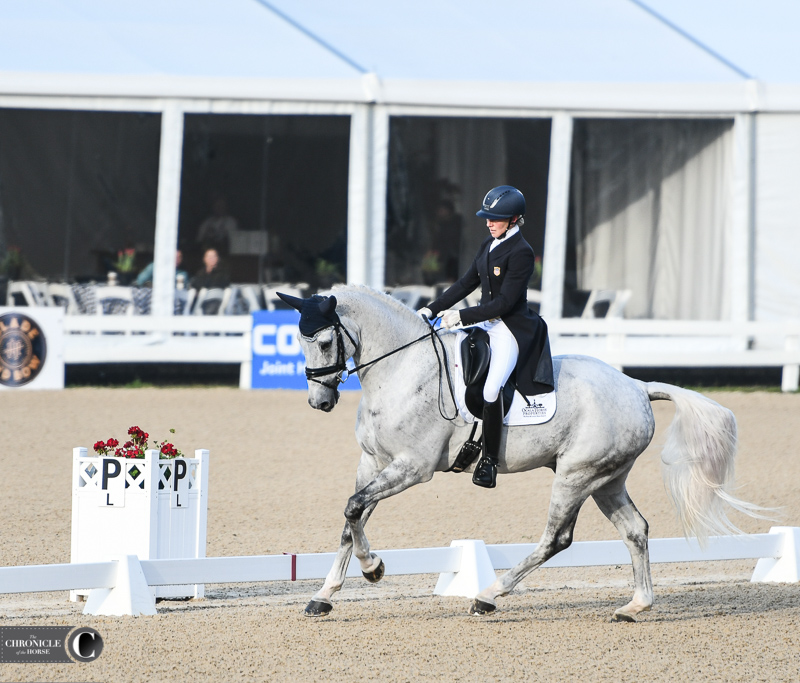 "Monster," an 11-year-old Irish Sport Horse gelding (Womanizer—Kylemore Crystal, Creggan Diamond), is headed to the Luhmühlen CCI5*-L (Germany) in June.
Cooley Moonshine, a 10-year-old Irish Sport Horse gelding (Cobra—Kilpatrick Duchess, Kings Master) is headed to his first CCI4*-L next month at the Tryon Spring International Three-Day (North Carolina).
"He is slightly less experienced, but probably what I think is possibly my very best horse for the future," said Halliday-Sharp, who lives locally in Lexington. "He's an incredible jumper, galloper, and he does beautiful work on the flat. There were a few little moments where he got a little behind me and a little tense in there, but all in all, I was really pleased with him, and I think as time goes on, he's only going to keep improving."
Halliday-Sharp started taking lessons from Olympic dressage rider Laura Graves this spring. She also credits work with longtime trainer James Burtwell and Erik Duvander in recent years for her success on the flat.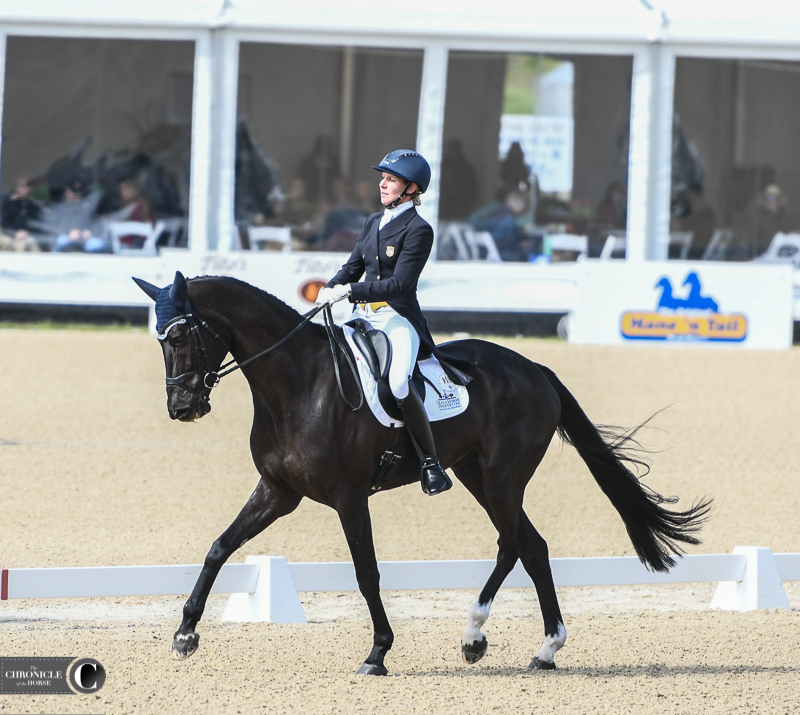 "I unfortunately got injured right before I was meant to have some more [lessons with Graves] in Florida," she said. "I think I learned a huge amount there, and I've kind of brought that with me. And then Erik has been a really integral part of the season on me and the horses for years, and I still have the odd lesson with James as well. He's known all of my horses since they were 5-year-olds, which is kind of fun."
Halliday-Sharp, 43, is a little over six weeks out from a fall at Red Hills International (Florida) where she broke two ribs and tore a ligament in her ankle, as well as broke a small piece of bone off her foot. In a normal year, she'd likely bring her top five-star horse Deniro Z, to Kentucky, but between her losing some riding time and the gelding having a stubborn abscess, she's chosen to target the Bromont CCI4*-S (Quebec) and possibly the Aachen CCIO4*-S (Germany). She also plans to keep this year's FEI Eventing World Championships (Italy) in mind for the four horses she has nominated.
"Every day is better," she said of her recovery. "After a while, you get used to being in pain every day. But when it comes down a little you're like, 'Oh, so yeah, I'm just happy to be here.' I feel lucky to be back in the tack as early as I was."
Halliday-Sharp is thrilled to have the CCI4*-S division at Kentucky as an opportunity for her younger horses.
"I think it's fabulous," she said. "I hope they keep it. It's a wonderful opportunity for horses that will be here at the five-star [in the future]. It's a wonderful opportunity to get in the big arena and experience the crowd. It's one I will target regularly, and I hope they keep it going for all of us.
California's Helen Alliston and Ebay, a 13-year-old Oldenburg gelding (Escudo—Komtessa) sits in third with a 28.7. Four-star dressage continues at 8 a.m. Friday.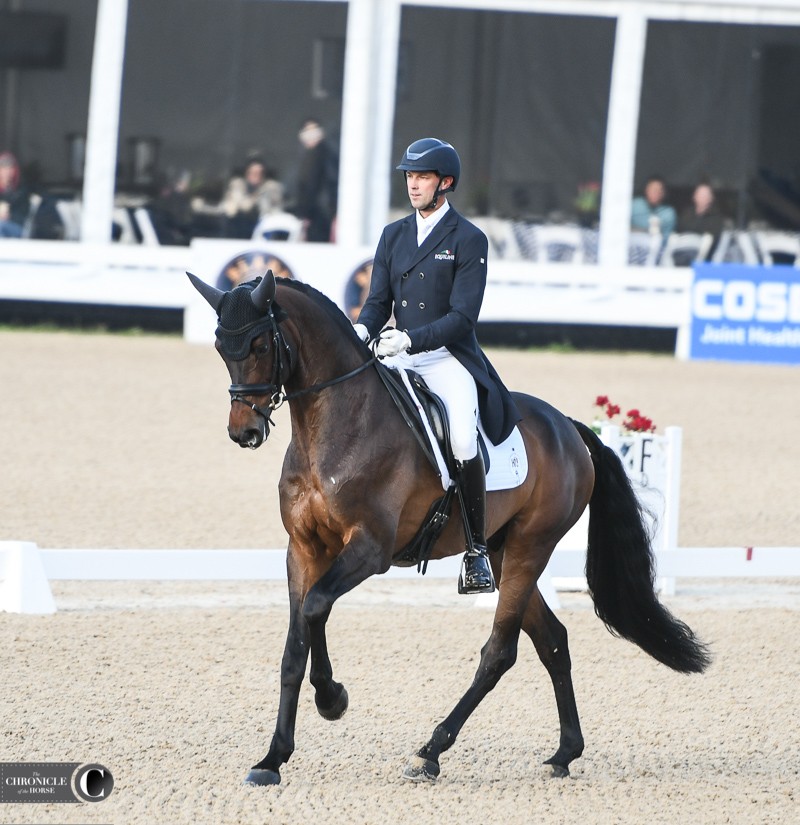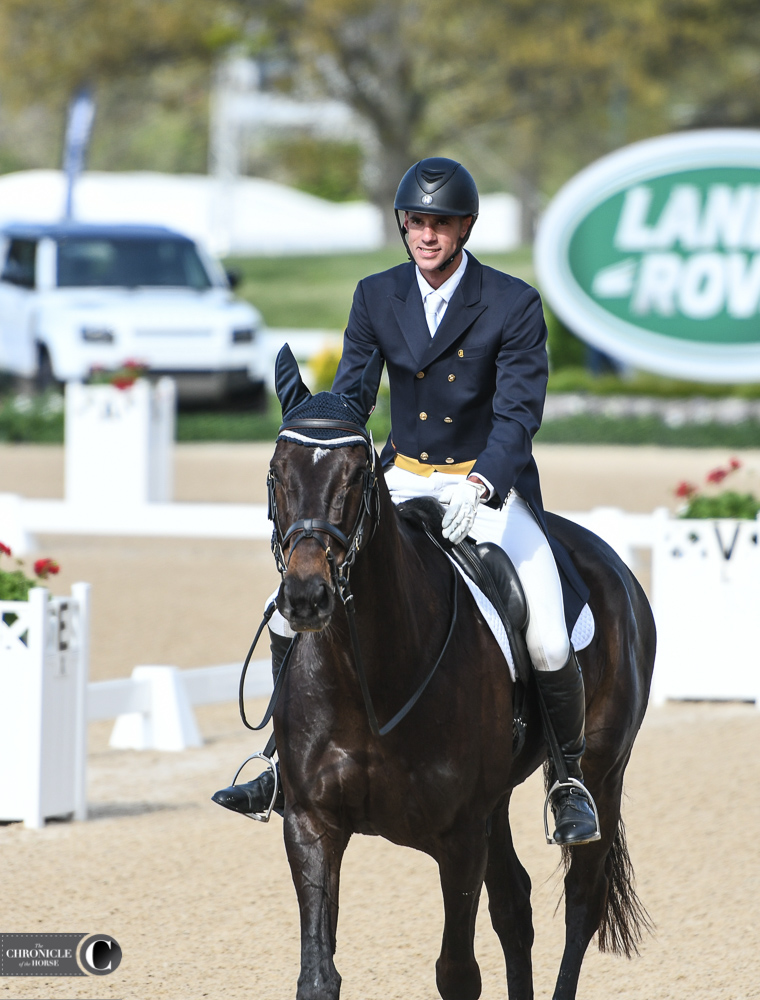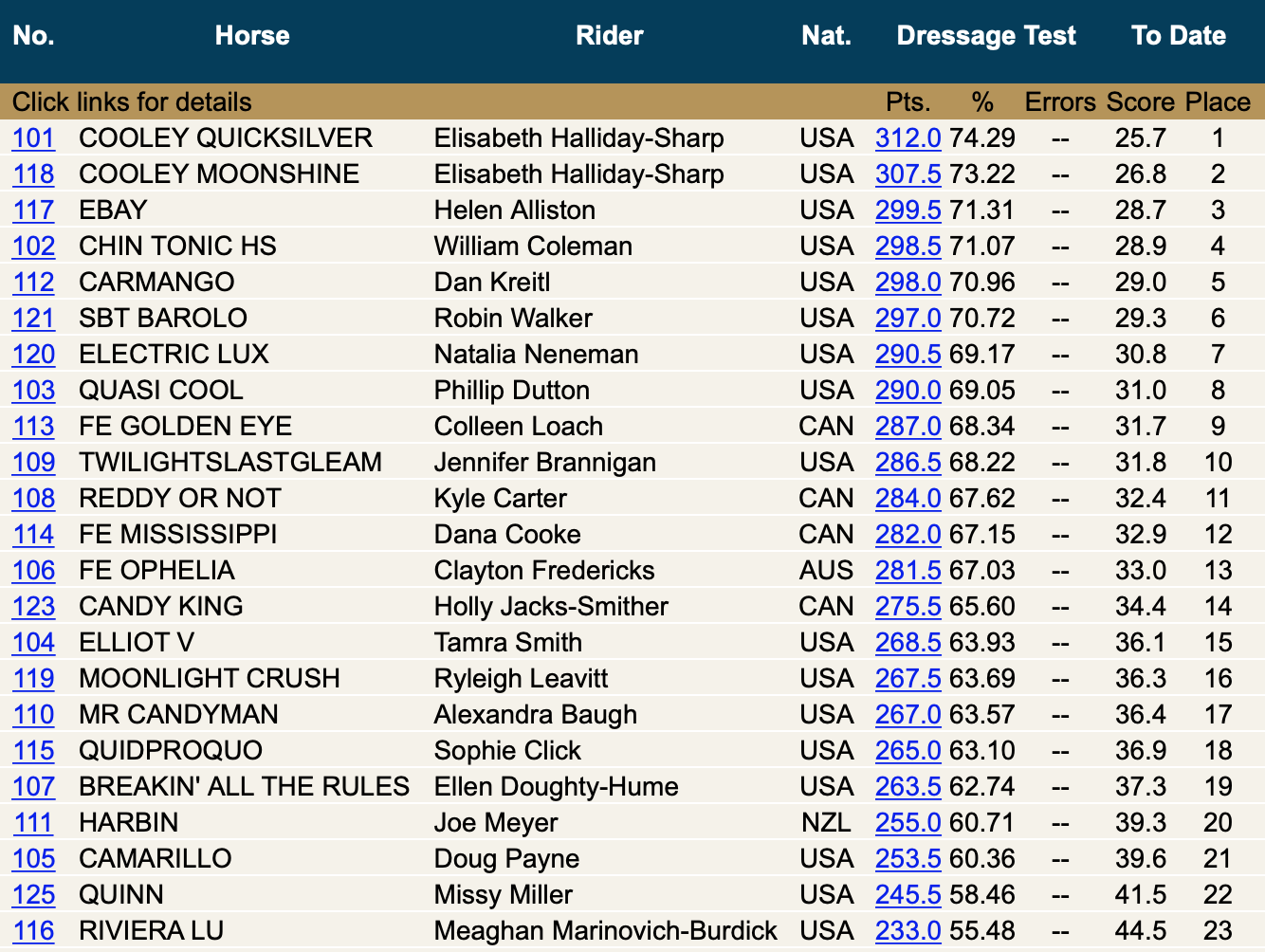 Looking for more info? Check out what you need to know here.
Results I Course Walk I Live Stream I COTH's Coverage I Schedule I Ride Times
The Chronicle of the Horse will be on site all week for the Land Rover Kentucky Three-Day Event bringing you reports from each round of competition, beautiful photos and stories from the competitors. Follow along with all of our coverage here, and be sure to read our May 23 Kentucky Results issue for more in-depth coverage and analysis of the event.