Raeford, N.C.—March 21
Every time Liz Halliday-Sharp and Fernhill By Night canter into the dressage ring, it's almost guaranteed they'll top the leaderboard.
And as predicted, they took the top spot today in the CCI4*-S at the Cloud 11-Gavilan North LLC Carolina International, scoring a 27.9. Halliday-Sharp is also lying third with Deniro Z (29.5). But last year's winners, Doug Payne and Vandiver, are sandwiched in between with 29.0, a personal best at the level, and Payne will be putting the pressure on this weekend.
"You want to win every time you go to be competitive," he said. "He was the best he's ever been today."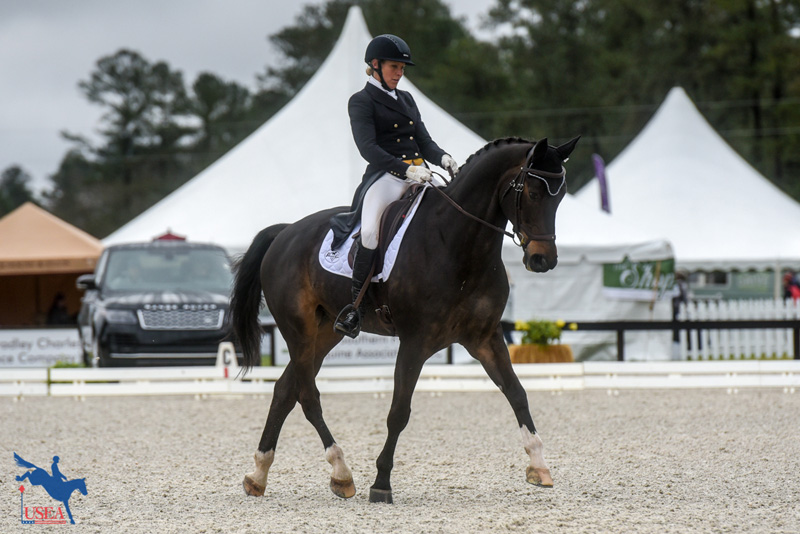 Halliday-Sharp went early in the chilly and damp weather, which was a good thing for "Blackie," a 16-year-old Irish Sport Horse gelding (Radolin—Argentina XII, Argentinus) owned by Deborah Halliday. They're coming off a win at the $50,000 LiftMaster Grand-Prix Eventing Invitational (South Carolina) two weeks ago.
Short format events suit the gelding, so she's been targeting those with prize money.
"I think the horse enjoys it," she said. "He comes to the party now knowing he's not going to get exhausted. I think he's built on that, and he's become a better horse. I think it's made him really happy in his job. He's sassy and happy, and it's nice to have figured him out that way and accepted that he's not going to do a Kentucky."
Watch Halliday-Sharp's test via EQSportsNet. 
Halliday-Sharp was hoping for a better score today, but she was still happy with Blackie.
"With Blackie we're always trying to get him really sassy for a test because he is a sleepy person in the ring," she said. "I think the temperature definitely helped him—it was freezing and windy. I didn't ride him at all on the surface, I rode him on the grass because I thought the deep surface would make him more tired. I did very little like I always do. We've been working to teach him some little piaffe steps, then do a little 'think passagey' trot and then open it up to make him find it more fun because he knows these tests now after so many years."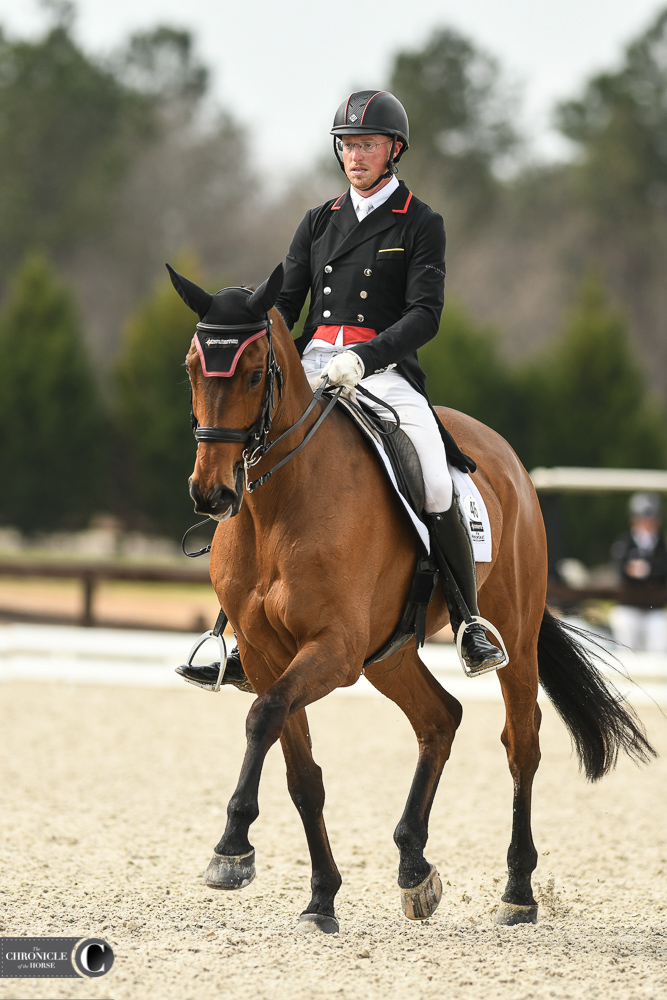 Payne was second to Halliday-Sharp two weeks ago with "Quinn," so he's out for the win this weekend in preparation for the Land Rover Kentucky CCI5*-L.
The 15-year-old Trakehner gelding (Windfall—Visions Of Grandeur, Mystic Replica xx), owned by Debi Crowley, had some time off after his Carolina win last year to clean out and repair old damage to his stifle, and Payne says he's feeling better than ever.
"It's very rewarding [to have him back] because he's the most genuine creature there is and wants to help you out. It makes the job a whole lot of fun. Cross-country he's like a seeing eye dog," he sad. "He's a horse that would get a little bit nervous [in dressage,] and Shawna [Harding] and Erik [Duvander] helped me figure out a way to ride him through the tension and take the energy and go somewhere with it, rather than sort of go hands-off and wait for him to explode."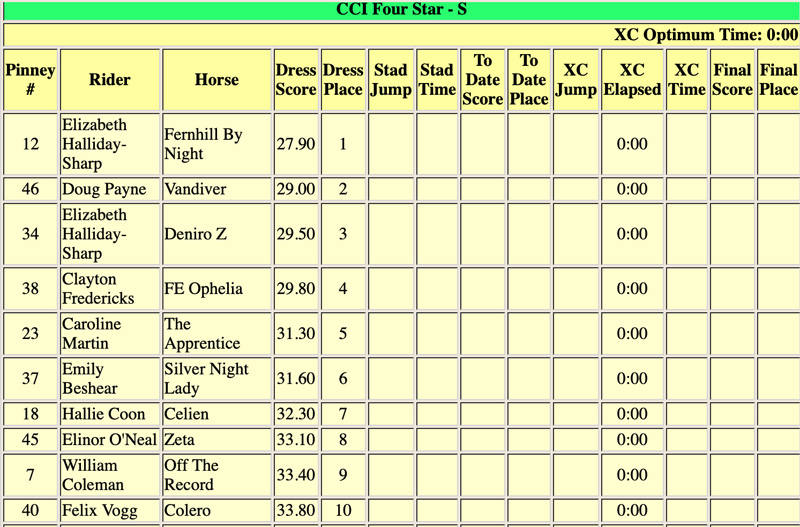 The CCI4*-S riders will show jump tomorrow starting at 12:30 p.m., and it will be live streamed on EQSportsNet.
For full results, click here.
For a schedule and ride times, click here.
We're on site at the Cloud 11-Gavilan North LLC Carolina International this weekend bringing you news and photos of all the action. Check back at coth.com all weekend and pick up the April 8 print edition of the Chronicle for much more.
2019 Carolina International - Dressage
Lindsay Berreth / Mar 21, 2019 7:28 pm