Mill Spring, N.C. – Nov. 14
Elisabeth Halliday-Sharp and Deniro Z earned just 1.6 time penalties on cross-country to rise to the lead position in the Buckeye Nutrition USEF Eventing CCI 4*-L National Championship. Halliday-Sharp sits on a score of 26.1, just 2 points ahead of Boyd Martin and Tsetserleg, holding a score of 28.1. Phillip Dutton and Z rounded out the top three, carrying a score of 28.8 after their double-clear cross-country performance.
Halliday-Sharp and Deniro Z, a 2008 Dutch Warmblood gelding (Zapatero—French Buffet XX) owned by Ocala Horse Properties and the Deniro Syndicate, haven't challenged a long-format competition since the Land Rover Burghley Horse Trials CCI5*-L (England) last year. The pair stood second after dressage and took over the lead from Marilyn Little after she and RF Scandalous retired.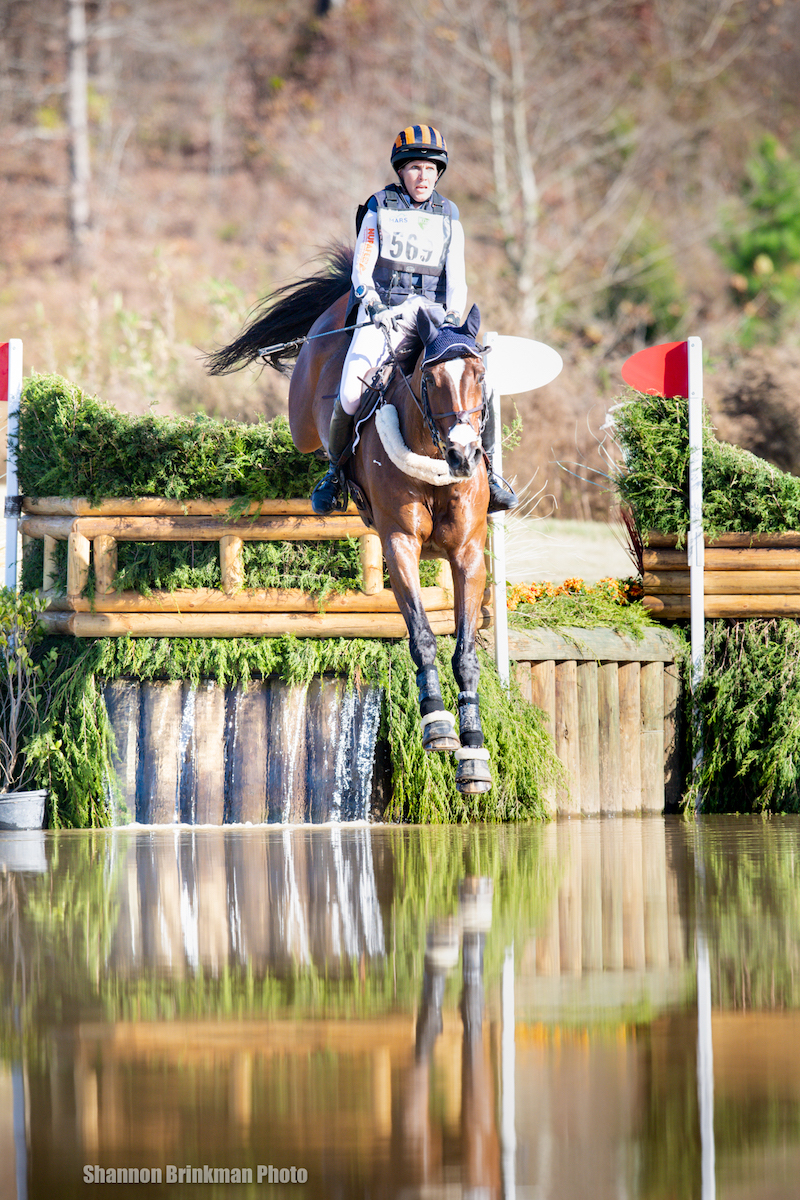 "Deniro is amazing and I have a great partnership with him, which makes a big difference," Halliday-Sharp said. "We haven't run for eight weeks because Chattahoochee [Hills (Georgia)] got canceled, which is a little bit longer than I'd like before an important four-star event, but he's such a professional. I am a little mad at myself that I didn't make the time, but that's not his fault!"
In fact, Halliday-Sharp continued, Deniro Z has proven himself to be stronger and more responsive in the tack than ever before. "He's actually just been so incredibly polite this year. I nearly pulled him up a little bit too much in front of two combinations, and he just came back so fast," she said. "Honestly, I think every fence and combination rode how I planned it, and the horse was phenomenal and he didn't make it feel hard. He finished very fresh. I feel like it was a great day because he finished with the attitude of 'Oh, that was easy!' "
Looking forward, Halliday-Sharp said that Deniro Z is "more than capable" of a clear show jumping round tomorrow, pointing to the strength he's gained in the last year.
"He's a phenomenal horse, and a very good jumper. He feels 10 times stronger this year and like a different horse compared to what he was before Burghley last year. I think it taught him a lot," she said. "If I ride him the right way, I know [a clear show jumping round is] possible. I just need to look after him tonight, put our plan in place, and then execute said plan!"
Tsetserleg was one of three rides over Capt. Mark Phillips' course for Martin, and the pair improved their third-place rank to second. (Martin also stands 10th on On Cue and 21st on Blackfoot Mystery.)
By the time Martin swung a leg over "Thomas" to contest the CCI 4*-L division, "I sort of knew the spots [on course] that were deep and muddy, so I chose to slow down in those areas. He's such a seasoned veteran now, and actually did the course quite easily. It was great to be back at a big event," he said. "We've improved him a lot, but haven't had any of our key events to go to, so it was fantastic coming to Tryon and giving it a good prep yesterday in the dressage and a nice run today. He's a joy to ride on cross-country, and has a serious engine."
For Martin, tomorrow's show jumping round—and the entire weekend—is more about preparations for next year than about the national championship result, he explained. "When I say next year, [I want to] improve them in all three areas. When we go to a five-star next year, they'll be better than if we just sat around and drank beer on a couch!"
Martin also credited the event staff with working hard to address the effects of torrential rains earlier in the week. "From a rider's point of view, I cannot say how much I appreciate the hard work, effort and energy that went into trying to make this course as safe and rideable as possible," he said. "It's greatly appreciated. It's nice to win these competitions, but it's more important that the horses are healthy afterwards."
Watch course designer Mark Phillips discuss the course:
Show jumping kicks off in Tryon Stadium at 10:30am EST, with live streaming available at www.Tryon.com/streaming or on the USEF Network with promo code usefeventing20.
Full results can be found here.