Wellington, Fla.—Jan. 3
What do you have if you don't have a half-halt? The answer, as all of today's participants on Day 1 at the Robert Dover Horsemastership Week learned, is nothing.
From the young riders' first lecture of the day—Dover himself explaining the history and concept behind dressage—to their individual lessons with either Dover, new USEF Youth Coach George Williams or USEF Assistant Youth Coach Charlotte Bredahl-Baker, all discovered or rediscovered the value of the half-halt for all movements.
"The half-halt is not a means to an end," said U.S. Dressage Chef d'Equipe Dover. "The half-halt is the end itself. If we can do the perfect half-halt, then anything is possible.
"We're talking about training horses, but we're also talking about artwork," he continued. "To have a horse perfectly balanced, he has to constantly have his energy circulating through his or her body. The energy is always flowing through, and it's like a circuit of electricity. You get a round, beautiful circle and then a round, beautiful horse."
What did that theory look like in practice? It was different with all the riders, but it was the same concept of rebalancing the horse onto his hindquarters, collecting and gathering the energy, and then sending that energy forward into a more expressive and balanced gait. Though it can sound mystical, the practical applications were clear when a rider successfully completed the "circuit."
"If you don't have the energy then you're always trying to pump fuel into the gas chamber, but it's like there's a hole in it," said Dover when a rider struggled with getting her horse more honestly forward.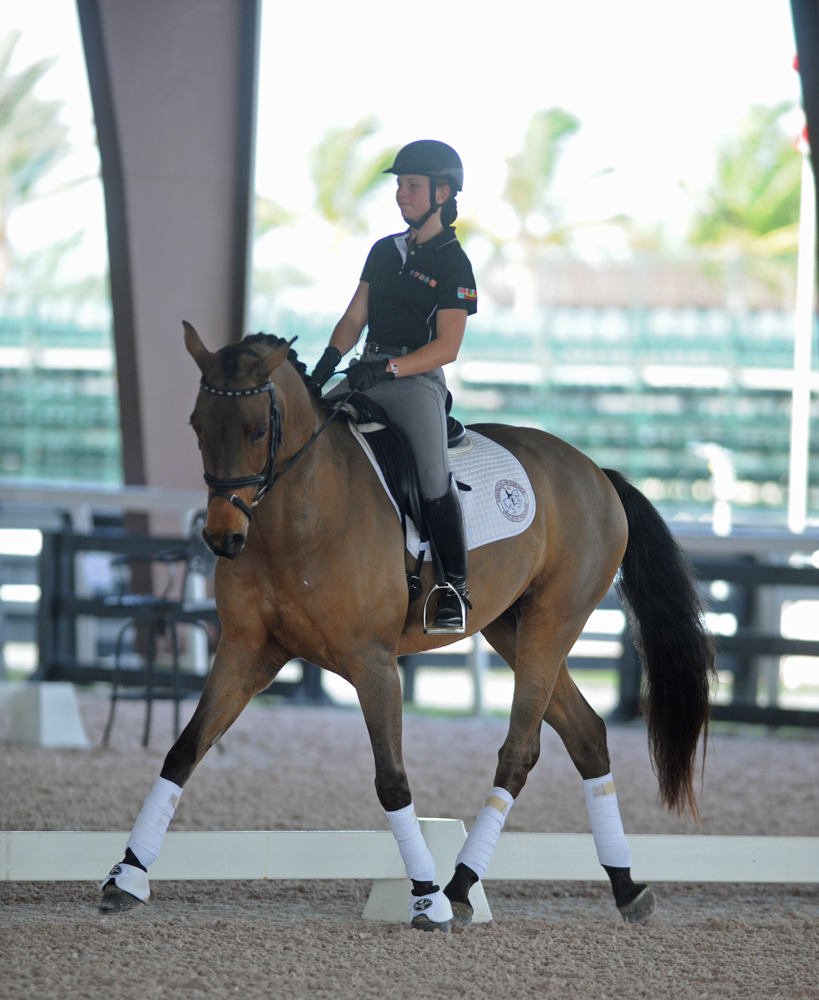 With Kalie Beckers and her third level mount, Bienvenu ZSH, Dover started with the "rubber band" exercise—sending the horse out and bringing him back—on a circle. Dover emphasized visualization; telling Beckers to think of passage when collecting and then an extended or medium trot from Valergo or Totilas when moving forward again. But if Beckers didn't have enough energy in the collected trot, the extended was lacking as well.
"The collected trot is that which desires to be in the extended trot," he said. "Of course you can't push into extended trot if you don't have a collected trot. You need to already have it in the collection. Do you feel the extended trot alive in it?"
Top junior rider Bebe Davis is contesting the FEI Young Rider tests this season with Fievel Mousekewitz, but Dover spent much of her ride working towards the Grand Prix test movements. Even with the advanced level of the work, all the way up through piaffe and passage, the emphasis on the half-halt remained.
"If you don't feel the next thing that's happening, you're missing the idea of riding the half-halt that brings you to that posture," said Dover, encouraging Davis to keep the "dance," or expression and uphill balance, in her horse's gaits through all the movements. "Keep the dance in shoulder-in and haunches-in. Don't think about the haunches-in; think about the dance."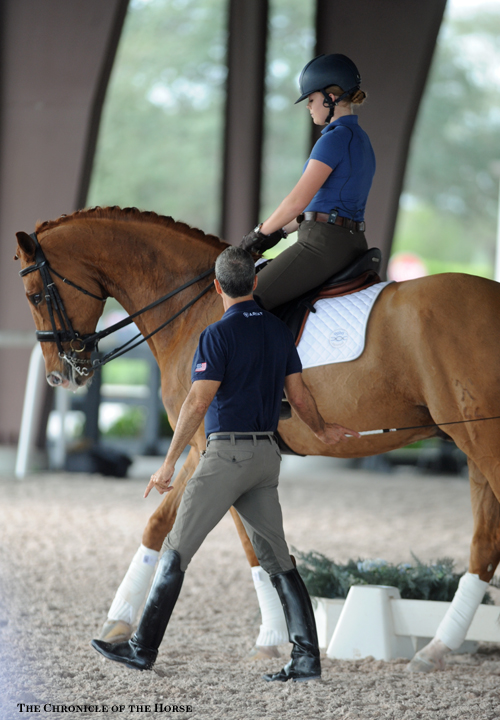 Dover also spent time working with Davis' mount in the walk, attempting to help her get a more uphill balance in that gait from the ground.
"I want him to walk like he's about to piaffe," said Dover. "It should be like he's going up a stair every step. We want him to find a lower croup and bigger front leg."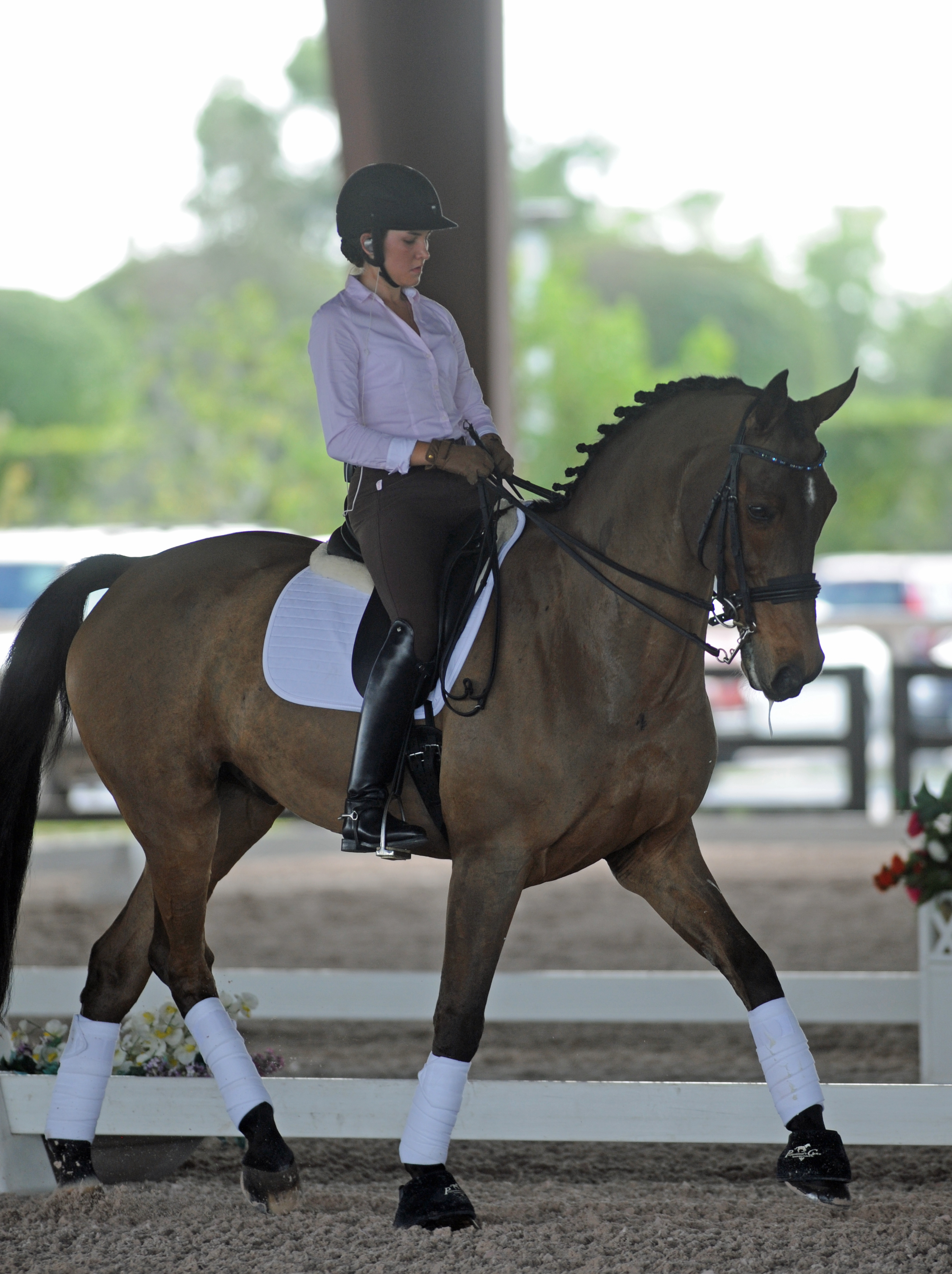 When George Williams assisted North American Junior and Young Rider Championship gold medalist Ayden Uhlir on her Sjapoer, he stressed the idea of straightness as it relates to the half-halt and collection. The pair worked on some half-steps towards the end of their lesson, and then a series of two-tempis and finally a line of ones.
"All we're really doing is playing with the trot in piaffe or passage," he said. When Sjapoer missed the last change of a two-tempi line, Williams reminded her of that basic building block again.
"That last change, the half-halt really has to be there," he said. "It's what gets him balanced."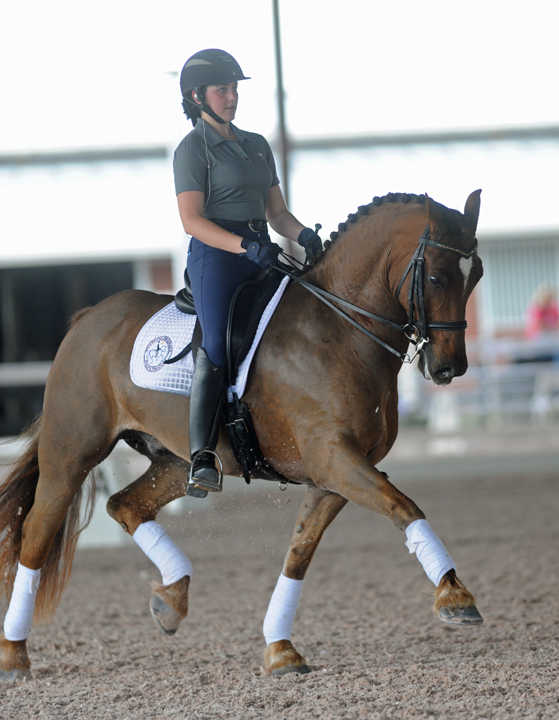 Allie Cyprus began her lesson with Williams on her junior horse Madoc Gareth by making her half-halts bolder and more effective, collecting and activating her horse to passage in the trot and then to a pirouette canter. The horse became even more expressive through that work, and they ended working on the two-tempis, where Williams again reminded his student of the importance of the rebalancing aids.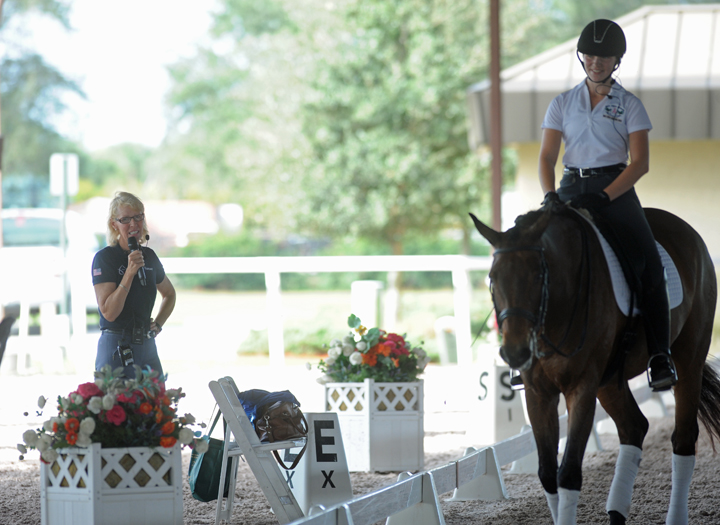 Mattie Zepernick rode a borrowed mount for today's lesson with Bredahl-Baker, and the horse struggled with not changing leads in the counter-canter. When the gelding got behind Zepernick's aids, Bredahl-Baker had her send him forward with conviction but then restablish the proper working balance afterwards.
"Sometimes you have to compromise," Bredahl-Baker said of the issue with the flying changes. "If he wants to do a million changes, you have to ride the haunches [to the outside]. But it's not a big deal. It's just a matter or patience and time. For now you have to hold the haunches out, but I bet if you had a week it would be gone. It's not something you want to get in a big argument about."
All 16 riders, as well as a select group of auditors, begin tomorrow with a pilates exercise session with Jennifer Kotylo, and then they have lessons with either 2014 Alltech FEI World Equestrian Games competitor Laura Graves or Dover. They also have lectures each day on topics ranging from saddle and bit fit to veterinary care. Read more about this year's program.
The riders and auditors this year are as follows:
RIDERS
Kerrigan Gulch
Rachel Chowanec
Bronwyn Cordiak
Allie Cyprus
Mallory Kent
Hannah MacCabe
Claire McNulty
Molly Paris
Cassie Schmidt
Rosie Simoes
Regan Walsh
Kalie Beckers
Bebe Davis
Mattie Zepernick
Ashleigh Conroy-Zugel
Ayden Uhlir
AUDITORS
Julia Barton
Hanna Benne
Jennifer Foulon
Eliza Gardner
Donna Hendrickson
Madison Lacy
Alexa Perkins
Emma Szegvari