Five years ago, Haidaseeker Playboy was happily performing sliding stops, flying changes and cutting cattle as a reiner and reined cow horse with his owner, Andrea Caudill. But when Caudill attended a local dressage schooling show with some friends, she decided to give the discipline a try with "Matt," a cutting-bred Quarter Horse gelding (Docs Haidas Playboy—Haidas Seeker), and she hasn't looked back.
The pair moved through the levels and earned their U.S. Dressage Federation silver medal and the organization's all-breed award for the American Quarter Horse at Prix St. Georges this year, all while continuing to compete in reining and reined cow horse.
"We have a pretty good partnership," said Caudill. "He's very easy to train and very willing. He has a big heart. I ask him to do something and he gives me 110 percent of what I ask for every time."
Caudill first saw Matt, now 13, when the horse was a 3-year-old at a small working and ranch horse sale in Amarillo, Texas. She'd grown up riding mostly Western and had recently sold her horse, hoping to start a youngster.
Matt's lineage featured several well-known cutting horses, like Haidas Little Pep and Freckles Playboy. "I saw his pedigree in the catalogue at the sale and was walking around looking for him," Caudill said. "I saw him tied up to the fence, and it was love at first sight. Not even a shred of doubt."
She bought Matt a few days later privately from his owner, and the pair began competing in reined cow horse, which Caudill described as a Western version of eventing.
Horses and riders complete a reining pattern, cut cattle from a herd and then work a single cow and box them in at the end of the ring, all while being judged on their ability and style. "I do the 'horse trial' version, boxing a cow and a reining pattern," said Caudill. "It's the beginner novice version of reined cow horse, because I'm a wuss!"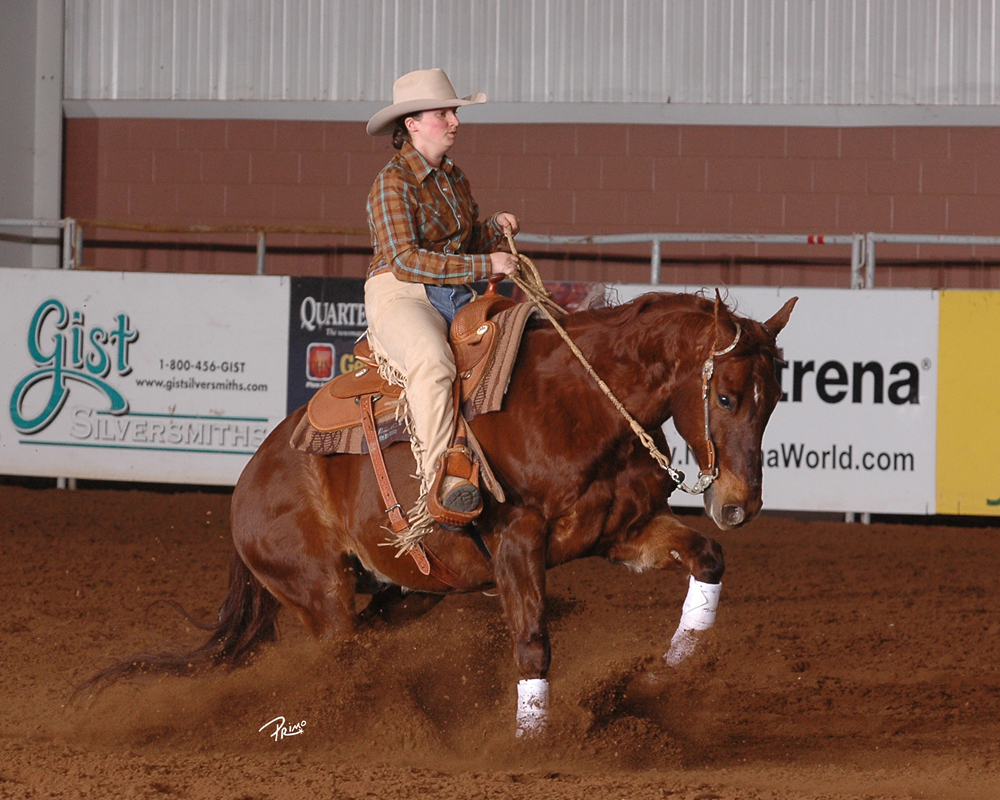 Haidaseeker Playboy wearing his reining shoes.
Photo by Primo Morales Photo.
Caudill, 33, laughed as she remembered her first dressage show with Matt, where they competed in an opportunity training level class.
"When I first started showing him, I battled show nerves anyway. Here I am in this new environment, and you hear about dressage and its formal reputation," she said. "I was very nervous, so I came down centerline and took my legs off, and Matt just slid right into X. Dressage judges do not like it when you do a sliding stop into X, I'm afraid. They call that 'abrupt.' I had to learn how to do a different stop. [Now] he knows the difference between a reining stop and a dressage halt."
As Matt progressed through the levels, Caudill knew she'd have to make some changes as she started focusing on more complicated movements.
"In reining, we have several different patterns, and one is called the run-in pattern, where you come in the gate at a canter, and you run down the center of the arena and come to a sliding stop," she said. "Up through third level, I competed him in his reining sliding plates [on his hind hooves]. Once we got up to fourth level, I had to only put the plates on when I was competing in cow horse or reining. They were too slippery once we started doing half steps and extensions."
Caudill, Amarillo, also knew that she'd need to find a trainer, but there were no dressage professionals near her.
"I'm catching on," she said. "It's been very difficult for me to learn, but Matt gives me so much. He has a huge heart, and he'll just do anything I ask him to. I have to learn how to ride it, and I have to teach him at the same time. There's no one to ride him, and I don't have schoolmasters to ride. We have to learn together."
When she attended the 2010 Adequan/USDF Convention (Fla.), Caudill met Michelle Just-Williams, and the two hit it off right away since the Florida-based trainer had experience showing Quarter Horses in dressage. The only problem was the distance, so Caudill went home and started brainstorming.
"My husband, James, is a very smart man, and he figured out how to do live lessons," she said. "He hooks up the laptop to a video camera and uses Skype and wireless Internet to live-stream the video. It's worked out wonderfully. We do a live lesson, she sits at her computer, and my husband mans the video camera. She and I talk with a Bluetooth in my ear and she literally coaches me over the phone while watching the live video."
Caudill has flown Just-Williams out to Texas a handful of times but works and shows primarily on her own, all while working as racing editor for the American Quarter Horse Association's Q-Racing Journal.
"I consider myself an outsider in dressage," she said. "I'm still learning the game, and I enjoy it, but it's all new to me. I would ask people what they thought I could do or my horse could do, and they would tell me that Quarter Horses could only get to second level, or [they'd say that] he's built downhill so he probably won't be able to get to second level. By the time I earned my bronze medal, I thought that was pretty much it."
Despite the doubts, Caudill pressed on and found the dressage community to be very welcoming, even though she rides an unusual breed.
"My personal experience is that dressage judges are very fair," she said. "I've never felt that they were biased against my horse. I felt that they were looking for something specifically, and when I provided that, they rewarded me. I've gotten a lot of positive, encouraging comments from them, and that's what I liked about the sport. What made me continue doing it was the challenge and the ability to break down each maneuver with a score and a comment and find a way to improve myself. I've gotten poor scores before, but when I fixed what they were complaining about, my scores went up. It's been a learning process for me."
This season, Caudill and Matt achieved more than she could have ever imagined. In addition to making their FEI debut, the pair qualified and competed for the first time at the National Reined Cow Horse Association's biggest show, the Celebration of Champions (Texas).
As Caudill shows in both disciplines (in addition to competitive trail riding and performing trick demonstrations for children at local agricultural fairs), she's realized that doing two disciplines helps her and Matt.
"[My trainers] see the same problem that Matt and I have, no matter what saddle we're wearing," she said. "I think it's interesting that different disciplines are looking at the same basics. Crosstraining is good for our minds and bodies. If we're having a problem, instead of hammering at the problem, I say, 'Let's take a break. Let's go trail ride or work some cattle.' "
Caudill is hoping to try cutting with Matt next year and would like to make the move to Intermediaire I.
"Whenever I ask him to do something, he always says 'yes.' I never expected a horse to do all these things, but it's just built up," she said.
"He's not unique," she continued. "To me that's something that's maybe a common belief in the dressage world. I'm a Quarter Horse person doing dressage. I'm not a dressage person with a Quarter Horse. I see Quarter Horses every day that could go to where Matt is without a problem, but they're usually in the reining or cow horse pen earning good money for their owners. I know there are a lot of amateurs like me that want to have fun and learn, and these horses are certainly out there and willing and able to do it successfully and give their owners a heck of a ride on the way."