Lexington, Ky.—Nov. 12
The Kings Rendition isn't your typical dressage mount. The Gypsy Vanner looks like he jumped straight out of a movie. He's the type of horse that every young girl dreams about with miles of flowing mane and a drool-worthy tail. He looks like a horse that should be made into a Breyer model. And for good reason. Two of his relatives, his sire The Gypsy King and Kuchi, also by The Gypsy King, were both made into Breyer models.
But "Reno" is more than a story book horse. He's proven to be an athlete, and he traveled to the Kentucky Horse Park to compete in the open second level freestyle championship with Heather Caudill at the U.S. Dressage Finals. They earned a 68.24 percent to finish seventh.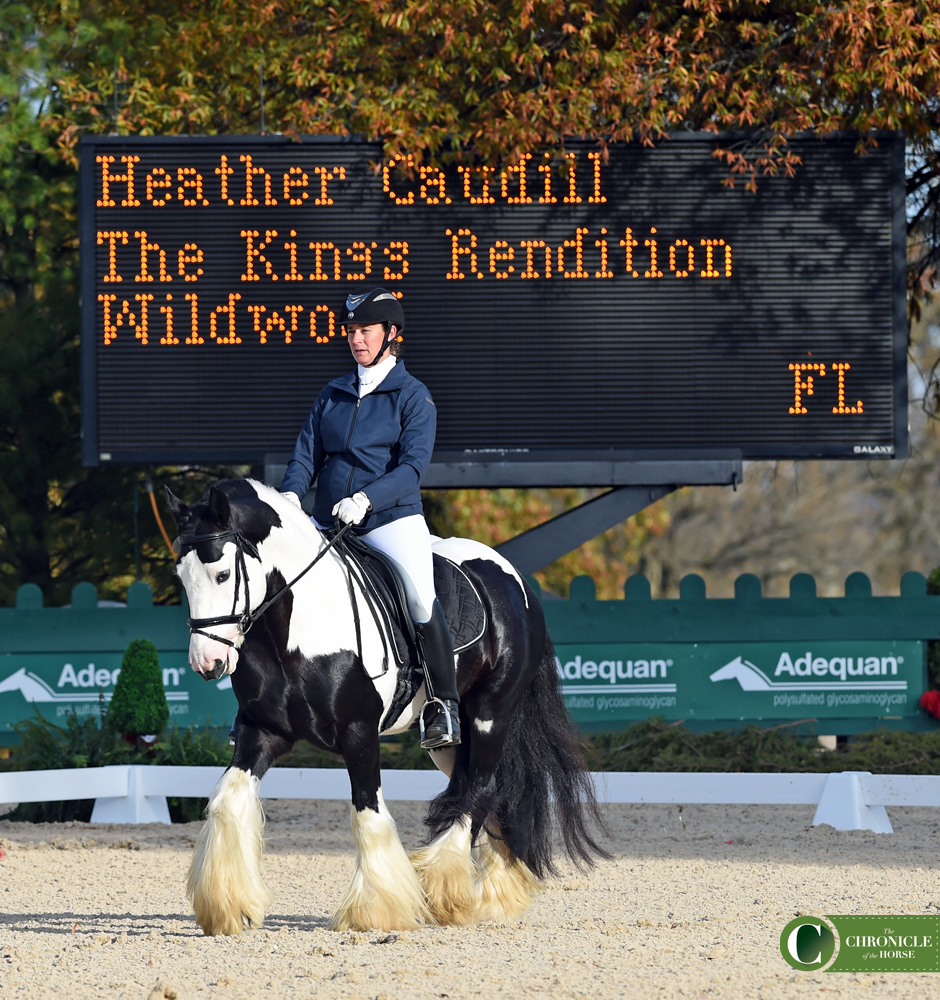 "He's very playful," said Caudill. "He loves the big round bales when you put them out in the field. We always joke that he could be a circus pony because when he's excited he'll rear up and stand and walks around."
While Reno might be a goofball on the ground, he's all business when it comes to competing.
"I hop on and go," said Caudill. "I don't have to lunge him. I don't have to worry about him spooking at anything other than basically another horse being beside him. They sometimes spook other horses because of their feathers, but we don't worry about if a trash can fell over on the ground because it's windy. Our horses are just going to look at it like 'OK, whatever. Is there food in it?' "
Caudill was first introduced to Gypsy Vanners in 2005. She'd put a sign up advertising her dressage business in Wlldwood, Fla., saying that she specialized in staring young horses and retraining. A woman approached her with two Gypsy Vanners that she wasn't sure what to do with.
"We ended up with going to the breed shows the second year after we got those," Caudill said. "After going to the breed shows people found out that I would take them, and people kept sending them to me. We have 17 stalls and every time a stall would open a new one would come, so we have 14 of them at the farm."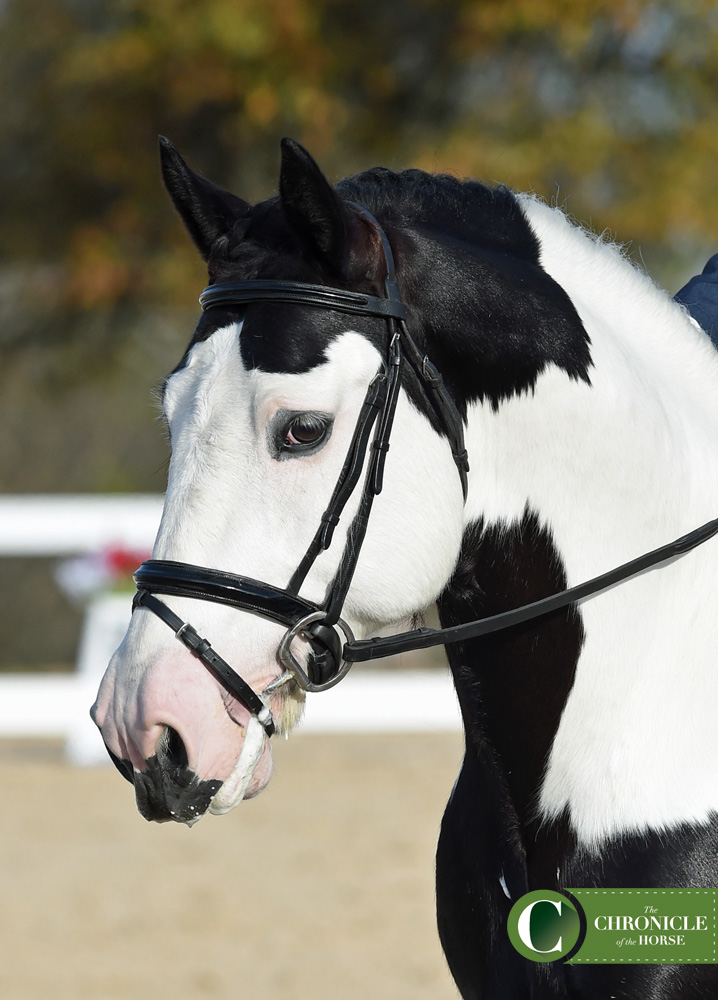 Reno's story follows a similar track. The 6-year-old stallion (The Gypsy King—Sometimes A Lady) was bred at Legacy Vanners in Virginia before he was bought by Jason and Lynel Adams. They sent him to Caudill as a 3-year-old to see if he had an aptitude for dressage.
"Pretty much everybody brings these guys to me because they don't really know what they want to do with them because they don't know what they can do," said Caudill. "They were bred for carts but most people want to do not carts in the United States."
Reno, who stands 14.2 hands, proved to have a talent for dressage, and he spent most of this year competing at second level. He was one of three Gypsy Vanners Caudill brought to the Great American Insurance Group/USDF Region 3 Dressage Championship (Fla.), and he placed third in his qualifying class.
"A lot of people think that they're going to be clunky, and that they're really lazy, but a lot of them are not lazy," said Caudill. "He's definitely not lazy—not at all. Getting them bending is always the difficult issue. The way they're built, to bend through their body, that's a lot of work. Some of them are better at it than others.
"He's not as wide," she continued. "Most of them are a bit wider than him, so he finds it a bit easier than most. That's pretty much the biggest difficulty is that if they're too wide it makes it hard to bending, and some of them can be built downhill. If they're built too far downhill it's pretty much impossible for them to be able to do much beyond training level."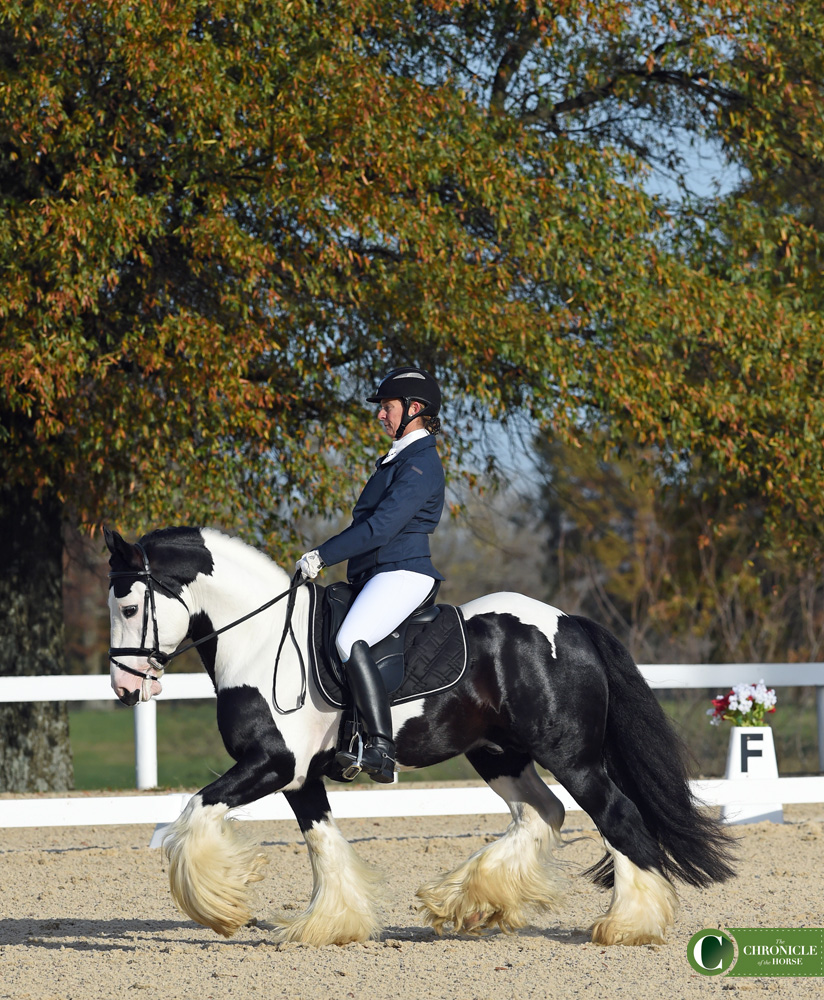 While Reno's extensive hair and loud coloring is what makes him stand out in the crowd, it also means his grooming routine is quite intense. He competes in a running braid, and his forelock which extends well past the end of his nose is also braided and then woven through his throatlatch to keep it out of the way.
At home, his mane is put up in long braids, and his feathers have to be washed on a weekly basis. "This time of year in Florida, it's still warm for us, so they still gets lots of grooming," said Caudill. "They get scratches. There's a lot more issues that they can get because all of the hair. Same as with Friesians, but these guys have more hair."
Want more from U.S. Dressage Finals?