Tosha Zubrisky is pleasantly surprised to win in New York.
As she rode up to the awards ceremony at the Great American/USDF Region 8 Dressage Championships, Tosha Zubrisky didn't know how she'd placed in the Grand Prix.
"When they called me first I was shocked and thrilled," Zubrisky said. She and Gunter led the victory lap after scoring 60.75 percent at the Saugerties, N.Y., competition, held Sept. 10-14 in conjunction with the New England Dressage Association's Fall Festival of Dressage.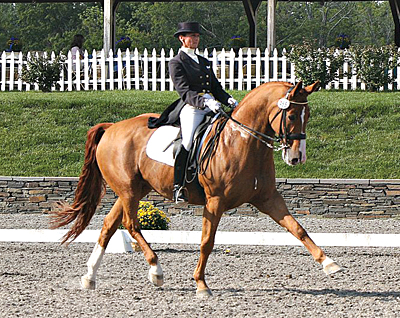 "Gunter definitely has the talent to do a good Grand Prix, but he has just needed to get stronger and more confident," said Zubrisky. "I'm still trying to make it flow and to be more effective in the ring. He is a wonderful horse who never stops trying. I've never seen him be in a bad mood or even put his ears back."
Zubrisky, of Thomaston, Maine, has ridden Gunter (Grand Galopin—Lanthana, Lanthan), for eight years. Marilyn Rockefeller owns the 16-year-old Hanoverian gelding.
"I think that I have just touched the surface of what Gunter can do in the ring," Zubrisky said. "I hope to bring out much more of that in the future. I'm hoping to do some CDIs with him next season and would love to get to Dressage at Devon [Pa.] in 2009."

Leading By Example
Sharon McCusker hasn't had long to get to know Juli Sherif—she's only been riding him a year. But that didn't stop her from claiming the Region 8 Intermediaire II championship on him.
"When I got him he'd had an entire year off as the former owner had lost interest in riding," McCusker said. "He had been trained and shown to Prix St. Georges in Europe. I conditioned him during last winter and worked on the Intermediaire I work. My trainer from Denmark came to do a clinic in December and told me I should work toward the Grand Prix with him. So, I started working on the one-tempis and piaffe/passage in January."
By early spring, McCusker and Juli Sherif, a 12-year-old Danish gelding, were ready for the Intermediaire I and scored in the upper 60s. The pair moved up to Intermediaire II in May and kept improving. McCausker owns Juli Sherif (May Sherif—Malene).
"I felt we had a good shot at the Intermediaire II championships based on his placings," McCusker said. "He continues to improve as he gets stronger and more confident with the new work."
"I felt our ride was solid but not our best test of the year," she said. "The judges gave me very good comments, and I feel very good about the feedback and scores from these judges. They can see his talent for the piaffe/passage and pirouettes, and he is forward-thinking with a great attitude, which they like."
McCusker said she plans to move Juli Sherif up to Grand Prix later this fall and compete at that level in Florida this winter. "I couldn't be happier with all he has accomplished this year," she said.
Region 2 Tidbits
• Emily Wright, 17, squeezed winning the Region 8 junior team test and junior/young rider third level championships into a busy weekend. She was also on her high school's homecoming court, so had to quickly make the 10-hour drive back to Mansfield, Ohio.
"It was the first ride we've had that was consistent," she said of the Westphalian gelding. "Everything I asked him to do, he did. He felt really good in the ride."
• A very excited Rachel Butler took the title of Region 8 champion in the adult amateur fourth level competition with Cavalier, a 12-year-old Holsteiner gelding she owns.
"I'm really surprised," Butler said. "He's not a big, fancy, expensive horse. I never expected that he'd do this well."
Butler trains with Tom Noone and has brought Cavalier along from training level. "He really put his heart out there for me today. We've had a lot of fun and come a long way together. He'll try to do anything for you, but his one weakness is lack of courage. He's often afraid of silly things, but when you really ask him to do it, he's there for you," she said. She hopes to move up to Prix St. Georges next season.
McCusker's pride only multiplied when her students took their own Region 8 wins. Erin Shea topped the open fourth level on Marine Bell (68.41%) while Marlee O'Neil won the junior/young rider Prix St. Georges on Oblahdie (65.00%).
This is the first season that Shea, 24, has competed at fourth level. She credits both McCusker for her help and Marine Bell, a 12-year-old Danish gelding who "has a heart of gold and tries so hard each day," she said.
Shea started riding Marine Bell intermittently when owner Katherine McHugh was traveling. "I'd take lessons on him. I started off knowing nothing about him, and he's brought me all the way here," Shea said. "I rode him all summer and competed him, and I've had such a great season with him. He's definitely taught me a lot this year."
Marine Bell not only helped Shea become a regional champion, he also helped her earn her USDF Bronze Medal during the summer show season. McHugh is letting Shea keep the ride on him, and her goal is to move him up to Prix St. Georges and earn her USDF Silver Medal next year.
Romantic Charms The Crowd
Bill Warren hasn't shown much this summer because he's working toward his "S" judging license, so he couldn't have been more thrilled when he won the Region 8 open Intermediaire I title on Romantic.
"I decided not to put pressure on myself with so much going on this year by trying to do a CDI. So, we came here and just did the regional class he was eligible for. Now my focus is to get him to the Grand Prix, so this was the last I-1 we'll do. The piaffe/passage is coming and the one tempis. So, now I want to stay out of the ring and focus on training until he can do the Grand Prix, which I hope will be the later part of February," Warren said.
Despite their lack of time in the ring this year, Warren said Romantic showed definitive improvement. "I came out of the ring feeling good about my test. Sometimes I don't—I come out only focused on the flaws," Warren said. "He often runs out of steam about halfway through, and then I feel like I have to do all the work. But this time, I came out feeling like I had as much power at the end as in the beginning and had a very relaxed and balanced horse."
Intermittent rains throughout the show made for soggy footing, and while riders reported that most of the rings held up beautifully, Warren said there were some washed out holes in his ring, but it was to his advantage.
"At the A end of the arena there were quite a few big holes. And fortunately, he's the right size that I was able to squeeze in between the holes and the fence at A so that I wouldn't mess up his balance in the corners. I think a lot of other horses couldn't do that," he said.
A consortium known as Team Romantic owns the 10-year-old Oldenburg gelding (Rohdiamont—Arabella, Argentinius). "One of those owners [Beverly Dudley] also owns the reserve champion horse in the class, River Run Roscoe, ridden by Jackie Smith. So, that's kind of neat," Warren said.
---
Happy Birthday To You
Elizabeth Caron turned 25 the day she won the Region 8 open Prix St. Georges title on Lentisco. It was a sweet reward for persistence for Caron, since Lentisco hasn't been the easiest horse to train.
"I stopped counting how many times I got bucked off him. He was exuberant as a young horse," Caron said.
"She's a very talented and very determined and very persistent young rider," said Beth Baumert, who trains Caron. "She's a thoughtful rider, and the way she uses her body is really effective and kind. She sits very well, and that's been helpful because this horse has bucked off everyone who's ever been on him."
Caron's father, John, bought Lentisco, a 12-year-old Oldenburg gelding (Lord Liberty—Tara), when he was 3.
"We actually bought him as a sale horse and decided that he was worth keeping," Caron said. "I started riding him when he was 5, and he's a horse of a lifetime. He's so sweet and generous, and he has let me learn how to train. He puts up with my mistakes."
Caron said her goal in the championship class was simply to stay relaxed and aim for a fluid ride. Lentisco, she said, "was right there with me. It wasn't his best ride ever, but it was relaxed and very harmonious."
Caron and Lentisco are now schooling up to Intermediaire II, and she's confident he'll be her first Grand Prix horse. Baumert jokingly said the young rider's father plans to hang a sign in the indoor arena that says "Grand Prix or bust."
Lynndee Kemmet