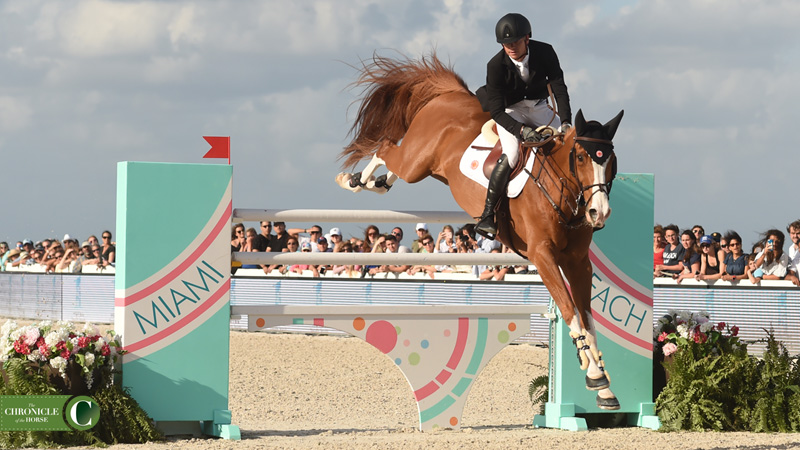 Miami Beach—April 15
You can forgive Alexander Oancea for running in the ring to congratulate Jérôme Guéry after the jump-off of the €300,000 Longines Global Champions Tour Grand Prix of Miami Beach. After all, the horse he bought as a 1.20-meter mount, Grand Cru Van De Rozenberg, just topped the biggest class of his career.
"I'm living a dream with this guy," said Oancea, referring to his good friend Guéry. "He's an alien! You see what he can do with horses and it's crazy."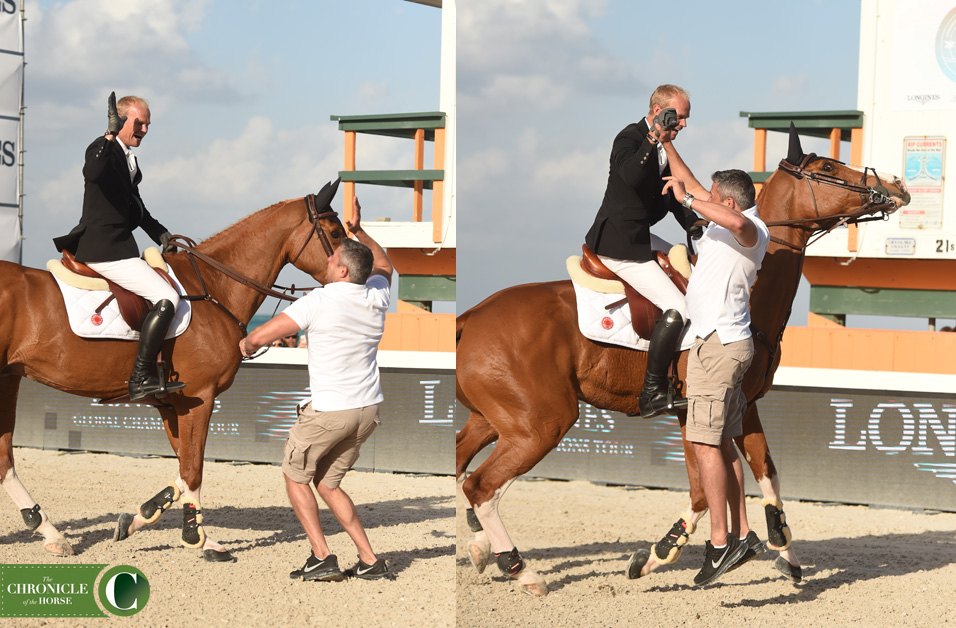 The alien in question was just as thrilled, repeatedly patting his partner and kissing him after he dismounted.
"The Global Champions Tour is the biggest show in the world and has the best riders in the world and the best horses," said Guéry. "To have a victory like today is fantastic. Every rider wants to win one [of the legs of the GCT tour] one time in his life. I did it, so I'm so, so happy."
Grand Cru Van De Rozenberg had outran three other top teams in the jump-off to take a €100,000 check back to Belgium. Italian Alberto Zorzi and Cornetto K finished more than a second behind Guéry, and Chilli Willi and Nicola Philippaerts took third. Harrie Smolders was nearly unseated when Emerald N.O.P. slipped badly around one turn, but made an impressive recovery to finish on 8 faults in fourth.
Sign into Facebook to watch Guéry and Grand Cru Van De Rozenberg's awesome jump-off round here. 
Riders qualified for the class by competing in the second round of the Global Champions League of Miami Beach held earlier in the afternoon, some representing a team and others riding as individuals. Only the top 25 riders earning an invitation to the grand prix.
Some riders swapped mounts for the second class, but Guéry piloted Grand Cru De Rozenberg in both classes, and the gelding didn't touch a rail all day.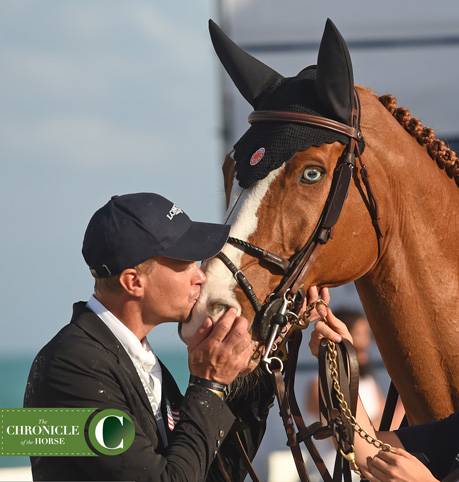 "Grand Cru is really special," said Guéry. "We bought him two years ago he was jumping 1.20, but he grew up so quick. He's a really sensitive horse. He needs to have confidence with the rider, to give what he gives every day. We are really a couple now."
"Him and the horse, not him and me," quipped Oancea.
It's more than his prowess in the ring that attracts makes the 11-year-old Belgian Warmblood (Malito De Reve—Duchesse Van De Rozenberg, Heartbreaker) a favorite for Guéry.
"He plays all the time with his nose and he likes carrots and bananas," he said. "But he's really nice in the stable when he has the confidence. If someone comes and doesn't know him, he'll go back in his box. He needs to have confidence in those around him."
London Knights Edge Out The Competition
The London Knights team of Ben Maher and Kent Farrington climbed on top of the podium in the Global Champions League after the second round of competition today.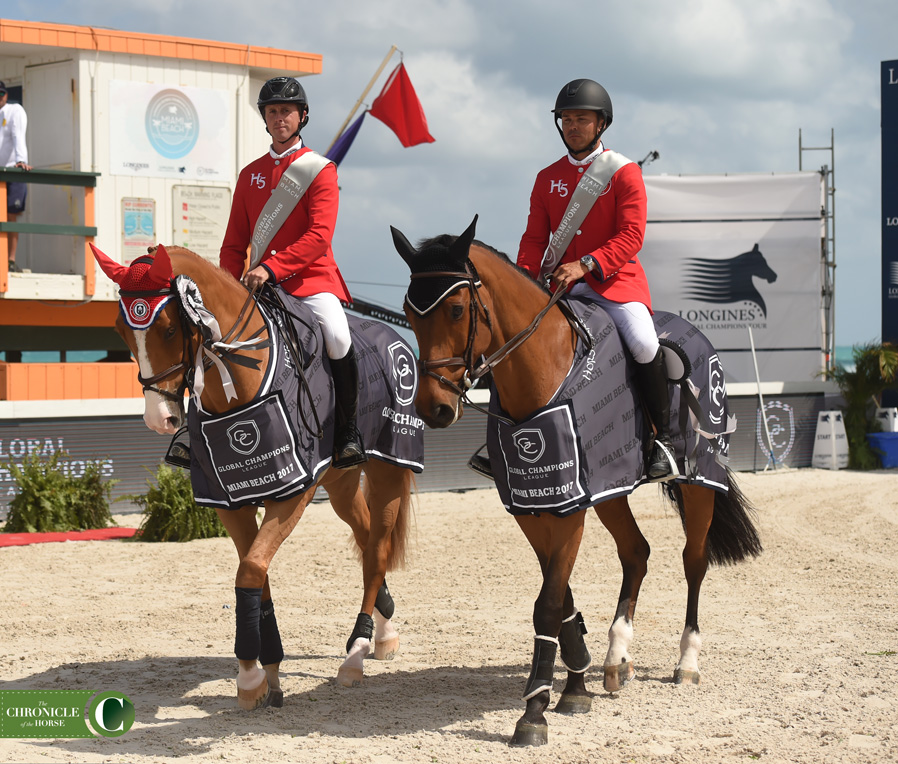 The team-based competition is the brainchild of Global Champions Team owners Jan Tops and Frank McCourt, and pits 18 teams against one another at each of the 15 stops on the GCT tour. Two riders from each team ride at each stop on the tour, competing for victory at each individual show—the Knights brought home €26,431 for their victory in Miami—and the top team at the end of the tour gets a much bigger check.
The Knights lay third after the first round on Thursday, and when Bertram Allen (Hector Van D'Adijhoeve) of leading Valeknswaard United squad ticked two rails today, that team dropped to overall second. The St. Tropez Pirates (Guéry and Simon Delestre) finished third in Miami Beach.
Show jumping fans are still working to get their head around the format. The second round of the GCL counts as a qualifier for the main grand prix, but riders may swap horses between both the GCL rounds and between the grand prix. Riders warm up in polos with their names on the back, and add snazzy team-colored jackets when they go in the ring.
"I think it's really exciting what Jan is doing for the sport," said Farrington, who rode Dublin to 4 faults in Round 1 and Creedence to a confident clear in league competition today. "It started 10 years ago, and it's been evolving ever since. I think the team competition is the latest evolution of his vision for big sport."
Find full results here. 
Want more from the Longines Global Champions Tour of Miami Beach? We've got more photos for you here, and the scoop on Lorenzo De Luca's win yesterday.  Check out the May 1 issue of The Chronicle of the Horse magazine for more news, photos and analysis. And while you're at it, make sure you're following the Chronicle on Facebook, Instagram and Twitter @chronofhorse