Gothenburg, Sweden—March 26
The jump-off line-up read like a Who's Who of Europe's best show jumpers: Germany's Christian Ahlmann, Irishman Denis Lynch, Harrie Smolders of the Netherlands, Switzerland's Steve Guerdat, and German veterans Marcus Ehning and Marco Kutscher.
And if you'd been asked, at the beginning of this week, to guess which U.S. rider would join such heady company with a clear go in the second round of the Longines FEI Show Jumping World Cup Final, it probably wouldn't have been 42-year-old first-timer Peter Lutz.
"I feel really proud to be in that company; obviously these are the greatest riders, and I'm so happy to be a part of it," said Lutz, who may be best remembered as a former big eq star—he won the USET Show Jumping Talent Search-East and the ASPCA Maclay Finals back in 1991.
"We've worked hard to get here, and it's my first time, but I felt comfortable," said Lutz, who's now based in North Salem, N.Y., and is campaigning the talented 11-year-old Selle Français Robin de Ponthual for Katherine and John Gallagher and Michael Meller.
"I felt like I could do it," he said. "I believe in the horse, so I felt good. I felt really good!"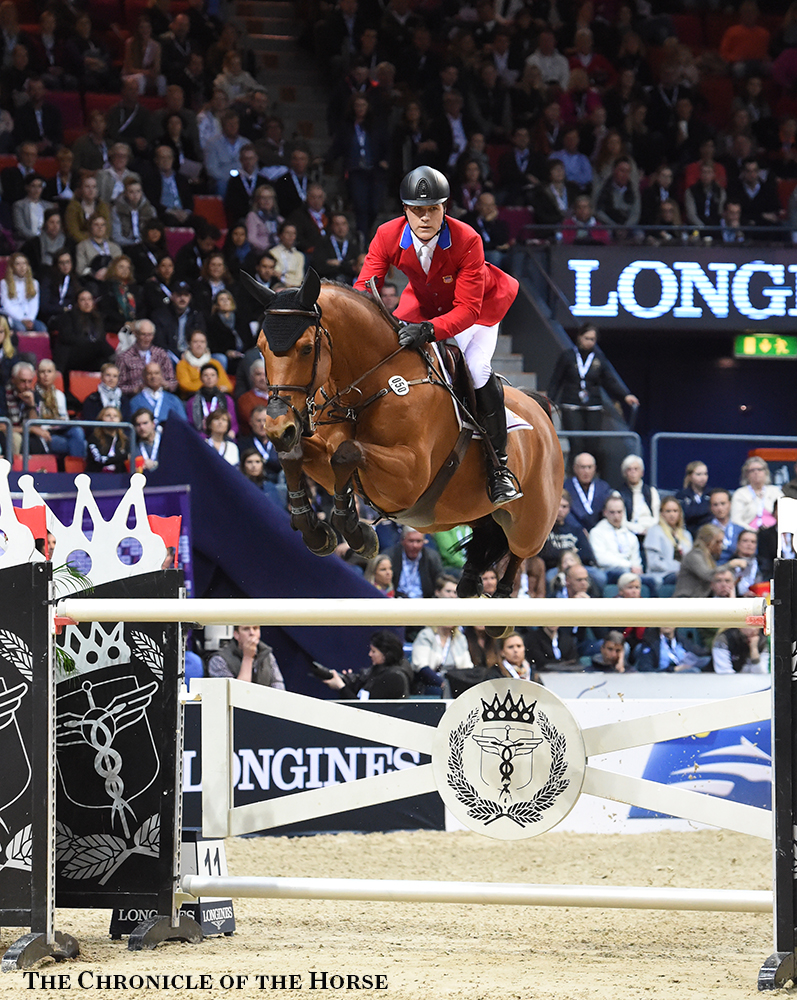 (Peter Lutz and Robin de Ponthual. Photo by Lisa Slade.)
Lutz and Robin de Ponthual ended up pulling two rails in the jump-off, finishing seventh in the class itself, but he was the star of the night for the U.S. contingent, and his performance boosted him to a tie (with Kutscher and Ahlmann) for 10th heading into Monday's finale (the jump-off didn't count toward the standings for the final).
"He jumped beautifully yesterday, and I unfortunately had the last jump down, which I thought was a little unlucky," said Lutz. "I'd realized I was going clear, so I slowed down to the last jump. But what I learned is he can jump the height, and he wants to jump clear. He's an incredible horse, which we knew, but he's really shown it here."
Alhmann Wins Tonight, But Guerdat Goes Back Into The Lead
German star Ahlmann got off to a poor start in the World Cup rankings yesterday, pulling two rails with Colorit, whom he rode in an attempt to save his longtime partner Taloubet Z some unnecessary miles.
Standing a disappointing 25th heading into today's round, he knew a strong result "was my only chance to get a little bit forward in the ranking—there was no other option. So I tried to put my colleagues under pressure, and it seemed like it worked out."
Ahlmann and Taloubet Z picked up the top check in the jump-off and moved into a tie for 10th overall, but it was Guerdat who moved to poll position on the overall leaderboard.
Guerdat, the reigning World Cup champion, pointed out that he "had the luck to be already qualified, so I didn't have the pressure to get the points to come to Gothenburg," but that was a double-edged sword for his 10-year-old mount Corbinian.
"I had a lot of questions before the final started that I really didn't know the answers to," he said of the young rising star. "I know the horse has a lot of possibilities and quality, and I know he's going to be a good enough horse one day, but I didn't know if it would be good enough yet.
"He has jumped quite a few big classes with me, we just haven't been so much in the results, with 4 faults or sometimes 8," he continued. "Not because of the lack of quality, but because I haven't been able to get to his quality. He's a bit of a difficult ride for me."
But after a clear go in tonight's big and long first round, Corbinian proved he can follow in the footsteps of stablemates like Nino des Buissonets and Albfuhren's Paille.
The pair pulled a rail at the first fence in the jump-off, setting off a wave of gasps through the crowd, but "I just wanted to make sure I didn't have another fence down," Guerdat said. "I wasn't going to catch Christian anyway. I thought I could go for second place. It wasn't really about trying to win the class today. It's a championship, and overall that's more important than the single class. I'm very happy."
Solem Still Top U.S. Rider
Yesterday's leading U.S. rider Callan Solem moved up into a tie for sixth (with yesterday's winner Penelope Leprevost and runner-up Simon Delestre, both of France) in the overall standings, even with one rail down aboard VDL Wizard.
"He landed a little low with his nose from the triple bar, and I maybe just needed to try a little harder to get him back on his feet. It's a test of the combination," said Solem, who's also enjoying her World Cup Final debut. "But I think he just continues to handle everything so beautifully. Anything you want to do, he's so happy to do it.
"We know each other so well now that I can identify places where I can do something to help him, and I thought for the most part I handled those places well," she continued. "He's such a careful horse that I have to ride the triple bar really strong, because he always wants to jump a little too high. I maybe needed to, after I rode that strongly, relax my leg, and then leg him at B. I think I just kept legging him. Still, he didn't hit it hard, did he? He's so careful and has so much integrity; he's awesome."
(Callan Solem and VDL Wizard. Photo by Lisa Slade.)
Rich Fellers and Flexible were the only other U.S. pair to turn in a one-rail round, and the rider admitted to being a bit relieved he didn't have to decide whether to take his 20-year-old former champion into the jump-off. They're 25th overall after the two rounds.
"I just don't think physically it would be good for him," Fellers said. "I know he would do it and fight and finish himself if I asked him to do it. I'm kind of relieved."
Fellers took the blame for Flexible's 4 faults, saying, "I was trying to give him a little breather, because he was working so hard, and it was a long course, and he got a little quiet on me. I didn't have quite as much pace as I needed for that big of an oxer at this stage of his career."
Still, said U.S. Chef d'Equipe Robert Ridland, "We're going to wait a long time, I think, before we're going to see another World Cup with a 20-year-old [horse] handling the courses as easily as he is handling them right now. Just as a spectator of the sport and a lover of what we see and do, that was amazing. It was a great night."
"I'm just living a dream; it's all I can say," Fellers said. "It's just unreal how much gumption [Flexible has]. I hate to keep saying 'fight,' because I say that all the time, but it's an amazing horse. He just came back after yesterday, and he took all the blame like he always does when I make a mistake, and he just really tried hard."
Woe Is U.S.
The remaining U.S. riders, and many from other nations as well, struggled over tonight's long, taxing course.
World Cup Final first-timer Audrey Coulter pulled three rails with Domino to drop to 22nd in the overall rankings.
"I rode Alex yesterday, because that was a really perfect class for him, but Alex doesn't totally have the scope to jump the whole final," Coulter explained. "Domino does, but he didn't have the best prep coming in and isn't in the best shape of his life, and I think that showed tonight. We started out really strong, and then he totally ran out of steam at the end, and we had three rails at the end. It felt like he just got too tired to jump the rest of the course."
Quentin Judge stands 28th overall after his round with HH Copin van de Broy likewise started out strong but fell apart near the end, also resulting in 12 faults.
"The first 85 percent of the course went well, and then I made a bad decision at the last one [where they took off long and crashed through the fence]. I thought the five [stride distance] was going to be short, and it would have been perfect," he said. "But my horse was amazing. For this to be your first final, you couldn't ask for a better place. It's been amazing for me to see the other riders and be in the trenches of it and feel what the pressure is like. We can go home and make a better plan and come back better next time."
Hardin Towell (Lucifer V) struggled as well, lowering four rails, and Charlie Jacobs pulled up Flaming Star after having the first two fences down. Katie Dinan was eliminated with Nougat du Vallet, who looked to be overjumping and never got into a forward rhythm, for an eventual two stops.
The top 30 riders return to jump on Monday, March 28, and then the top 20 after that will jump another round, with a jump-off after that for the title if pairs are tied. Want to know more about the World Cup scoring?
See scores from today and overall standings or more photos from tonight's class.